The third WooCommerce drop of 2012 has arrived and it's a big 'un! Dynamic Pricing, 6 gateways and a chance for more developers to get involved in the WooCommerce project.
There have been a few grumbles about the relentless Payment Gateway onslaught, and this week is no different with six new gateways (we know you love them really). But we're also extremely excited to launch Dynamic Pricing, developed by Lucas Stark.
Payment integration is one of the single biggest barriers to some users choosing WooCommerce. Established companies rarely want to change banks / service providers so if we don't have a gateway which suits a users business, they can't choose WooCommerce – which we think is a crying shame! So while they may not be so exciting, they're absolutely vital to the ongoing growth and development of WooCommerce as an eCommerce platform.

Dynamic Pricing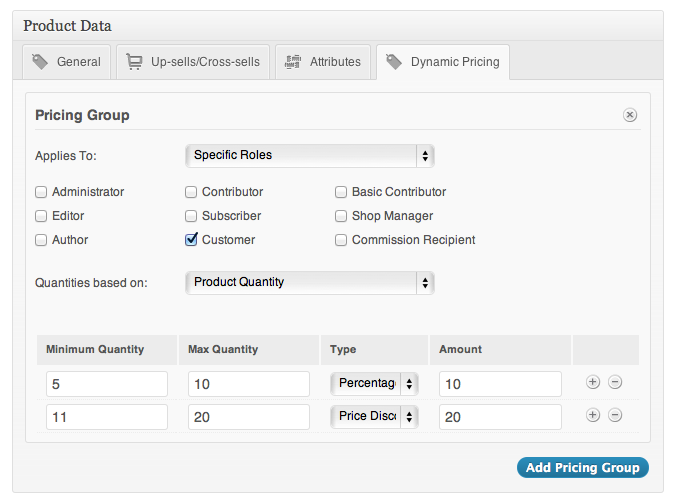 WooCommerce Dynamic Pricing solves pricing scenario problems we've had enquiries about since version 1.0. It gives you a powerful system for creating four different types of bulk discounts and price adjustments. The add-on has been designed to give store owners flexibility in controlling prices that no other eCommerce solution offers.
Advanced Product Pricing
Advanced Category Pricing
Simple Category Pricing
Simple Role Based Pricing
Lucas has pulled out all the stops and delivered an extremely comprehensive product which is, for me, one of our most exciting to date!
View this WooCommerce extension

Attention Developers! Join the ninja clan!
With WooCommerce's incredible growth, our third party developer community has evolved to the point where some weeks (this one included) all the extensions we deploy have actually be built by our collaborators. We're extremely proud of the relationships we've built and that so many talented people have taken the initiative to approach us about building WooCommerce products. They're all a big contributing factor in the momentum WooCommerce has generated.
We'd like to nurture that community further now so we're encouraging more developers to get involved. You can read all about how it works and submit your interest over here.
Join the ninja clan
Sell WooCommerce extensions you build with us
????
PROFIT!!!!
Apply to become a WooCommerce collaborator

Skrill

Skrill (otherwise known as Moneybookers)  is one of the world's largest online payment providers currently being used by over 100,000 merchants.
Pagamento Digital
Pagamento Digital is a popular Brazilian payment provider. This plugin allows your store offer Pagamento Digital as a payment method.
PagSeguro

PagSeguro is a Brazilian gateway, but accepts foreign transactions. With this gateway your WooCommerce store can offer PagSeguro as a payment method.
WorldPay

WorldPay's affordable online payment gateway enables your business to accept all major payment methods and credit and debit cards, including Diners, MasterCard, Visa, Amex, Maestro and JCB.
Payment Express

Payment Express is a Visa and MasterCard certified solution, developed by DPS, which facilitates electronic payments seamlessly from multiple access points.
FirstData
For an ever-changing marketplace, First Data's online payment solutions enable you to easily provide customers with more payment options and safer transactions for a more satisfying shopping experience. At the same time, you'll be able to increase revenue, reduce costs and minimize risks—to realize your full business potential.
Just in case you missed it
Last week we launched a brand new WooCommerce documentation suite and public forum – well worth checking out if you haven't yet done so!