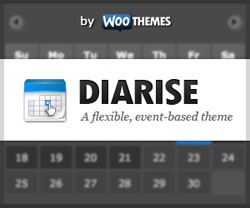 Thursday 22nd April was in the diary for the launch of our latest feature packed WordPress theme. We've managed to stick to that release date and we can finally introduce you to our latest beauty entitled « Diarise« .
As the name suggests this theme is based around the calendar functionality of the WordPress system. But taking it to a whole other level.
With Diarise you can showcase events and navigate around them with a neat home page JS date picker. That means you could use this theme for your church, school, sports club, or event organising company! To name but a few.
You'll see in the screenshot above that you can then add that event to your Google Calendar, Microsoft Outlook or Apple iCal straight from the website.
Event posts are housed in a category that you set in the theme options, then you can set the event details in the custom settings panel that will become available to you under the WYSIWYG post editor. The theme also comes with a simple booking form that you can express interest for an event with that emails the web master their contact details. You can also link events to specific booking pages on internal or external sites.
Highlights of previous posts, or just notable other company news can be presented on the home page in an animated post tabber. You could showcase videos, images or text content in these posts.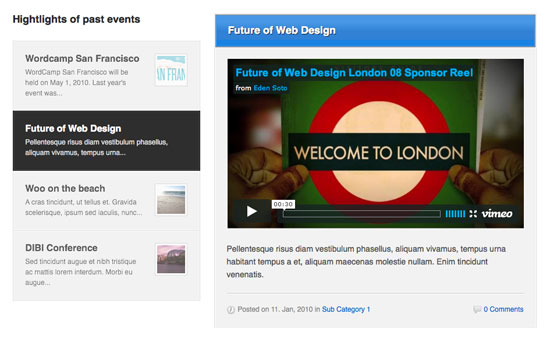 The home page is completely modular so it is hugely flexible, you could use the theme as a simple business theme with a blog section and widgetized sidebar and footer spaces, or go the whole bang shoot and use all the custom functionality.
As always, the demo does the theme far more justice than a blog post does so please have a look here, find out more details on the theme listing, and please leave your feedback below.