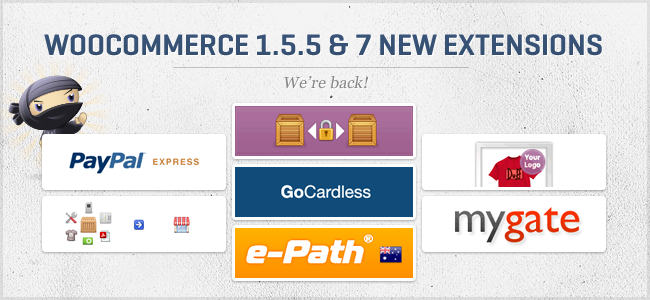 The fires in the WooLabs have been little more than glowing embers these last couple of weeks. We've put aside our lab coats and been up on deck helping steady the mothership. But in our time of need we heeded a great man who once prophetically exclaimed « I'll be back! »… and now, so are we. And we've brought gifts!
This week we're releasing 4 payment gateways (including the much anticipated PayPal Express), a brand new and much enhanced product importer suite, as well as two nifty product extensions.
PayPal Express
PayPal Express is a gateway plugin that adds an Express Checkout button to your cart page. This lets you skip the WooCommerce checkout and use PayPal instead.
After the customer adds products to their cart they can go directly from the shopping cart page to PayPal to retrieve their shipping information and authorize payment.
Developed by Daniel Espinoza.
Force Sells

The Force Sells extension allows you to link products together, so they will be added to the cart together. This can be useful for linking a service or required product to another product.
For example, if you are selling iPad glass repair as a service, you can link a new glass window as a forced sell product.
View this Extension
Product Image Watermark

This premium WooCommerce plugin allows you to easy add watermarks to your WooCommerce product images. These watermarks can be an image copyright symbol, company logo or piece of branding text as a transparent PNG image.
Developed by dtbaker.
View this Extension
GoCardless Gateway
GoCardless (available in the UK) is a simple direct debit based payment gateway that features:
Simple, transparent pricing – just 1% per transaction up to a maximum of £2.00.
Collect payments without a merchant account, payment gateway or anything else.
No application process, no set up fee. Start collecting payments instantly.
View this Extension
Product CSV Import Suite

Mass import hundreds, even thousands of Products into your WooCommerce store with the CSV Import suite. CSV Import suite lets you import all types of products, even product variations!
The CSV import suite also has export and merge functionality making it very powerful for both new and established shops.
View this Extension
If you already purchased our Product Importer Deluxe extension you should already have access to Product CSV Import Suite which is it's replacement.
e-Path Gateway (Australia)
The e-Path service collects your customer's credit card details with an approval to charge. You are notified by email so you can log in to securely view the credit card details and process the order offline using your manual merchant account.
Developed by James Collins.
View this Extension
MyGate Payment Gateway
The MyGate extension for WooCommerce is a South African payment gateway which supports payments from VISA, MasterCard, Diners Club and American Express credit card payments.
Developed by Gerhard Potgieter.
View this Extension
WooCommerce 1.5.5


We've been beavering away adding new features in WooCommerce 1.5.5 which your going to love 🙂 Highlights include…
Drag and drop product sorting
A simple drag and drop solution for those of you who want to have products listed in a specific order has been added in this release. From the products screen you will be able to click the 'Sort Products' link and drag and drop to re-order products (you can also use the menu_order field when editing products).
On the frontend, and 'default order' option has been added to the sort options.
Change WooCommerce theme colours from the admin panel
For beginners sticking with the default WooCommerce styles, we've added some simple colour options to control buttons and other UI elements within WooCommerce easily:

Once selected, WooCommerce will generate the new styles based on your selections making it even easier to get started with theming.
A revamped integrations section + ShareYourCart integration
We've revamped the integrations setting in WooCommerce sections to make it extendable by plugins.

On top of that, we've added integration with ShareYourCart – a great way to get customers talking about your products in exchange for a discount.
And more…
Stock display options – for example, an option to only show the quantity left in stock when it gets low. Entice customers to purchase before your stock is gone!
Hide free products from the best sellers widget
A more flexible cart.php for developers to hook into, used by our new force-sells plugin
Several minor fixes and tweaks making 1.5.5 even more stable than its predecessor
We hope you like what we've been doing with 1.5.5 and enjoy the new extensions 🙂