As has been the case the last few Thursdays, and most likely the next few to come, you have probably come to expect some WooCommerce goodness to drop. Today see's the release of an incremental WooCommerce plugin update, that certainly packs a lot of punch for a version 1.2.1, as well as the release of 7 extensions.
WooCommerce v1.2.1
One of my favourite features of this new version is the re-shuffling of downloadable and virtual products. Gone are the specific product types dedicated to them, now you just tick a checkbox to confirm a product is either downloadable or virtual. What this importantly means is that a variation can now be downloadable/virtual too making it that much more flexible.

You also have the ability to add an external/affiliate product to your store, just add the product 'URL' and rather than using the "Add to Cart" it takes you to the external source – removing tax + inventory, yet still having the flexibility of the product titles, content and images.
We have more shortcodes also available making adding products to posts/pages/templates  even easier and more hooks encouraging third party development.
View the full changelog here -Â http://wordpress.org/extend/plugins/woocommerce/changelog/
Payment Gateway Extensions
Fifteen. That's the number of payment gateways that already exist for WooCommerce. Today see's that number grow to eighteen!
eWAY
eWAY users will be happy to know we now support both their UK and New Zealand subsidiaries thanks to Andy Zhang.
IFmb
We are also catering for the IFmb – a Portuguese payment gateway thanks to an extension developed by our very own support ninja Tiago Noronha.
View the IFmb Portuguese Extension
iDEAL Mollie
Why stop there. We now also support the iDEAL gateway by Mollie – the Netherlands most popular online payment. Developed by our Dutch friend Coen Jacobs.
View the iDEAL Mollie Extension
Product Importer Deluxe
A lot of people have been asking for a tool to allow them to import mass products from CSV files into WooCommerce – as of course it's a tedious process adding hundreds, if not thousands one by one. Visser Labs who recently developed the Store Credit extension have come to the rescue with the hugely impressive extension.
This user-friendly Product importer, with clear step-by-step instructions helps you import Categories, Tags, Products and other Product details into WooCommerce. After successfully importing tens if not potentially now hundreds of thousands of Products, Product Importer Deluxe is now available for WooCommerce store owners to use.
Product Importer Deluxe earns its keep by populating the Categories, Tags and Product tables in WooCommerce with Products details from a CSV file.
View the Product Importer Deluxe Extension
 Min/Max Quantities
This neat little extension was built in-house by Mike and allows you to define a minimum and maximum threshold, per product for the quantity in which it can be ordered.
Min/Max Quantities Extension
Cloud Zoom
Last, but definitely not least, today we release an extension, developed by Andrew Benbow, that is useful for online stores that are selling products that require detailed, large scale imagery to showcase it. Hover over the featured product image on a product listing page and a pop-up appears with a close zoom detail of it.
Professor Cloud's Cloud Zoom script is a hugely popular jQuery plugin used on various popular eCommerce web sites. Now you can enjoy that functionality in WooCommerce.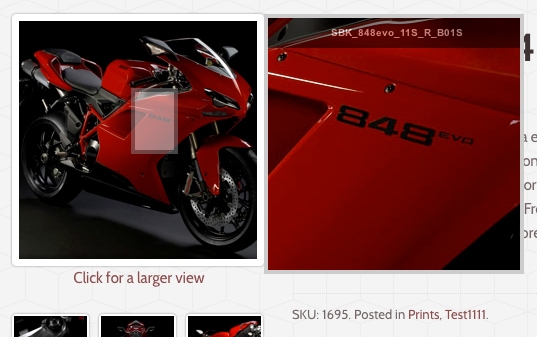 View the Cloud Zoom Extension