Automatically Open and Close Your Store
Automatically open and close your online store according to your business routine or modified working hours with the Open Close Store Hours plugin for WooCommerce. Online stores that are bound to operate at a specific time or day of the week can communicate it effectively.
You can set business hours for each day and hide the 'Add to cart' button to prevent taking orders when in off-hours. Close your webshop for any specific holiday or event. It will stop users from placing orders when your staff is not around to serve. With the exclusion option, you can rule out specific products or categories from the store shutdown so that customers can continue ordering them.  In addition to the automatic open and close store routine, you can manually close it as well if there is a need. The customizable popup can be shown on the shop, cart, product, and checkout page.
Features
Setup Store routine such as business days, and working hours
Schedule Breaks in Working Hours
Display a store closure message in a bar or popup
Hide 'Add to Cart' option
Exclude products or categories
Temporary close your store for an event
Close your store straightaway manually
Customize store closure popup and bar
Display popup or bar on various pages
Personalize upcoming closure notifications
Set time zone based on your Location
Display closure message in popup or bar
Greet your customers with a personalized message on store closure in a popup or bar so that they can return as soon as it opens.
Notification Popup: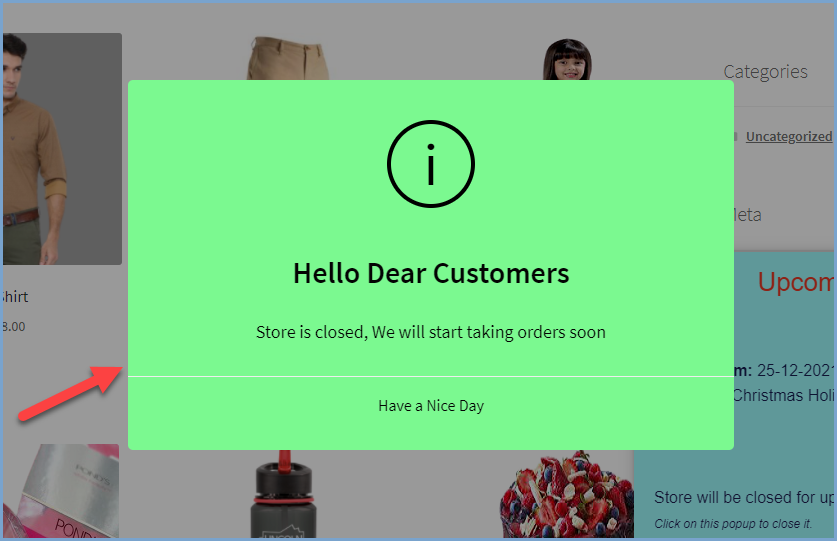 Notification Bar:
Temporary close the store for Upcoming Events
If you plan to limit or expand store working hours for an upcoming event or closing on an event, you can pick the date and specify opening and closing hours with a custom message.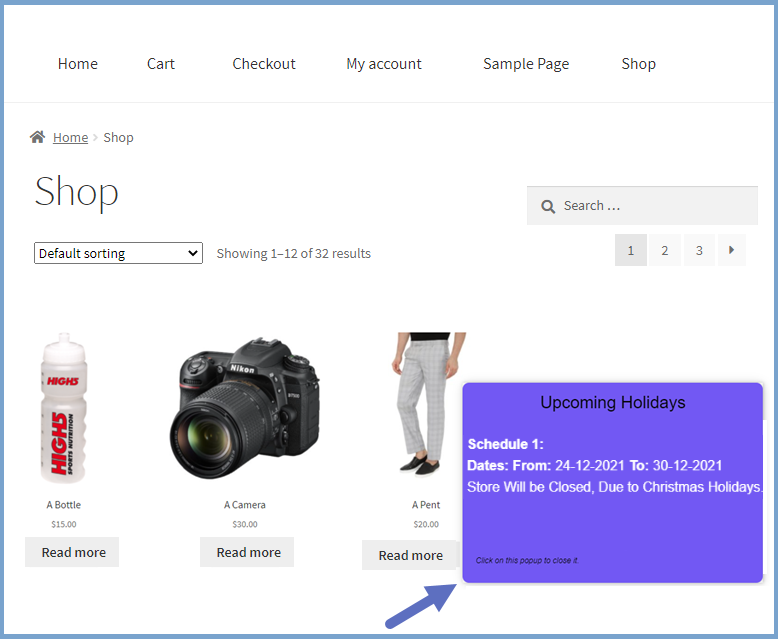 Disable Add to Cart
You can withdraw the 'Add to Cart' option during the closing hours of your store to ensure no one can place orders when no staff member is around.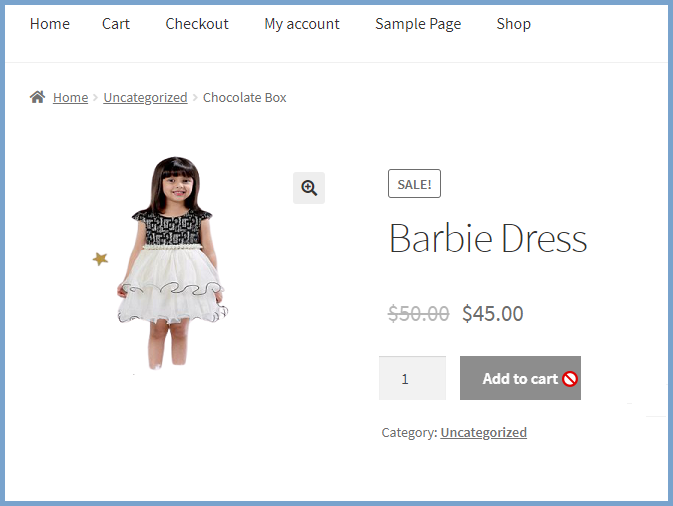 Set opening/closing hours & break
You can configure a daily routine by automating store opening and closing. Set working hours with breaks for each day of the week to let the customers know either they can shop around or not.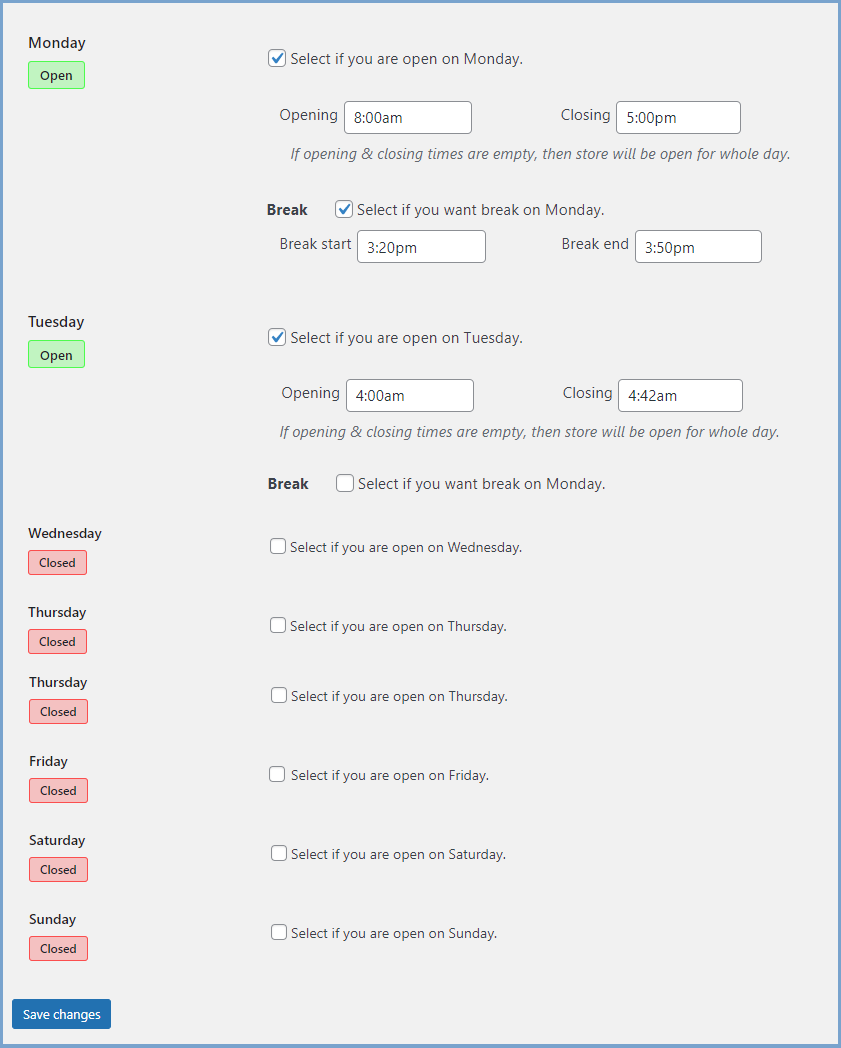 Exclude products or categories
Allow certain products or categories to bypass the store closure with an exclusion option. Customers will continue buying such products and categories despite the store shutdown.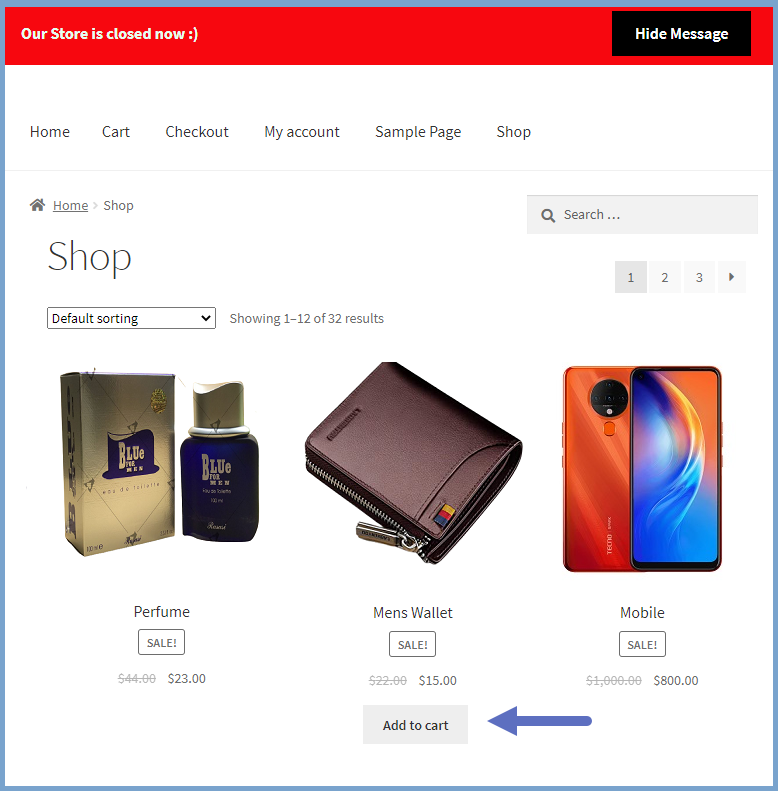 Manually close your store
Have the freedom to close down your store whenever you need to. Use the manual option to take down shopping options until you are well prepared to serve them.
Display popup on various pages
Ensure the store closure is conveyed to maximum users by displaying the popup on various pages such as the shop, checkout, product, and cart.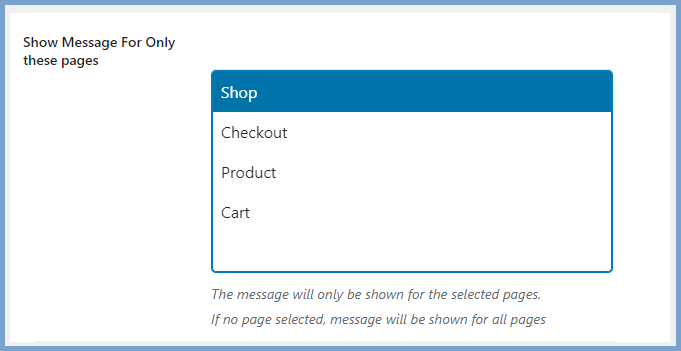 Personalize notifications
Modify the look and appearance of the notifications communicating the upcoming closure of your store.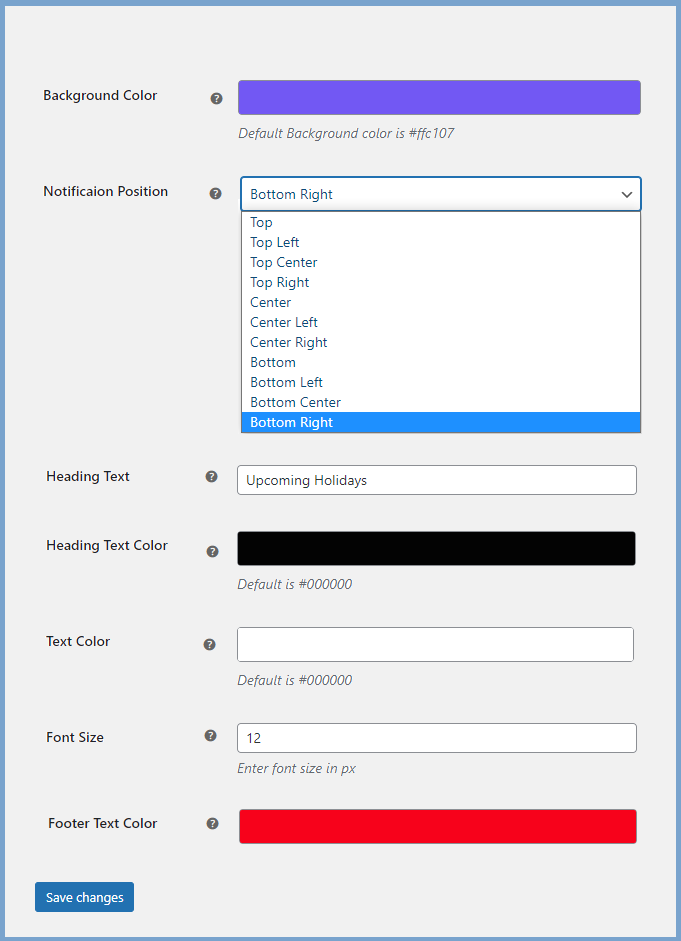 Use Cases:
Any business can use the plugin as conveying store closure with a popup is professional and polite rather than letting them call or email which are not answered as no one is there to respond.
The food and restaurant industry can benefit from the plugin as they need to communicate with customers about working hours and closure on holidays and specific events.
Store owners dealing in products that require customization like greeting cards, gifts, rings and jewelry, and other wearables would also like to stop taking orders at a specific time or day of the week as such orders are subject to the availability of their staff members.
Online meat shops often close two days a week to ensure an even supply of meat products and take time in updating stock with fresh items.
Benefits
Easily manage business schedule
Customers know the store timings
Take orders only when ready to serve
Run your store like a brick-and-mortar shop
Get started
Purchase Open Close Store Hours for WooCommerce from WooCommerce.com.
Download and install the extension.
Activate the extension.
Go to WooCommerce > Settings > Close Store to configure the settings.
Read the full installation guide here
Automatically open and close your store just like a brick-and-mortar shop with the Open Close Store Hours for WooCommerce plugin.
Requirements
Minimum PHP version: 5.2