Every store owner wants their business to thrive. That means utilizing tools to make operations run more efficiently and help the team behind the scenes make better decisions.
And there are dozens of free tools on the market to do everything from creating amazing graphics to securing your site.
We've collected some of the best free tools for an online store and separated them into three sections: growing your business, streamlining operations, and speeding up and securing your store.
Grow your business
Known as the world's leading analytics platform, Google Analytics has helped millions of eCommerce shop owners understand their customers and increase revenue.
Key capabilities:
Track and compare website usage data (how many people visit your site, how many pages are viewed, your bounce rate, and more) and compare performance over time.
View the sources that generate the most traffic (search, social, email, direct, etc.), which pages are the most popular, where visitors originate from geographically, and what traits they have in common.
Track the results of ad campaigns including customer conversions and the value of those sales.
At its core, Google Analytics provides an opportunity to understand the effectiveness of your site and marketing efforts.
If most people leave your site after viewing just one page (this is called a "bounce."), you could work to improve your bounce rate and sales without even increasing traffic. If you're spending most of your marketing budget on social media, but the majority of your customers are still coming from another source, you may want to shift your marketing focus.
You can identify the blog posts that are the most popular so you can create more posts like them or focus on optimizing those pages for conversions.
Your opportunities with Google Analytics are pretty unlimited. From beginners to advanced stores with millions in sales, there's something it can offer everyone.
Learn more about how to track your marketing activities with Google Analytics or focus on identifying your highest-spending customers so you can find more.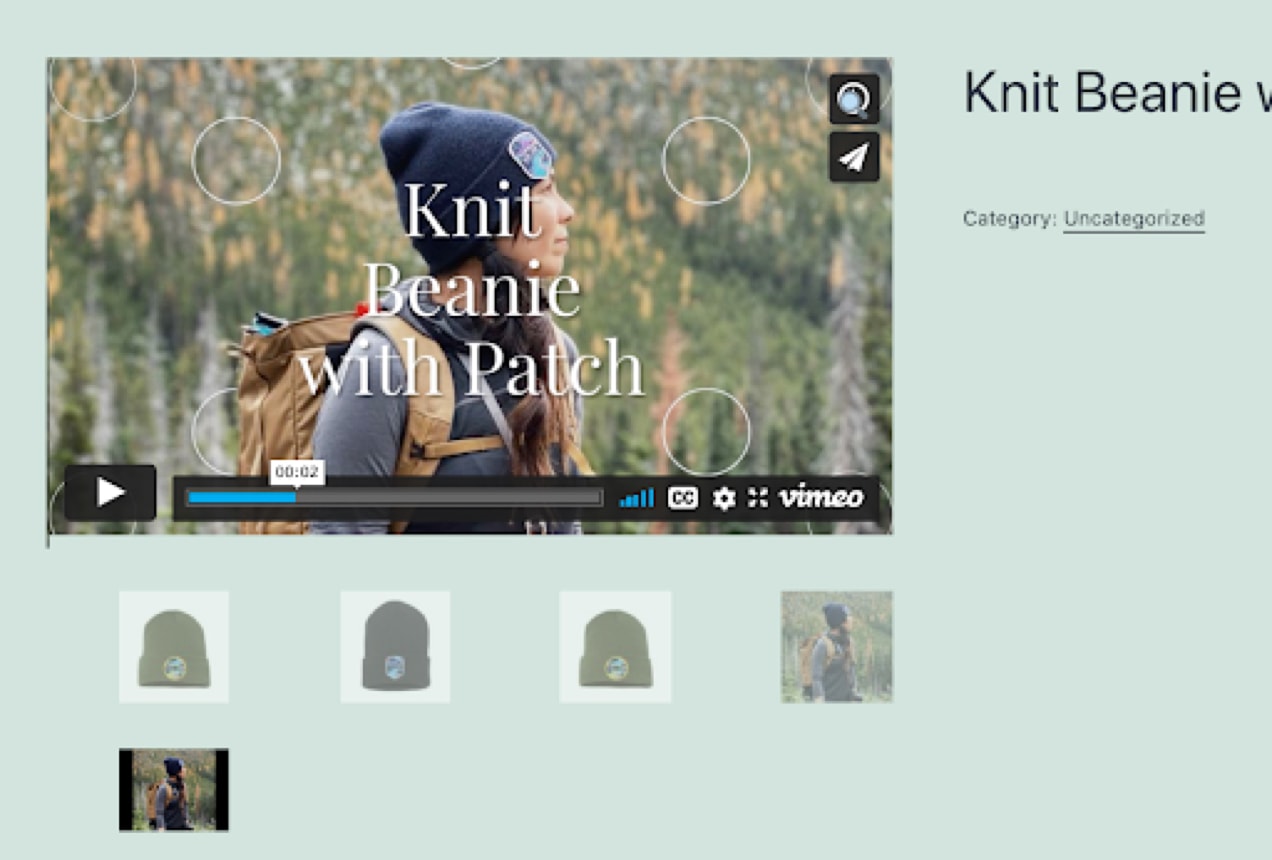 Video can be an incredible tool for your eCommerce store. In fact, 72% of people would rather learn about a product through video than text and including videos on your site can increase conversion rates up to 80%. So make the most of it!
The Vimeo for WooCommerce extension harnesses the power of Vimeo to allow store owners to create and embed product videos without any experience. You can either let Vimeo automatically build your video based on product photos and information or edit templates for more control.
Key capabilities:
Create product videos using existing templates and either your own photos and videos, or a library of stock footage. There's no editing experience required!
Embed videos in your product pages to increase conversions.
Track your results and learn how your videos are impacting sales.
Vimeo's already done a ton of the work for you. Use ready-made designs that were built around specific themes: product introductions, new products, sales highlights, and testimonials. And once your videos are completed, you can embed them on product pages, add them to other pages on your site, or use them in marketing campaigns, like email and social media.
Email marketing is an incredibly powerful tool for online stores. You can use it to reach potential customers, connect with existing ones, encourage additional sales, gain reviews, and more — all from a list that you own and have full control over. And MailPoet simplifies this process by integrating directly with your WooCommerce store.
Key capabilities:
Send abandoned cart emails to recover lost sales.
Create newsletters and email campaigns.
Personalize automated follow-up emails based on products purchased.
You can use these tools to thank new customers for their purchase and ask for reviews and feedback. You can send emails to people who left your site without checking out and include a coupon code or free shipping offer to encourage them to buy. And, stay top of mind with existing customers through newsletters, occasional tips, and announcements.
Note: MailPoet offers a free tier for up to 1,000 subscribers.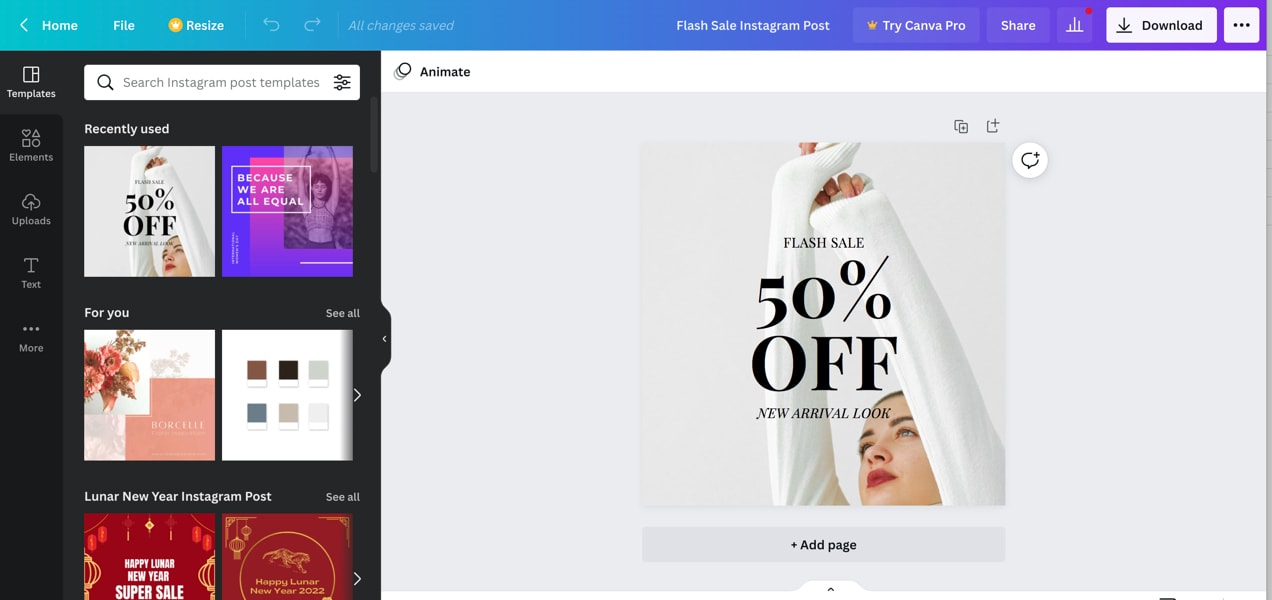 Canva is a free graphic design program that allows anyone — even those with limited design knowledge — to create social media graphics, slider images, digital ads, and more.
Key capabilities:
Access an extensive library of stock photos, icons, and fonts.
Create or use existing templates to work more efficiently.
Get started with templates that are perfectly sized for the graphic's purpose (like social media ads).
Canva allows you to create on-brand, professional graphics for your website, emails, ads, and other marketing strategies without purchasing expensive software.
Streamline operations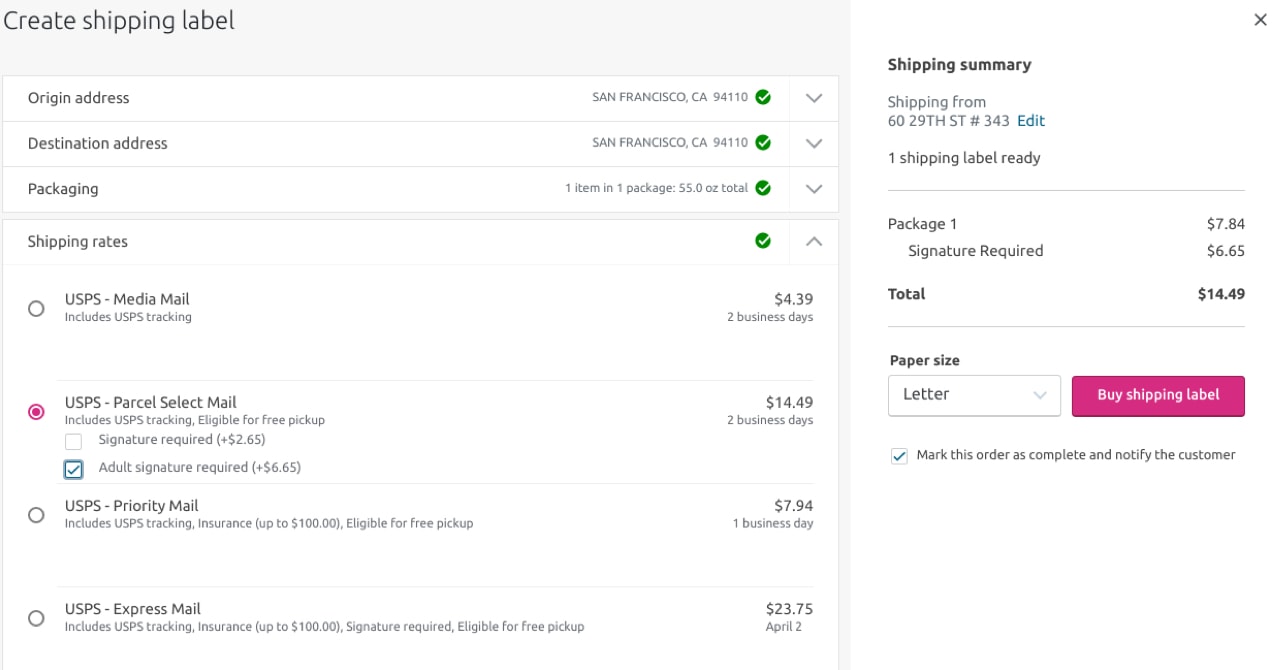 The process of fulfilling and shipping orders can be a hassle. But WooCommerce Shipping was created to make things simpler for store owners. This completely free extension allows you to purchase and print both domestic and international shipping labels directly from your WordPress dashboard, and even includes a hefty discount off of those labels.
Key capabilities:
Print and manage USPS and DHL labels from your dashboard — even on the go.
Start shipping internationally with DHL's built-in integration and helpful tools.
Enjoy substantial discounts on shipping costs.
Streamlining your shipping process is one of the best ways to improve efficiency and lower costs. If you master the process, you can lower costs for customers and improve their satisfaction with better than expected fulfillment times.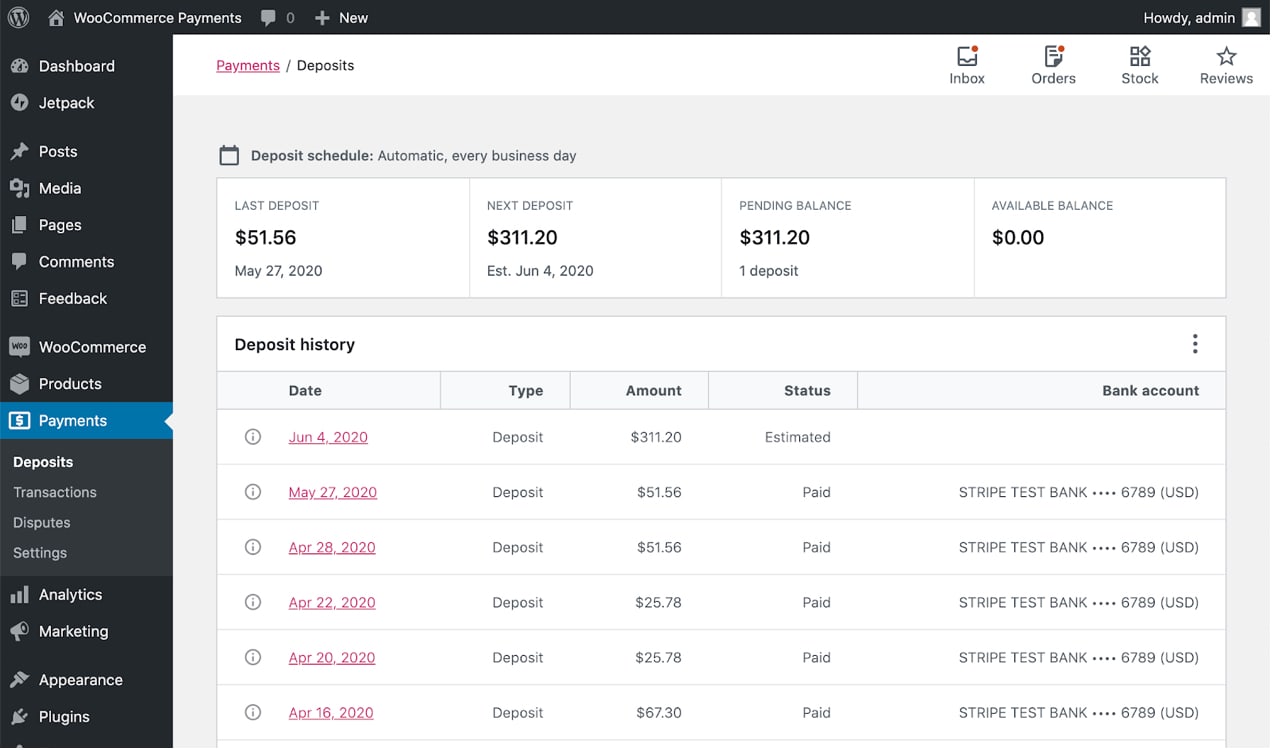 WooCommerce Payments is a payment gateway that you can manage directly within the WooCommerce dashboard. The best part? There are no setup fees or recurring costs.
Key capabilities:
Accept 135+ currencies.
Charge recurring payments.
Use Instant Deposits for quick access to funds.
Integrate with Apple Pay, Google Pay, giropay, and more for a streamlined checkout process.
WooCommerce Payments simplifies the entire process for both you and your customers. You can view payments, check on subscriptions, and issue refunds in the same place you already manage your store. Customers can avoid going to a third-party site to pay and can even use existing accounts — like Apple Pay — to check out. It's a win-win!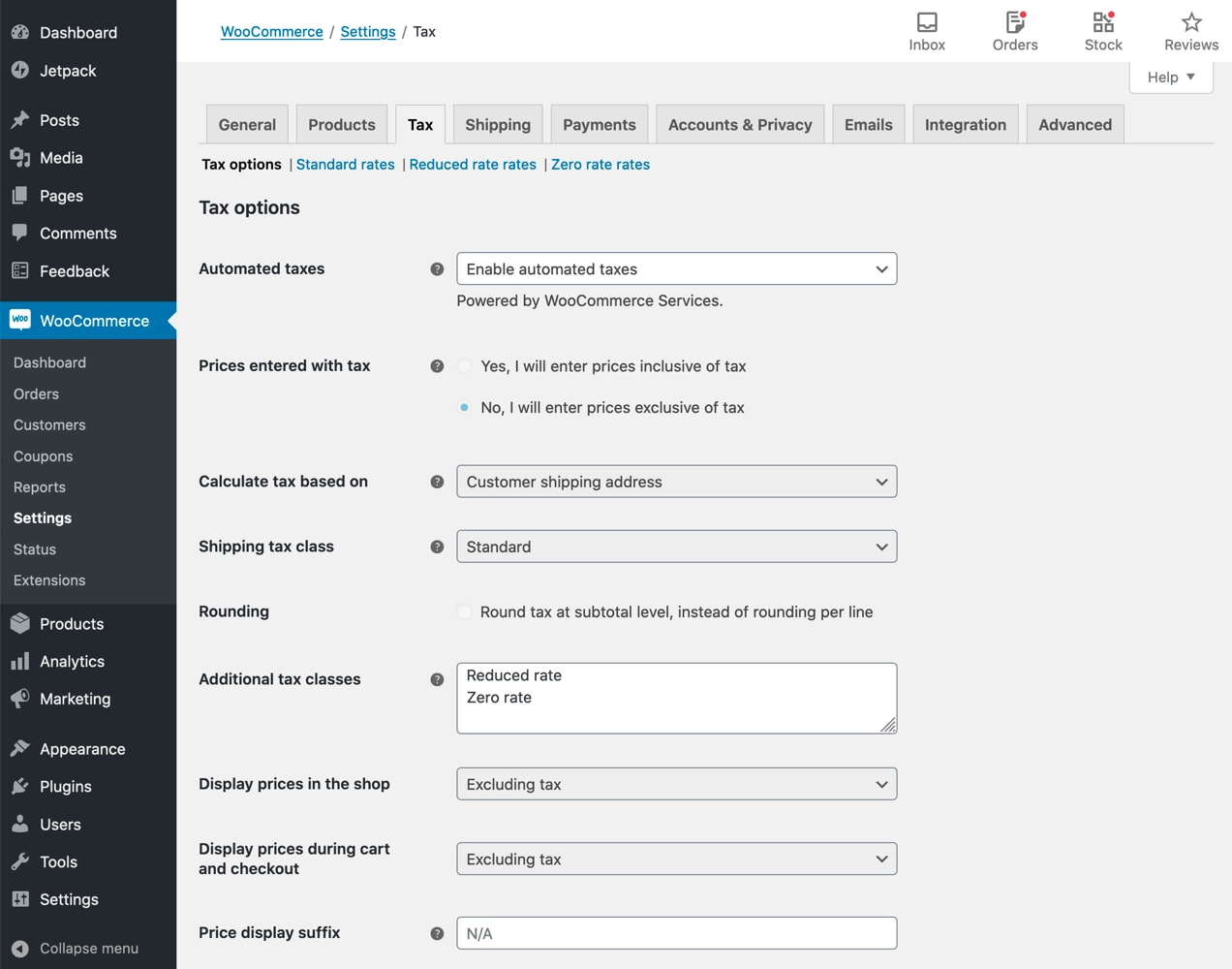 WooCommerce Tax helps eCommerce owners automatically calculate how much sales tax to collect for each order at checkout. This is a really big deal, because tax requirements can vary dramatically based on the location of your customers. It's not always an easy calculation.
Key capabilities:
Automatically and accurately calculate sales tax by city, country, and state.
Access support directly from WooCommerce.
Use it in 30+ countries — a huge bonus for multinational stores.
Unless you're a tax professional or just love spending hours making calculations, you'll be thankful every day that WooCommerce Tax is working for you. Once it's set up, you can focus on the more important (and fun) parts of running a store while staying in compliance with local regulations. Trust us — it's a big weight off your shoulders.
Launched in 2020, P2 is a free online team management tool that fosters collaboration and communication by creating a central hub of activity for your company.
Key capabilities:
Streamline and better organize company-wide conversations.
Protect sensitive information by restricting access to the right employees and contractors.
Use an advanced search tool to find exactly what you're looking for.
Track project progress, set due dates, and assign tasks.
With all kinds of integrations and the ability to embed multimedia files directly in posts, teams can share simple text updates or post elaborate examples of their project work. P2 serves as a permanent record of company progress and allows cross-team collaborations and insight without compromising security.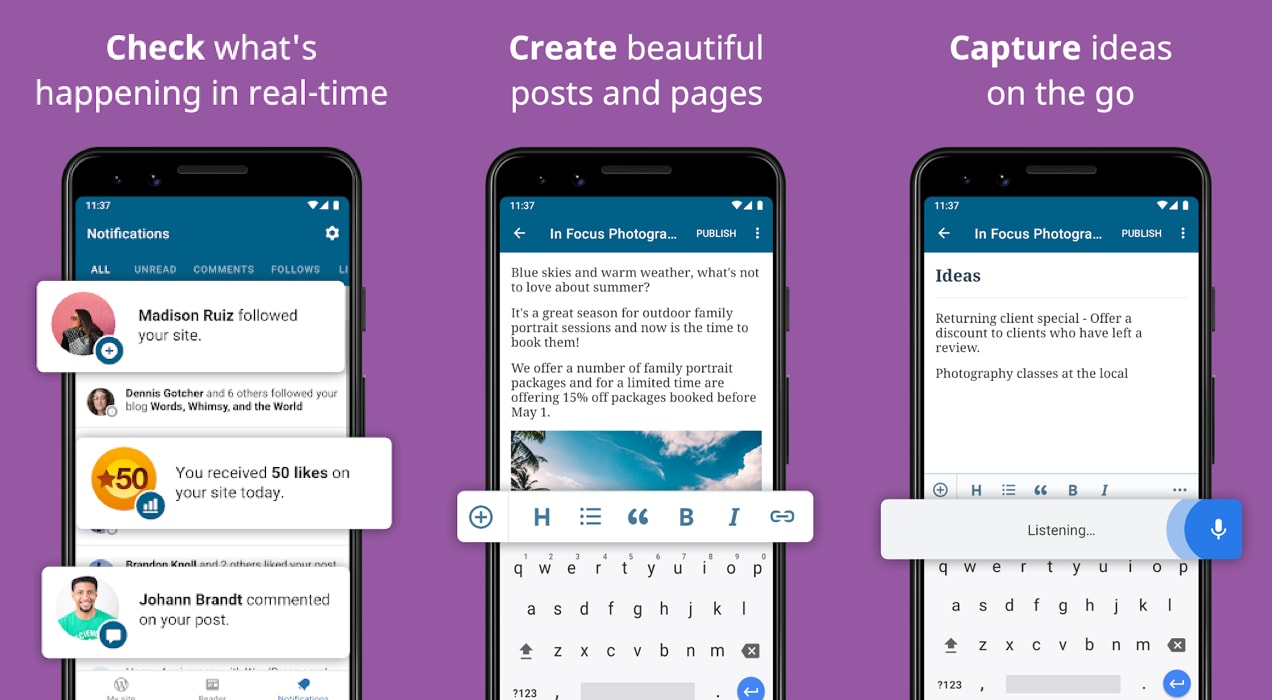 Your website doesn't stop just because you're out of the office. And with the WordPress mobile app, website management doesn't have to either. Whether you're on the subway, on a plane, or just out of the office, you can take care of critical tasks right from your phone or tablet.
Key capabilities:
Write, edit, and publish blog posts.
Check site statistics and health.
Respond to comments.
Create new users.
You can make the most of your time by writing posts whenever and wherever inspiration strikes, keeping tabs on everything that happens on your site, and providing access to team members or employees whenever you need to.
The WooCommerce Mobile app makes it possible to manage essential parts of your store from anywhere you can get a connection. View orders, print labels, and track store statistics as they happen.
Key capabilities:
Create, edit, and publish products.
Manage orders and print labels if you're using WooCommerce Shipping.
Get real-time notifications so you don't have to constantly check for updates.
Who sits in front of their desktop the entire day? Not even online store owners can be tied down to a single location — business and life happen all day and all over. With this app, you can access order information while packing boxes, check on inventory directly in your warehouse, and even offer refunds on the go.
These two products, both part of Google Workspace, are perfect for teams spread across time zones or just across the office.
With Google Drive, you can organize and store files in the cloud that can be accessed by anyone with the correct permissions. Keep assets in a file to quickly share essentials with new contractors and revoke access to insider documents when employees move on to their next opportunity.
Google Docs allows you to work on the same text-based file in real-time with anyone around the globe. Share meeting notes and make edits as you discuss. Review press releases and edit blog posts with a distributed team and more.
Key capabilities:
Store and share files from your desktop, tablet, or phone.
Collaborate in real-time for an "in-person feeling" — even miles apart.
Integrate with other office tools like Microsoft Word.
Stop sending documents back and forth through email. Stop asking your designer to send you yet another file type. Store everything in a single, easily sortable place and work together on a unified project file until it's perfect, approved, and ready to share with the world.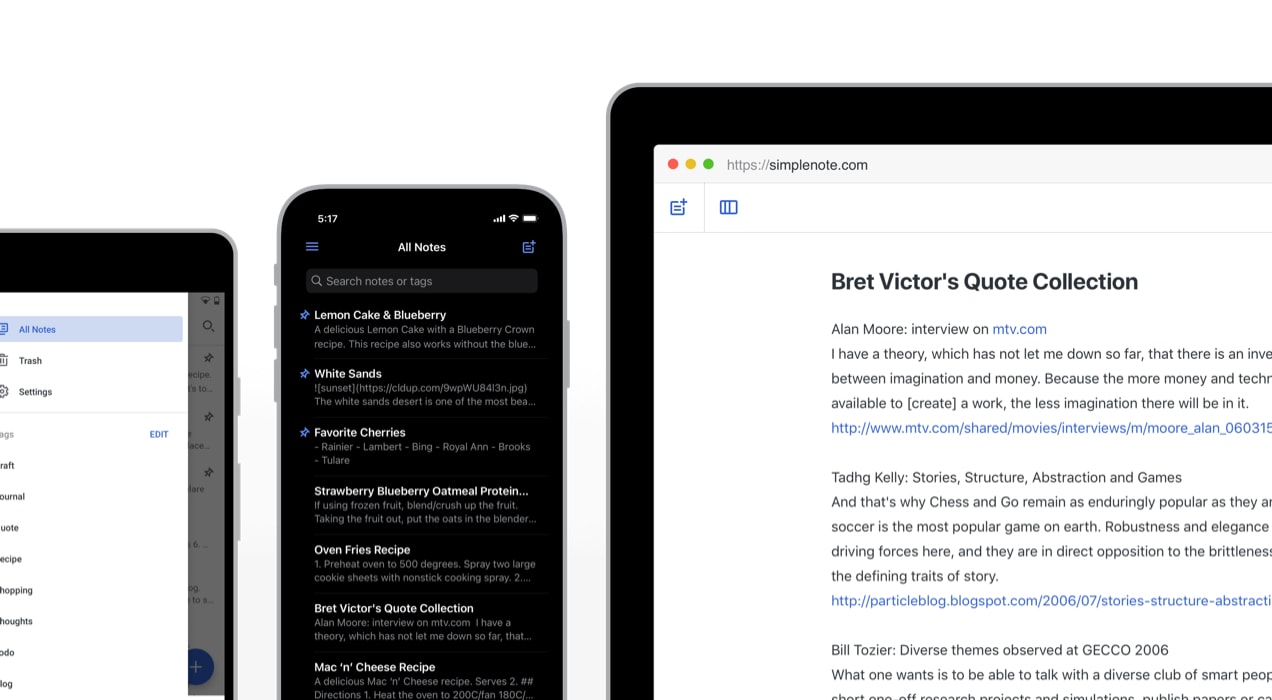 The name of this tool says it all. Simplenote is a way to keep all your notes — whether collaborative or individual — in one central location for easy access.
Key capabilities:
Use tags to organize notes into sections.
Feel secure with automated backups based on the changes you make.
Share notes for easy collaboration.
All of your notes stay up-to-date and accurate across every device. Use it to make notes on limited inventory, write down feedback from customers, or jot down points from team meetings. Then, access and edit those notes on your office desktop, phone, and personal laptop.
Speed up and secure your store
This tool enables you to speed up your online store without complicated, confusing optimization steps. It automatically generates static HTML files from your site, then serves those files to site visitors rather than loading a heavier version each and every time.
Key capabilities:
Turn on website caching with the click of a button.
Automatically compress site pages to improve speed.
Integrate with an external CDN for even more power.
By enabling WP Super Cache, you can get your products and valuable information in front of potential customers faster. This encourages them to stay on your site, find what they're looking for, and ultimately make a purchase.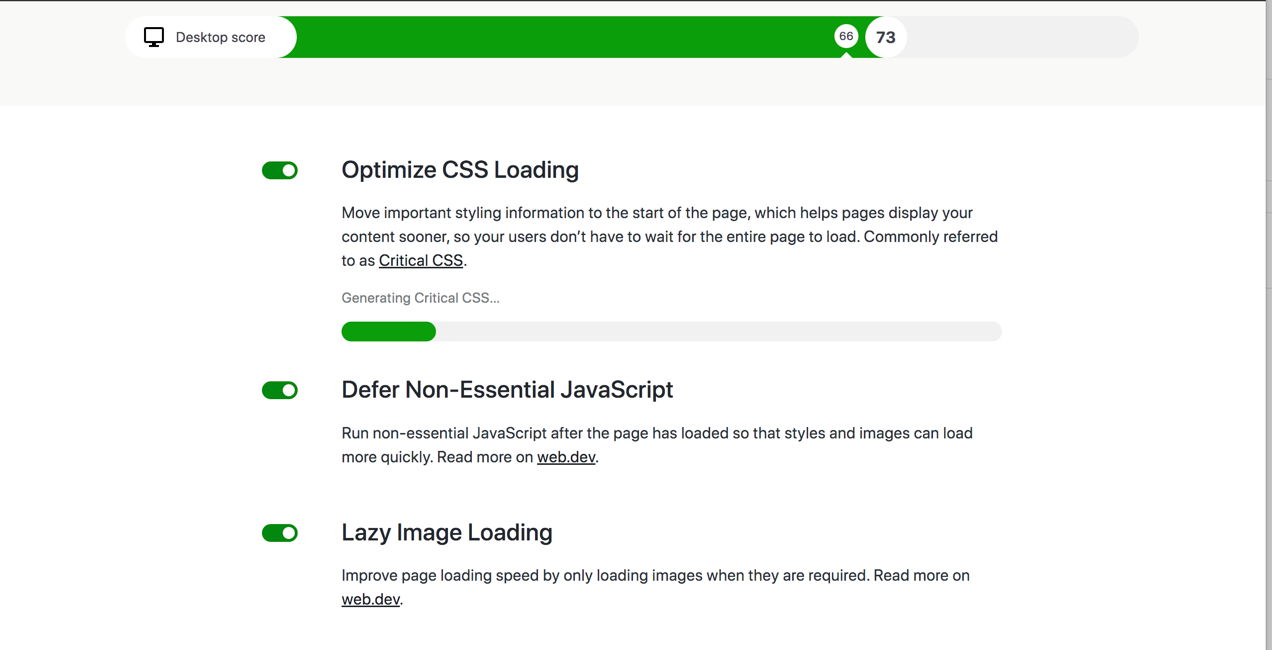 Jetpack is an all-in-one security, performance, and growth tool that can help any WordPress site. Jetpack Boost is a free part of Jetpack that's particularly helpful for WooCommerce stores.
Customers won't stick around if your store is slow. Plus, speed is a key metric that search engines use to determine ranking positions. Jetpack Boost offers simple solutions for some of the most important performance factors — and great performance goes hand-in-hand with profitability.
Key capabilities:
Measure site performance on mobile and desktop.
Take advantage of one-click fixes like deferring non-essential javascript, enabling lazy loading, and activating Jetpack's free WordPress CDN.
Improve your customer experience and search rankings with a single tool.
With Jetpack Boost, you don't need to be a developer — or hire one — to improve the health of your site. Maximize performance with the least amount of effort. Your visitors will stick around longer and search engines will reward you, too.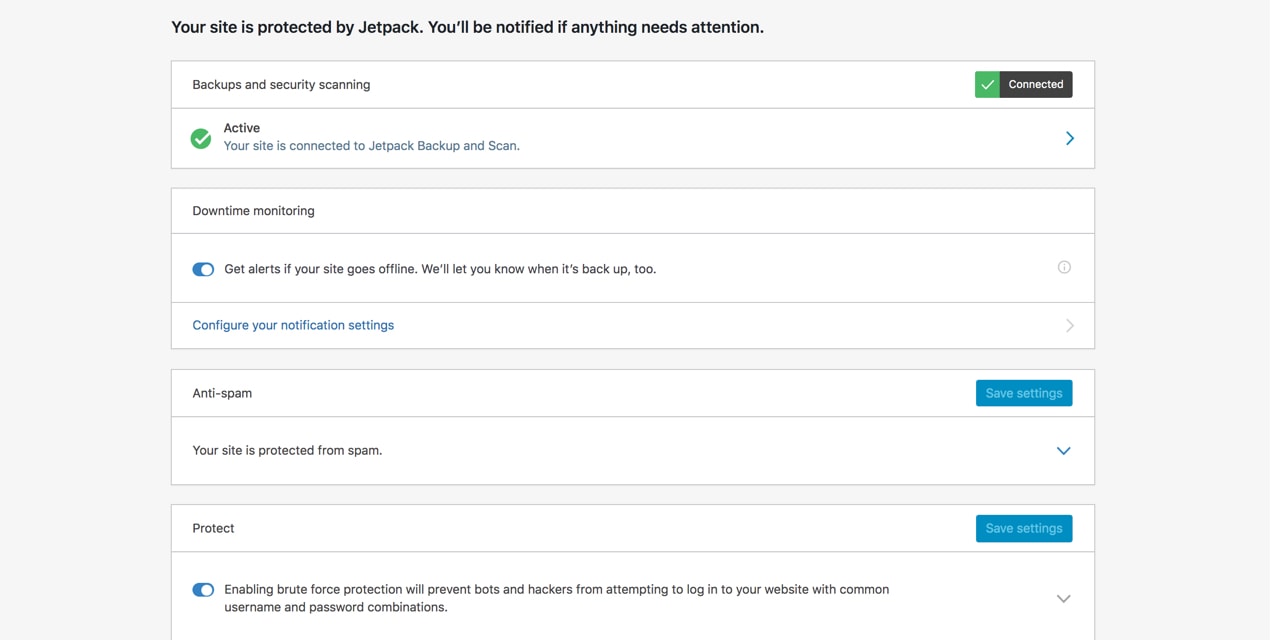 Every website needs protection against malicious hackers and bots — and that's even more true for eCommerce stores. Thankfully, Jetpack offers several security tools for WordPress sites that won't ruin your profits.
Key capabilities:
Monitor your site for downtime and get an alert if it's unresponsive.
Protect your store against brute force attacks.
Keep a log of every action that takes place on your site.
Add two-factor authentication to protect your login page.
Automatically update WordPress plugins to avoid bugs and vulnerabilities.
These tools all work together seamlessly to protect both your valuable content and your customers' private information.
Make the most with less
You don't need a big budget to make significant improvements to your store and operations. Start with a few of the free tools listed above to boost the customer experience, make your site more secure, and improve your workplace operations. As you grow, remember that you should always be investing in new tools and improvements to your processes.