If you've been blogging for a while and have gained a following, you may be thinking, what's next? How can I monetize my blog?
Data shows that approximately one-third of bloggers utilize a monetization strategy. Advertising and affiliate marketing are popular approaches, but you could also add ecommerce functionality to your blog. This can be even more exciting and lucrative — especially for creative or entrepreneurially-minded people — and can help grow your reach.
Do you blog about nutrition? Why not write a recipe eBook, offer online cooking courses, or sell memberships with exclusive benefits? You could even take this one step further, selling online consultations or physical products.
There's no "one-size-fits-all" approach here, and that's what makes it so exciting.
How bloggers can utilize the power of ecommerce
In many cases, online stores create a blog to attract readers from their target audience. They use it as a marketing technique to improve search rankings and gain trust with those who are most likely to become customers.
So as a blogger, you've already overcome one of the most challenging obstacles in ecommerce marketing. You're an expert content creator and you're already attracting an audience that's grown to respect your work and opinions. Whether you've been blogging for one year or ten, your audience already shows interest — which is half the battle.
What can bloggers sell?
Here are a few suggestions to monetize your blog:
Sell merchandise. Do you have a high rate of return visitors to your blog? Do you recognize the same names appearing in the comments of posts or on social media? You may be surprised, but to your most loyal fans, you're an everyday part of their lives. In their household, you're a celebrity, and they'd love the opportunity to wear a shirt or drink from a mug with your brand name. You could even sell merch with your most popular catchphrases or other "inside jokes" that make your followers feel connected. If you're not 100% confident about what will appeal to your fans, try selling items in advance or consider print-on-demand so you don't end up with extra inventory.
Sell guides or eBooks. This is a fantastic way to monetize your greatest asset — your content! What are your most popular posts? How can you incorporate them into one comprehensive guide? For example, if you're a woodworker, you could take inspiration from your top ten posts and create "The Beginners Guide to Woodworking," with tons of fresh examples, FAQs, photos, and resources. Create something of value for the people who already love your content, and they'll support you.
Sell access to online communities or forums. This gives your readers the opportunity to interact with one another, ask questions, and really build a community around your brand. Think of this option as your own social media platform — but with greater flexibility and control. If you blog about parenting toddlers, for example, you could open up a forum to the parents that follow you. They can post ideas for summer activities and preschool lunches, benefit from their shared experiences, and even have an opportunity to connect directly with you!
Accept tips or donations. Lots of people love to tip the content creators they follow on a regular basis. Give them the opportunity to do so! You don't have to be pushy, either. If you're a travel blogger, you could simply have a button on your posts that says, "Contribute to my next adventure!" Many vloggers have found this to be quite successful, accepting "super chats" on YouTube during live streams. But YouTube and other platforms take as much as 30%. When you do something similar through your own site, more of your supporters' donations make it through to their intended recipient — you!
Sell consultations or online courses. Now that you've built a loyal, interested following, many of them would be willing to pay for a more in-depth dive into your area of expertise. You could sell photography courses, for instance, or personalized workout consultations.
Offer a paid newsletter subscription. Sell exclusive access to your best content, available to subscribers as an email newsletter. A paid newsletter subscription is an incredibly powerful way to generate recurring revenue while creating content that you love.
How to add an online store to your blog
Ready to get started? Let's dive into how you can add an ecommerce store to your blog. If you're using WordPress, then you're already one step ahead!
1. Decide what to sell (and how to deliver it)
We've gone through a bunch of examples for monetizing your blog — now it's time to decide the right fit for you! This will, of course, impact all of the decisions you make from here on out.
The first step is to think about your specific audience. What will they find most helpful and what will they be most interested in paying for? Think about the type of media they interact with and the products they use already. You may even want to reach out to them on social media or email your list with a survey to get their opinions directly.
If you decide to accept tips, create an online community, design online courses, or offer other digital products, you won't need to worry about things like shipping or inventory management. You will, however, need to think through any tools you'll need. For example, if you want to create online courses, you can combine a tool like Sensei LMS with WooCommerce to build those courses and deliver them to your students.
But if you sell physical products, you will need to consider how you'll get them in the hands of your customers. You don't always have to manage shipping and inventory yourself, though. Here are two excellent options for bloggers:
Print-on-demand: You use a third-party company to customize products for your brand. You can send your artwork or logo to the company, and they'll put it on merchandise — shirts, stickers, patches, water bottles, etc. Then, they'll take care of shipping and delivery. As the name implies, items are only created as people order them, so there's no extra inventory.
Dropshipping: You sell items on your site that another company manufactures. The supplier handles inventory and shipping, and you take a cut of the profits. This is perfect for items you're already recommending — for example, kitchen tools if you're a food blogger. And this is a great way to make passive income if you have the traffic.
If you'd rather manage and control the process from start to finish, you absolutely can. Read our full guide to shipping to help you pick a strategy.
2. Install WooCommerce
As a WordPress blogger, you have access to an incredibly powerful ecommerce tool: WooCommerce. This open-source, customizable platform allows you to build the online store that best suits your vision, goals, and brand. You can set up a store with absolutely no coding knowledge, with access to a wide array of shipping options, payment tools, and hundreds of extensions that provide any functionality you could possibly need.
Plus, you can build and manage your store using the same dashboard and processes you're already familiar with.
To install WooCommerce:
Go to Plugins → Add New in your WordPress dashboard
Search for "WooCommerce"
Click Install Now → Activate
This will open the WooCommerce Setup Wizard, which will walk you through all of the initial steps to create your store, with personalized guidance based on your industry and products.
3. Add products
You'll add products similarly to how you create blog posts. The process varies a bit based on the type of product you're selling. Here are some examples, with links to specific instructions for each one:
4. Connect a payment gateway
A payment gateway enables you to securely accept payments on your store, then transfer them to your bank account. WooCommerce integrates with a variety of options, and you'll need to think through a few things — like fees and ease of use — when choosing a payment gateway.
But if you're looking to get up and running quickly, WooCommerce Payments is the go-to choice. It provides lots of great functionality — like multi-currency support and integration with Apple and Google Pay — and keeps shoppers on your site to pay. Plus, you can manage everything directly from your WordPress dashboard, including refunds, no special training required!
5. Set up shipping
If you're shipping physical products, you'll need to decide how to charge for delivery and the processes you'll use to ship items. Do you want to offer free shipping or charge a fee? Do you want to send packages via USPS, FedEx, or another service? How much will it cost to ship each product?
It may sound a little complicated, but it doesn't have to be. Our shipping guide walks you through the entire process, from carriers and fulfillment, to finalizing a delivery strategy.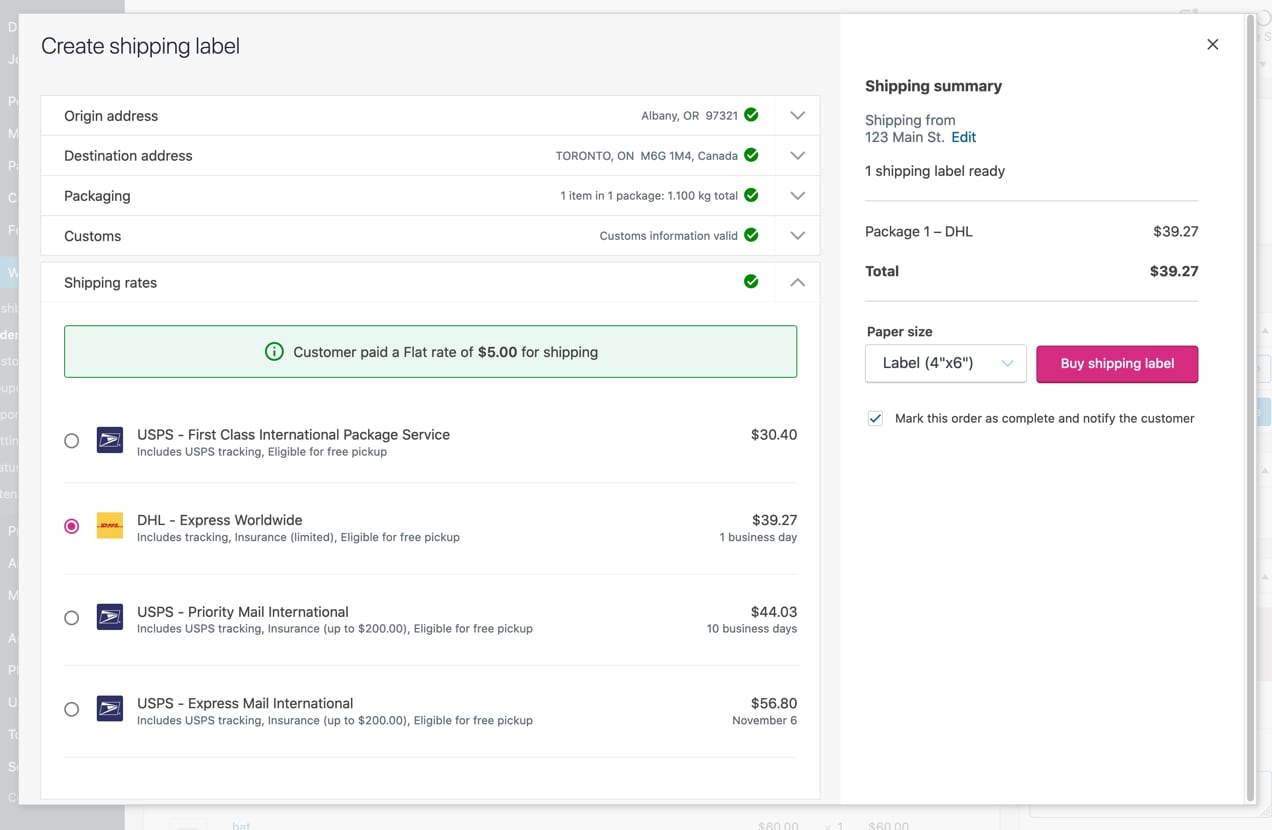 And to speed up and simplify the process, WooCommerce Shipping is here to help! It allows you to print USPS and DHL labels straight from the WordPress dashboard, and even gives you a hefty discount on rates.
6. Add extensions
Extensions are essentially WordPress plugins, but are designed to add specific functionality to your online store. There are hundreds of free and premium options available in the WooCommerce Marketplace, helping you set up your store exactly the way you'd like!
Here are a just a few great extensions for bloggers:
And those are just a few of the options available! The extensions marketplace has tons of powerful tools that help with everything from marketing and design to merchandising and collecting payments.
7. Spread the word!
Once you set up your shop, you'll need to get the word out to your audience. The good news is that you don't need to become a salesperson to do this. In fact, you shouldn't! Write a post announcing your new offerings and talking about how excited you are. Share some behind-the-scenes photos of your process. Send an announcement to your email list.
But, generally, you'll just want to make your store available to your loyal readers and casually mention things when they naturally fit into your content. Include a link in your footer for donations or write a post about your upcoming adventure and ask people to contribute if they'd like to be involved. Include a picture of you wearing one of your t-shirts or share a story about someone exciting who just joined your membership. You don't want to push commerce at the sacrifice of what's brought you success so far — your great content!
If you think that what you've created will appeal to more than your existing readers, you can develop a separate ecommerce marketing strategy to find new customers without alienating your blog followers. That's a whole new venture, one that may be worthwhile, but that's going to be more work than simply tapping into your current audience. Jump in with our ecommerce marketing posts!
Ready to embark on an exciting path and dive into all the possibilities that come with ecommerce for bloggers? Get started today! If you need help with building or customizing your store, hire one of our trusted WooExpert agencies to complete your project.