Everyone loves a story, everyone loves a snack. And today we bring you a tale of world class food for athletes, available online through WooCommerce Subscriptions on THEFEED.com, a beautiful, friendly and engaging ecommerce site. We chatted to Becca and Matt to find out about how they got from A to awesome.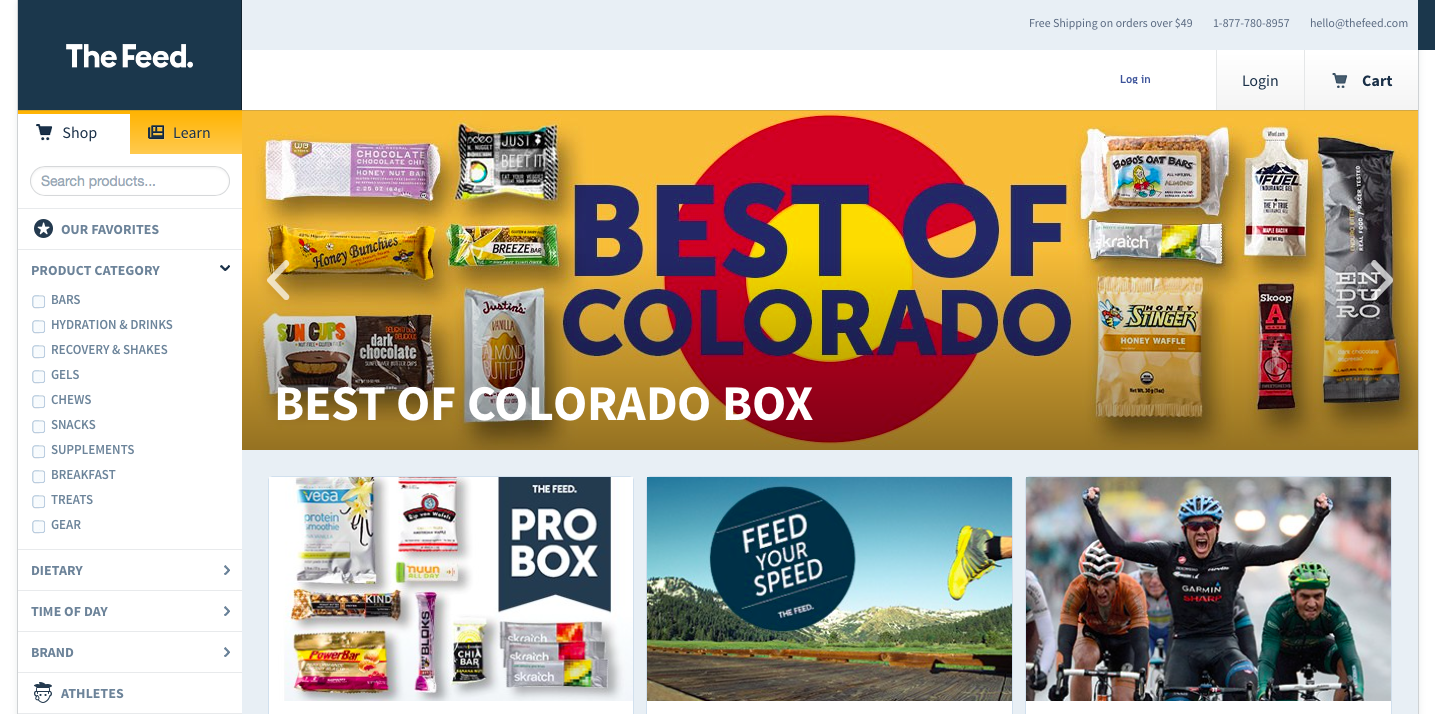 Did this all start when you ate a really bad snack and thought: There must be more?
It actually all started when one of our founders got home from a long ride, was famished, opened his fridge and the only thing that was sitting there was a block of cheese. He didn't eat anything on his ride because he only had stale bars. That moment spurred the thought, there has to be a way to make sure you always have the right food for your workouts. Because really, if you have the right foods and you know when to use what, you can get so much more out of your exercise program.
What is your dev background, and what was your first website building experience?
We have long history of website development, from first building the BigWords.com business in the late nineties to more recently developping ThisLife.com which was acquired by Shutterfly.
You seem quite advanced WordPress users, how did you come across WooCommerce?
This is the first project we have ever done on WordPress! Thanks for the compliment! We found you guys because of the subscription plugin. We wanted a powerful subscription management engine and NOTHING had anything even close to these capabilities.
Have you been to any WordPress meetups or WordCamps before?
No.We have been waiting to be asked on a date. Are you asking?
WooConference, nudge nudge. Anything you'd like to see changed in WooCommerce?
Make the Admin faster; Better Inventory Management and Ability to integrate notes and basic CRM comments with customers.
Tell us about the theme, extensions and any customisations used for THEFEED.com?
We built a custom theme for our look and feel. We had to do extensive customization to the Ship Station integration but aside from that we try not to customize 3rd party components.
So wise. Tell us three things you've done, beyond setting your platform up well, to drive sales.
We personalize shopping experience. We truly know our customers. On the inside of each box we write them personal notes (and now do that at a large scale) and keep detail history of every customer, any food allergies, their favorite sports, and special events they might be training for.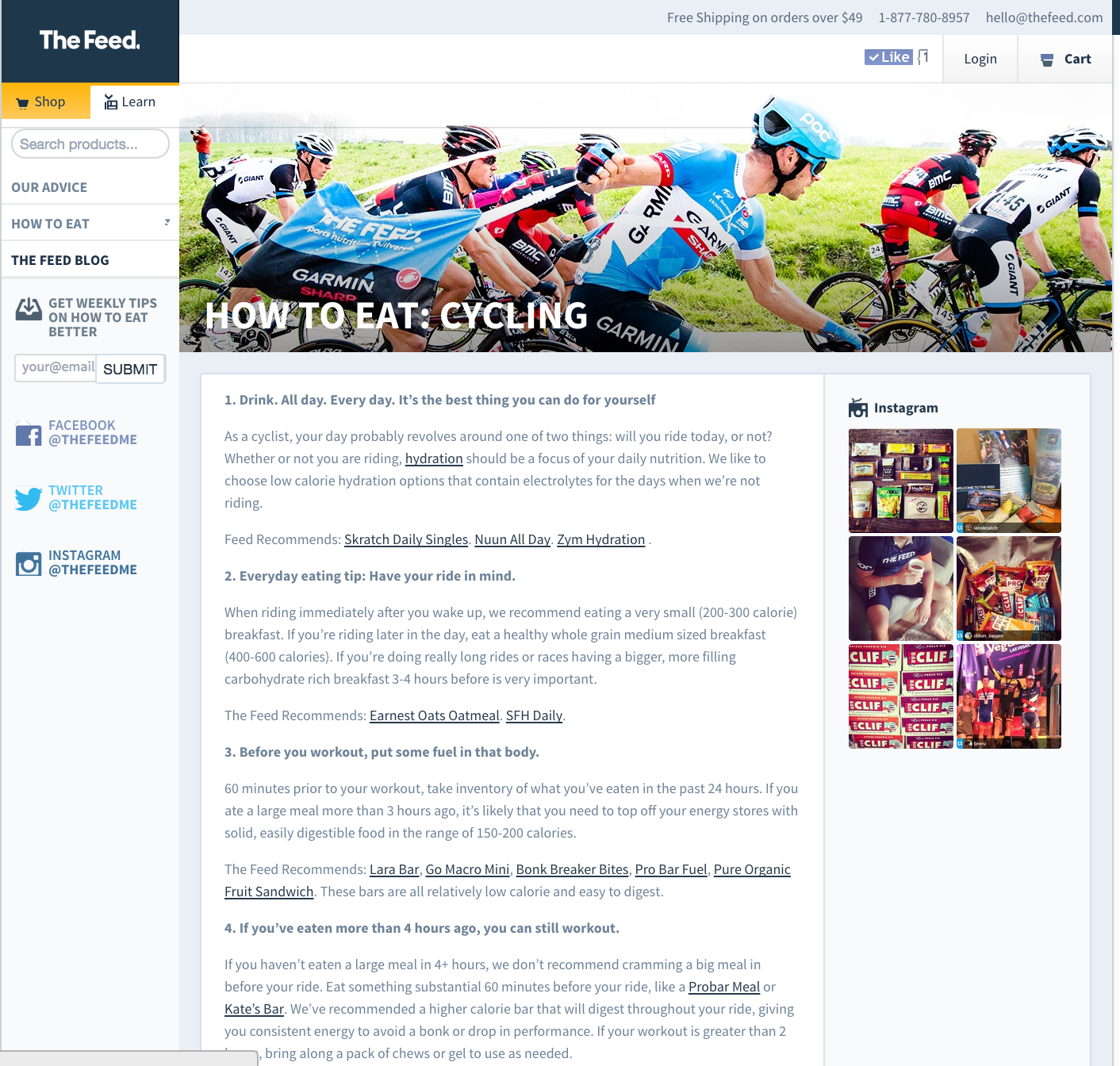 Are there any challenges you feel have been unique to building TheFeed.com?
Subscriptions. We have One-Time and Subscriptions and you can checkout at the same time with both One-Time and Subscription items in your cart (actually two carts that look like one). We then let you modify your Subscription at anytime. In addition every customer's subscription is not a single fixed priced item, but can be completely customized by the customer i..e they can add their favorite 15 products and subscribe to that. Basically no two subscriptions are the same.
There are a number of ways to browse products (sport, time of day etc). Have you done a lot of research and tweaking to the UX to get to where you are?
We spent about 9 months iterating on designs that didn't work. We have a balance of delivering content and education inside a shopping experience. One of the hardest shopping challenges in nutrition is that packaging doesn't tell you anything about what is inside. Shopping at a grocery store for these type or products is next to impossible. Our goal was to have the biggest (yet curated) selection anywhere and then provide power tools to quickly filter down to the kinds of products you are looking for.
How are you currently using email and social marketing to support your online store?
Emails are key. In fact, they are our number one channel for driving sales. Beyond that we do retargeting, Facebook advertising and all the usual stuff. But nothing beats emails.
Agreed! Describe what is currently your greatest strength, weakness, opportunity and threat.
We love our customers and really go over the top to service their every need. We have fantastic conversion rates (around 5% which is about 6.5% on desktop and 3.5% on mobile). 50% of our traffic is mobile. Luckily for us, being healthy is something most people want to do. So really what we need is to educate and find more people that are athletically minded and want to eat better.
If you could create a snack with magical (legal) powers, what would it do?
We'd probably go all Willy Wonka and invent a snack that would either allow us to figure out awesome ways to ship internationally and effortlessly clear customs, or a snack that would help us build the most amazing WordPress site ever because it allowed us to access 100% of our brains. Yeah?
If you could have any famous sports person shop on TheFeed.com, who'd you pick?
It's a three way tie between Richard Simmons, Chuck Norris & Oprah Winfrey.
Richard Winchuck, got it. Thanks to Becca and Matt for sharing on their experience with WP, WooCommerce and Subscriptions. If you've had experience with using Subscriptions, let us know in the comments. And if you'd like to be featured as a case study, send a mail to marina at woothemes dot com.