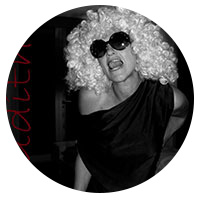 On the eve of Judith Hobby's website launch I came across the site by accident and wondered what was the story behind the launch of this business. This intrigue led me to connect with Judith and her development team. We work with people everyday here at Woo but it is always a delight to take a bit of time to hear how our products are enabling unique businesses to take the next step in their journey. Upon first glance at Judith's site you get this sense of vibrant, exciting, and lovely people – having an amazing time. Later when I finally heard Judith's story it made all made sense. Judith clearly loves people and loves what she does, her business emerged out of her passion for gathering people together and her desire for a shift in the fashion world, isn't that wonderful? So sit back and enjoy this unique story coming out of Dubai.
Judith Hobby Clothing Website Branding Ethos
Founded in 2011, the brand was developed to meet the needs of women who wanted forward thinking fashion that was also practical and affordable. The Dubai market is very limited in this regard. If the clothes are different they come with a large price tag.
The Judith Hobby Clothing design ethos can be summarised as simple, contemporary clothing with an edge. Practical and comfortable, without compromise on style, the clothes allow a woman to stay ahead of the game with ease.
The main sales platform previously has been Open Houses at my home. The entire downstairs area is cleared out for the day and a number of other vendors invited to participate with their products, ranging from jewellery to food and home wares.
This avenue has been extremely successful with up to 250 people attending at an event, however, I felt that it was time to diversify and I truly believe that online shopping is the way of the future. Even though I'm not technical at all, I mainly shop online, so if I am doing that then my clients must be as well. It just seemed a natural progression to develop an e-commerce site.
At the Open House most of the other vendors are friends of mine and champagne is always flowing, so these have gained a reputation as being a fun event to attend. There is always laughter and a warm friendly atmosphere – clients have said it's like walking into a party where everyone is so happy that you made it. I wanted that feeling to be portrayed on the website.
The main photos were shot with friends and represent to me the Judith Hobby Clothing brand image. Fun, laughter, comfortable, confident, relaxed… I felt these images were very strong and would drive the clients to enter the product page with those feelings in mind.
The clothes themselves are generally quite relaxed and easy to wear and I wanted the images of them to stand out and be clean. I don't like clutter and I personally felt that including up-sells and cross-sells detracted from the feeling of the site.
I had a very clear idea of how I wanted to site to look and although Alex (at Tinkerswitch, my development and technical partner) and I didn't always agree, he let me get my own way most of the time. I'm really happy with how it has all come together.
I would like to create a lookbook for the site at some stage in the future which would allow me to delve further into the psyche of my brand, but that's something for later in the year.
Technical Approach
Judith approached us at Tinkerswitch (www.tinkerswitch,com), a web development studio located in Dubai to create a website for her clothing brand. Judith was very specific about her requirements and the type of site that she wanted to create. Branding and the user experience was her primary concern. In terms of the shop she wanted simple, clear presentation of the products and an easy and intuitive shopping experience. Tinkerswitch has experience with various a few shopping cart and e-commerce platforms and since WooThemes launched WooCommerce it has been our platform of choice since as it almost always meets all the requirements for the project in question. The Judith Hobby Clothing website was no exception.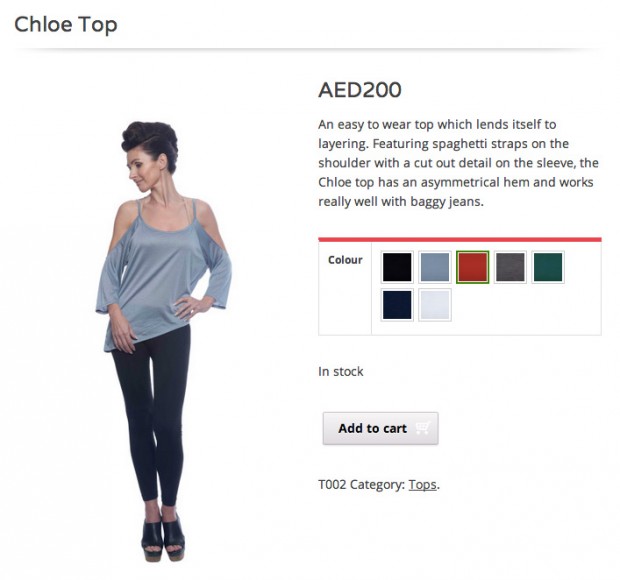 We modified a custom WordPress theme that was designed specifically to take advantage of WooCommerce, and extended the site from there. Initially we approached the site in a more formal manner with product listings on the homepage and more detailed products lists and product detail pages with additional information, reviews, cross-sells etc. In conjunction with Judith we refined the site and removed clutter to get it to a point that was consistent with her brand and that offered a great visual shopping experience. The implementation is quite flexible so as Judith grows her product list we can scale the site efficiently. We also plan on implementing some A/B testing in future and trying out different versions of the homepage in order to see which converts more customers. This would be done in conjunction with some user testing to try and determine the relationship between building the brand vs presenting and pushing more products.
Another reason we selected WooCommerce as the e-commerce platform is that we can easily scale up the functionality going forward via existing features that are built in to WooCommerce, via existing extensions available for purchase and we can also write custom code to extend the functionality. Phase 2 will include social sharing and promoting of products, discounts on purchases in return for referrals and promotions and a better user experience when it comes to viewing the products in various colours. WooCommerce makes this easy to do and can be implemented in a phased approach in order to accommodate the project budget and plan.
We used a number of WooCommerce extensions in order to facilitate faster development and to integrate functionality that we would not be able to develop on time and under budget ourselves. Specifically we used the following extensions:
Would you like to be featured on our blog? Share your experiences working with WordPress and our products and if we believe it will benefit our community we'll publish it.
Contact us
.