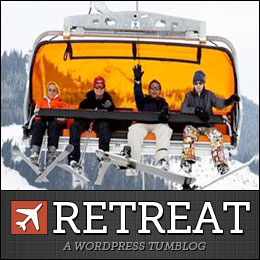 It's been a month since our company retreat to the Austrian Alps where we enjoyed a week of snow, ski, jagermeister and a little bit of work – how we all wish we could be tele-ported back there right now.
We've been absolutely astonished by the amount of media attention our company retreat attracted. It even featured on Mashable yesterday with Josh Catone, the features editor, writing an excellent case study on our social media success surrounding the trip.
Not only did the trip itself attract a lot of attention, but we got a lot of people admiring the WordPress tumblog theme we built to efficiently, and very easily, live blog the activities in the Alps. We therefore decided it was appropriate to add some polish to the theme, and add some more functionality, then release it for general purchase.
We therefore present the aptly named 'Retreat' theme to you. Packed full of very uniquely WooThemes developed quickpress publishing tools to easily post and differentiate between image, video, quote, link, audio and article posts. You would have seen this functionality in our Cinch and Slanted WordPress Tumblog themes, however Retreat comes with a customizable header space, an AJAX Twitter widget that can track mentions of certain keywords or users on Twitter and 7 slick, center based alternate styles.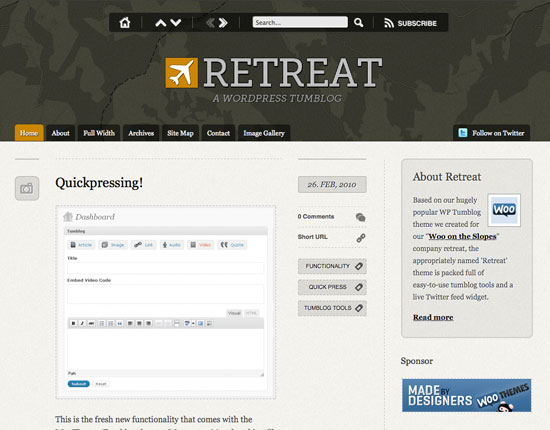 There's also a rumoured iPhone app that is nearing completion that will come in handy with our Tumblog themes.
As always constructive feedback is welcomed, the demo is available for a more detailed inspection and theme listing offers more details on this theme.