With WooCommerce, you don't have to limit yourself to physical goods — you can easily sell digital products, your time, access to events, and more.
Let's have a look at the five most popular types of product people sell with WooCommerce, and why you should consider adding another type of item to your store, no matter what your specialty. We'll also give you some amazing examples of stores already selling these products, both in a traditional way and in ways you might not expect.
The five most popular things to sell with WooCommerce
We recently talked about different ways to take payments online, but there are also different kinds of things you can sell with WooCommerce. You can break these down into five major categories:
Physical products — probably what we all think of when it comes to online stores. By this we mean real, tangible goods that are shipped from door to door.
Digital goods — from eBooks to software products to creative work like photos or music, so much can be delivered digitally, instantly, to shoppers online.
Access — by this we're talking about access either to specific products (limited to members or exclusive groups only) or to content.
Time — selling your time means selling access to your knowledge. This might come in the form of appointments for offline services or expert advice, or even online sessions via Skype.
Tickets — sold to both online and offline events, like concerts or webinars.
Each of these product types might represent the primary revenue stream in your store, or they might be a secondary form of revenue that is added on top of what you specialize in.
Exploring a new product type can help you stand out in your field, make your customers happier, and increase your profits. There are a lot of benefits to expanding your product catalog, but trying a whole new type of product can really take your store to the next level. It's just up to you to decide what suits you best.
Let's talk about each of these types of products in more detail, examine what they look like in a few WooCommerce-powered shops, and discuss a few different ways you could add them to your store.
1. Physical products
As mentioned, physical goods are probably the first things you think of when online stores are brought up in conversation. These stores typically stock and ship tangible products to their customers on a per-order basis. (As in, they come in a box and you can touch them.)
A classic example of a physical goods store is the ethical fashion shop Just Fashion:
As you might guess, this store sells fashionable men and women's clothing and accessories. The products are packaged and shipped to a few different countries each time an order is received.
One twist on the idea of selling physical products is to offer them on a subscription basis instead of shipping them on demand. Primary Book Club does just this: instead of allowing books to be ordered, they ship a new book each month based on your child's age and reading level.
The subscription model is an excellent way to offer products at a pace you're comfortable with, and it can also be highly beneficial for items that require replenishment on a regular basis — say, household supplies, food, or coffee.
Believe it or not, any well-loved brand can sell physical goods: their own swag. When customers love your brand, they want to wear it, put stickers of it on their laptops, and show off their love.
Torchy's Tacos, a popular growing taco chain, got into the eCommerce game by selling their own swag: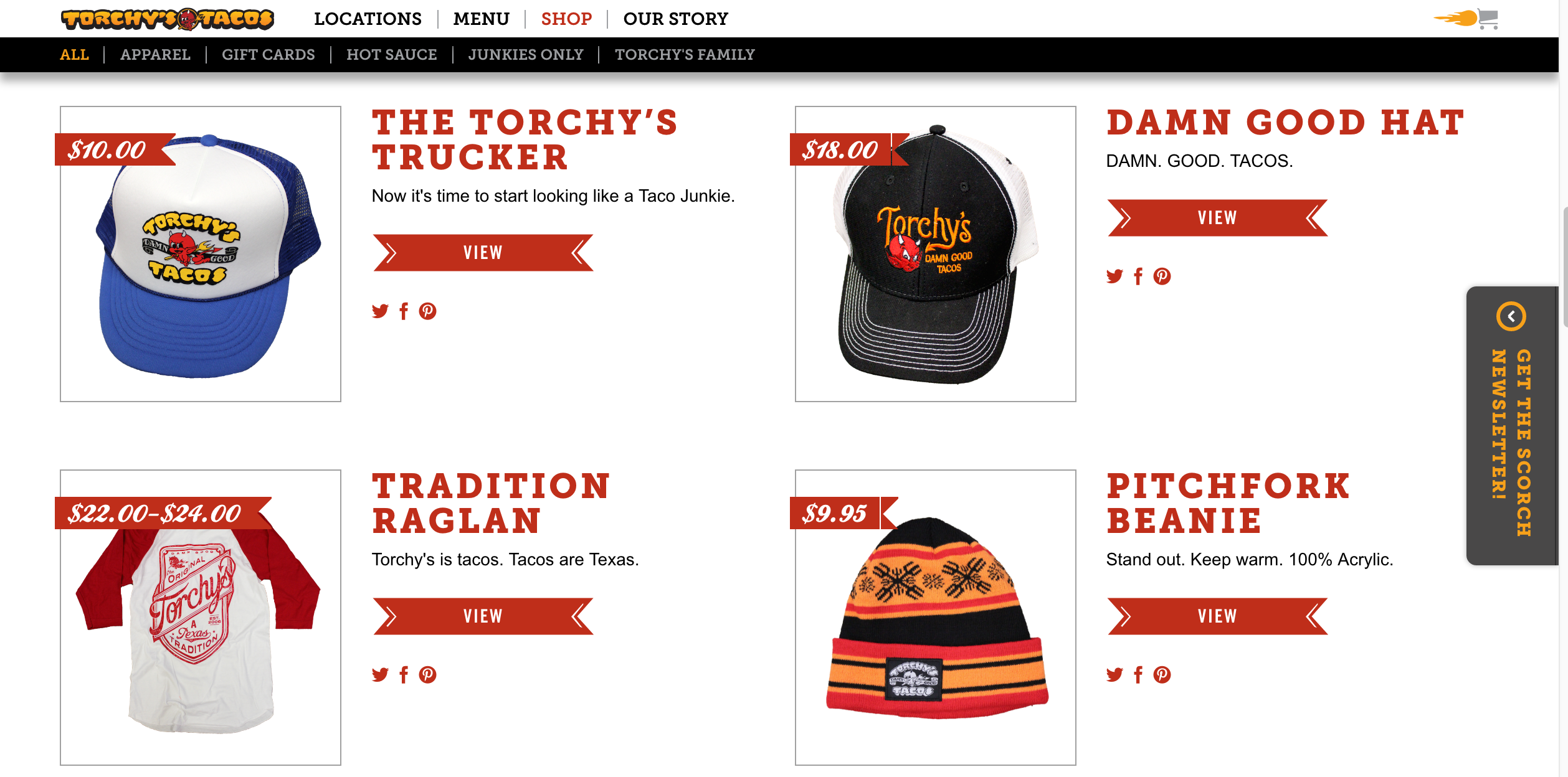 Operating a restaurant? Running a popular digital goods brand? Here you are: a bonafide way to expand into physical products, make your customers feel like part of your family, and bring in a little more income. Win-win-win.
2. Digital goods
Digital products can vary in price, function, and size just as much as physical ones, but with one clear difference: they can't be handled or used in the "real world."
This very website is an example of a digital goods store: we sell products that are used to help you grow or improve your online store in some way. Another example is SnapTank, which sells 3D scans used by digital artists, game developers, and more: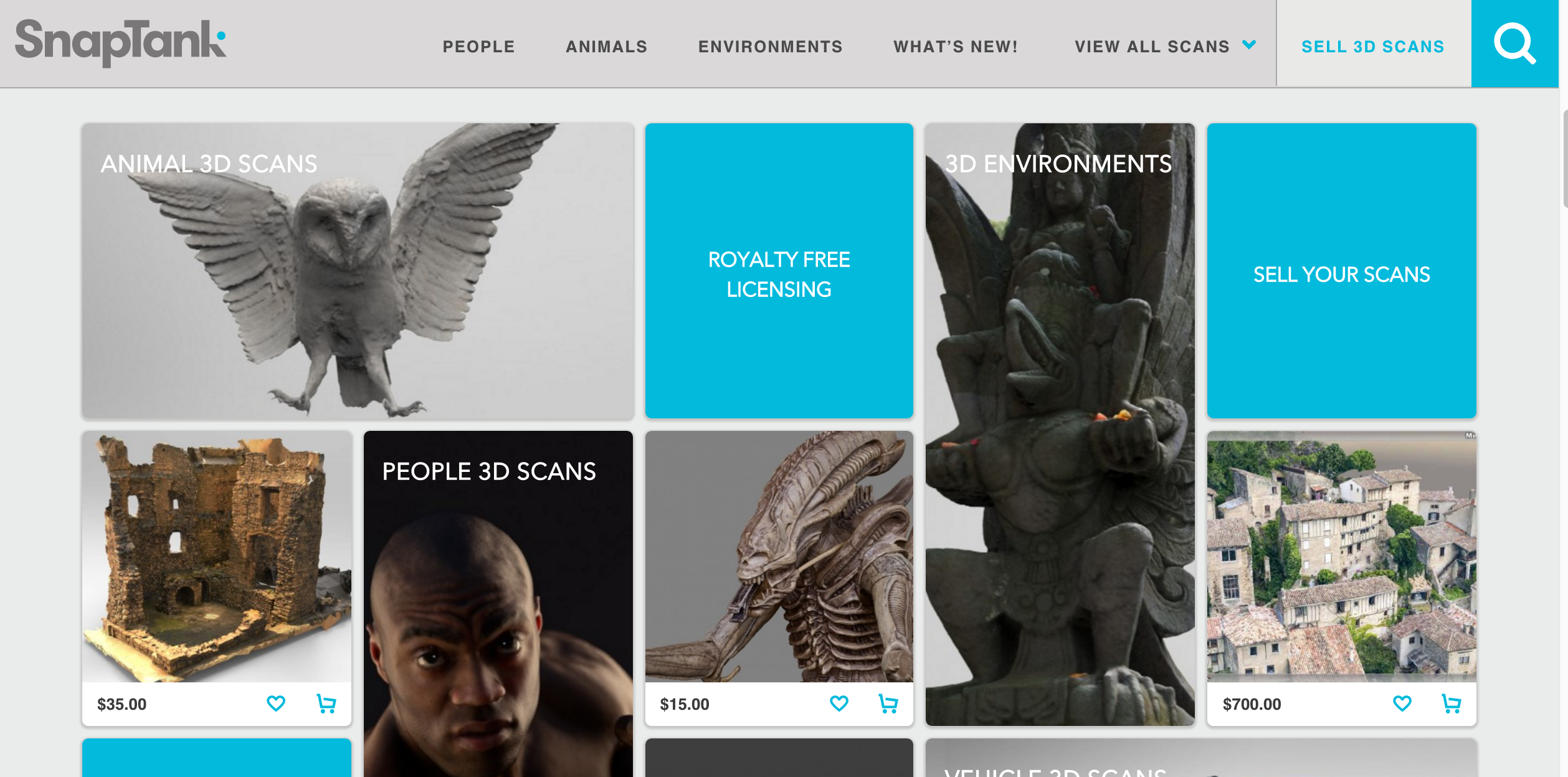 SnapTank also allows those who create their own scans to sell them through the store; artists choose their own pricing and receive a majority share of the profit.
Thinking of ways to expand upon your digital goods store or add this format? Much like physical goods, it's also possible to sell subscriptions to digital products: the ConversionXL Institute sends weekly video courses to subscribers who are interested in learning more about conversion rate optimization.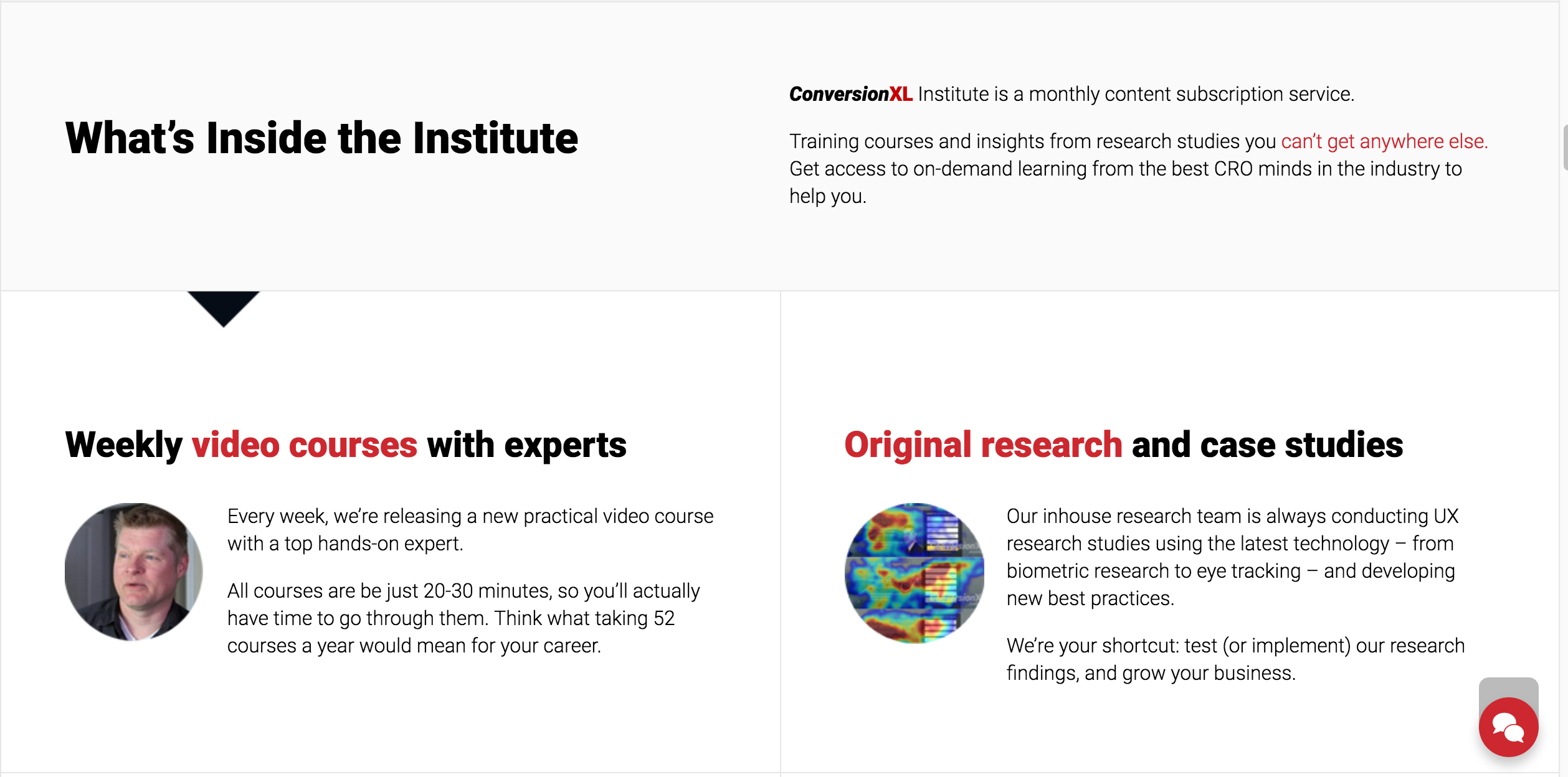 If you're already selling courses or education online, this model might be a nice twist to bring in more revenue and deliver your knowledge on a convenient basis. The digital format might also be a good alternative for coaches who can't fulfill their demand for IRL sessions: put your knowledge online, charge for it, and now you've got a steady cash flow without the worry of exhausting yourself.
3. Access to exclusive products or content
Your customers don't just want amazing products backed by outstanding service (although they do): they want to feel like they're part of something exclusive, like they've discovered a hidden secret. This desire for exclusivity has lead to the popularity of memberships, and with it members-only products or content.
Post Status sports a digital example of this: their club promises members access to an exclusive email newsletter, Slack channel, and other high-quality content focused on WordPress and its community.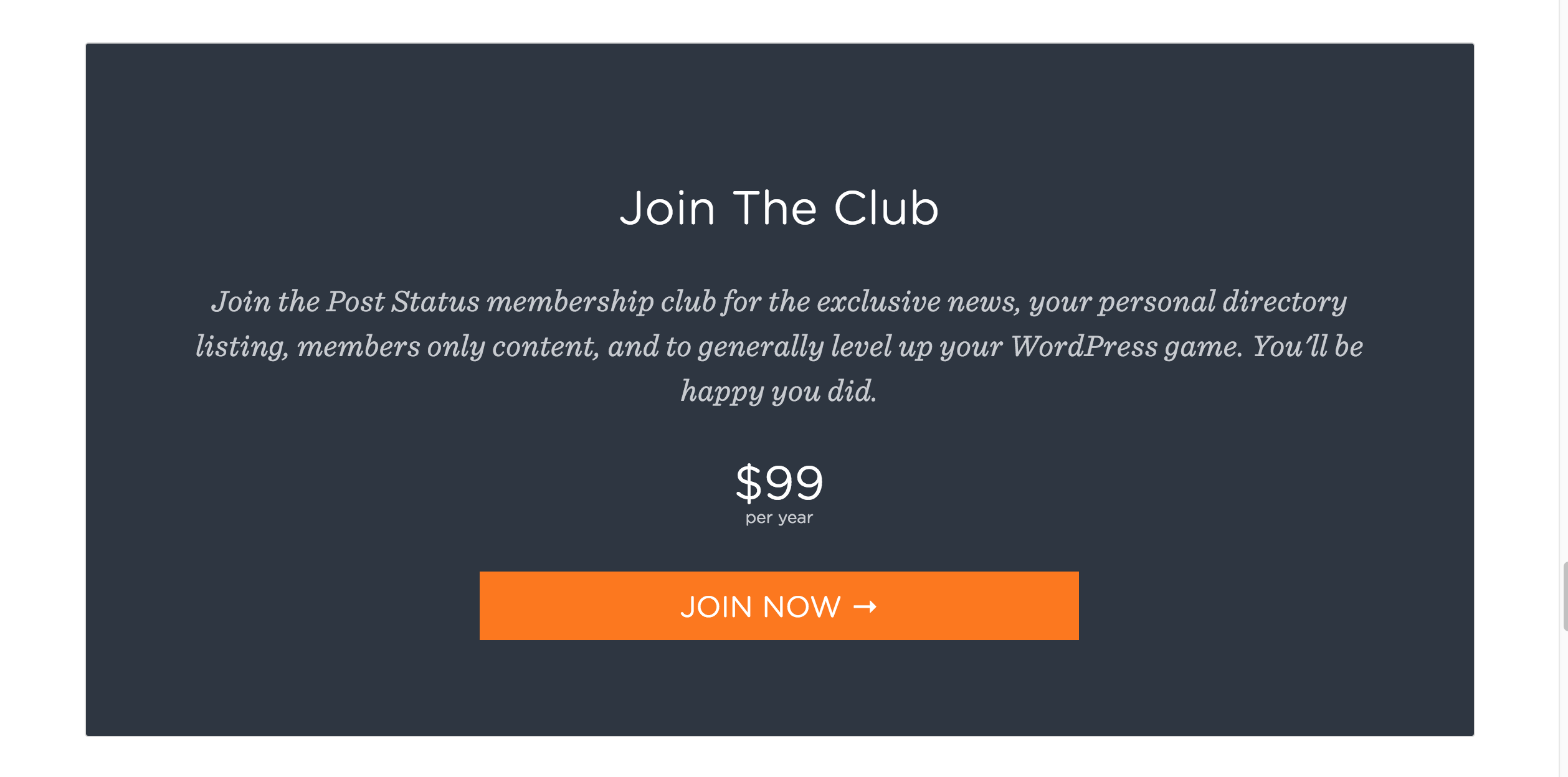 Another example: Soccer Tech, a soccer training organization that offers online tutorials for two types of members (coaches and players), billed either monthly or yearly.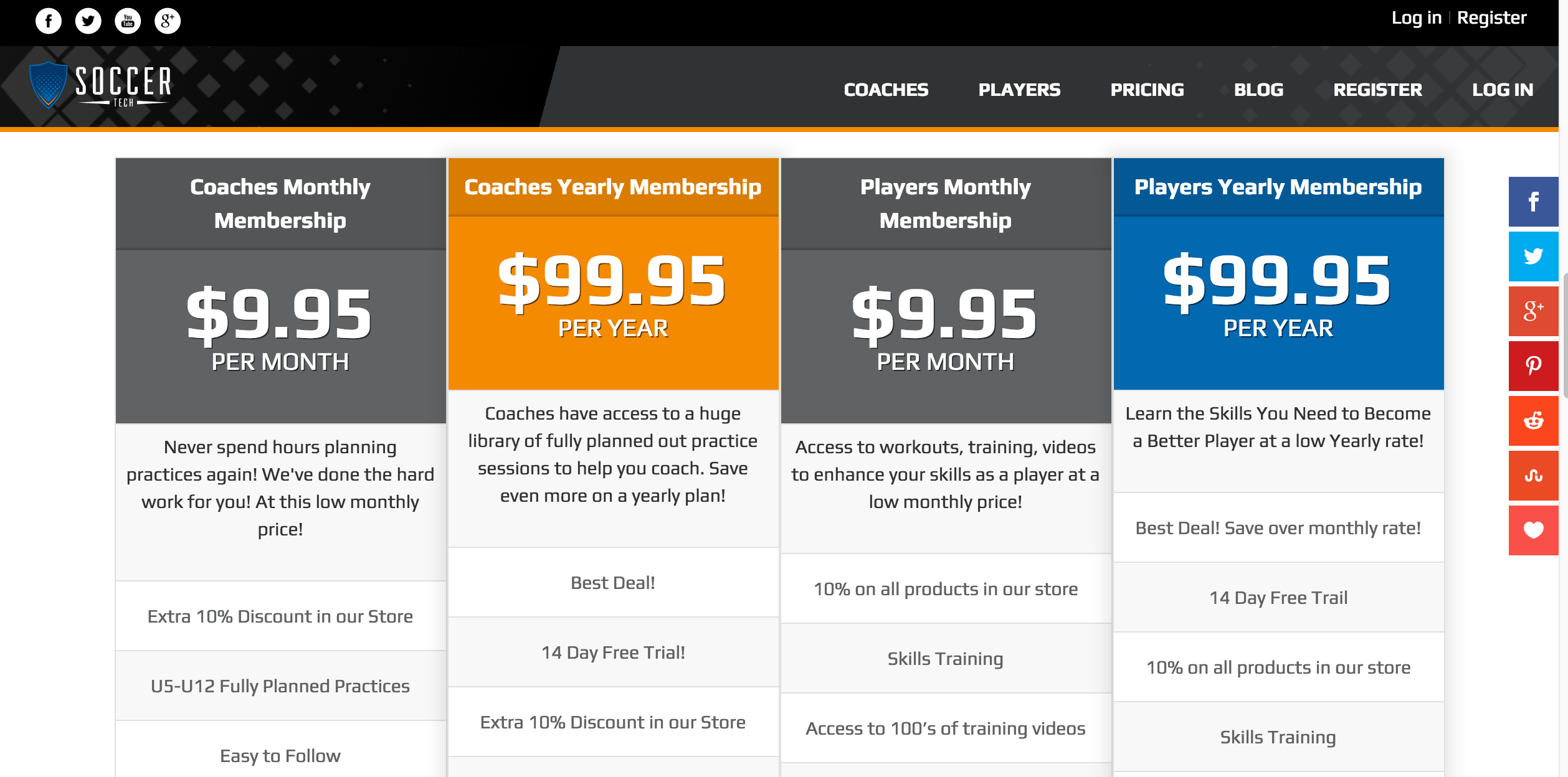 The caveat here: these businesses were either mostly or entirely built around their membership offerings. Thinking of adding memberships to an existing business? Think about what products or content would be desirable enough to merit a paid membership and build around that.
Or you could do what the University of San Francisco's office of human resources did: use memberships to restrict content to specific employees. USF's internal website, powered by WooCommerce, Sensei, and various extensions, restricts lessons and videos to logged-in employees.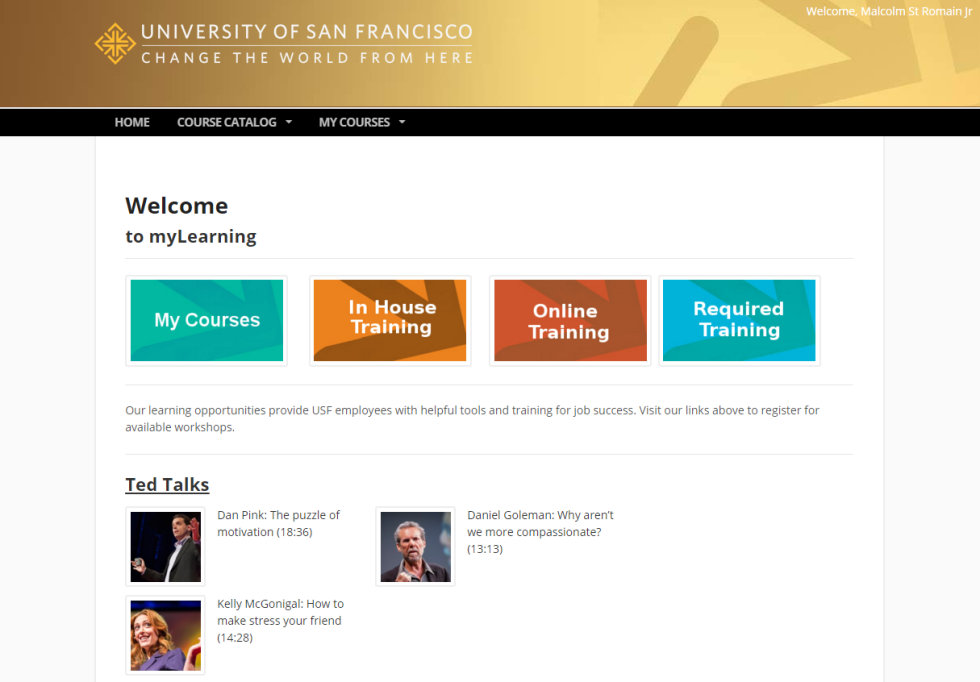 This might not make them any extra money, but we're certain it makes the onboarding process for new staff a breeze. And that's worth its weight in gold, and then some.
4. Your time as a product
Your time is valuable. That's why it makes such a hot commodity, and why many businesses have been built upon the notion of selling it — either through stays in a hotel (where guests reserve time in rooms) or time spent soaking up the knowledge of an expert at an event or personal session.
One example of the more traditional bookings-based businesses is Getaway, which currently rents out tiny houses for short stays in Boston and New York. They tell you what times are available, and the tiny house is yours for that short while. Lovely!
Thinking of selling your time on the side? If you're an expert in your field — and don't sell yourself short, you probably are — this is often a fast track to extra profit. With WooCommerce Bookings you can easily set up online coaching sessions or even in-person meetings.
Or you can do what PIXELCASE did: expand upon your products and offer relevant services that match. This leading VR shop — yes, there are virtual reality companies springing up now, welcome to the new world — doesn't just sell VR equipment. You can book them for sessions filming your movies or taking photos for you, too. Cha-ching: extra money for doing what they already know and love.
5. Tickets to an event (online or IRL)
The final product type you can consider selling with WooCommerce is a relatively new one: tickets. With our Box Office extension, you can offer customers access to events, whether they're online (like webinars) or offline (like conferences).
We wrote about how we developed and tested out Box Office for our very own WooConf site, both for physical ticket sales and livestream ones. This was a great way to test out its functionality and show what it was capable of pre-release.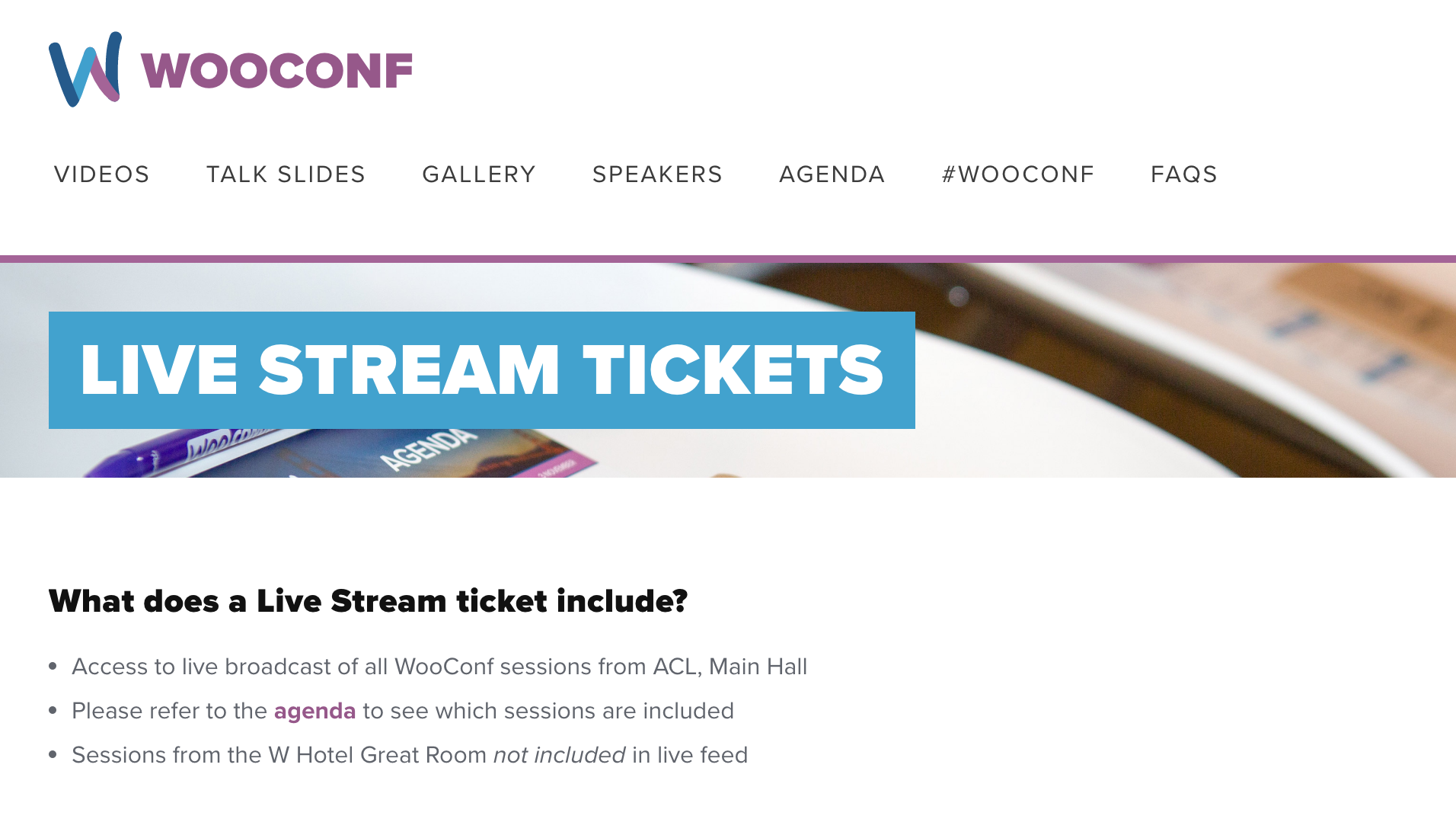 How can you add ticket sales to an existing business? Great question. Gotham Studios has done it: they now sell tickets to gallery shows and on-site events in addition to access to downloads, workshops, and in-person lessons.
Expand your horizons — try adding a new product type
No matter what you're currently selling with WooCommerce — whether it's physical products, digital goods, or access to your time and knowledge — it's worth considering adding a secondary revenue stream with a new product type. Doing so can help you stand out, bring in new customers, and boost your sales. What's not to love?
Are you thinking about adding a new type of product to your store? Any ideas you're particularly fond of? Feel free to run your thoughts by us in the comments, or ask us any questions you might have about expanding your horizons online.