Selling food online — especially fresh or frozen items — is a bit of a new concept. Even as other industries embraced the concept of eCommerce with open arms, food sellers hesitated, and with good reason: there were some crucial logistics to figure out first.
Fortunately, shipping food isn't a foreign concept any longer — it's now easier than ever to pack up and ship out fresh, frozen, bottled, and packaged treats of all kinds. So the battle has become convincing shoppers that it's worth buying edible goods online instead of in a local store.
One way you can convince shoppers to take the plunge is with pages that educate them on your products, their benefits, and what your company is capable of. These pages allow potential customers to gain confidence prior to making a purchase, and decrease the chance that they'll walk away from your store empty-handed.
Let's have a look at some of the most important pages an online food store can have, and how they'll help you find success.
Explain why your food is a must-have
The notion of buying food online is relatively new to some. Clothes and home goods? Not so unusual. But the thought of picking out steaks from a photo or ordering ice cream via subscription has yet to fully catch on.
This means it's necessary to convince potential customers why it's worth taking a chance on you — why your food is the best choice, the best value, the best tasting, and so on. Essentially, why it's the food for them, even though (or because!) it's sold online.
How can you do this? As you might have guessed, the best way is to create a page. Though you could always do some convincing on your homepage, a dedicated page allows you to:
Talk about the benefits of your food (ex. for health, as part of a diet or lifestyle…)
Explain how selling online is actually beneficial — maybe it saves your customers money, is more convenient, or provides access to otherwise inaccessible ingredients
Go into more detail about your food or drink in ways that you might not be able to do on your homepage
One example: Daily Harvest makes a case for the flash frozen ingredients shipped with their ready-to-blend smoothies on their "about" page, showing that frozen blueberries preserve vitamin C much better than fresh ones.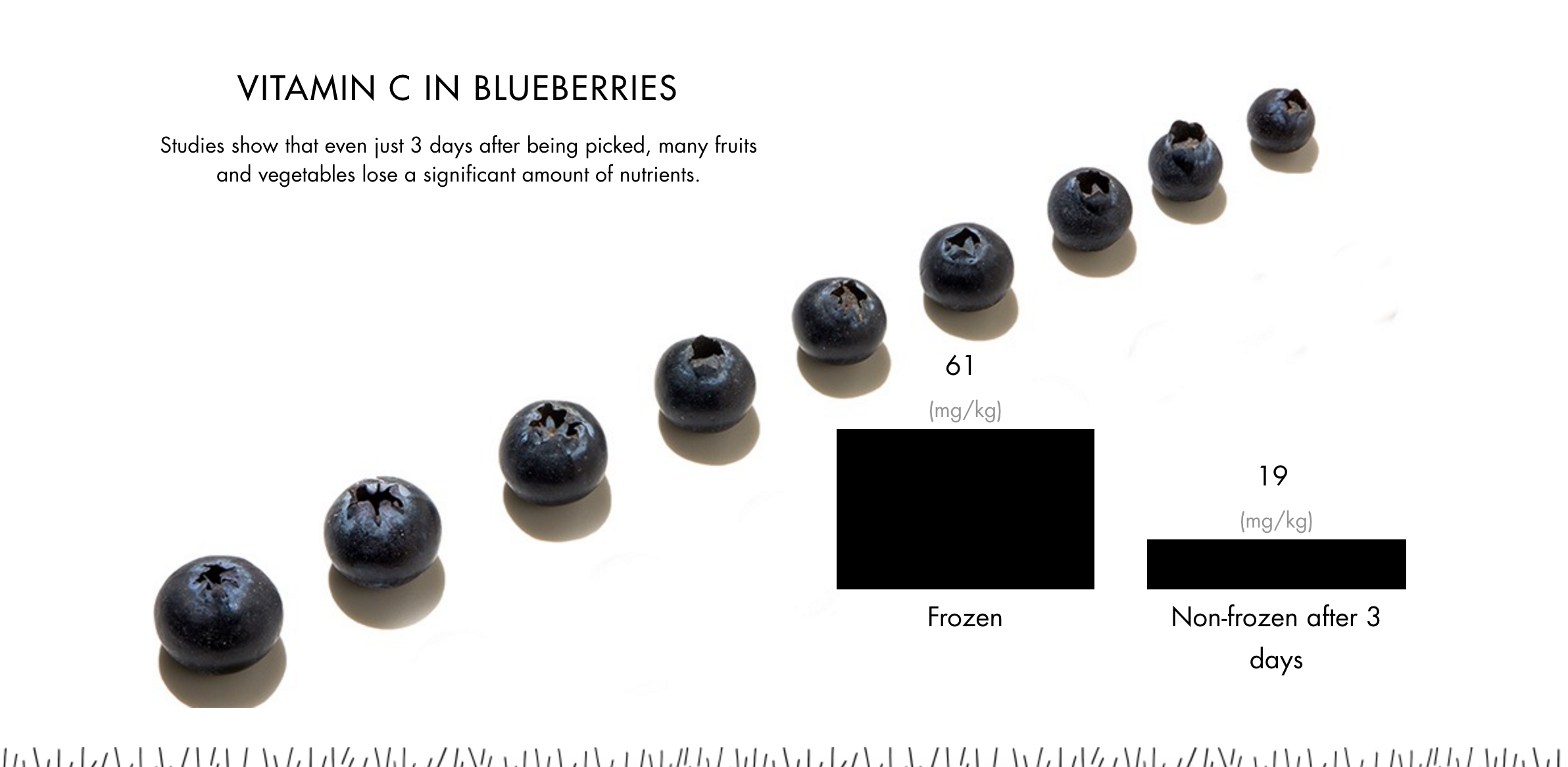 Another approach: Ally's Bar has a simple and sweet graphic with blurbs on why sweet potato is the best pick for the main ingredient in their energy bars: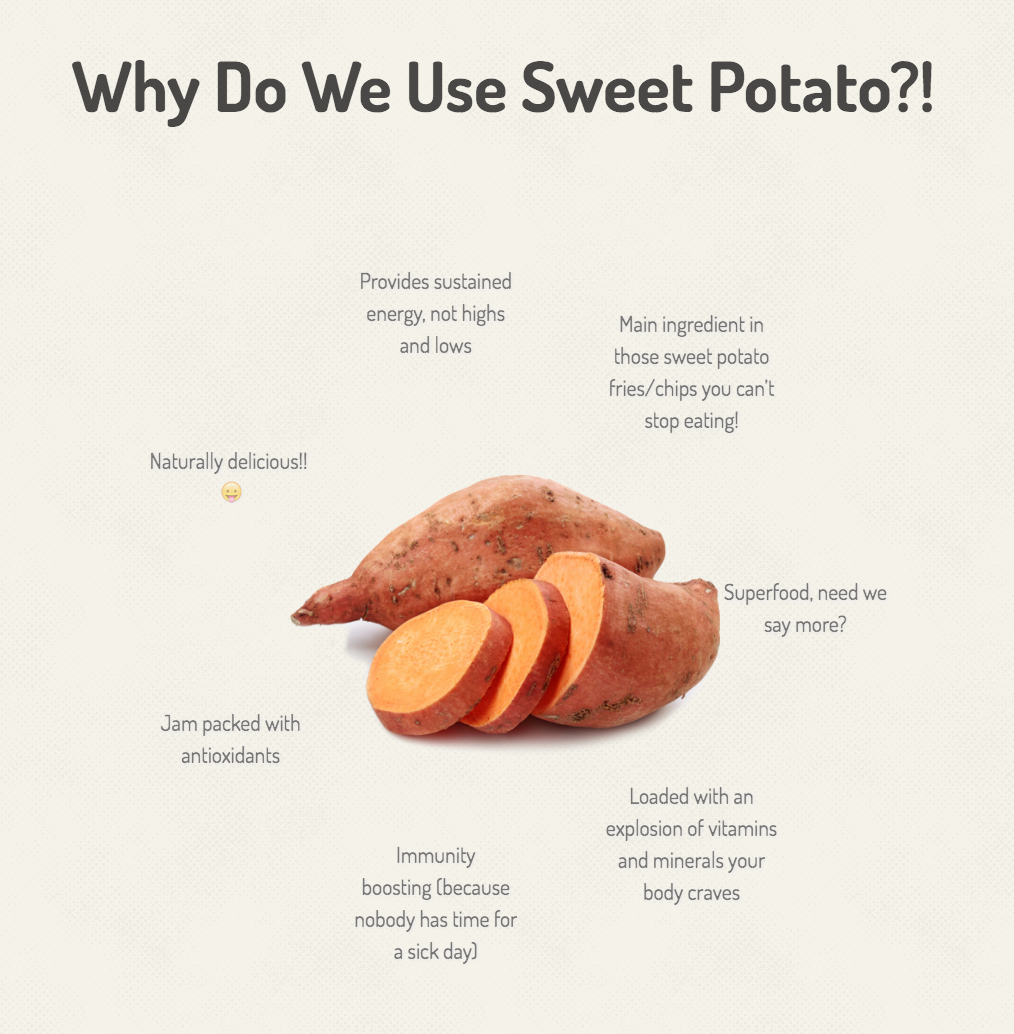 Dedicated pages like these give potential customers a good resource for learning about your products, as well as why they should be eager — not hesitant — to make a purchase online. Whether buying online provides access to special foods or just gives customers a fantastic value, a dedicated page will let them know what they stand to gain, and make a purchase much more likely.
Offer information on your food quality (and how you back it up)
Having said all that, there's still a crucial difference between online food stores and offline ones. No matter how many photos, videos, or mouthwatering descriptions you add, nothing can really replace real-life experiences.
Inspecting a fresh tomato or tasting a new wine are some of the pleasures that go along with food shopping. But these experiences aren't just enjoyable: they're also reassuring. We can put back a bruised or misshapen fruit, or pass up a wine we don't enjoy sampling. Online, that isn't necessarily an option.
To clear this hurdle, you'll need to take a different approach. We recommend setting up a page dedicated to explaining how you ensure that high quality food is delivered to shoppers, whether that's through sourcing the very best ingredients, personally checking each and every order for defects, or taste-tests (yum!).
A sample: hand-cut meat, poultry, and seafood provider provider Main Entrée has this page, where they explain in depth how they choose all their products carefully, taking the concept of "hand-cut with integrity" to the next level:
Main Entrée goes even further with the "integrity card" situated in your gift package. Hand-signed by the butcher who selected and cut your items, our butchers are proud to put their name along-side your gift-package.
This is a quick step for the business, surely (that is, having butchers sign off on a pre-created note to customers), but it's a sign of confidence and care that can go a long way. Main Entrée is showing that they stand behind their food with an action like this.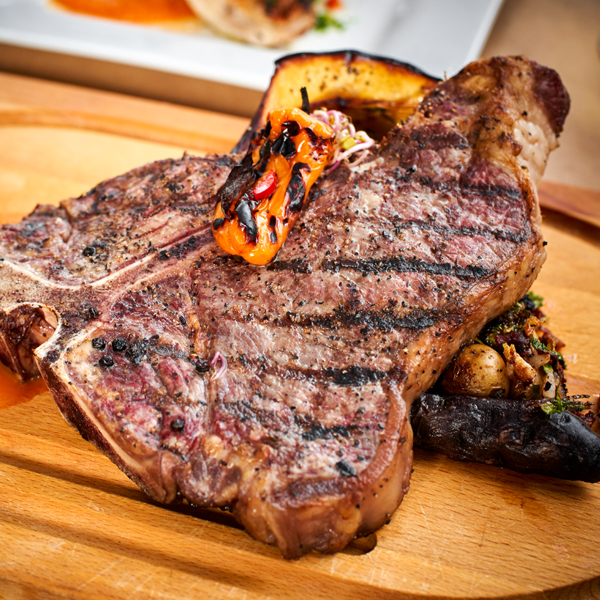 A guarantee like this might not necessarily be the perfect fit for your food store. However, you can and should show customers that you stand behind your products 100%. A few ideas you can borrow:
Share where your ingredients are sourced from
Talk about the process used to prepare your food, and what makes it high quality, and/or better than the competition
Tell customers what you'll do if they're dissatisfied with their order
Let customers know when and how to expect their deliveries
Ordering food online can be tricky, especially if it's fresh or frozen. These items don't take to regular boxes, as you no doubt already know. Nor do customers tend to take to the idea of waiting for them to show up.
The solution? Add a page that makes your shipping and delivery information crystal clear. Explain three "how"s at a minimum:
How fast you ship your orders,
How they ship (e.g. available methods), and
How soon a customer can expect to get the goods.
And an optional #4: how much shoppers can expect to pay for shipping, if you'd like to share. (This one's up to you.)
Let's have a look at some real stores doing this. UK-based craft chocolate maker Cocoa Runners has specific information for subscribers who want to know when their monthly chocolate box will arrive: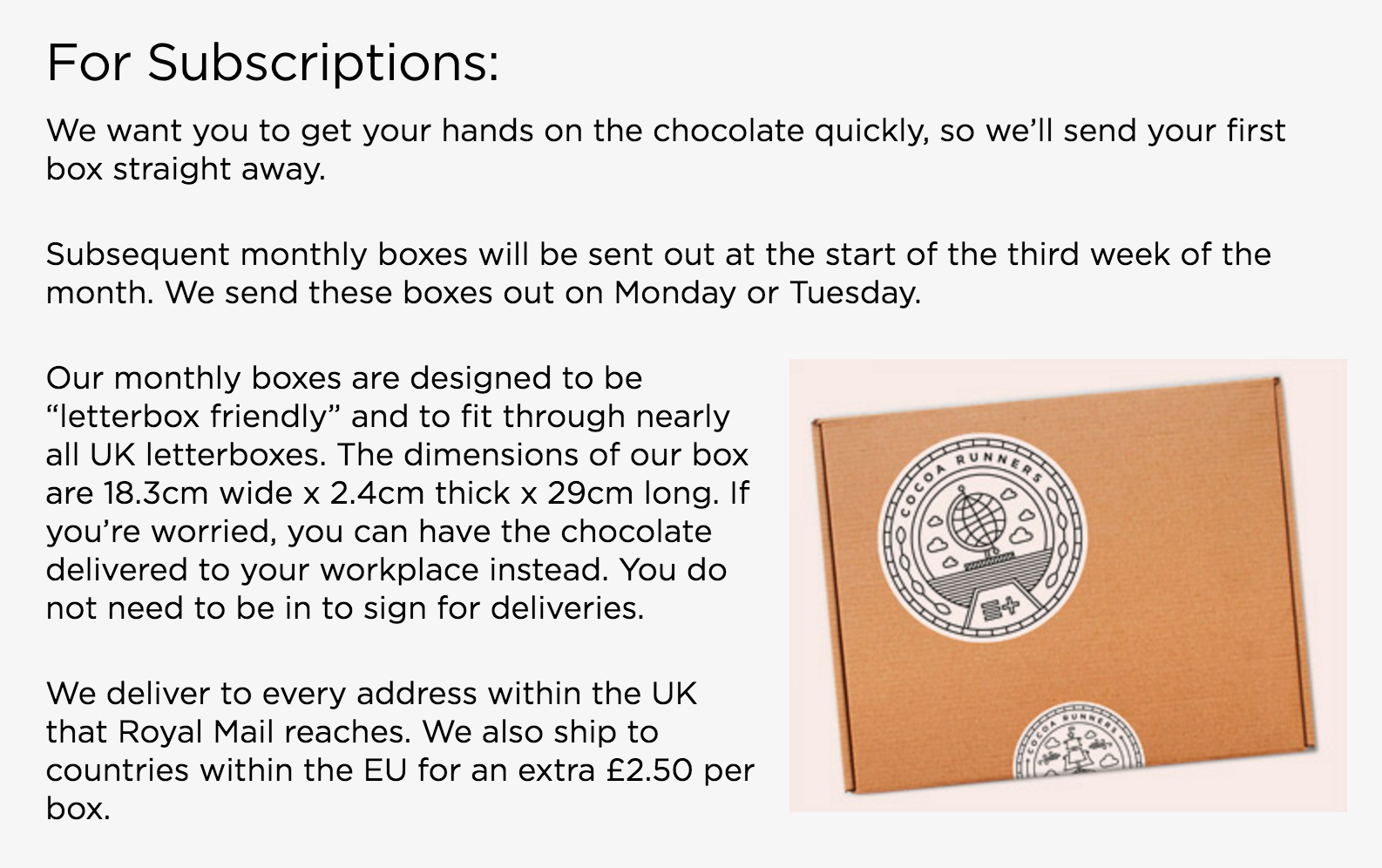 Australian health foods store Toosh, meanwhile, has a shipping & returns page with delivery information and a nice chart on pricing. It's easy to read and digest no matter what you're ordering or where you're located.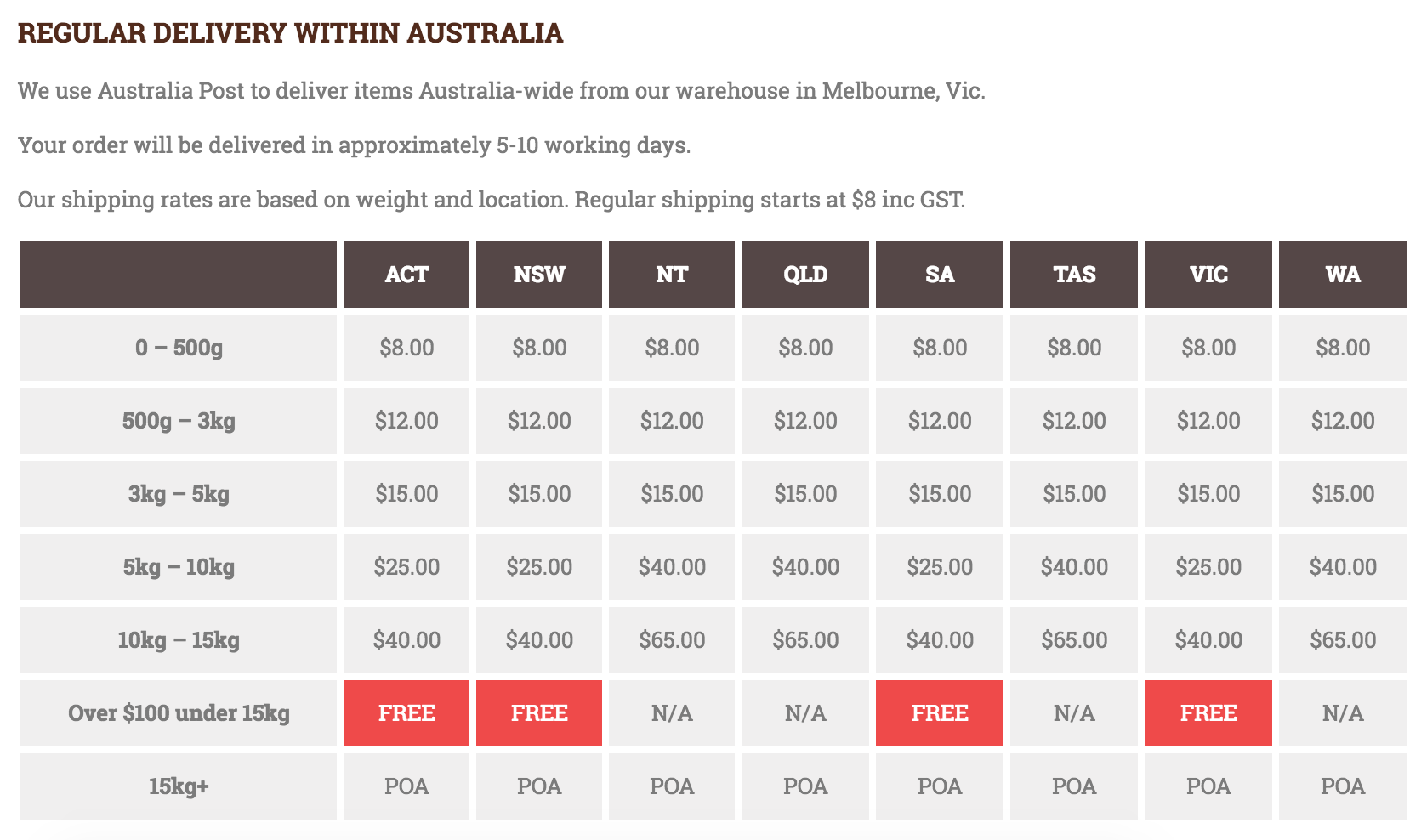 Offer local resources for those who don't want to buy online
Even after doing all this legwork, some of your potential customers still may not want to buy online. It happens — some people simply can't be convinced.
Fortunately, if your products are already available in physical stores or for local pickup, you can harness your WooCommerce site to link these shoppers to the resources they need. This is often as simple as letting local visitors know where they can buy your food or drinks, or how to actually make a pickup from your home location.
Zula, makers of tasty and natural cold-pressed juices, have a page showing you where to buy their products if you're in the area of their office in Minnesota:
They have each location marked for either retail shopping or local pickup, so you'll know in advance what you can get there and how to get it. A smart approach, we think.
Want to offer local pickup with WooCommerce? Follow these instructions to add it as a shipping zone, no extension needed. Looking to display retail locations like Zula's? Here's a guide that might come in handy.
A final treat: suggest uses, recipes, or pairings for your food
Many of the pages we've suggested so far are practical, meant to convince shoppers on the fence that you're worth trusting (and have tasty products). This one, on the other hand, is a little more fun — but no less convincing.
Customers like to know what they can do with your food, whether that means making it the centerpiece of a romantic dinner for two or adding it into their favorite dishes and sides. So a page that suggests uses, recipes, or even pairings for your products is a winner, because:
It can give potential buyers another nudge by showing how useful your food really is
It can inspire additional ideas and uses that might have otherwise been unexpected
It's a source of creative, share-worthy content that customers will love, spread, and use over and over again (which means real benefits to them, you, and your ranking in search!)
An example: Adoboloco, makers of hot sauce imported straight from Hawaii, have a recipe blog which suggests tasty uses and things you can do with their sauces. One such recipe is Hawaiian eggs Benedict paired perfectly with their jalapeño sauce.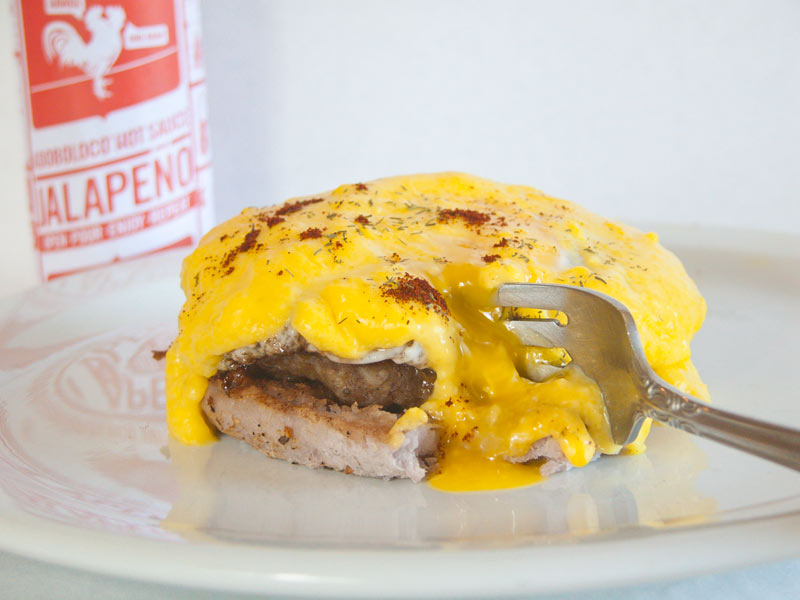 Have fun with this one — it's a great opportunity for you to shine, show off your cooking skills, and make suggestions that take your products much further than "basic ingredients."
With these crucial pages, your food store can excel
Convincing a potential customer to take the plunge and buy food or drink online can be a tricky. But by using these crucial pages, you can alleviate their fears and boost their confidence, ultimately leading to fewer abandoned carts… and more satisfied (and long-term!) fans.
Have any questions about the pages your own food store should have? Or any suggestions of your own to contribute? Share with us in the comments below, we're more than happy to read what you have to say.