Today we've launched Newsport, a very stylish and sophisticated magazine based theme which can house a wealth of blog posts on a clean newspaper-styled homepage.
Newsport was one of the design concepts that was originially submitted in the theme contest we ran last year October. It was designed by Armono Wibowo – an Indonesian web designer – who finished in the top 10 of the competition. Armono also designed Typebased which is available for free on Woothemes.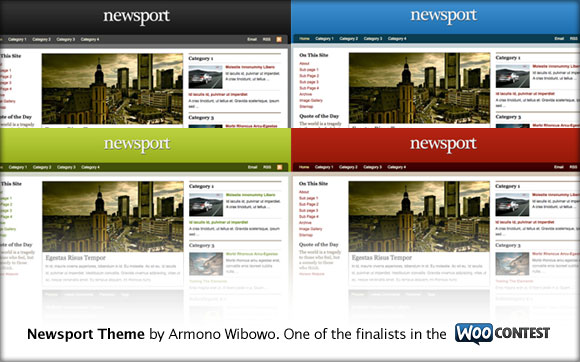 It was then coded by PSDtoWordPress and woo-erized (adding the icing on the cake) by Magnus, who built some nifty functionality into it, spread across 4 widgetized modules. You can do all sorts of cool things using the theme option's panel, like swop the category based top navigation bar for a page based navigation top bar. You can move the logo to the left and have a 468 X 60 ad banner next to it. You also have complete control over what categories appear where and you can paint your theme 11 different colours.
Find out more about the theme or demo it here.