How far does your brand experience go? Does it end at your website, or does it continue further, all the way out into your customers' hands?
We've written in the past about how important it is to extend your branding into every touchpoint that customers have with you, like email receipts and copywriting. These small elements, often overlooked, convey important messages — they say that you are you, and no one else.
If you sell and ship physical goods, your packaging is another one of these crucial, yet typically overlooked, touchpoints with your brand. Could you be overlooking the possibility of using it to connect with your customers?
Today, we're going to take a look at how you can make your products' outer "shells," from your shipping box to the one it's stored in, part of the overall experience with your brand. We'll explain why this matters, offer some ideas you can use, and tie in packaging with the other brand touchpoints we've already talked about.
Let's get to work.
Why branding matters, and why it belongs in your packaging
Think of a popular national or even international brand, along the lines of Coca-Cola, UPS, or Nintendo. You likely recall something specific when you hear a brand name, like a delightful series of commercials, a commonly used color, or a slogan.
Everything a brand does is part of the image they present to potential customers. Delightful commercials portray a brand as fun and endearing; a common color makes it easier for shoppers to recognize that company's products; a slogan can be catchy and often repeatable.
If you're already making an effort to cultivate an "image" of your brand, it doesn't make sense not to extend it to your packaging. It's much like putting on a well-coordinated outfit and neglecting to wear shoes — an effort was made, but it stopped short of the finish line.
This isn't to say that you need to create brand new packaging for your goods, or invest a lot of money in revising what you already have. But it does mean that you should consider how you're presenting your products to customers, and whether or not that experience matches your overall branding.
Think about it this way: would Coca-Cola be where they were today if they delivered all their drinks in plain silver cans or clear bottles?
Food for thought: you can distinguish a delightful experience from a dull one without touching a single product
I belong to a large family that celebrates both Christmas and two early January birthdays, so at the moment I am doing quite a bit of frantic online shopping. It's not uncommon for me to rip open two boxes a day right now (and run to hide them from my husband, one of said January birthday-holders).
While opening a delivery from Target recently, one of my personal favorite brands (as a writer, it's hard not to love their copywriting) I was struck by how strangely delightful the experience was, even though Target hadn't manufactured the items I received.
I was greeted with the packing slip on top, so the first thing I saw was a cheerful "hello," and all the other text in Target's trademark style. My goods were carefully packaged and individually bubble-wrapped beneath.
These small things all made the experience feel less like I was ordering from just another big box retailer and more like a personal, one-on-one transaction.
If you sell products manufactured by others, you might struggle with your own sense of identity, especially because modifying the product packaging isn't an option. But there are small things — like this example — that you can do to set yourself apart.
Let's take a look at them now.
Make the shipping box a happy first "hello"
Cardboard shipping boxes tend to show up frequently for some shoppers, and at first glance it can be difficult to tell what's coming from where. They're also, well… boring. Like, really boring.
If it's sensible for you and matches your branding, consider making an immediate statement with this external box. This might mean:
Ordering custom shipping boxes with your logo, colors, or slogan
Using custom packing tape or branded shipping labels
Adding stickers to otherwise plain boxes (a good way for companies to balance a desire to have fun but not spend a ton of money)
This allows a shopper to peek out their door and announce "oh, my package from (your company) is here!" as opposed to "oh, I got a box, who is it from?"
It also sets up your brand, right from the beginning, as one that wants your customer to have a pleasant experience. Think of it as a happy "hello!"
Infuse your brand into packing slips, instructions, and other printed materials
Once the box is open, your customers might find more than the products they've ordered inside, depending on what it is you sell. Some companies include packing slips, while others slip in instructions on using their products.
These printed materials don't have to be dull and lifeless. They should ideally match the same tone and voice you use for the copywriting on your website, for your social media updates, and for email communication with customers.
Something as small as the packing slip is an extension of your brand, so follow Target's example and make it something special. Or, if need be, consider producing a special insert designed for the sole purpose of communicating with customers, like this card I received in a shipment from Anker: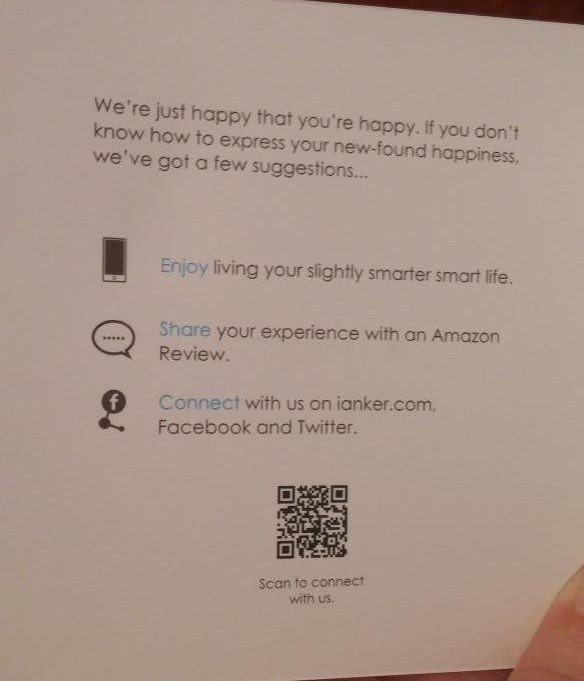 It's worth noting that this is the "happy" side — there's also an "unhappy" side that gives customers an option to connect via phone, social media, Amazon support, and so on. It's a great way to get out in front of any potential issues, don't you think?
Again, much like your shipping box, these inserts and printed materials don't have to be complex or cost you a lot. The goal should be to ensure that you're conveying the same messages offline as you are online, whether that's "we put customers first" (like Anker) or a cheerful call for feedback.
Prompt next steps, whether it's support or a snapshot
Speaking of feedback, once a customer receives your products you might be eager to hear what they have to say about them, especially if you're a startup with new goods. Or perhaps you'd like to prompt them to post a photo on Instagram or Facebook.
Think about how you would ask a customer to take these desired next steps online, and use that same language offline — that is, on your packaging. Consider the desired outcome, where customers are most likely to see a prompt, and then get a call to action in place.
So for example, let's say you already know that social proof has proved effective in selling more of your super-comfortable slippers. To gather more social proof, you primarily need to collect customer reviews. So, for this example:
Think about how you would ask for a review. Online, you'd likely send a followup email saying "if you enjoyed your slippers, mind giving us some feedback?" with a direct link. You might not be able to provide a link on the back of your packaging, but perhaps you could use similar language with a shortened URL or a QR code.
Put the call to action where it's most likely to be seen. If your slippers ship in a box, the top of the box is prime real estate for a call to action. If not, consider a hang tag or insert card.
Make sure the call to action actually calls for action — and utilizes your brand voice. "Write a review" isn't all that effective, nor does it sound authentic for many brands. If you normally have a cheerful tone, use it; if you normally joke with your customers, make that review out to be the difference between life and death.
This is just one example. You'd aim to do the same thing for any other call to action, whether it's asking for photos, direct feedback, or simply for your customers to read the instructions before they start using a product.
Consider how your packaging ties into the rest of your branding
Throughout this post, the integration of your online and offline brand components have been strongly emphasized. We've done this with good reason. A brand should be consistent in its messaging no matter where it appears, and no matter what form that messaging takes.
Everything that makes up your product packaging — from the text on the clamshells or bags to the printed instruction sheets to the shipping carton — represents your brand. If a single font is misused, if a sentence uses the wrong tone, or if the colors are incorrect on that millionth photocopy of your assembly instructions, then you're misrepresenting who you are and what you stand for. Or, at the very least, the kind of quality you want to convey.
No matter how you package up your goods, it should represent you at a glance. There's something wrong with having a luxurious-looking, information-filled website for your expensive gemstone jewelry, but shipping each ring in a loose plastic bag with no paperwork.
Have many touchpoints and team members? Try a guide to tone and voice
Juggling this need to tie your packaging into your website branding, and perhaps the design or copywriting you might be doing for social media, advertising, or other marketing opportunities, can be tricky. It gets even trickier when there's more than one person on your team capable of defining who your brand is, what it sounds like, and what each touchpoint looks like.
As your brand grows, your team expands, and these touchpoints increase, consider creating a guide tone and voice that everyone can abide by. This guide can be as simple or as complex as you like. Some style guides focus entirely on text (including copywriting and marketing materials), while others include or have a strong focus on the visual aspects of branding, like colors, fonts, and logos.
For examples of what this might look like, you can peek at the MailChimp Content Style Guide. For a more visual approach to style and design, try our own WooThemes Style Guide.
Packaging is a bigger part of your brand than you might think
Though it's easy to toss your products in a box or seal them in a clamshell, the truth is that for your newest customers, their experience with your brand is just beginning. This makes it absolutely crucial to use your packaging to affirm, if not establish, who you are and what you're about.
There are plenty of ways to convey who you are as a company with your packaging. Whether you deliver a cheerful greeting with a custom box or show your commitment to service with helpful FAQ materials, there are plenty of ways to extend your branding further and make your customers feel valued.
Have any questions about using your packaging as part of an overarching brand experience? Or any ideas of your own you'd like to add, based on your own experience? The comments are open and we'd be thrilled to hear from you.