Over the past couple months we've had the pleasure of working with the pixel surgeon, and icon designer extraordinaire that is Jon Hicks.
We commissioned Jon to re-design our popular ninja mascot that you would have seen busting moves all around our site. Our ninja was originally traced and vectorized based on a freely available icon design. However, we got so many people emailing us, and kindly informing us, that our ninja was being illegally used on other sites across the interwebs that we thought it was high time that we sat down and designed our own, unique mascot that epitomizes WooThemes ethos.
Let's hand over to Jon for more information about the brief we gave him, and his creative design process.
---
The brief for the update of the ninja character was to give it more uniqueness, but retain the rounded/cute feel that the current character had.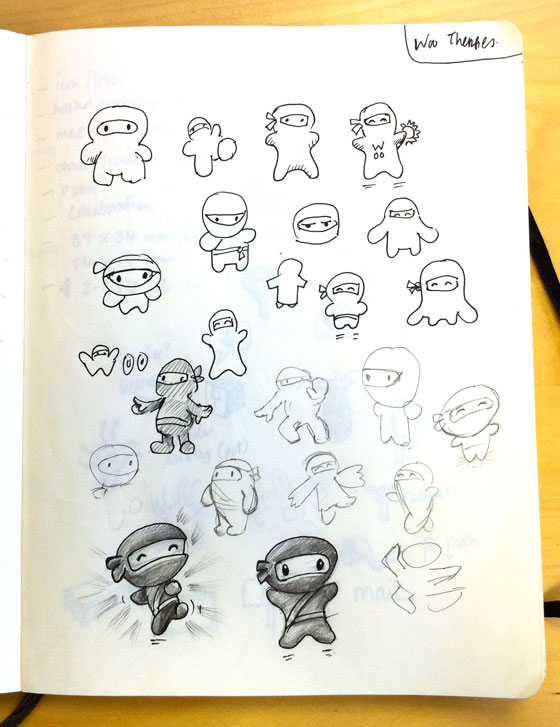 The first stage is to get sketching. If you look at the page from my sketchbook you'll see that the first sketches were fairly crude doodles, but as I got used to drawing the character it improved. The last 2 sketches went well, and I worked further into these with black pen and a very soft 6b pencil to quickly add shading.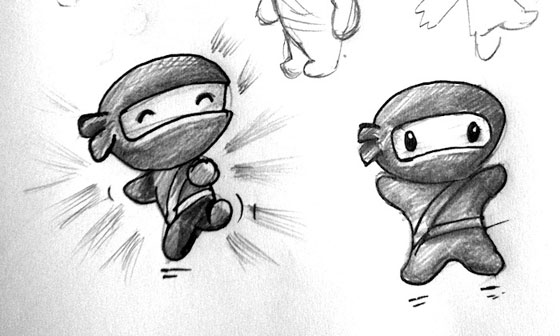 Once these sketches were approved, they were imported into Illustrator, and the process of creating rough vector artwork began. This stage uses the minimum amount of work to show how it will look. So while it doesn't have any detail as such, it as the basic shapes with gradients. I also started developing 3 poses (two of which were similar) to show different aspects of the character. The main one – where the Ninja is doing a kick mid-air, has a more determined or concentrated expression, whereas the others are softer and cuter.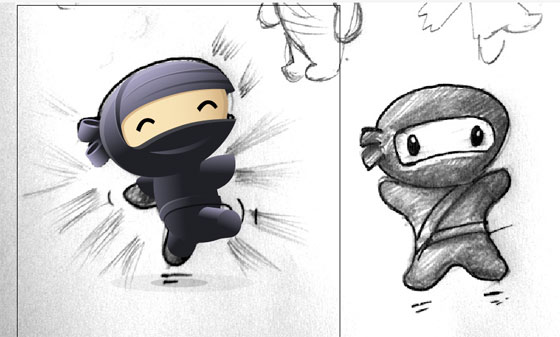 Early versions of the characters had very rounded off hands and feet, but this didn't convey enough personality, so these were changed to have more definition, but still look rounded. These vector roughs are then iterated on until the final detailed version is created.
And so we present you with our stronger, sleeker and more agile Woo ninjas ready for duty on the WooThemes site. You'll see these guys replacing the early recruits around the site shortly.