Do you want to open a store that generates recurring revenue? Thinking about charging monthly for services? Looking for a way to expand your existing ecommerce store? 
Subscriptions could be your perfect solution. They're an excellent way to offer additional products, benefit your audience, and generate income you can really rely on. And, thanks to WooCommerce, they're easier to run with than you might think.
So consider this your ultimate guide, with everything you need to know to run a subscription business with WooCommerce.
Why run a subscription business
The subscriptions industry is full of ever-increasing opportunities. Currently, 78% of adults have subscription services and, in 2021, the subscription growth rate reached 437%.
Why are they so popular? Because people appreciate their convenience (no more forgetting to order the water filter or cat food!) along with the discounts that are often included with a subscription.
But they're also an excellent option for businesses as well. Let's take a look at the benefits of running a subscription business:
1. Revenue you can rely on
The ups and downs of running your own business can be difficult, especially when it comes to finances. But though some people will cancel, subscriptions are a way to generate revenue that you can count on. When you sit down to do the books every month, you know that you'll make a certain amount on a regular basis.
That also means that you can keep more cash in your bank account and budget appropriately for growth and other expenses — think employees, equipment, and perhaps even a storefront.
2. Passive income
Depending on the type of business you run, subscriptions are also a way to generate relatively passive income. For example, if you sell subscriptions to digital products — like eBooks, courses, or music downloads — you can create all of the products ahead of time. Then, customers can purchase a subscription without much additional work on your end.
Of course, there will still be some work involved — customer service, marketing, releasing new content — but it's a lot more passive than traditional models, especially as your store grows.
3. Increased return on investment
Let's say you spend $20 to acquire a customer. If they purchase one time, you may make $10 in profit. But if you spend the same $20 to acquire a subscription customer, over the life of their subscription, you might make $120 or more!
Of course, these numbers will look different for every business. But the point is, the lifetime value of a subscription customer is much higher than a one-time customer.
Plus, customer retention is a lot more cost-effective than acquisition. In fact, acquiring a new customer is five times more expensive than maintaining an existing one. All in all, you stand to both save money with subscriptions and bring in additional income.
4. Better customer relationships
With subscription customers, you have more of an opportunity to really connect with them and meet their needs. They get to know your business and your team better. And you can build up loyalty through consistent, high-quality customer service, great content, discounts, and more.
Not only can that be more rewarding for you, but it also increases the chances of referrals and reviews, creating even more customers for your store.
Ideas for subscription products
There are a variety of ways you can approach a subscription business, depending on your products, business model, and whether or not you have an existing store. Let's take a look at a few options.
1. Boxes of your own products
This is a particularly great option for existing businesses with physical products, but it could work for anyone looking to start a subscription company.
Here are some ways you can approach boxes of products you create:
Sell individual items that customers use regularly. Are there products that people need over and over again? Think dog food, air filters, vitamins, coffee, cleaning products, etc. Offer those as subscriptions so customers don't have to worry about remembering to purchase every month. That's exactly what Northwest Eye Design does with care products like eye drops and lubricants.

Box up related products. You can do the same thing with collections of items. Sell a monthly maintenance box, a household cleaning kit, a snack box…the ideas are endless here. All you have to do is think about items that people both need somewhat often and like to purchase together. You can even get super specific. So instead of just selling a monthly snack box, sell a vegan box, a gluten-free box, or a spice lover's box. Universal Yums gets creative by packaging up snacks each month from a different country. Their customers can explore the world through food and know there's something new in each box!

Create meal kits. If you love to cook, consider selling meal kit subscriptions. You might create allergen friendly options, meals to help people achieve certain health goals, or even kits designed to please parents and their picky little eaters. You can deliver these locally or work with a shipping company to ship them safely to customers. Nutrition Kitchen, for example, sells clean eating meals designed to help people hit certain macros. They then drop them off at gyms in their local area, where customers can pick them up based on convenience.

Let people create their own box. They can add the products they most enjoy from your catalog, choose a delivery frequency, and get exactly what they need on their own schedule.
2. Boxes of curated products
You don't necessarily need to make your own products to sell subscription boxes. Another option is to source high-quality items and package them for your customers. But, of course, you need something that makes you stand out. After all, any of your customers could potentially source the same products for themselves.
The first way to do this is to focus on convenience. Yes, someone could find everything themselves, but do they want to spend the time and expense doing so? Think about ways, then, to make your box as helpful as possible and consider discounting it when someone subscribes.
The second way is to make your boxes truly unique. Use your expertise to build each one around a theme — a San Francisco box full of locally-sourced items, a watercolor box with high-quality paints, brushes, and canvases, or a baby development box with Montessori toys for different age groups.
Fairy Loot, for example, creates curated boxes for fantasy lovers. Each month, subscribers get a fun surprise box at their door, full of items like fantasy books, tarot cards, and themed pins and socks. This keeps things interesting and fun!
3. Services and maintenance plans
If you sell services, subscriptions can be an excellent way to engage clients and generate reliable income. You can offer weekly, monthly, or yearly:
Aerobics training or yoga lessons
Business consultations
Insurance policies, perhaps even for physical products that you sell
Graphic design services
Website maintenance
Yard care services
Tutoring sessions
Music lessons
Really, the sky's the limit here. Just think about what you can offer your audience that they'll find valuable on a regular basis. And, of course, these services can be delivered in person or virtually.
ReclaimMyID is a great example of this. They offer yearly subscriptions for identity theft recovery plans. Clients register their family, the company monitors for identity theft, and if anything's ever found, they restore their clients' identities in full.
4. Paid newsletters
If you're an expert in your field, you can generate regular income by sharing your knowledge with an interested audience. One great way to do this is with paid newsletter subscriptions.
Let's say that you know a lot about investing, fantasy football, meal prepping, or technology. Subscribers can pay for a newsletter that arrives in their inbox daily or weekly. That newsletter can be chock full of tips, ideas, and the latest news around your chosen topic. It's super easy for them to stay abreast about what they love — all they have to do is open the email. This is also an excellent option if you want to sell online courses!
5. "Build your own" boxes
We touched on this just a little bit earlier, but there are a ton of ways you can put the power in your customers' hands:
Let them choose sizes and colors. If you offer a box with t-shirts, hoodies, mugs, or other items with variations, let shoppers choose between different options. They might pick a medium t-shirt, a large hoodie, and a red mug, for example. This ensures they're happy with the products they get and also helps gift givers send the perfect present.
Make it easy for them to completely customize their box. Let's say that you sell a chocolate subscription box. Some customers might like dark chocolate, others milk chocolate, and others chocolate combined with fruit. Let them create the perfect subscription for them with exactly the kind of chocolate they love. And, of course, you can apply his concept to anything from clothing to coffee.
Allow them to add on items. An example here might be a fan club subscription box. Your box might typically include a t-shirt with a quote from the show, a food item mentioned in the show, a piece of artwork, and a collectible pin. You could also give them the ability to expand their subscription box by adding on a mug for an additional fee.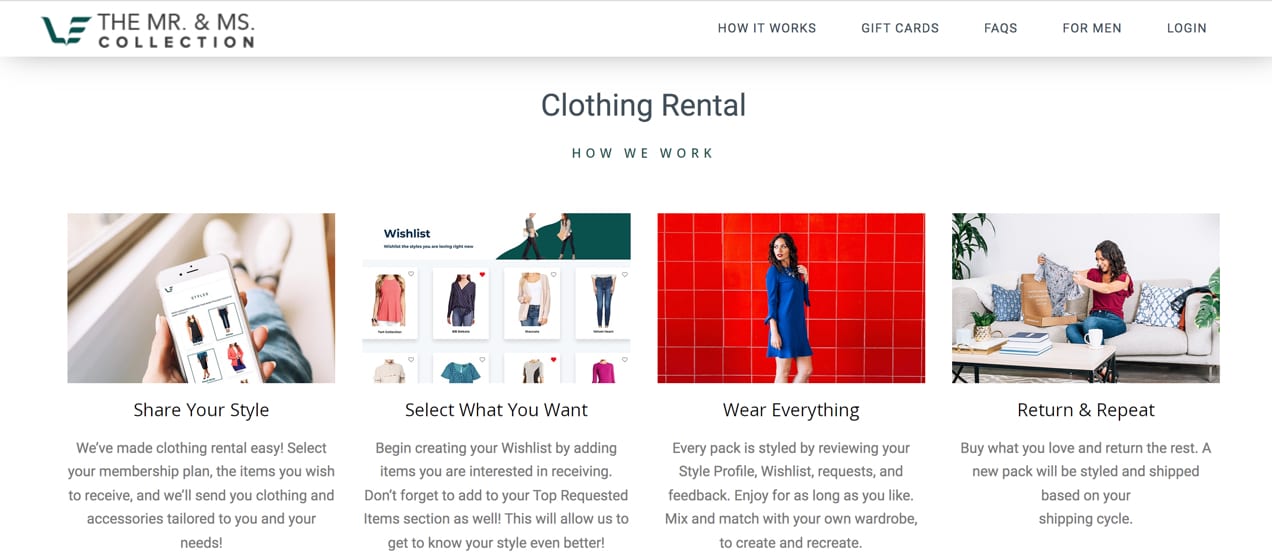 The Mr. and Ms. Collection offers clothing rental subscriptions that are super customizable. Shoppers can select a frequency, along with clothing and accessories they wish to receive. Then, they get a box on their doorstep full of items tailored specifically to them. They can either rent and return the clothes, or buy their favorite items for a reduced price.
6. Digital content
Like we mentioned earlier, subscriptions don't just have to involve physical products — you can find a lot of success with digital items, too! Here are some ideas:
Sell design assets like templates or Photoshop brushes
List downloadable eBooks and guides, with new content available each month
Create a sort of Patreon alternative, with exclusive music for fans that subscribe
Release a digital magazine with monthly or quarterly issues
Illustrate an online comic book with regular releases
PHLEARN gives subscribers access to a library of digital photography assets, for example, including presets, actions, brushes, and tutorials. They even include professional support if any of their subscribers run into issues.
7. Memberships
Memberships and subscriptions go hand in hand, especially if you create content or digital assets. Create anything you'd like — eBooks, online courses, tutorials, premium blog posts, videos, etc. — and set it to be for members only.
Then, when someone subscribes, they get all of that valuable content! You can even include access to Facebook groups, forums on your site, one-on-one help, and other resources.
TriBreath offers a membership around their breathing practice, designed to improve breathing while exercising. Subscribers get access to a catalog of techniques and rhythms, instructional videos, and PDF guides that they can pay for monthly or one-time.
The Freelance Collective is another great example of this. They've compiled an online community of freelancers, making it easy for them to connect with and find clients, and for clients to find reliable workers. Freelancers get a profile page highlighting their work, tips, and support from fellow members, publicity designed to help them find clients, and discounts for products related to their work.
8. Donations
If you're a nonprofit, subscriptions can be an excellent way to generate donations you can rely upon. You may already have options for supporters to donate one time or purchase fundraising items like tickets and merchandise. But you can also allow them to set up a recurring weekly, monthly, or yearly donation. And this can work whether you're a church, school group, social welfare organization, or another type of charity.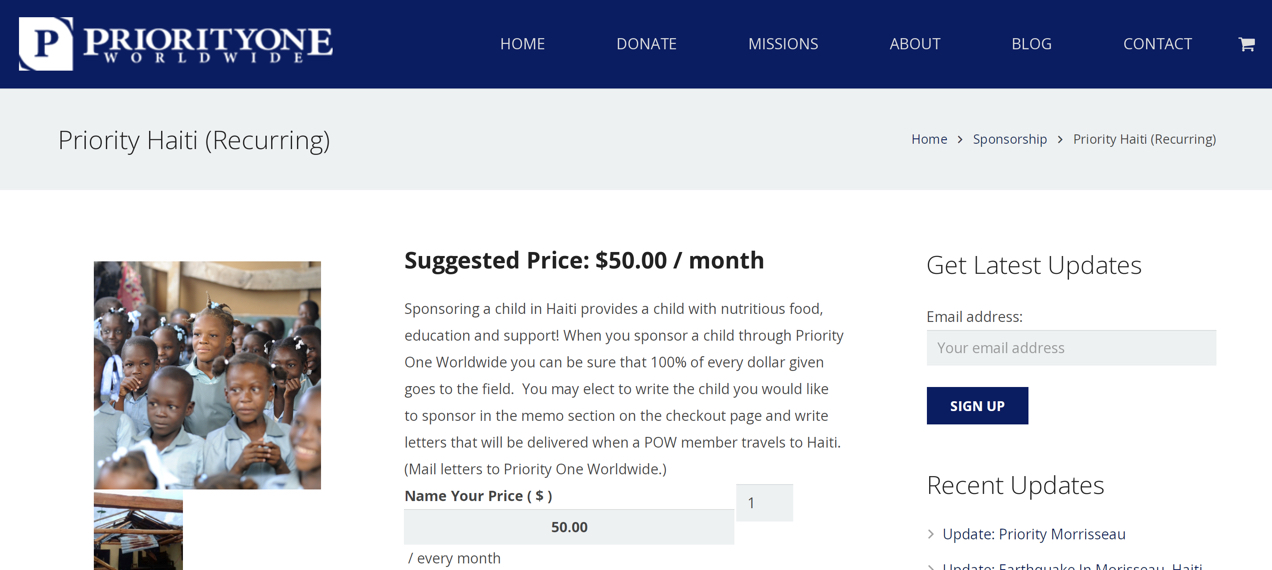 Priority One Worldwide, for instance, offers a variety of recurring donation options in addition to one-time gifts. Supporters can choose a specific mission to donate to on a regular basis, or select to make a general donation.
How to set up a subscriptions business with WooCommerce
We probably don't need to tell you that WordPress and WooCommerce are excellent choices for building an online store. Its core is completely free while offering infinite flexibility and extensibility. And, at the same time, anyone from the earliest beginner to the most experienced pro can use it to build absolutely anything at all.
In fact, you may already have an online store built with WooCommerce and are just looking for the best way to add subscriptions to your business model. But if you're still on the fence, check out our article about choosing an ecommerce platform.
Now, let's take a look at how to set up your subscriptions business with WooCommerce.
Note: this post assumes that you already own a domain name and have a hosting provider. And, if you already have an existing store, you can skip some of the steps below.
1. Install WordPress and WooCommerce
If you're not already using WordPress or WooCommerce, you'll need to install them both on your hosting plan. Most hosts offer one-click WordPress installations — you can also view full instructions here.
WooCommerce is the ecommerce leg of WordPress, providing everything you need to conduct business online. To install, simply log into your website and go to Plugins → Add New. Search for "WooCommerce", then click Install Now → Activate.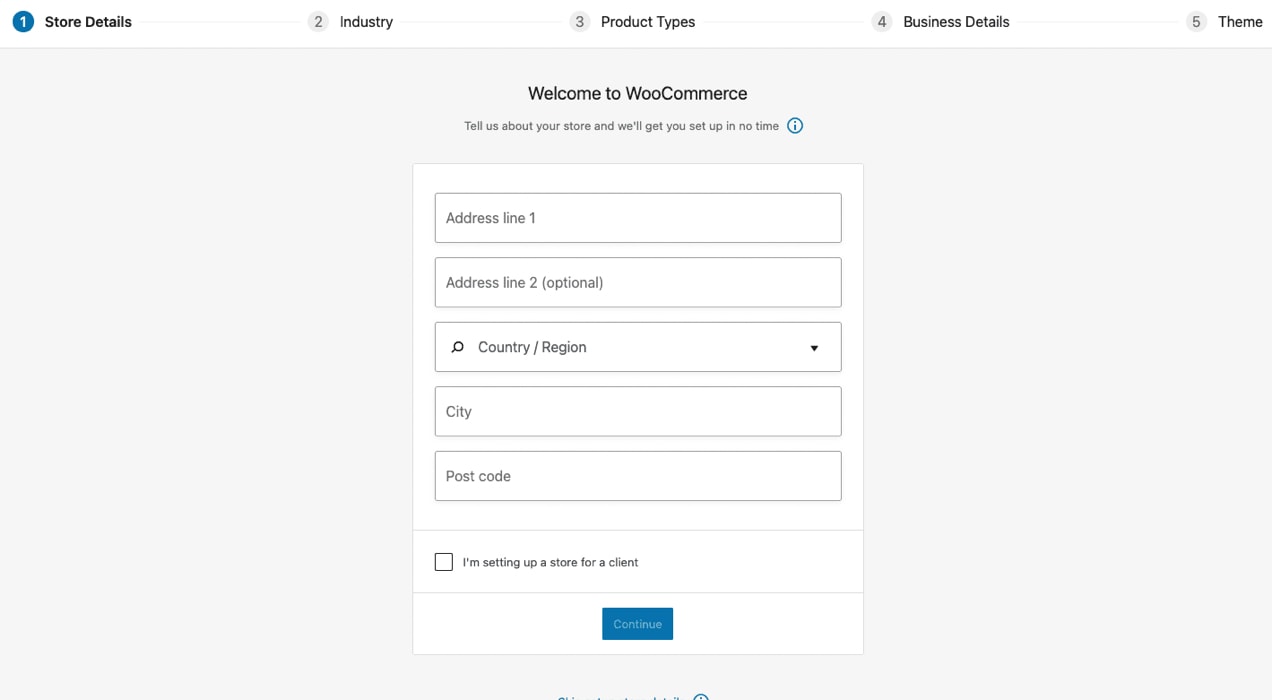 Then, you'll be presented with a setup wizard that will walk you through the initial steps needed to start your store. We'll also address many of those in the list below.
2. Choose a theme
A theme impacts the design and functionality of your website. Some themes come with "plug and play" templates that allow you to simply switch out the content and run with a premade design. Others have more flexibility so that you can create absolutely any layout and design that you'd like.
Ensure that whatever theme you choose is designed to work with WooCommerce and comes from a trusted, legitimate source. The WordPress.org theme library has a lot of great free options, while WooCommerce.com offers both free and premium themes.
For more tips for choosing the right fit for your store, read our article, How to Choose a Theme for your WooCommerce Store.
3. Create your pages
The exact pages that you create on your site will vary based on your business and what you sell. However, spend some time considering the information your audience will find most helpful. What might they be searching for when they land on your website? Here are a few pages you might need:
A homepage. This is the central hub of your website and should include pertinent information about your business.
A Contact page. Make it easy for people to get in touch with you if they have questions. You might include a form, phone number, email address, etc.
An About page. Share information about you, your company, your processes, and anything else that will give customers insight into who you are.
An FAQ page. Answer questions that you hear often from customers or that you think they'll commonly have.
A How it Works page. Detail how your subscription will work; Cola Gourmet has a great example of this.
A comparison page. If you offer several different types of subscriptions, you may want to outline the differences between each. Scan2CAD does this with an attractive table.
A blog page. Regularly publish high-quality content that you can use throughout marketing materials. This can also help you rank on search engines for certain terms that your target audience may be searching for.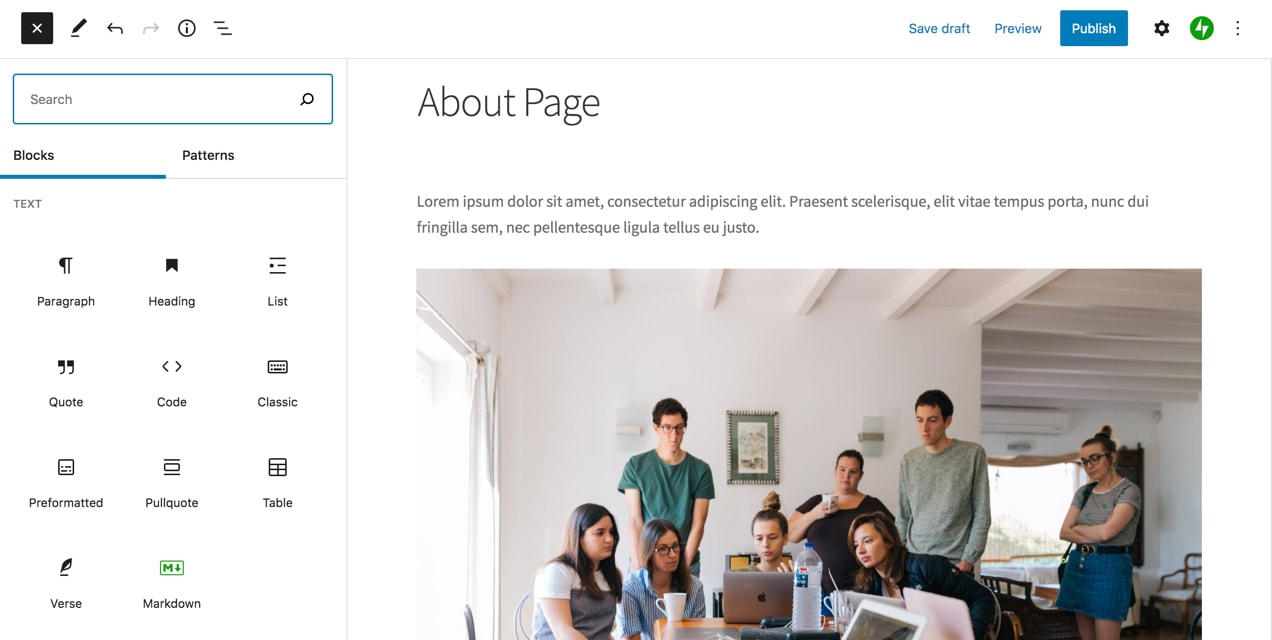 The WordPress block editor makes it possible for anyone, regardless of their tech experience, to create beautiful pages. Simply drag and drop blocks — images, paragraphs, headlines, buttons, videos, and more — into your page. Edit settings like color and size, and create columns with a few clicks, rather than needing code knowledge.
4. Install your extensions
Extensions are extra plugins specifically designed to increase the functionality of your store. If you're located in the U.S. and need basic subscription functionality, Woo Payments is all you need. You'll get all the built-in benefits of Woo Payments (keep reading for more details!) plus the ability to sell subscription products.
If you want more advanced subscription functionality or if you're located outside of the U.S., you'll need the Woo Subscriptions extension. This allows you to accept subscription payments on multiple schedules, send email notifications to subscribers, automatically notify customers of failed renewals, let people know about upcoming renewals, and more. 
There are a variety of settings you can configure to help you customize your subscription program to fit your exact needs. You can view all of that information in the extension documentation.
There are also additional extensions you can use if you want even more functionality:
Each extension offers its own documentation that walks you through installation and setup. But you can rest easy knowing that anyone, regardless of their skill level, can use every one of these.
5. Add your subscription products
Now it's time to set up your products. If you're familiar with WooCommerce and have an existing store, then this process will be extremely similar to the one you already use. Here's how to set up a simple subscription (without options that customers can choose from) made up of physical products:
Log into your WordPress dashboard (WP Admin) and go to Products → Add New.
Add the name of your product in the Product Name box.
In the sidebar box called Product categories, choose a category or create a new one. These group your products so that customers can more easily find what they're looking for. But, if you just sell one or two subscriptions, they may not be necessary.
Add a primary image of your product in the sidebar box called Product image, and any secondary images in the one called Product gallery. If you're looking for tips, read our article about how to take professional product photos.
In the Product short description box at the bottom, add a description of your product. Think about the information customers might find most valuable and the key benefits of your subscription. Note that you can add additional details (like size charts, ingredients, etc.) in the large text box at the top of the page, underneath the Product title field.
Find the Product data box — the rest of our instructions will take place here. In the dropdown, choose Simple subscription.
Then, add your subscription price. This might look something like: $29.99 every month, but could vary based on your specific business. Here, you can also set options for a sign-up fee, free trial, and sales price if applicable.
Click the Inventory tab and add a stock keeping unit (SKU) and inventory levels if you manage stock.
Click the Shipping tab and add the weight and dimensions of your product. Note that you may not need to do this depending on how you choose to set up shipping — more on this later!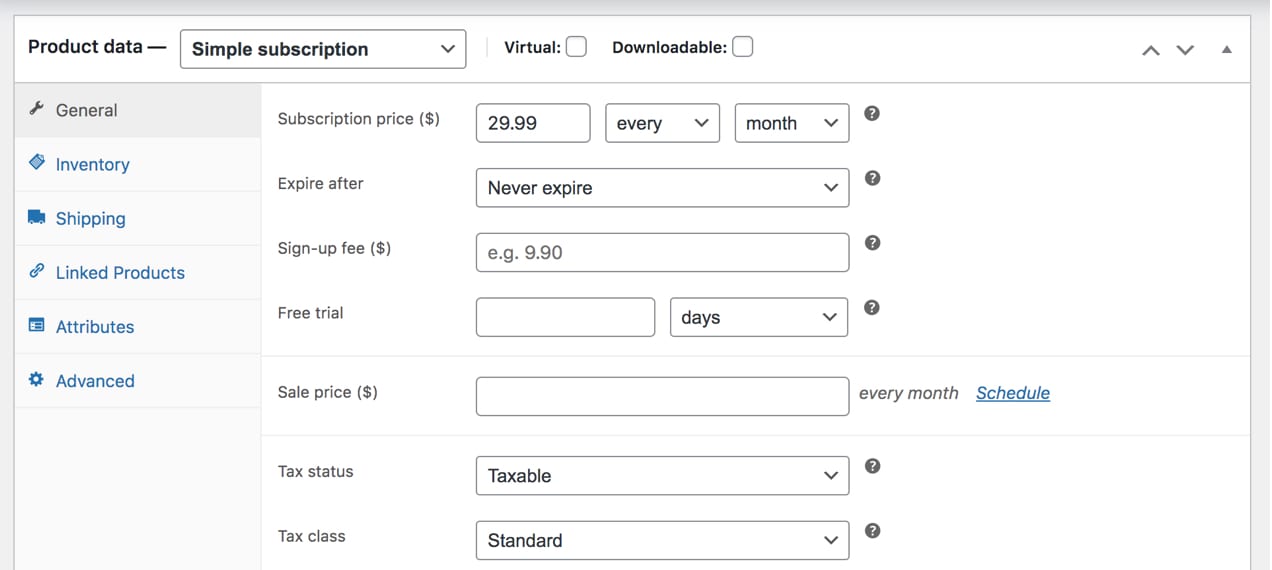 While there are other settings on a product page — like upsells, reviews, and purchase notes — the above instructions provide all the basics. Now, all you need to do is click the blue Publish button at the top right of the page!
For more details, along with instructions for other types of subscriptions, view the full documentation.
6. Choose a payment gateway
A payment gateway enables you to securely accept payments online and transfers each one to your bank account. There are a variety of things to consider when choosing a payment gateway, but the most important one in this situation is whether or not it accepts recurring payments. But don't worry — we have a full list of options for you.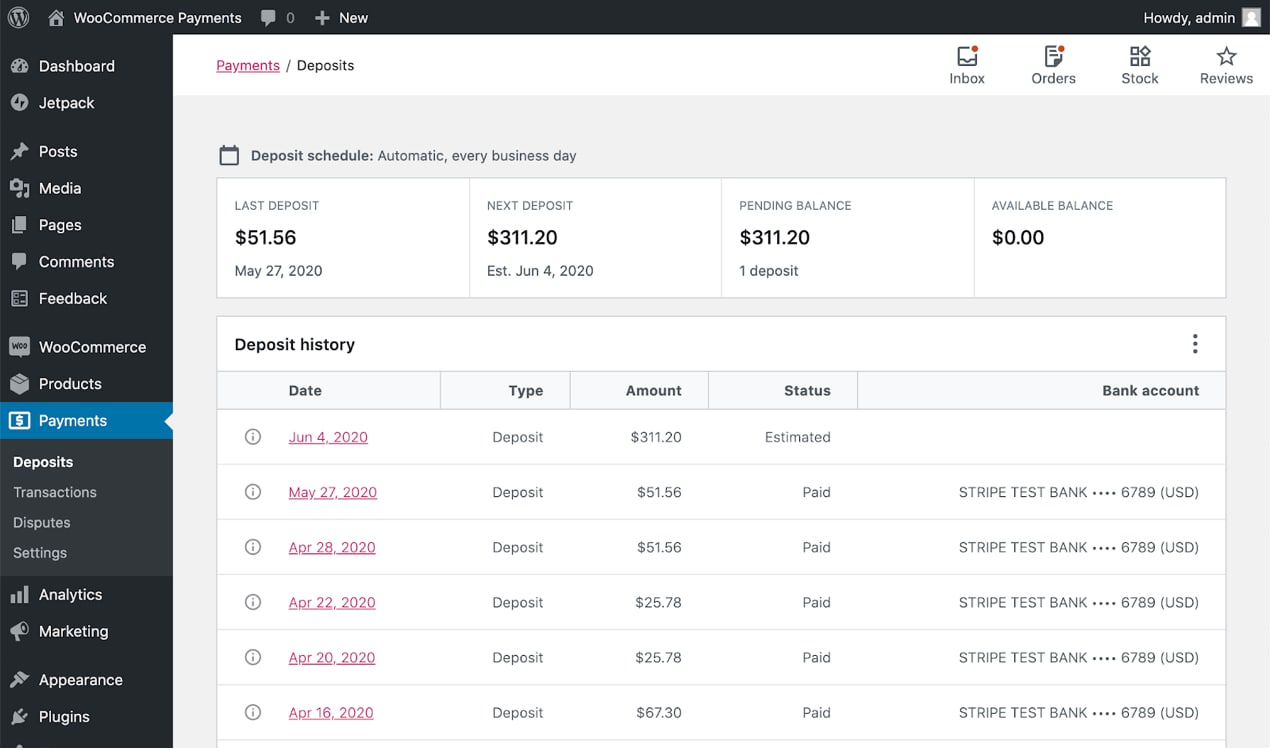 If you want a straightforward solution that makes it simple to get started, give Woo Payments a go. Not only does it allow you to accept recurring payments, but you can also manage everything from subscriptions to refunds directly from the WordPress dashboard. Plus, you can take advantage of features like multi-currency support and instant deposits. 
7. Set up shipping
If you sell physical products, you'll need to consider how you're going to ship them. Your first task is to choose a carrier, the company that will deliver your packages. These typically include USPS, UPS, FedEx, and DHL. One of your top considerations is going to be the countries you're going to sell to. But also consider factors like weight limits, insurance options, and any special considerations like refrigeration.
Then, decide on the rates and services you're going to make available to customers, also called shipping methods. While there are a lot of methods you can offer, common ones include free shipping, flat rate shipping, and weight-based shipping. Or, you might have a combination. For example, you could charge based on product weight but offer free shipping for purchases over $50.
Finally, consider the tools and processes needed to deliver your products, called fulfillment solutions. These include printing labels, providing tracking information, and packaging items.
For a more in-depth look into all of these, read our full shipping guide.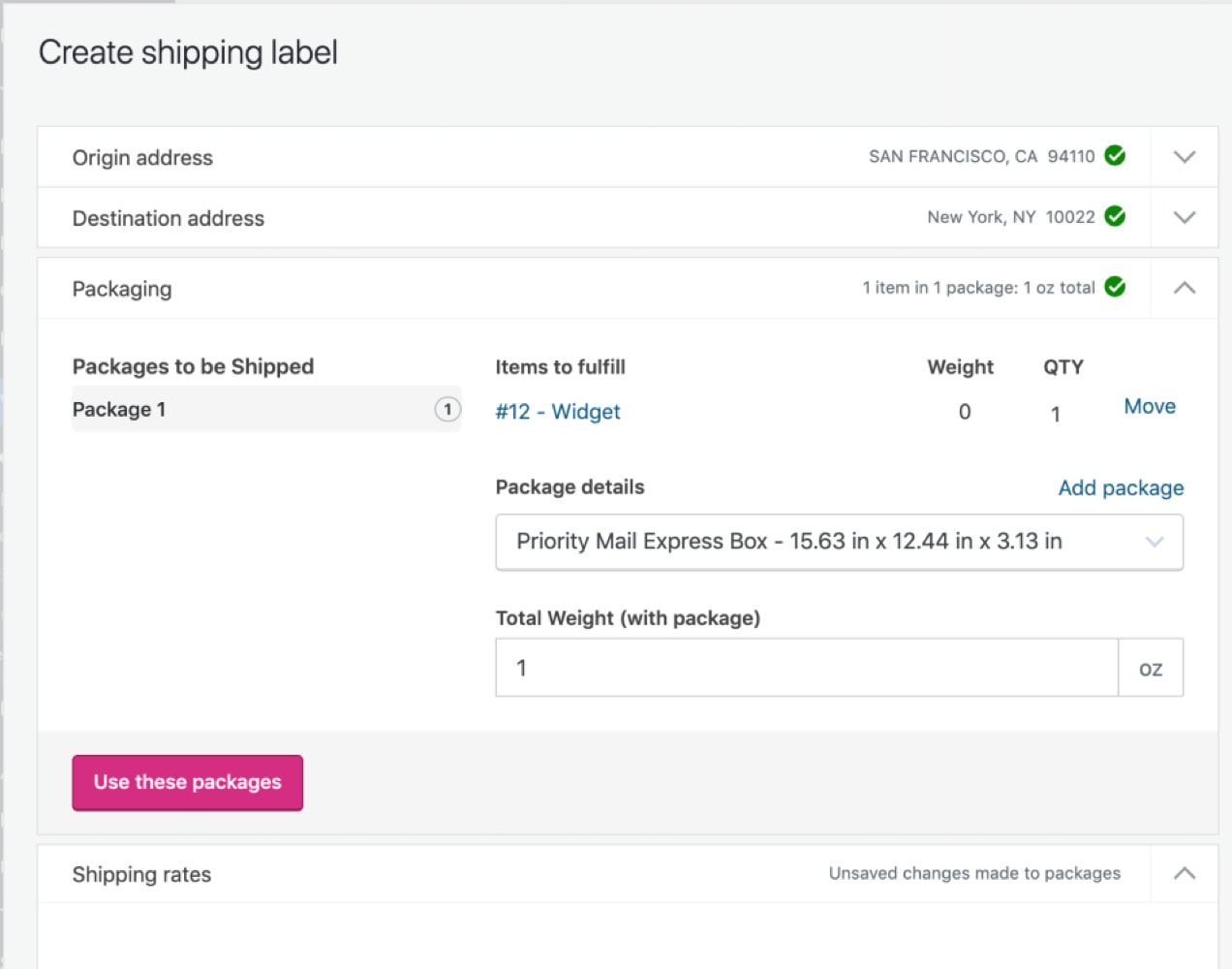 And, to make things super simple, WooCommerce offers a free tool called WooCommerce Shipping. You can handle everything directly in the WooCommerce dashboard, access discounted shipping rates from USPS and DHL, and print labels on any device.
Looking for a helping hand in creating the WooCommerce store of your dreams? Get in touch with one of our trusted WooExperts! These full-service agencies come with our official seal of approval, so you can rest assured that your project is in safe hands. Find a WooExpert.
Tips for running a successful subscriptions business
Now that your store is ready, it's time to consider ways to grow your customer base and build a business that will last for years to come. Here are just a few tips specifically for subscription businesses.
1. Create an easy-to-use customer portal
Empowering your customers to find pertinent information and manage their own subscription is key to keeping them on board. By default, WooCommerce makes it straightforward for customers to do things like update the payment method on a subscription, view their subscriptions along with past and future payments and change the addresses they have on file for the subscription. But you can also take things a step further: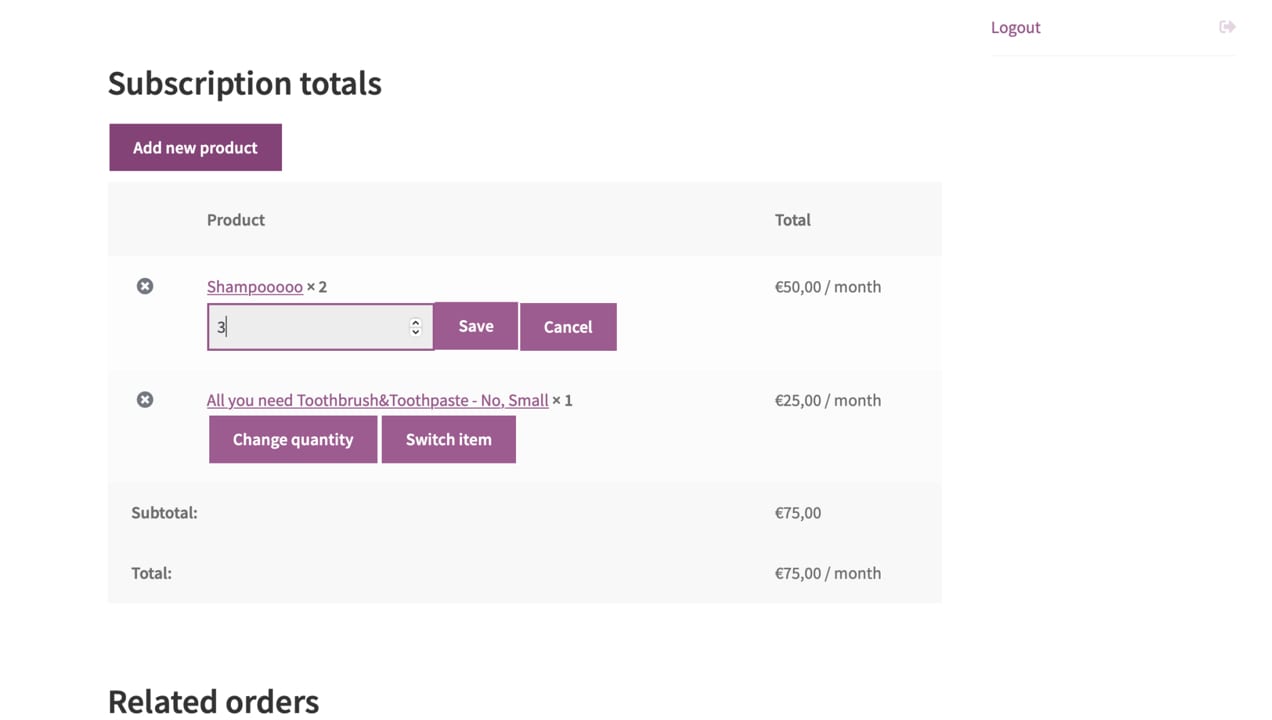 Make things clean and simple to navigate for the best results. For more ideas, check out our article on optimizing the customer portal.
2. Keep up with your customers
Your work doesn't end once someone subscribes. You want to stay in touch with them so they remember who you are, make the most of their subscription, and stay happy for years to come. Here are a few ways you can do that:
Create a welcome email for new customers. Greet your new customers with a big "thank you" and maybe even a discount code for future purchases. MailPoet automates the process with their First Purchase email feature.
Post regularly on social media. Share updates about your shop, tips for using your products, industry news, and related, fun information on your social media accounts. This helps you stay top of mind with customers.
Send email newsletters. Let email subscribers know what's going on in your world and encourage future purchases with product announcements, coupon codes, and more. MailPoet also makes this easy with a drag-and-drop builder.
Send emails on customers' birthdays. Let customers know you value them by sending birthday messages (and maybe even an exclusive coupon code!) to their email. AutomateWoo takes care of this entire process for you.
Add posts or videos to your site. Regularly post high-quality blog content, like written posts and videos. And don't just write to sell — provide helpful guides to using your products, fun interviews with customers, and information related to your industry. For example, if you sell STEM toy subscription boxes, you might write a post titled "Ten Educational Games You Can Play with Items Around the House." While it doesn't directly promote your products, it's useful content for the people who buy from you.
3. Don't forget your packaging
There's nothing quite like an amazing unboxing experience to make subscribers feel truly special. Beyond practical considerations — fragility, refrigeration, etc. — dream up ways to surprise and delight shoppers. You want them to get excited every time they see a box on their doorstep from you!
That might mean including a little gift every once in a while, like a new product sample for them to try out. Or it could mean arranging items in a fun way, including custom packing materials, or writing a thank you card by hand.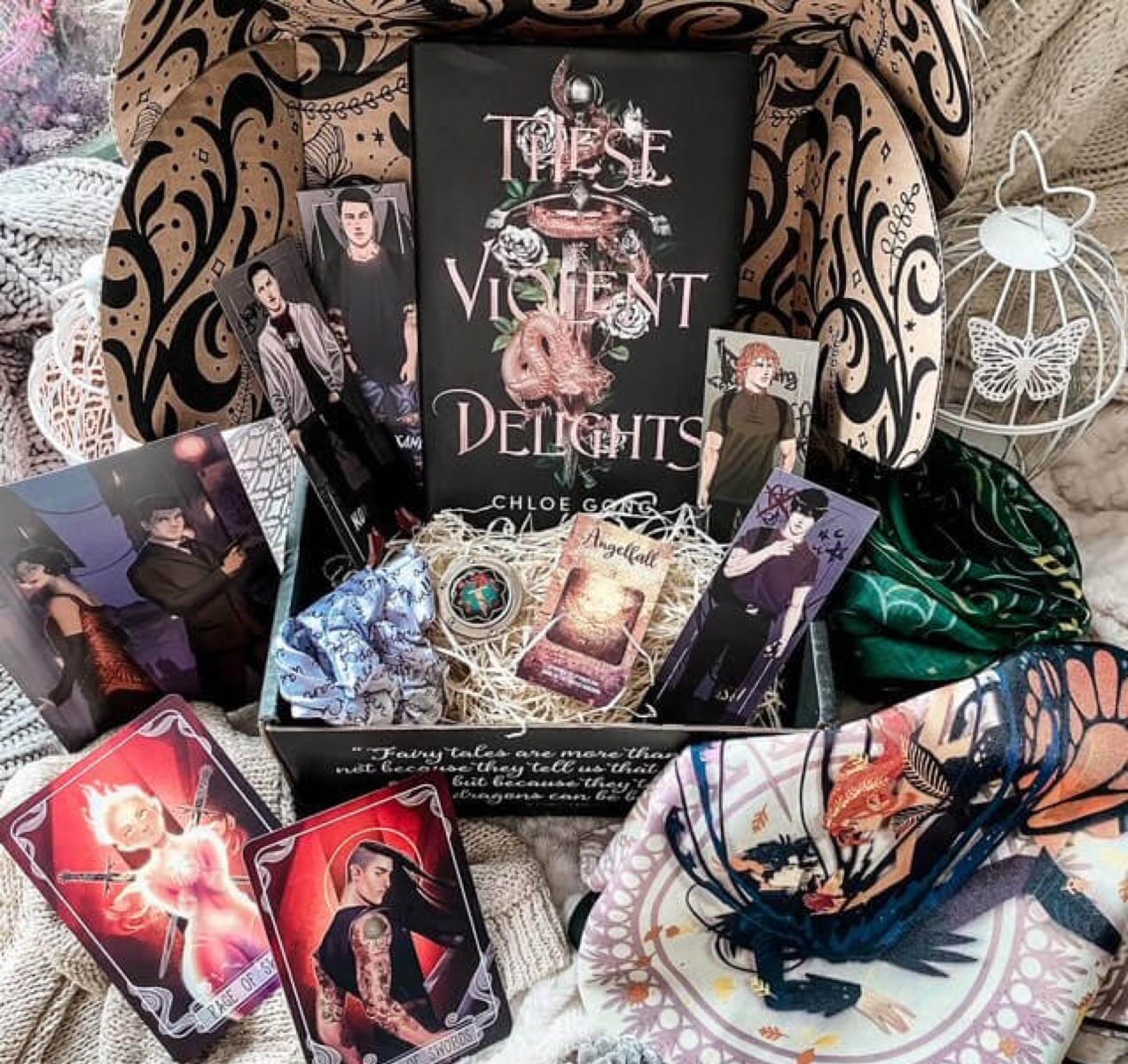 Packaging is another thing that Fairy Loot does well. They use beautiful, custom boxes and packing materials to make each unboxing Instagram-worthy.
4. Offer discounts for longer subscriptions
If you sell multiple subscription terms — say monthly and yearly — offer a discount for people who subscribe for a longer term. For example, you might offer 10% off annual plans. This both encourages customer loyalty and provides more income you can count on.
5. Encourage loyalty
Speaking of loyalty, the more loyal customers are, the longer they'll stick around and the more likely they are to share your business with family and friends. While some of the other tips we've discussed so far can encourage loyalty, there are some other things you can do.
For example, you might offer an exclusive sale just for your most loyal customers, perhaps people who have subscribed for six months or more. Or you could create a rewards program that lets subscribers accumulate points with each purchase and redeem them for gifts or discounts down the road.
6. Invest in marketing to potential subscribers
But, of course, you'll also want to earn new business as well. There are lots of different ways to market your subscription company. Here are a few that are great for reaching entirely new audiences:
Pay-per-click (PPC) advertising. Show ads to your target audience on the websites they already visit. Google Ads is a popular platform for PPC ads.
Social media advertising. Advertise on social media platforms like Facebook, Instagram, TikTok, and YouTube.
Google Shopping ads. Get your products in the Shopping section of Google when people search for them.
Search engine optimization. Optimize your site to show up in Google search results when people are looking for keywords related to your business. Here are some tips to get you started.
Influencer marketing. Pay influencers or give them products for free in exchange for a feature on their blog or social media accounts. This is a super powerful way to reach a new audience through someone they already trust. Learn more about influencer marketing.
Of course, your exact marketing strategy will vary based on your business, audience, budget, and goals. And, it will probably be a combination of several techniques. Check out all of our marketing posts for more ideas and information.
7. Deliver excellent customer service
If you want long-term subscribers, customer service should be a big focus. Your first step is to answer any questions potential or current customers have. You can do this with a detailed FAQ page, high-quality blog posts, a live chat box, or a contact form. Reply to any messages promptly, thoroughly, and kindly.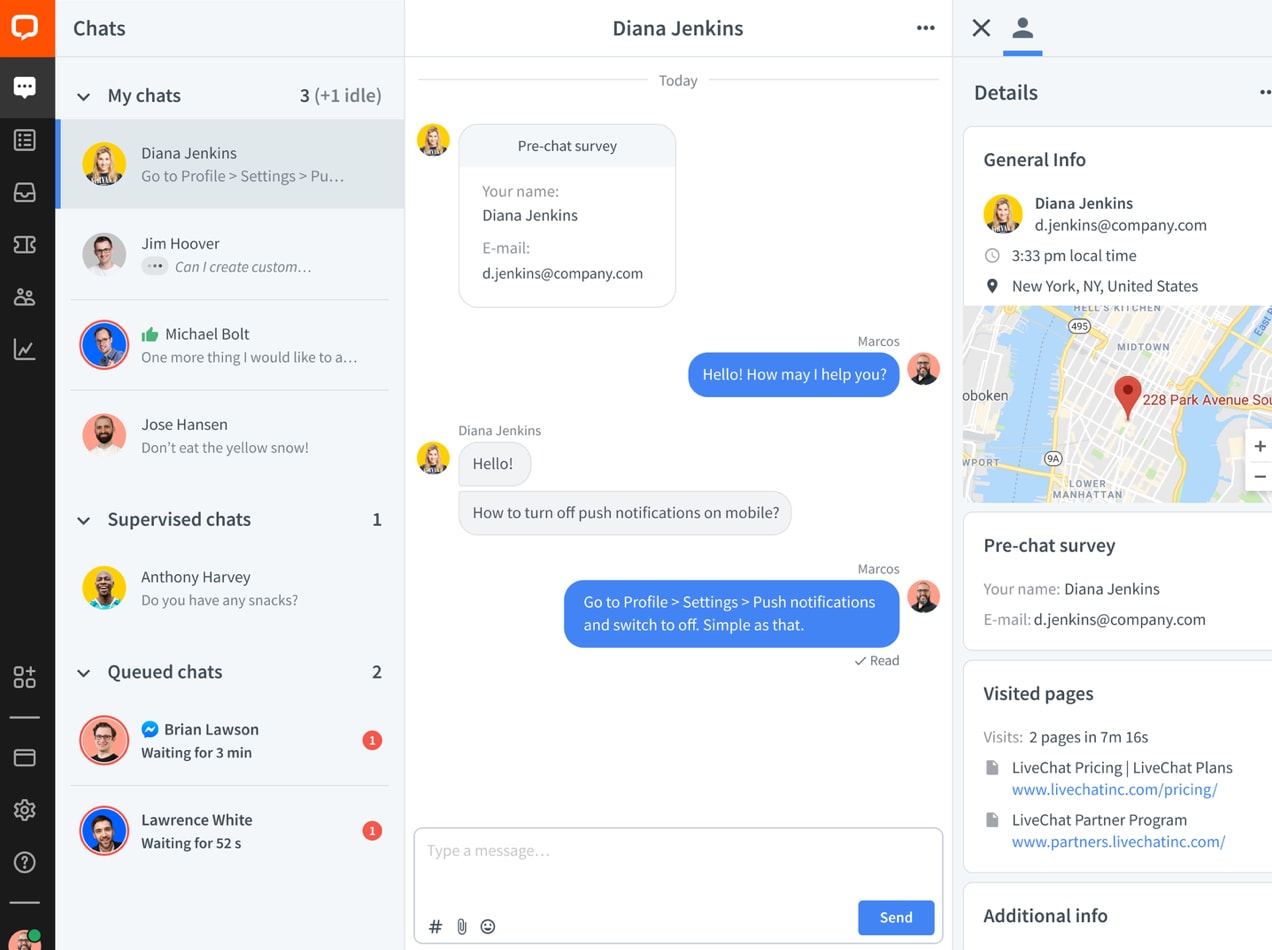 Then, make sure that you fulfill orders efficiently and ship them so that they arrive on time and in mint condition. If there is a problem, make the refund and return process as simple as possible.
8. Make the most of upsells and cross-sells
If you offer multiple subscription boxes, services, or digital products, you have ample opportunity to turn a potential customer or current subscriber on to new items.
For example, if you offer a dog bone subscription, you might also recommend a subscription for your treats or toys. Or if you sell a membership that includes a library of eBooks, you might let shoppers know that there's another tier available that also includes instructional videos.
WooCommerce allows you to create upsells and cross-sells on product pages by default. Or you can use the Product Recommendations extension to create custom rules and add them to the Checkout, Cart, category, and Thank You pages.
9. Encourage reviews
Word of mouth is possibly your most powerful marketing tool. After all, friends trust other friends a lot more than they trust an ad online. Great customer service is going to be the best way to generate referrals and reviews.
But you should also ask subscribers to leave reviews for your products. You can do this by including requests in your subscription boxes or by sending a follow-up email to subscribers asking for a review. Or you can even reward customers with loyalty points if they write one.
With the WooCommerce Product Reviews Pro extension, you can supercharge the review form, accept pictures and videos of people using your products and display "verified customer" badges.
Earn revenue you can count on and build a loyal community
Whether you already sell products or services with WooCommerce or want to start a brand new business, subscriptions are an excellent option. They help you generate reliable income while building a loyal following for years to come.
And the best part is, WooCommerce provides everything you need to get started quickly and grow effectively. We put together a Subscription Essentials kit that includes all of the extensions you need to collect recurring payments, touch base with customers via email, and feature all of the great reviews you're sure to get.

Ready to go? Get started with Woo Subscriptions.