If WooThemes were a work desk, it would be one of those really messy desks littered with sketches and papers at the moment. We have so many theme concepts we are currently working on both in-house and with theme collaborators. It's most certainly a creative place to be.
A couple weeks back I opened up Photoshop and dusted off the toolboxes to start experimenting with a travel blogging theme design, fresh after my recent holiday to the Greek Islands.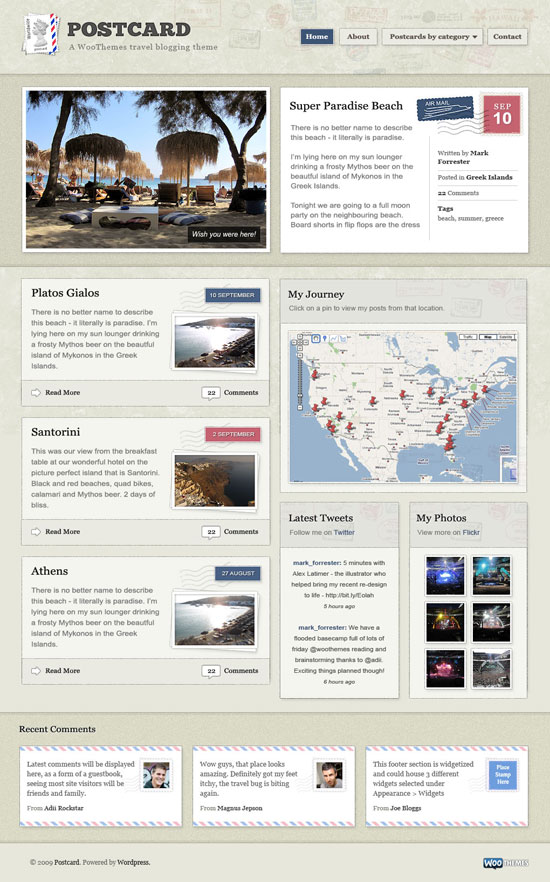 The end result is hopefully the perfect theme for a world traveler eager to share his travel experiences with friends and family around the world. The design has a prominent featured post styled to look like the front and back of a postcard, with a caption overlay on the front and the post meta information styled in the post delivery details section of the postcard.
More recent posts will feature below, together with a Google Maps plugin in the sidebar tracking where each post was written and the journey that has been thus far. There will of course also be lots of widgetized goodness in the sidebar and footer zones.
This theme is still in the initial design development phase and could still evolve, but this post is only to serve as a teaser anyway, to judge the interest in such a design, and to hopefully get some constructive feedback to help improve the usability of it.