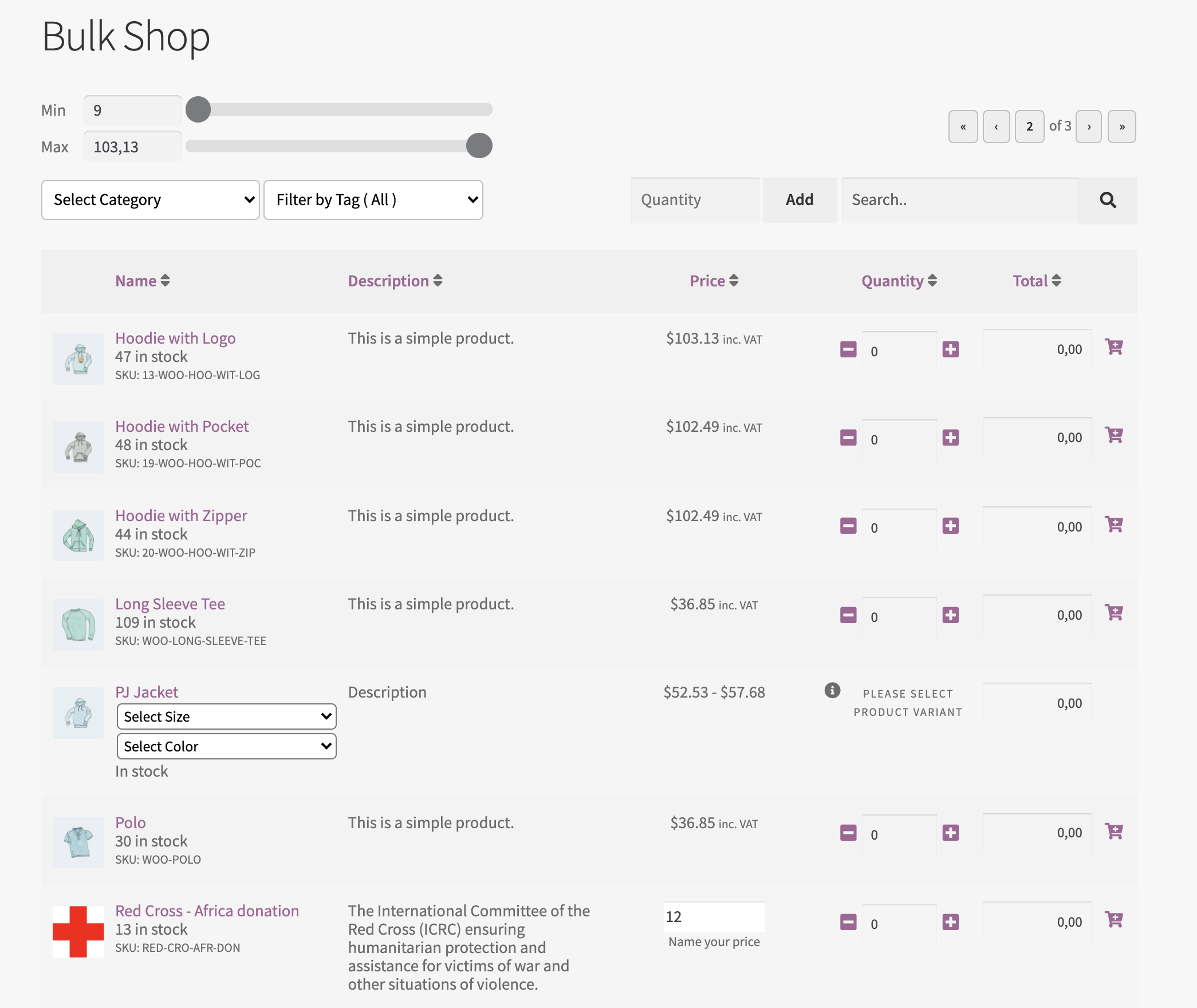 Want to list products and variations in a table? As well as the ability to list all variations expanded? And want the customers to be able to bulk shop products easily? Perhaps you have many B2B / wholesale customers as well? In such cases, Bulk Shop for WooCommerce may be the right solution. Some benefits of Bulk Shop:
Features
Integrates with most B2B / Wholesale solutions (automatically)
Supports to add up to 10 B2B/wholesaler (or other) prices and their roles (if needed to set this up manually)
Makes it easy to shop in bulk
Filter on price, category and tags
Create table list for related / upsells that can be used on the product page
Advanced search function (searches in SKU, Tags, Name and description)
Responsive table (mobile view)
Many options with the included shortcode generator, such as:

Redirect the customer to the shopping cart or check out after: Add to cart
Private store (hides prices and the opportunity to shop for non-logged in users)
Taylor your table and hide columns and functionality

Set your own labels, table headings and buttons (settings)
Compatible with:
POT file for translations, and included languages: English, Spanish, French and Norwegian
Expanded variations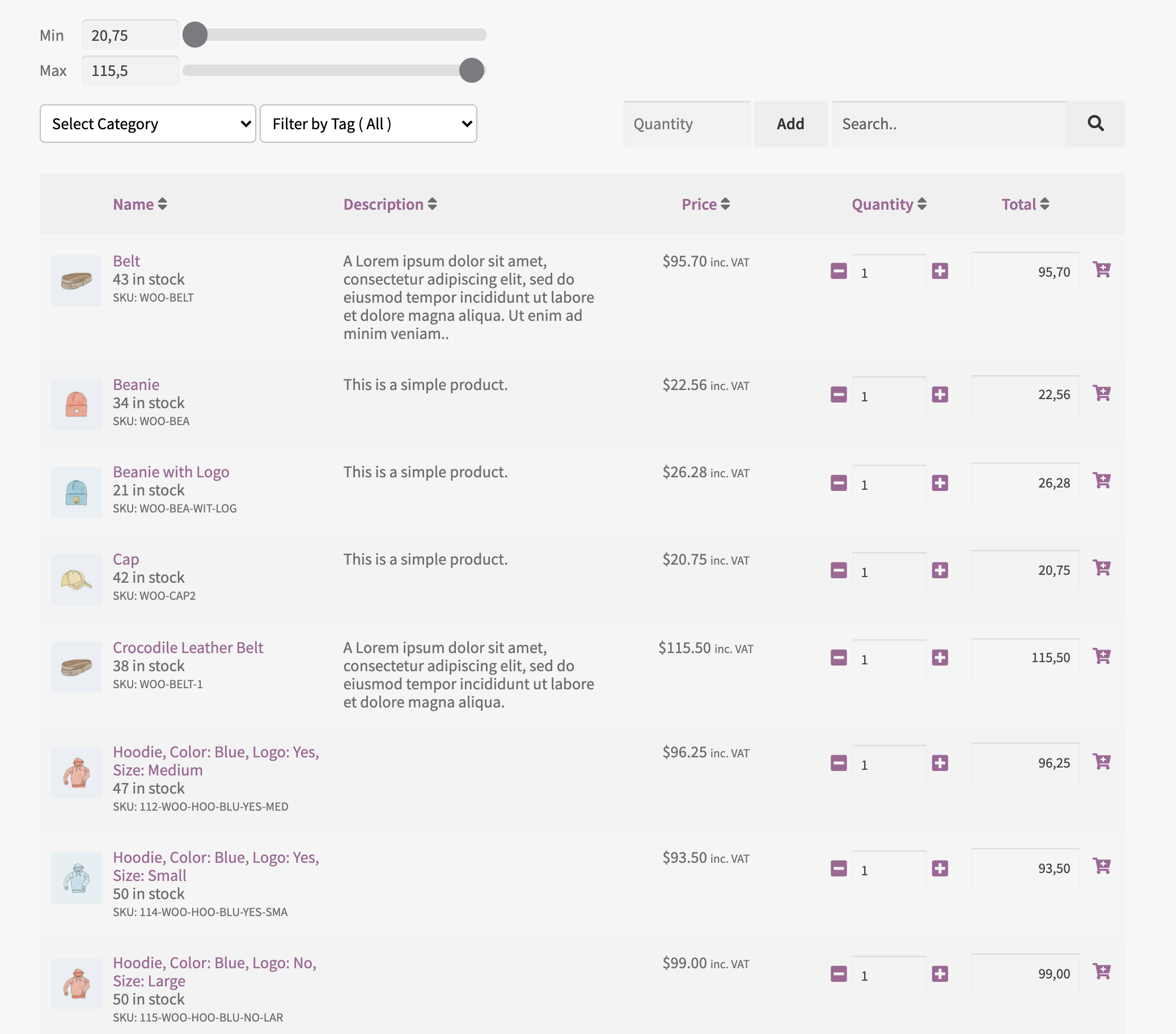 List products and expand variations in a table, just tick it off when creating the shortcode for the view.
Price Range Filter NEW

Let customers filter your products using the price range filter. Just move the silders and the table filters based the min and max prices. The price filter automatically find the min and max prices in the table, less job for your customers.
Show Up-Sells and Related products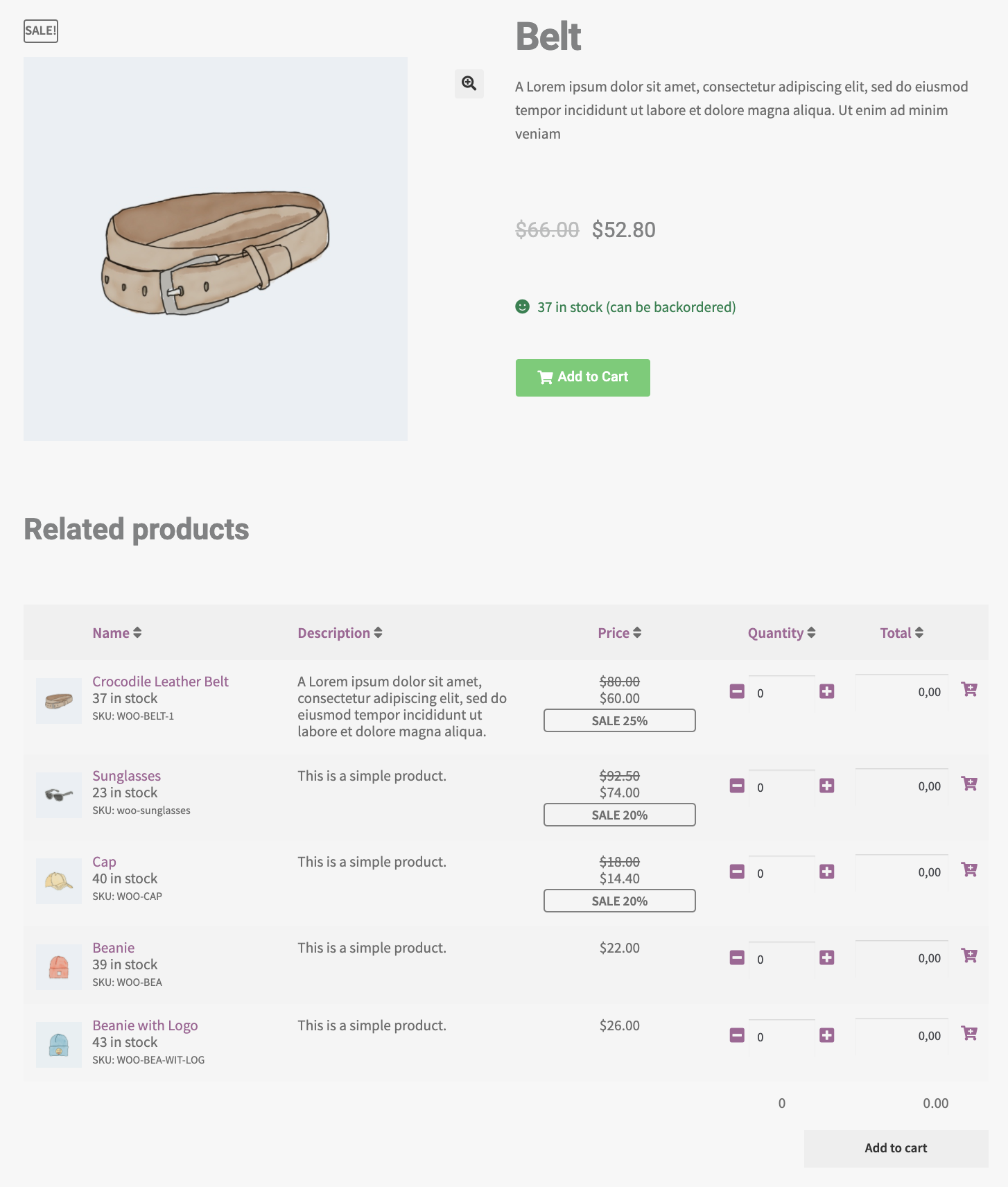 Easy make a shortcode to use in your template for products. In this example we have also hidden category selector, search, bulk add and checkboxes to make it a clean table. The first products shown in the table is your product Up-Sells, then the related products are shown in the rows below. See documentation on how to set this up.
Name your price integration
Want to set up an order form for donations? If you already have Name your price for WooCommerce your products will automatically be shown in the list. Use the settings for Bulk Shop to set your own labels for Name your price.
Used with Category filters
Works together with category filters like our own Bulk Category Editors category filter. The options for this filter is many including setting colours, fonts, layout, labels and much more.
Used in a role based solution (B2B)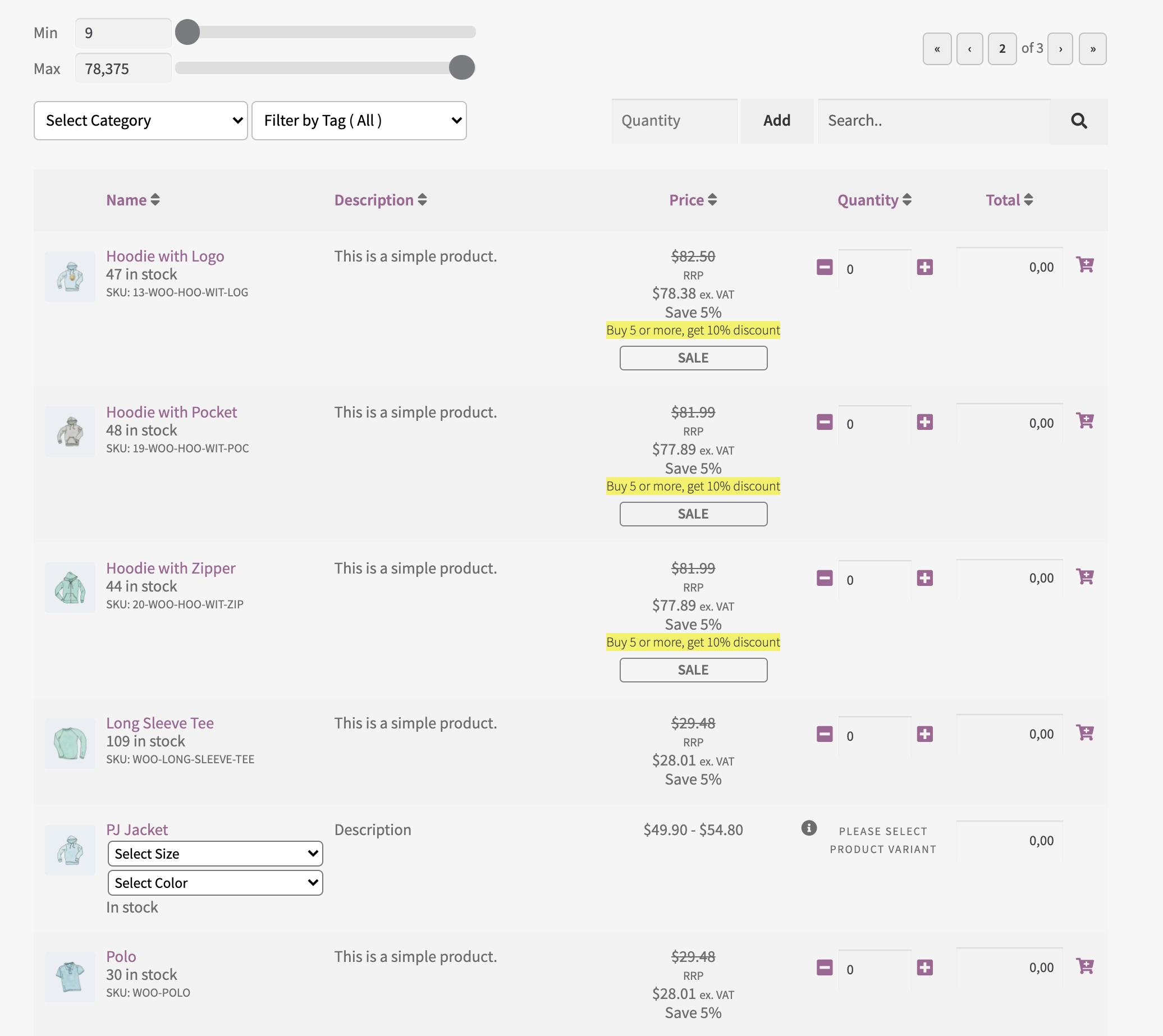 Bulk Shop in use in a role based B2B system like our own Roles & Rules B2B for WooCommerce, this view uses select boxes for variable products.
Responsive mobile views
As more and more customers shop on their phones, this view let customers use the same functionality as with larger screens. Options to set labels and more for this view.
Shortcode generator
The shortcode generator is used when you want to set default quantities per product, hide columns or functions in the list. You find it in WP admin and here you easy generate the shortcodes you need for your pages. You can select the categories you like, set paging and other options and then just click create shortcode and copy it to your page. There are also integration options to i.e set a custom retailer or wholesaler price and roles. More information in the documentation for Bulk Shop.
Feature overview
Shows all your products in a list and make it easy to bulk order
Filter by category
Price range filter
Filter by Tags NEW
Responsive mobile view
Enables a way to bundle or group products
Creates sale badges and calculates the sale in percent
Bulk add products to cart

Option for redirect after Add to cart ( Cart or Checkout ) NEW

Set pre defined quantities per row
In cart icon to show that a product is added to cart, mouse over to see quantity added
Products in a list table view
Search and paging function
Search in SKU and Tags
Zoom function on product images NEW
Shortcode generator (options to show or hide functions and columns)
Integration options for your custom B2B/Wholesaler prices and roles

Supports to set manually up to 10 wholesaler (or other) prices and their roles
For i.e Dynamic pricing and Wholesale for WooCommerce prices/roles is set in these extensions

Settings for easy translation or set your own table headings and buttons

Option for CSS and integrations

Shortcode option for hide prices for not logged in users
Shortcode option for setting max short description words NEW
Shortcode options for using Bulk Shop in product pages, showing Up-Sells and related products
Shortcode option for hide search form
Shortcode option for hide checkboxes (first column)
Shortcode option to remove product and thumbnail link NEW
Progress bar when bulk adding to cart
POT file for easy translation
The extension is compatible with
WooCommerce Products and variations
WooCommerce Subscriptions and variations
Name your price for WooCommerce
Dynamic pricing for WooCommerce
Wholesale for WooCommerce
Integrations for custom price and roles (up to 10 roles)
Supported themes
WooCommerce Storefront
WordPress Themes
Works with Elementor (use shortcodes)
Works for most themes, but for some you may need to do some CSS adjustments