ADD INFINITE AJAX SCROLL FOR WOOCOMMERCE TO YOUR WEBSITE AND MAKE ALL PAGES APPEAR A SINGLE PLACE.
Infinite AJAX Scroll for WooCommerce is a plugin that allows you to enable an infinite scrolling feature for your products and posts. With the help of this plugin, you can enhance the usability of your WooCommerce store by sequentially presenting your content. The extension is inspired by the navigation systems of famous social media platforms like Facebook and Twitter. It eradicates long page loading times caused by pagination. Store owners can decrease customers' browsing delays when they view products in their stores. This extension gives you a scrolling system for your WooCommerce store that allows customers to view all your products on a single page.
Why Should You Use This Plugin?
User experience is an integral part of online shopping thus, to make your shoppers glued to your online store you have to provide them something that is hassle-free. Therefore, infinite scrolling allows the customers to perform endless scrolling without having to switch pages thus, keeping them engaged to your store.
Another advantage of an infinite scrolling system is that it decreases the bounce rate on your website significantly and increases the number of content a visitor interacts with. As a result, you get deep insights into your customers' behavior when they visit your website.
The plugin is a dealbreaker as it gives some of the major UX benefits for your WooCommerce store such as:
Allows the shoppers to interact with your WooCommerce store with a minimal number of clicks.

Infinite scroll gives your website content a better exposure.

The plugin enhances the shopping experience for mobile users and other touch screen users.
Want to check how the Infinite AJAX Scroll for WooCommerce plugin functions? Visit the live demo to learn how this plugin works.
 Benefits
Implement a scroll system for infinite scrolling with a "load more" button or in AJAX
Create a single scrolling page experience on your shop.
Change the loading effect on your product page with better options.
Provide a comfortable shopping experience for mobile shoppers too.
Decrease the bounce rate of your WooCommerce store.
Features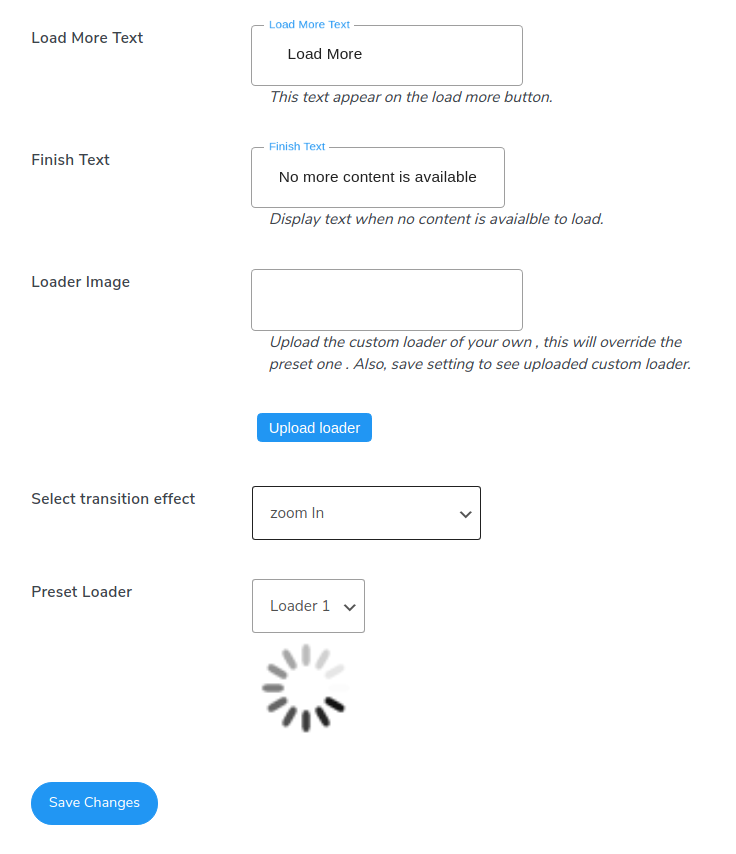 1. Infinite scrolling
The infinite scroll allows you to list all your products on a single page with endless loading.
2. AJAX load more
Instead of infinite loading, you can place an Ajax-based load more button that allows your customers to see products with a single click and with no page refresh required.
3. Infinite scrolling for mobile devices
The plugin lets you implement an infinite scrolling system for mobile users too. Give your small screen users a better shopping experience.
4. Transition effects
The vendor is free to choose transition effects appropriate for their brand style, including loading a custom image.
5. URL update
The URL will update whenever you load new items to your page.
For More Information:
Visit the Infinite Ajax Scroll for WooCommerce Documentation to learn more about the features and working of the plugin. If you need support or have questions, kindly submit your query.