Rental Products allows you to create rental products, manage rental orders and view rental inventory.
Packed with features to allow you to set up and manage rental products and orders within your WooCommerce store. Rental information is extensively integrated into the admin dashboard allowing you to see scheduled rentals through a calendar, view rental inventory, see rental information within orders, perform order management on rentals, filter products/orders by rentals and much more.
Customers can select rental dates using a date range picker from the product page and review the total rental price. You can also display an availability checker in any location in your store via a block/shortcode to allow customers to select preferred rental dates and then view rental availability status as they browse your store – if available preferred dates are automatically populated on product pages. Rental information such as rent from and to dates are shown to the customer throughout their journey through your website including on product pages, cart, checkout, order summary, account pages and emails.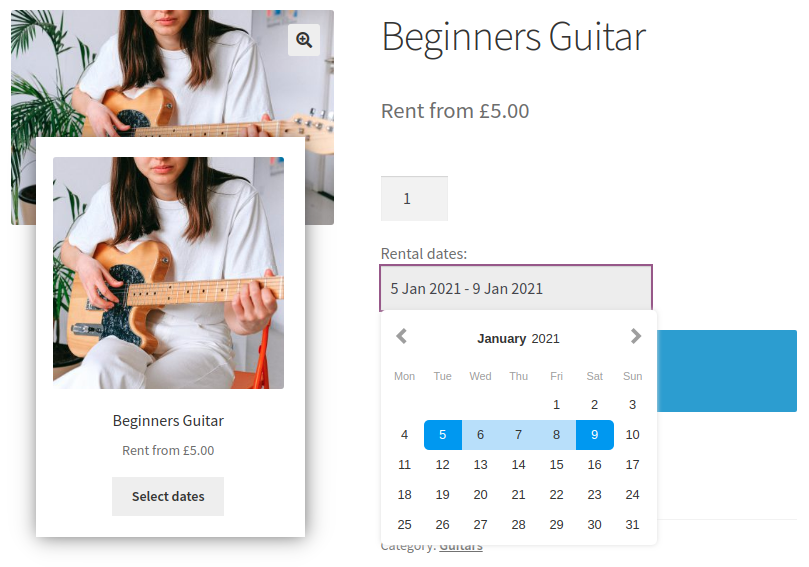 Start renting products in minutes…
Setup products as rental only or rental or purchase – The latter allows a product be rented or purchased outright
Works with simple, variable & grouped products
Works with existing products – No need to setup separate rental products
Availability checker block/shortcode – Display an availability checker in any location in your store via a block/shortcode to allow customers to select preferred rental dates and then view rental availability status as they browse your store – if available preferred dates are automatically populated on product pages
Date range picker – Including non-selectable dates (where rental already fully booked/out of stock or has been disabled)
Auto calculation of totals – For rental dates and pricing within product page
Rental calendar – Allows you to have full visibility over all your past, current and future rentals booked
Rental inventory – View all rental products including stock totals, stock in and out with search, sorting, print and export
Order management – Uses the standard orders screen and rental orders can be a mixture of rental and non-rental products with options to mark as returned, reduce rental dates and cancel rental for each rental line item
Product settings – Lots of rental product settings to setup rentals
Various pricing options – Allowing you to set pricing as you require including pricing tiers, multiple date periods, etc
Add rental information to rental products – Even set global information which is applied/updated on every rental product
Rental product management tools – Such as easily clone rental product options from one rental product to another product (or set of products)
Admin dashboard filters – Easily filter orders/products by rentals
Admin dashboard bulk actions – Update rental data using bulk product data options
Extensive WooCommerce frontend/backend integration
Mobile/tablet friendly rental form and availability checker
Translation ready
Functions and filters for custom development
Compatible with WooCommerce Product Add-Ons
Availability Checker Block/Shortcode – NEW!
Rental products now includes a block and the same functionality as a shortcode. You can use the Availability Checker block and/or [wcrp_rental_products_availability_checker] shortcode to allow customers to select preferred rental dates and quantity, this then shows availability status on rental products (where variations do not need to be selected) and auto populates rental dates on product pages if product is available. We recommend using the availability checker in a sidebar so it is visible to customers as they browse products in your store and can be easily edited or reset.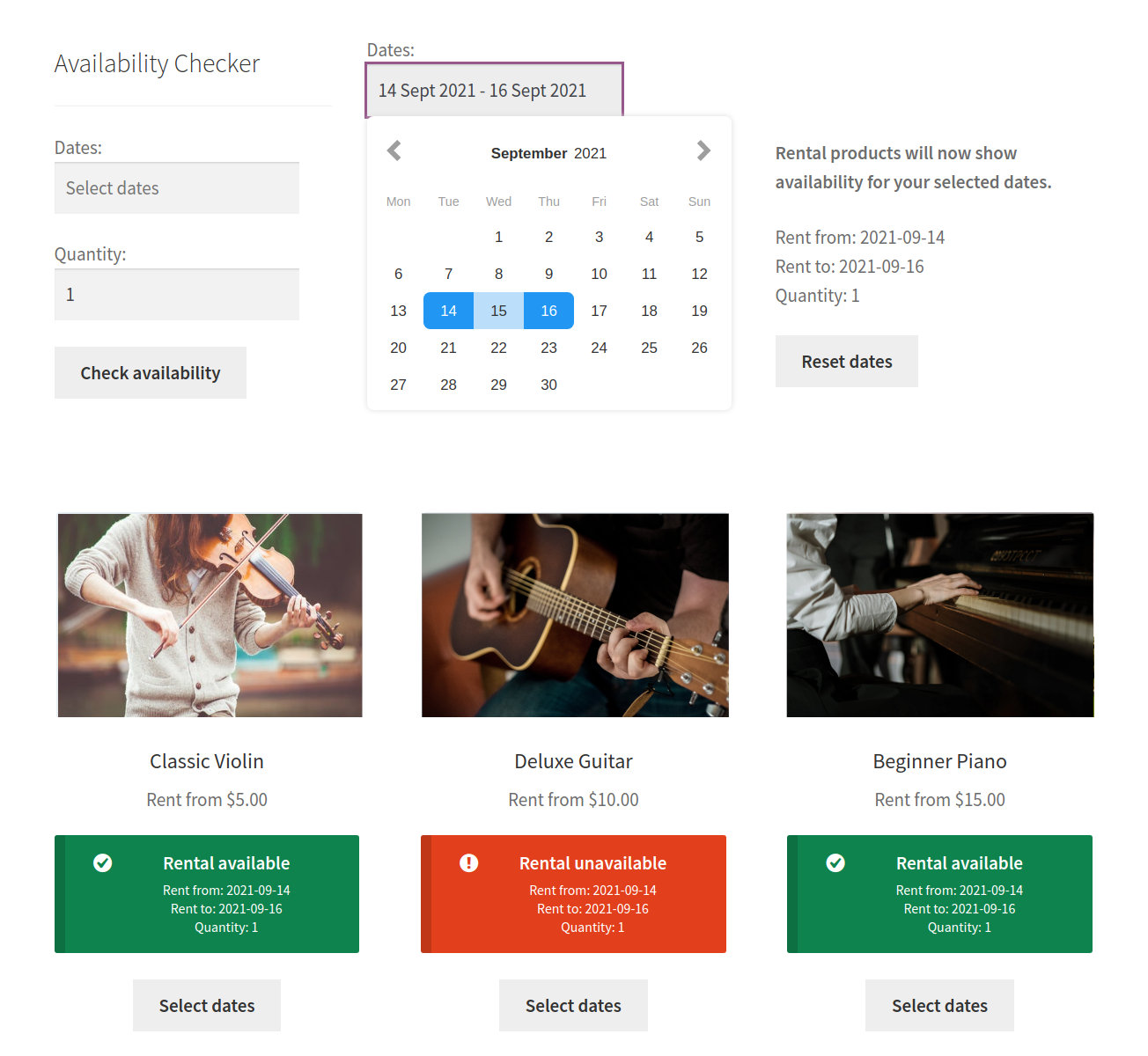 Rental product settings
Setup your rental product with a number of settings for rental, pricing, availability, deposits, calendar, information and advanced options: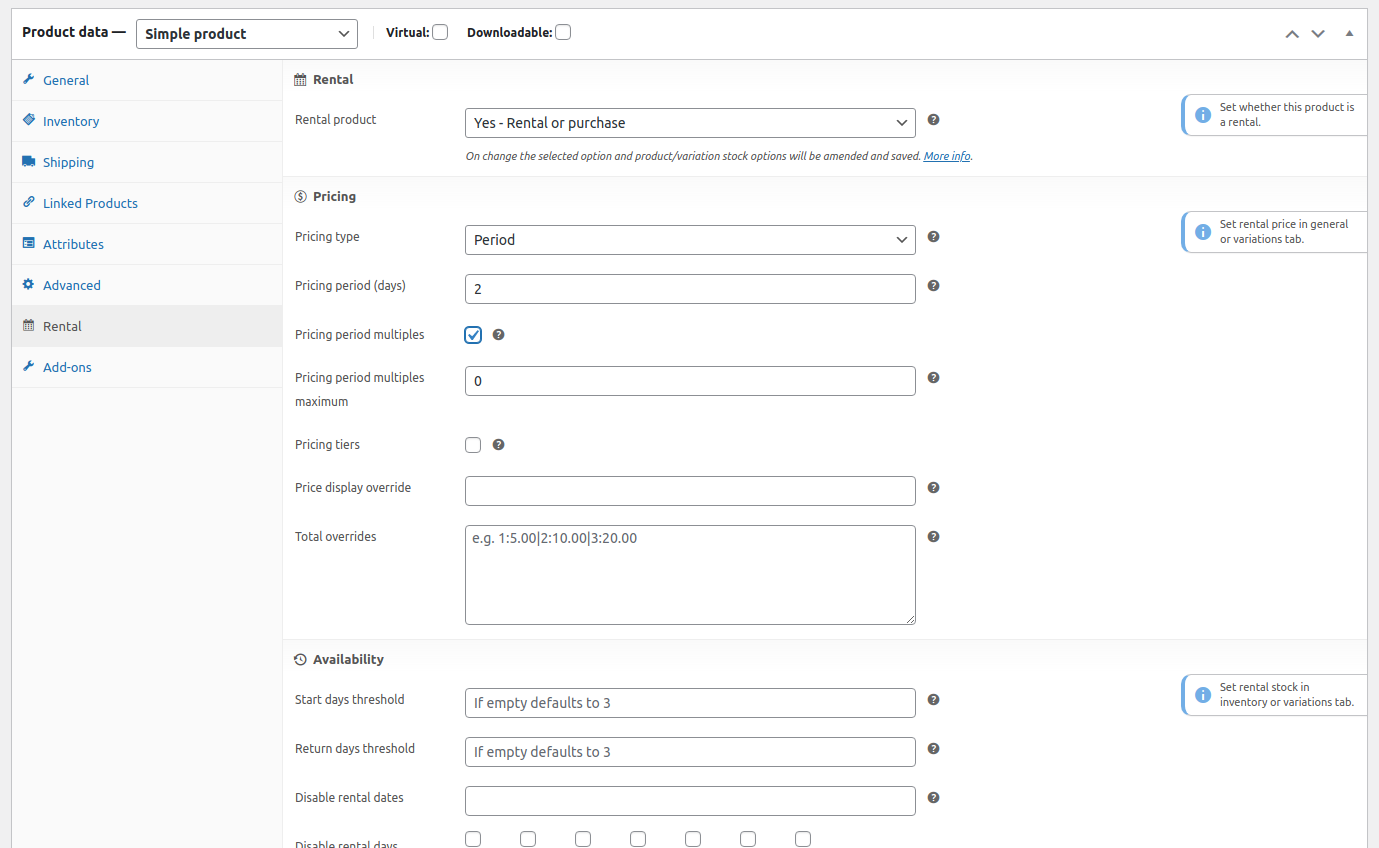 Rental product settings include:
Rental product – Enables rentals of this product
Pricing type – Define the type of pricing. The period pricing type allows you to define a number of days the price is for and the fixed pricing type uses the same price regardless of the number of days selected
Pricing period – Define the period of the price set in days (e.g. entering 7 would make the price set be for a 7 day rental)
Pricing period multiples – Allow a customer to select multiples of this pricing period (e.g. if pricing period is 7 the customer can select a 7, 14, 21, etc day period). If the customer selects multiple pricing periods the price is multiplied by the amount of pricing periods (or alternatively use the price + additional periods % option)
Pricing period multiples maximum – Limit the number of pricing period multiples (e.g. if 7 day rental and multiples, enter 4 to stop after 28 days, allowing 7, 14, 21, 28)
Pricing tiers – Increase/decrease price by percentage by number of days selected. For each pricing tier you add you can enter the amount of days greater than and a percentage increase (e.g. 10) or decrease (e.g. -10), this percentage is used to calculate the price in relation to the base rental price
Price + additional periods % – When enabled the price will be the period price + a percentage of the period price multiplied by the amount of periods selected (e.g. 7 day pricing period product is $100 with additional period % at 10% then if a customer selects a 14 day rental (2 x 7 day periods) the price will be $100 + $10 as the second period is 10% of $100)
Price + additional period % – Define additional period percentage used (e.g. enter 10 for a 10% additional period percentage)
Price display override – The pricing display on shop/product pages can be overridden to any text you require (with or without prefix/suffixes)
Total overrides – Overrides of the total based on the number of days rented
Minimum days – Minimum number of days that must be selectable by customer
Maximum days – Maximum number of days that can be selectable by customer
Start days threshold – Number of days from the current day before rental dates selectable by customer
Return days threshold – Number of days after the rental dates for the customer to return rented products
Disable rental dates – Disable rentals on specific dates and used in addition to any disabled dates which have been set at product level
Disable rental days – Disable rentals on specific days of the week
Disable rental start/end days – Rental cannot occur if the dates selected start/end on these days, but can occur if dates selected go through these days
Security deposits – Security deposits are taken upon order and may be refunded upon return of the product (includes options for calculation, tax status, refundable status, etc)
Months – Number of months to show within the calendar before pagination
Columns – Number of columns to show within the calendar before pagination
Inline – Allows the customer to select dates immediately without first selecting the date selection field
Rental information – Adds rental information to a tab on the product page. This will be used in addition to any rental information which may be set via rental settings
Advanced – Various options to override tax/shipping on the rental part of "rental or purchase" based products to use different tax/shipping calculations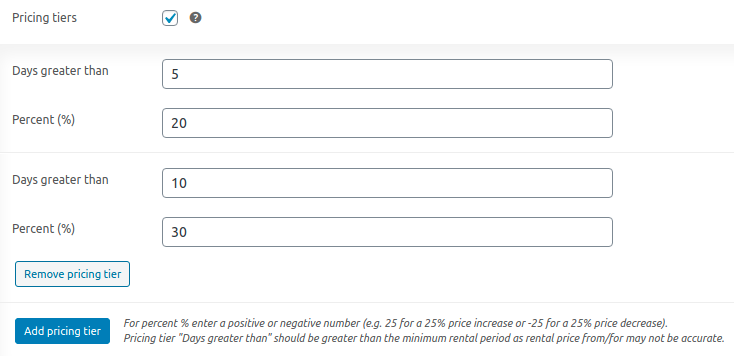 Rental info displayed within store/emails
Customers can see rental pricing on products within your store:
On a product page customers can use the calendar to select a date or range of dates: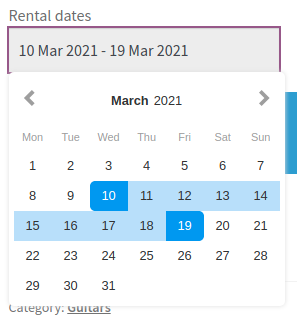 Rental information is also shown in cart, checkout, account and within emails: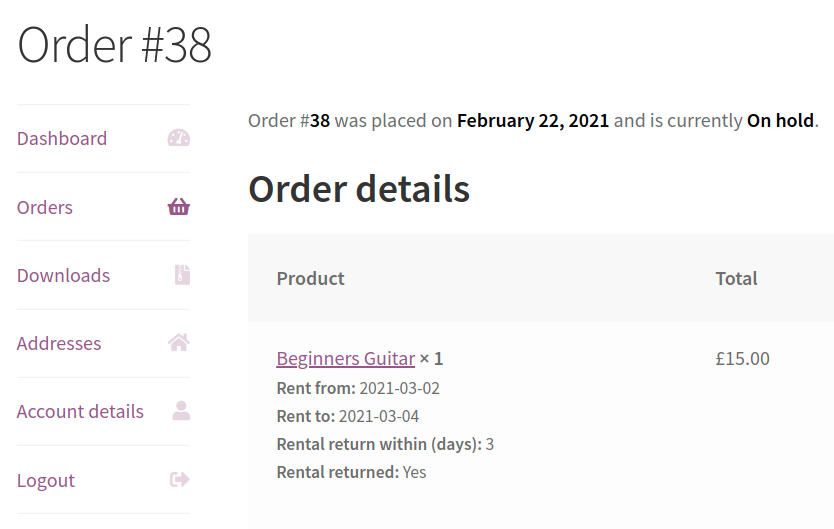 Rentals dashboard
Calendar
Use the rentals dashboard calendar to view all past, current and scheduled rentals in a calendar with 4 different views and pagination:

Rentals inventory
Use the rentals dashboard inventory to review all your rental products and stock (totals, in and out) with search, sort, print and export:

Rentals tools
Use the rentals dashboard tools to speed up rental product management: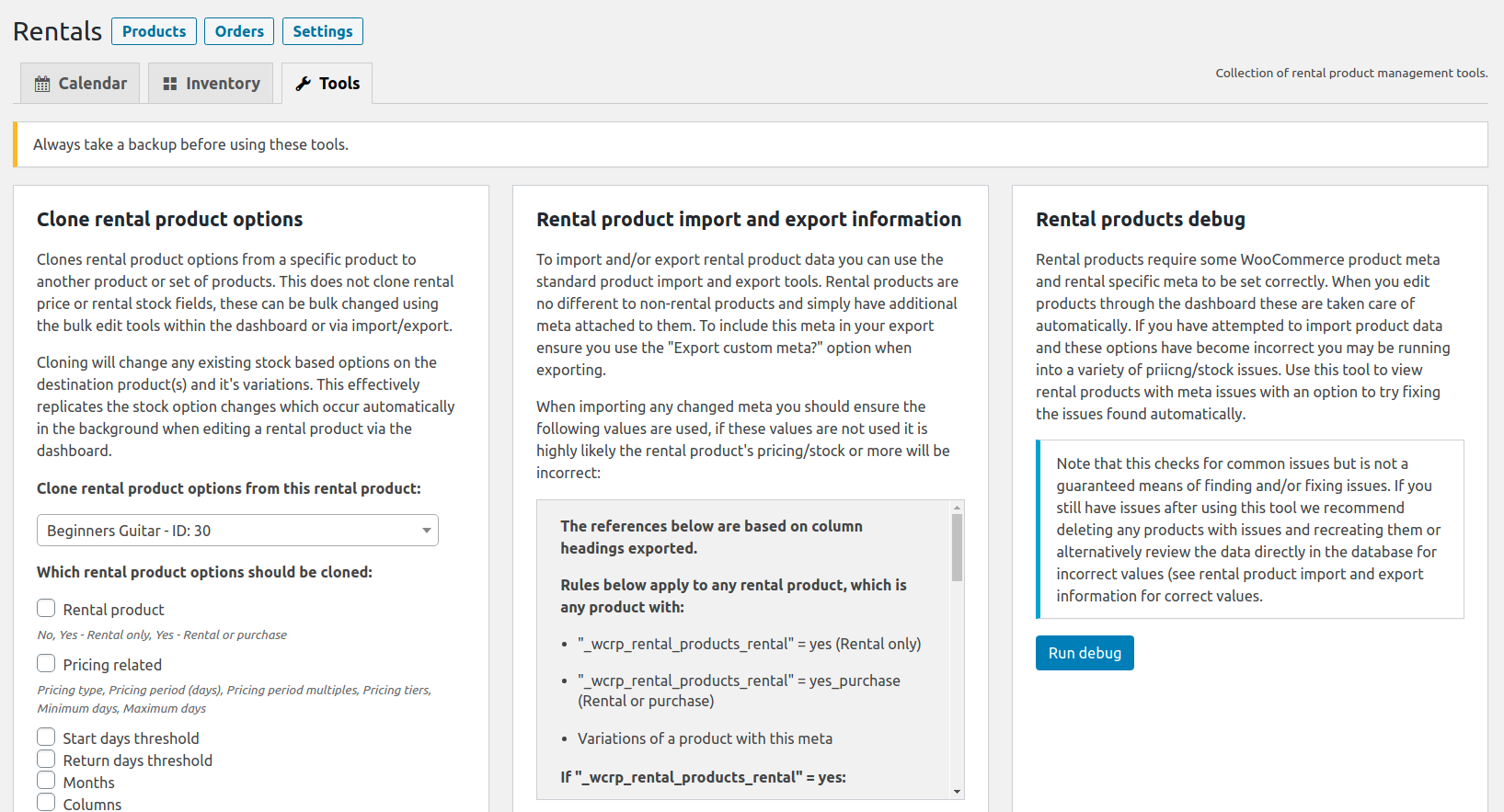 Order management
You can manage rental orders like normal WooCommerce orders, simply select an order containing rentals via the WooCommerce orders section.
Each order that contains rentals will display as "includes rentals":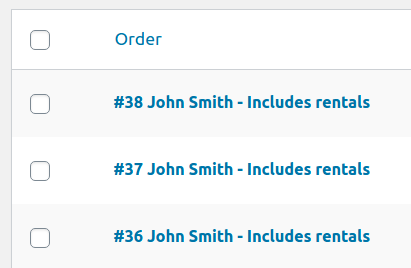 Upon editing an order with rental products you can see rental information on each order line item and you can mark individual line items as returned, reduce rental dates and cancel rentals using the buttons provided:
Line items marked as returned will appear green on the rentals dashboard calendar, rentals which haven't been returned which are over the rental return threshold will appear red. Remember that if you mark the entire order complete this will mark all rentals within the order as returned.
Configuration settings
Includes lots of configuration settings for date formats, rental form changes, disabling rental dates globally, text changes and more:
Configuration settings are available in the following categories:
Rental date format – Configure the date format used for rental date periods such in cart/order items, emails, etc
Rental form – Configure the rental form used for customers to select dates and learn how to change the rental form calendar styling
Disable rental dates – Configure specific dates to be disabled for rental
Rental or purchase toggle – Configure the rental/purchase toggle used by customers on rental or purchase based products
Rental price display – Configure how the rental price should be displayed
Rental information – Configure the rental information display
Availability checker – Configure the availability checker
Misc – Configure miscellaneous settings
Text – Configure the various text references used. Applied to frontend and within order line items in backend
Example usage
John runs Awesome Instruments, a musical instrument store and wants to rent out instruments to customers. With the Rental Products extension he can setup these products as rentals, customers can then visit his online store, select the dates to rent an instrument, and pay for the rental. He can see the dates for which instruments have been rented within his WooCommerce orders dashboard and within the rentals calendar. He then ships (or arranges for the customer to collect) the rented instruments. He can track rental orders and products using the rentals dashboard.
If he wants to sell some of his guitars but also offer the option to rent these too – with the Rental Products extension he can set these up as rental or purchase and can set purchase and rental prices for either option.