Each component of your store's website does its part in convincing potential customers to make a purchase. From the content on your homepage to the design of your checkout process, each individual element has a purpose… and can be improved.
Among these components, perhaps none are more important than your product pages. On these pages, shoppers find photos, specifications, and other details that give them a compelling reason to make a purchase.
But sometimes photos and copy alone can't make the sale. For many stores, product pages need additional features to convince potential customers to take action. For some stores there's a need to add downloadable guides, while for other stores it's a matter of offering customization.
Today, we're going to explore ten features that your product pages might need to boost sales — and the corresponding WooCommerce extensions that make them possible.
Ready to make some improvements? Read on.
Give potential customers the details they crave
One of the biggest mistakes that new store owners make is not giving shoppers enough information to reliably make a decision. Unintentionally withholding even small details, like the type of batteries required or the country of origin, can result in lost sales.
These three extensions won't just help you add those details — they'll also make those details far more visible, so shoppers will always be able to find the facts and figures they crave.
Provide product information at a glance
Sometimes your customers are in a hurry, but they still want to know every last little detail about your products. Save them some time by letting them "peek" at items with this first extension.
WooCommerce Quick View enables a "quick view" button on your landing or category pages. When clicked, shoppers are instantly presented with a lightbox window that displays the product image, price, description, and status: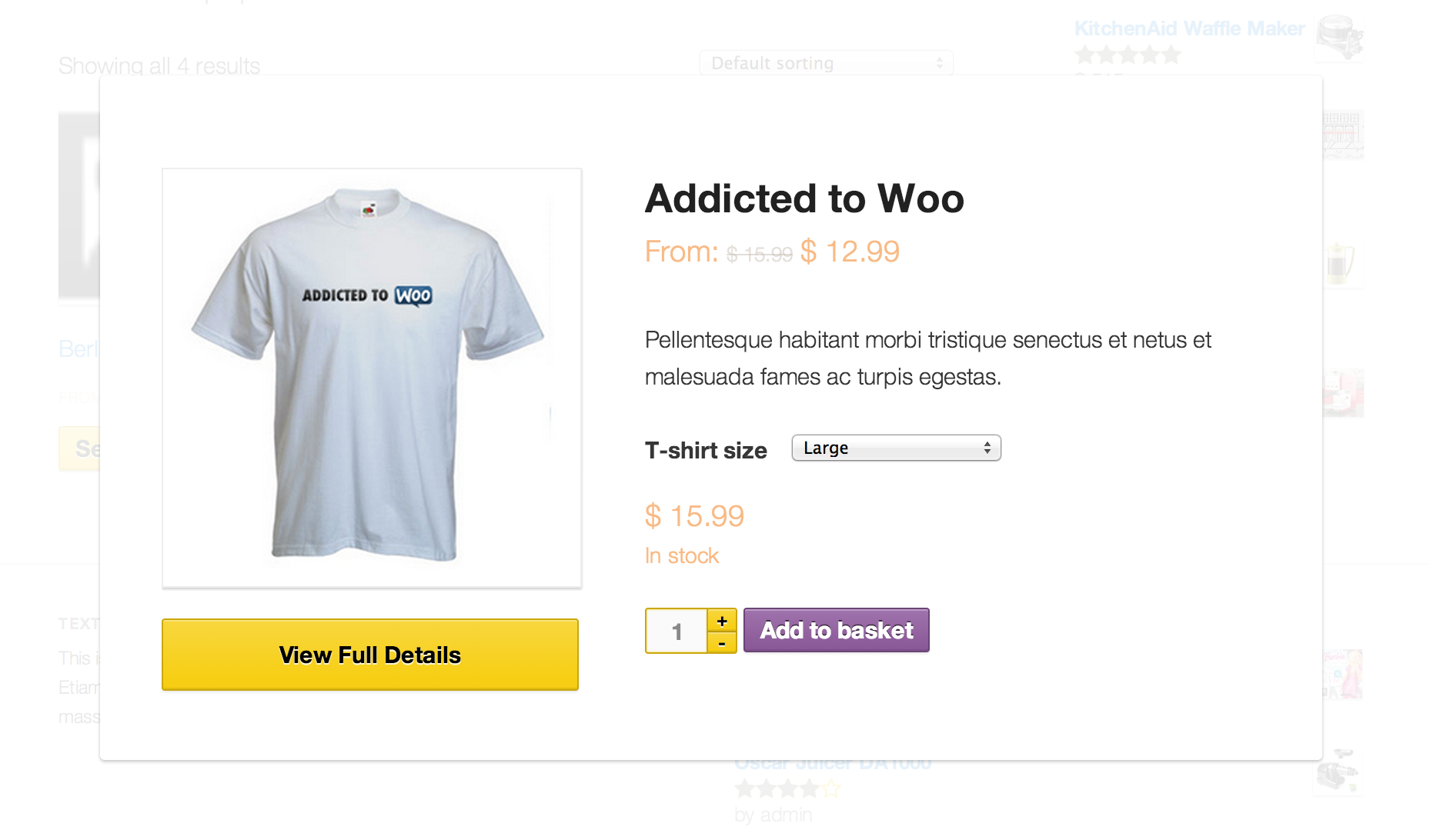 They can even add the product to their cart from the window if they like, or click the "view full details" option to see the full page.
This quick view extension can save shoppers an immense amount of time if they only want to take a few moments to look at seemingly similar products, or get a closer look at photos before diving into the full details.
Purchase the WooCommerce Quick View Extension
Let customers compare similar items
Speaking of looking at similar products, this next extension is designed to help your customers do just that. Side-by-side comparisons can be very useful if you carry products that only have a few differences between them.
WooCommerce Products Compare adds a "compare" box beneath product listings that can be ticked by shoppers. When they're finished selecting products, the items are displayed side-by-side, with their features lined up neatly in table format.
This can make decision-making much easier for shoppers, especially if many of your products are similar or don't have many visual differences.
Purchase the WooCommerce Products Compare Extension
Make product documents available to view or download
Some products are easy to understand. A shirt is, well, a shirt — no instructions needed. But if you sell, say, heavy machinery online, that's the kind of thing you certainly wouldn't ship without a manual.
With the Product Documents extension, you can increase your customers' understanding of products before they even make a purchase. Once installed, the extension allows you to upload and add easy-to-spot links to downloadable documents to any product page.
So whether you want to make existing item manuals available online or produce new how-to guides or FAQs, all of these helpful documents can be added to any page of your choice in just a few seconds.
Purchase the Product Documents Extension
Ensure high levels of order accuracy
If the products you're selling come in customizable quantities, different colors, or have specifications that can be altered per order, accuracy is hugely important. Nothing makes a customer unhappier than opening a shipment and finding the wrong item in their box.
With these next few extensions, you'll be sure to get things right the first time, every time.
Let customers calculate quantity and price
Products like tile, fabric, wallpaper, and paint can be a tricky sell. Customers can eyeball the amount they need… but that might result in them coming up short (or ordering too much!). Luckily, the Measurement Price Calculator will give your shoppers an accurate estimate for products sold by either quantities or units.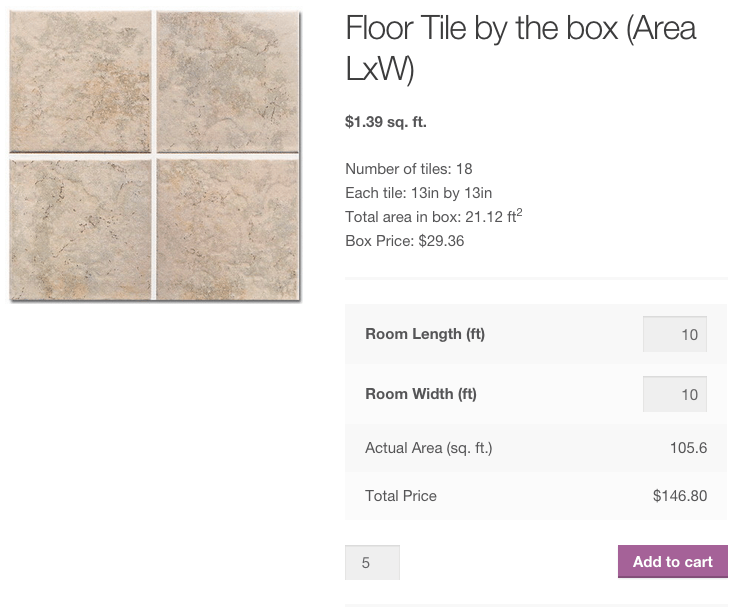 A calculator can be added to any product page, and can calculate price and quantity needed based on a shopper's dimensions, area, volume, or weight. An additional user-defined calculator mode lets you sell products priced per-unit or in custom sizes, like fabric.
Now your shoppers won't have to guess how much they need — they'll be able to calculate it down to the roll, foot, or quart, and all right from the product page. How's that for convenient?
Purchase the Measurement Price Calculator Extension
Add color swatches for product variations
Even if you don't sell products by the quart or foot, adding clarity to your pages is never a bad thing. You want your shoppers to be 100% certain they're choosing the right color shirt or the right size pants, right? This can be accomplished quickly with Variation Swatches and Photos.
Instead of adding text-based drop-downs to your product pages for selecting variations, this extension will give your customers the ability to click on small photos or color swatches of the item they want to purchase.
This helps them be even more certain that they're picking the right item or correct combination, whether it's a certain length of a necklace or a shirt with a specific size, color, and fit.
It's also way more fun to use than drop-downs. Seriously, give it a try, you'll have a blast. 😉
Purchase the Variation Swatches and Photos Extension
Add special features for customizable products
If you already offer customized products in your store — or are considering adding the option — your product pages should reflect that.
With these next two extensions, you'll be able to show off your ability to make products that are truly personal, whether they're engraved, printed in a custom color, or fully built to meet a shopper's specifications.
Personalization options make products a bit more special
If you're already supporting personalization for your items, or are considering adding the option to any of your products, the key to success is making customer requests as easy as possible.
Enter Product Add-Ons, a WooCommerce extension designed to allow your customers to enter custom text, upload images, check boxes, or simply tell you what they want customized or personalized on your products.
Product Add-Ons allows you to decide what custom options you want to support on each of your products. You can charge for personalization and add-ons, or allow free custom color choices. Allow customization on every product, or just one. It's all up to you — and all handled by one extension.
Purchase the Product Add-Ons Extension
Allow shoppers to build their own kit, product, or bundle with ease
Selling custom-built products online can be tricky. Giving shoppers the power to build and configure an item from the ground up takes quite a few steps, choices, and confirmations. But this is all what Composite Products does best.
With the Composite Products extension installed, you'll be able to create a product with multiple components that can be configured by each customer. Each component can have multiple choices, so the customer can choose the right size, color, material, or other selection that fits them best.
When your product is live, shoppers will be guided through the steps of building their custom item from scratch. Images and text can be added to the page to make the customer's journey clearer and easier (see an example here).
If you want to offer fully custom kits or even bundles, this extension will give you all the power and flexibility you need to do it, while showing your customers exactly what they're choosing all the way through.
Purchase the Composite Products Extension
Take simple steps to improve customer service
How you treat your customers matters… especially before they even become customers. To round up this post, here are a few extensions that will help you show your shoppers that you're committed to quality service, starting right with your product pages.
Allow items to be ordered before they're released
Occasionally you might have a new product in the manufacturing process that you just can't wait to sell… but no way to actually sell it. Until now.
WooCommerce Pre-Orders gives your customers the option to order a product before it's in stock. Their credit cards won't be charged until stock is available and you complete the pre-order — that is, run a manual process to bill them — and you can send an email notifying customers that stock has arrived and is about to ship.
The extension gives you complete control over pre-orderable products, allowing you to alter release dates, tweak emails to customers, and manually manage when customers are billed — all a must-have if you regularly list upcoming products or take pre-orders for things like video games or software.
Purchase the WooCommerce Preorders Extension
Enable waitlists and email notifications for backordered items
On the other hand, sometimes the products you already have run out. Some store owners tackle this issue by temporarily removing the page, but if you're going to get more stock again soon, why risk the 404s and shopper dissatisfaction?
WooCommerce Waitlist allows shoppers to join a waitlist for a product that is currently out of stock, and then receive an email notification when the item is available again.
With the extension installed, any products currently out of stock will show a "join waitlist" button to shoppers. From your side, to you'll be able to view a new addition to each product page showing who has joined the waitlist.
You'll also have the option to send custom emails to customers once a backordered product is back in stock, preventing you from losing any sales. Brilliant!
Purchase the WooCommerce Waitlist Extension
Add a contact form right to the product page
Nearly every online store and website has a contact form these days. But you'd be surprised at the number of visitors who, well — putting it simply — are too lazy to find the page and ask their question.
Sometimes it's not their fault, either. Contact forms can be buried, hard to use, or cluttered with fields that have no business being there. This can put off even the most diligent of shoppers (or the ones closest to a conversion).
The solution to all of these issues is more simple than you might expect: add a contact form right to your product pages with the Product Enquiry Form extension.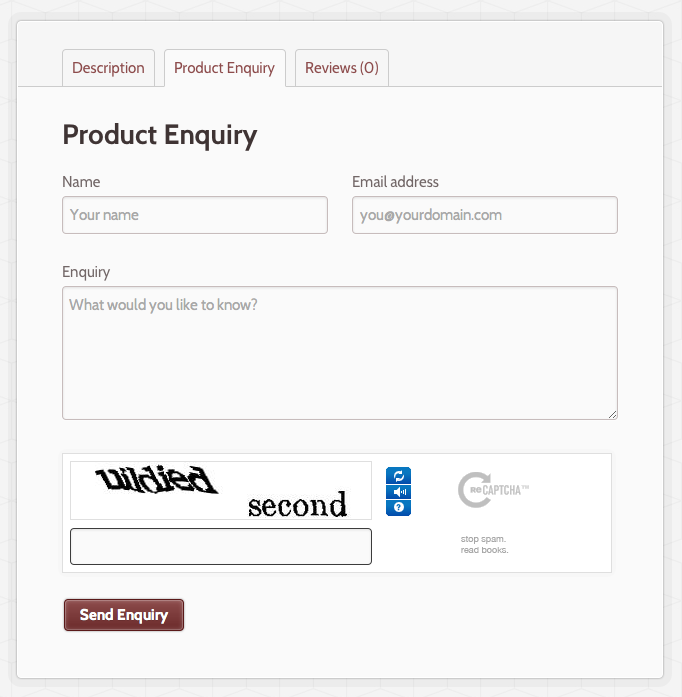 This allows shoppers who have a question about a product to get in touch with you immediately — no digging around for hidden forms necessary. You can then respond to the customer directly via email, answering their question so they can get back to shopping ASAP.
Purchase the Product Enquiry Form Extension
Be one step ahead
When shoppers do reach out with questions or needs, having a CRM in place can aid your team in providing faster, more helpful service. Jetpack CRM was made specifically for WordPress and is built right into the WordPress dashboard — no need to log into an entirely new platform. When a customer calls, you can see their past order history, notes on their account and more. Set up automated emails that are triggered based on specific customer actions or send an entire sequence when certain products are purchased.
Like WooCommerce, Jetpack CRM is built to expand with just the features you need — and none of the ones you don't. It's the ideal choice for hard-working store owners.
Improve your product pages to turn shoppers into customers
Product pages aren't just a convenient source of information, or where you stash your photos — they're the backbone of your online store. They're crucial to the process of converting a shopper to a customer, and as such, they deserve special treatment.
We hope this selection of tips (and the WooCommerce extensions to match) has given you some ideas for improving your own product pages. If you want a few more, check out this post on the features of high-performing product pages for further inspiration.
Have any questions about the extensions recommended in this post? Or any suggestions of your own to share? We're keen to hear from you in the comments as always.