"Automation" gets thrown around like a dirty word when used in relation to your business:
"I don't want to automate customer service, I hate not talking to a real person."
"I don't want to automate emails, they'll lose their personal feel."
"I won't automate these fulfillment workflows, I want to be sure they're accurate."
Too often, we equate automation with call menus — "press 4 if you want me to repeat these options…" — which can be frustrating to work with as a customer. But automation doesn't have to be synonymous with poor quality and impersonality. It is an investment: automating parts of your business is a way for you to purchase attention, so you can focus on other parts of your company.
As a business owner, maximizing your time spent on innovation or high-impact tasks helps you dedicate time to improvement and growth. Most merchants need to focus on a niche or USP to compete in eCommerce, and hone in on building a brand around what makes them unique. Automating lower priority tasks means you and the people who work for you can spend your time focusing on the things that will really help you compete.
As a shop admin (or a developer helping shop admins!) there are several opportunities for automation to consider, and some strategies to uncover those opportunities.
Determining what to automate
With the myriad decisions you make and tasks you do in a day, figuring out which of those tasks are ripe for automation is certainly difficult. However, taking a week to keep a "work log" for yourself can be a great way to surface areas of your store you can automate. Track what tasks you do, time spent on each, and then rate them 1-10 on (a) how much you enjoy that task, and (b) how crucial that task is for you to do (not how crucial it is for your business). The goal here is to find tasks that you spend a decent amount of time on that aren't high impact (and bonus points for also not liking those tasks!)
These sort of tasks are the prime candidates to invest in automation. Automating can take time or money to set up, but the goal is to create automation workflows that will start to pay for themselves after a couple of months through time saved. I think of it this way:
(hrs I spend per wk x $X per hr x ~8 wks) > (cost to automate task)?
(assume your hourly rate as an owner is at least $100)
If yes, I should look to automate as much as possible immediately.
As a developer, if your client isn't keen on keeping a log, you could try to uncover these things in the discovery process with some targeted questions:
What are the top 5 store management tasks you spend your time on each week?
> Try to get a sense of where time is spent daily.
What are the 3 most impactful things you spend your time doing in terms of sales or customer happiness?
> Understand the areas we want to buy focus for.
What are the 3 least impactful or least "fun" things you spend your time doing?
> This helps us start to build a list of potential "quality of life" automations.
What steps do you currently take when you get new inventory? How do you track when inventory leaves your store?
What steps do you currently take between when an order is placed until it leaves your store / warehouse?
> Look for manual parts of these processes we could potentially streamline.
How are you reaching your customers after the sale? What emails do you send, or what other marketing do you do?
> See how much time is currently invested here, as if no time is spent on marketing, even small automations can make a large difference in revenue.
Product setup and management
Setting up and managing products can take up a lot of time if inventory is consistently turning over, or products are frequently updated. Depending on what kind of products you sell, it also tends to be low-impact, considering inventory updates are not make-or-break tasks. Product management is a great candidate for automation as a result.
Product setup and updates can often be semi-automated by using CSV imports for product data, which are built right into WooCommerce. If you receive CSV reports of received inventory from your manufacturer, you can adjust the formatting of this file and import the new inventory right into WooCommerce without manually updating each product record.
To take this even further, consider a recurring import with WP All Import, which lets you sync stock with an import file from an external service to fully automate stock, price, or other product updates.
Now what about when you're running out of stock? You can automate low or out-of-stock notifications from right within WooCommerce settings to ensure you're aware of when you should re-order.
Want to automate this entire re-order process? If your manufacturer can programmatically order new inventory, consider a custom plugin that hooks into "woocommerce_low_stock_notification" to send a new inventory request right to your manufacturer in the format they require.
Finally, how about advertising your products? If you're advertising via Google Ads, consider the Google Product Feed extension to automatically push your product data to Google to set up product ads. If you're looking to promote a sale, consider scheduling that sale in WooCommerce (even via product import!), then scheduling social media campaigns with a tool like Buffer.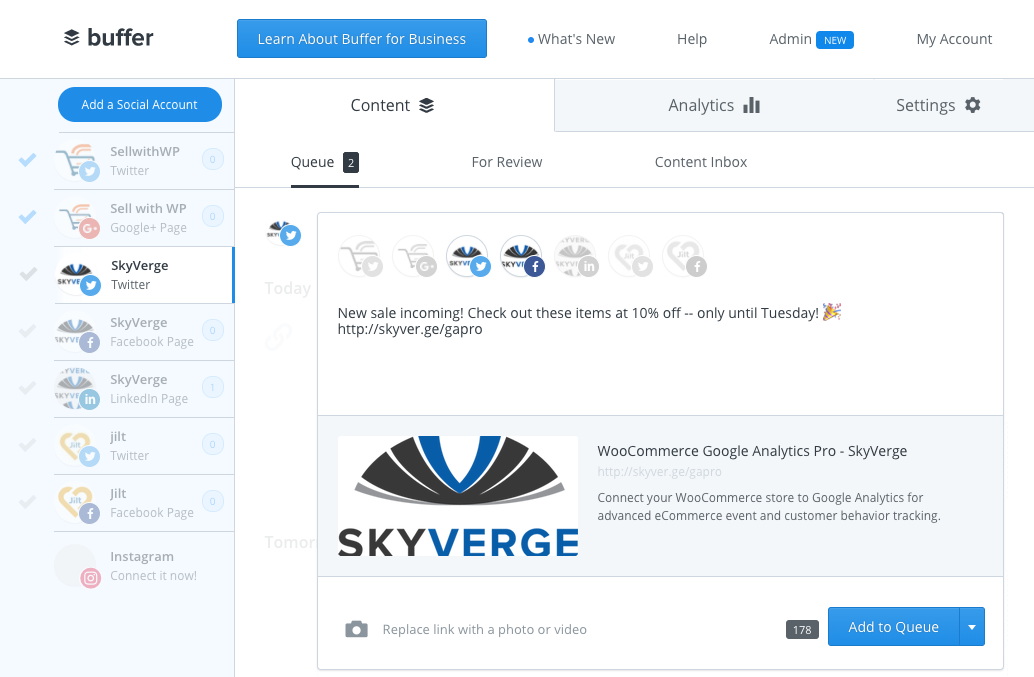 Browsing and shopping
The customer experience tends to be one that merchants hesitate to automate. They're afraid that the human connection between store and customer, which is vital to build loyalty and repeat purchases, will be lost.
However, automating parts of the shopping and communication experience to help your customers tends to lead to more positive interactions, a better view of your store, and more sales, which is a win-win for both you and your customers.
When customers arrive on your store, you can look to automate customer messages that will give them information about the shopping experience. Tools like HelloBar can inform customers of a limited-time offer or sale, or let them know about shipping policies and lead times. Plugins like Cart Notices can display more dynamic messages like how much you'd need to add to your cart to get free shipping, or when to order by so your order ships next-day (helping you increase average order value as well).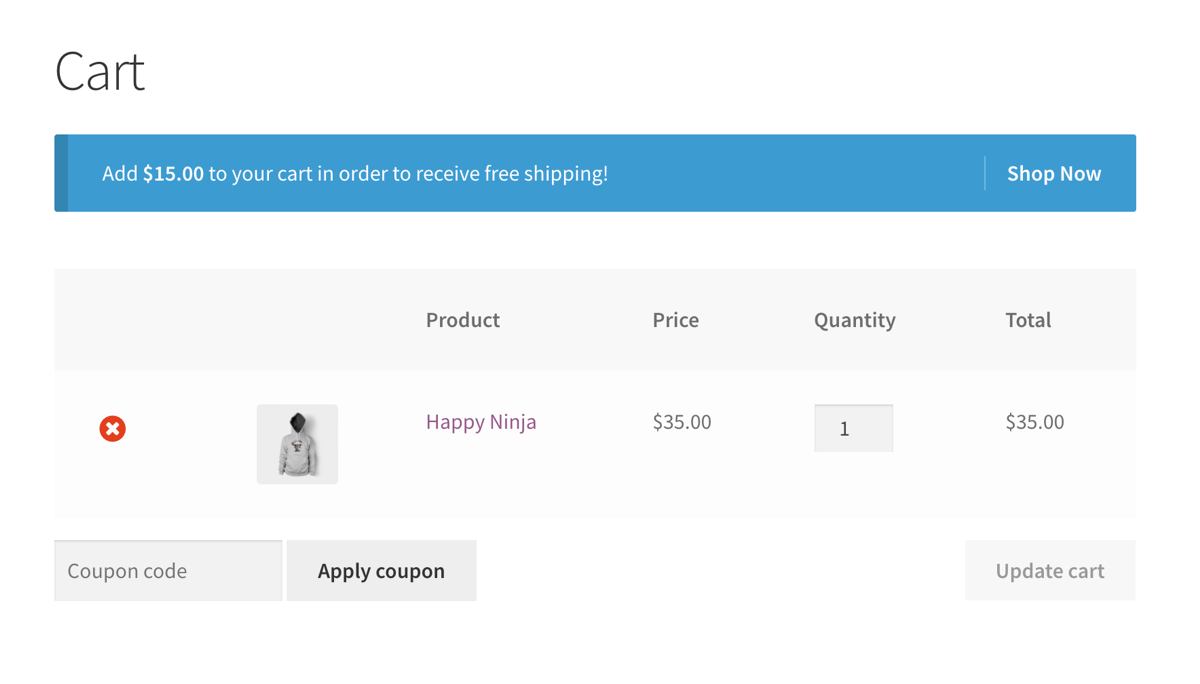 While customers are shopping, they'll often leave items behind without checking out. You can look to automate sending cart recovery emails to save some of these sales. While many merchants view automated emails as impersonal at first, they do tend to be effective at selling. MailChimp notes that, "automations designed to sell more stuff [produce] almost 16 times more orders per recipient than regular bulk email." Kissmetrics backs this up as well, noting: "Among companies that adopt email automation, conversions have a 77% chance of rising".
For merchants using Jilt specifically to save abandoned carts, we've seen automated recovery emails drive 15-20% more revenue simply by starting your first abandoned cart campaign (and you can get started in minutes with a free account!).
Finally, what about the end of the shopping experience? Welcome emails are useful to automate when a customer registers for an account or subscribes to a mailing list. Welcome emails make customers more likely to read future emails from your brand, ensuring you can use future emails to market and sell effectively.
Order management and fulfillment
Order fulfillment tends to be a quicksand pit for small merchants' time, as they're often packaging and fulfilling orders themselves as their store gets off the ground. Unless having a super-detailed, custom "unboxing" experience is central to your brand, you should think about how you can cut out steps in getting packages to customers.
f you already sell via Amazon and your items are sold at more than ~$15-20 apiece, you could consider using Fulfillment by Amazon to warehouse and ship your goods. You'll pay fees for storing items, picking and packing orders, and shipping (which can be $10+ per item all said and done), but Amazon handles the entire fulfillment process for you, from picking inventory to getting it to the customer with tracking information. WooCommerce stores can even fully automate with process with the Amazon FBA extension, which automatically pushes new orders to Amazon when products are marked as FBA.
If you'd like to use a similar workflow, you could look to drop ship your items directly from a provider or manufacturer, so they send orders to your customers on your behalf. Plugins like the Customer / Order CSV Export plugin or Dropshipping plugin can help you automatically export these orders to dropshippers to streamline this process.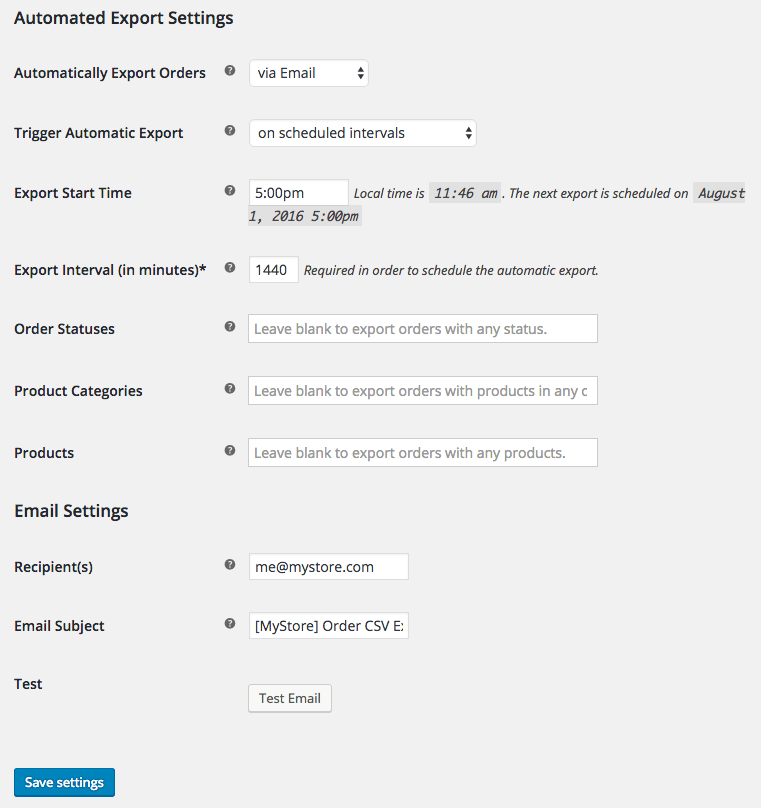 Finally, there are a few other options for automating some or all of your order fulfillment if you'd like to steer clear of using Amazon, or if dropshipping isn't an option:
If you need to (or want to) ship items yourself, you can consider automating your shipping label printing. If you use an integration to get real-time rates with a shipping provider, you can often automatically print shipping labels, too! This makes it easier to get packages out the door. WooCommerce Services is a great option for this, or you could also consider using Google Cloud print with Zapier.
You can take this a step further and tie fulfillment to inventory management, by using a service like Shipstation to help automate inventory management, pick list printing, and label printing for every order.
Or, you can take this concept furthest with a service like Shipwire to outsource inventory and fulfillment entirely — you send goods to their warehouse, export your orders to them (which the Shipwire extension can do automatically!), and they handle picking orders and shipping items to your customers for you.
Post-purchase communication
So now we've covered set up, customer shopping, taking orders, and fulfilling them — what about your store's retention strategy? Repeat customers often make up 40% of the revenue for an eCommerce store, so automating your retention strategy is helpful for growth and additional revenue.
ending automated post-purchase emails gives you a chance to build relationships with customers, encourage additional purchases, and gather product reviews for your store as social proof (driving even more purchases). Your store can benefit from sending several types of post-purchase emails:
Review requeststo encourage customers to leave feedback or provide a product review for your store.
Sales emails to let customers know about new products or on-sale items. These can even include a discount for repeat purchases.
Educational emails to help customers get the most out of your products.
Win-back emails for customers who haven't purchased in some time
If you're using Jilt for abandonment recovery emails, you can also use it for post-purchase follow ups. Otherwise, you can consider setting up workflows manually with your email marketing tool of choice, such as MailChimp.
Other automation & tools
Finally, there are other miscellaneous tasks and workflows that can be streamlined or completely automated in your store. Here are a few of my favorite automations that I use on a daily basis:
Accounting — I love using Zapier to automate as many tasks as I can. For example, you can take WooCommerce orders, use the WooCommerce Zapier extension, and pipe those orders into QuickBooks Online so you have accounting records updated automatically.
Speaking of Zapier, one of the zaps I think is really neat is the ability to send handwritten Thankster cards for all new orders in WooCommerce.
You can tell I think Zapier is awesome — some other things you can do: add orders to a spreadsheet, export them to Xero invoices, add customers as HubSpot contacts (helpful for high-ticket items to follow up!), add customers to mailing lists, post notifications in Slack, and all sorts of fun automations to help you streamline day-to-day work.
I also love automating things in Help Scout using workflows. Customer service gets really difficult to do once more than one person on your team is involved, so using Help Scout is a great way to organize conversations, and workflows can send auto-replies, tag customers automatically, automatically assign conversations, and more.
And of course, there are tons of other automations you can use to make your life easier. 🙂 What are some automations you love, or you've started using already?
---