As a developer, you're used to answering questions for your clients, both the easy ones and the tough ones. Some of the answers you give are the same for every client, but some answers are different for everyone.
"Where should I host my website?" is one of those tricky, every-answer-is-different questions. And it should be: every project is different, and no one host fits everyone. So it's sometimes a challenge to answer that question immediately, or to even come up with a thorough response.
Today, we're going to give you a list of questions you should ask when the topic of hosting comes up. These are questions you might ask the client, ask yourself as the developer, or even ask the hosting companies you're considering. They'll help you make a smart decision and well thought-out recommendation for each client you work with, both now and in the future.
Let's go over the questions you should ask when you get the hosting question, one-by-one, to find out how you can use the right criteria to suggest the best solution possible.
A necessary note: your client's host affects much more than your client
Asking questions and using criteria to pick a host probably sounds like a lot of work. It probably sounds a lot easier to recommend a hosting company you like or have worked with off the fly. And it is, on both accounts.
However, you might not realize the huge impact that picking a host has. Your client's host affects:
Your client, obviously, who expects the host to work with their site and meet their needs
Your client's customers, who expect the site to be fast — and they'll leave without buying if it's not
You, because you'll be the one logging in to do all the work
Your ability to make money — if the site isn't making money, you might not be able to get paid
Your reputation, potentially — if you recommend a host that isn't a good fit, and a migration is necessary, you might be on the receiving end of some complaints
These are just a few of the reasons why picking the right host matters more than picking one quickly.
With that in mind, let's dive into the questions you should be asking each time you have this question posed by a client, whether they're a small business owner creating their very first online store or an enterprise level company starting their tenth.
What does the host need to be capable of in a few years?
If your client is having you design and build them a blog, it's easy enough to recommend a small host that works well enough with WordPress. But what happens in twelve months when their popularity has skyrocketed, they've added thousands of posts, and their host simply doesn't know how to handle the demand?
Don't only think about what your client needs now — think about what they might need in one, two, or more years. This might mean recommending a host that offers multiple tiers of hosting packages instead of just one option. Or it might mean opting for managed WordPress hosting, even though it seems like overkill at the very start.
You can probably get a good sense of how a project might grow right away. If you're building a five page portfolio or online resume for a young professional, managed hosting will always be overkill — that site isn't going to grow. But for an online store, blog, or company website, it would be a mistake not to anticipate growth.
The worst case scenario is that the growth doesn't happen and your client has spent a few extra dollars being prepared for it. The best case is that they grow gracefully and never have to worry about not having enough bandwidth to support their visitors.
If you want to pre-empt questions about this kind of thing, consider saying something like this up front:
I recommend [name of host and their plan] for your site. There are some less expensive options out there; however, by using this solution, you'll be adequately prepared for any sudden influxes in visitors, holiday sales, and your site's long-term growth. It will also keep you from needing to switch hosts after a few months after you outgrow a solution like [name another cheaper host here], which can take a lot of time and be a huge hassle.
What host-specific benefits does your client need?
Consider what your client needs other than storage space for their site. Do they already have a domain name? What about email hosting?
Some hosts will be able to offer you a great deal on hosting, but others can bundle in a domain name for an even better price. Still others can provide added perks like automatic software installations and updates, email hosting, multiple domain names, and other add-ons for a flat fee or even for free.
Before recommending a host, ask your client if they need anything like this:
One or more domain names or subdomains
File storage that goes beyond the norm — that is, space for large audio or video files
Email hosting or forwarding
A specific content management system or eCommerce platform
Security options that keep their site safe in the event of a brute force attack or newly discovered vulnerability
If needed or desired (you be the judge), automatic or managed updates of software to save time and hassle
Knowing what additional items are needed will narrow your search to hosts who either offer these items bundled in at a reduced cost, or have partners who offer them at a discount. This will both save your client money and you the hassle of setting up services from multiple partners.
What kind of technical knowledge does your client have?
When you refer to your client's FTP, do they nod their head and talk about transferring files right along with you? Or do their eyes sort of… glaze over a bit?
Your client's level of technical knowledge should also impact the host that you recommend. Some hosts are a little more "DIY" than others, and their documentation is sparse or only easy to understand if you're a developer (or at least very tech-savvy). But many entry-level hosts have documentation that is easy to read, or offer perks like real-time chat support for tricky situations.
If you're going to be leaving a WooCommerce site in the hands of a client who isn't technically savvy, picking a host with an equally complex cPanel, complicated or sparse documentation, and email-only support won't be the right call. On the other hand, choosing one that has simple options, lots of guides, and a variety of support options will help them out immensely.
Try reviewing each potential host's website with the mindset of a brand new website owner — what would be confusing or complicated? Where do you see the potential for issues? Or, where are there options to get more help or even learn a thing or two?
How involved will you be with this client long-term?
Choosing a managed WordPress host, or a host with a great support system, can be pricier for your client. But it's absolutely worth it in the long run if you aren't their long-term development partner.
If you won't be around to help with things, you should recommend a host that can step in and lend a hand in the event of minor problems. Between your knowledge of the client's technical skillset (as mentioned above) and your understanding of their site type (store, blog, portfolio, etc.), you'll probably have a pretty good idea of what these problems could be, and how they might react.
If you're not certain which hosts offer this kind of hands-on support — or have a support system at all — you can read reviews to find out. There are plenty of hosting reviews online, for example:
Note: some of the sites above may receive commission in exchange for posting hosting reviews or links. As always, do your due diligence — check multiple sources for feedback, and if a review seems fishy, trust your gut.
Support tends to be one of the topics that comes up the most in reviews, so you likely won't have to look very long to find the feedback you want.
If your relationship with this client will be long-term, or at least longer than a single project, reading reviews is still a good idea. But you'll want to look out for things like ease of access, control panel usability, and long-term stability instead of user support. These are things that will affect you, not your client, and determine how quickly you can resolve any issues that might come up during development.
Finally, what does the client's CMS recommend?
If you know your client's going to be using a specific CMS — or you've chosen one for them — it's always worth a look to see if that CMS has a list of recommend hosting partners.
Sometimes these partners offer additional perks for those who sign up through the CMS, like hosting discounts or bonus features. So it's definitely in your best interest, and your client's, to see what the provider thinks.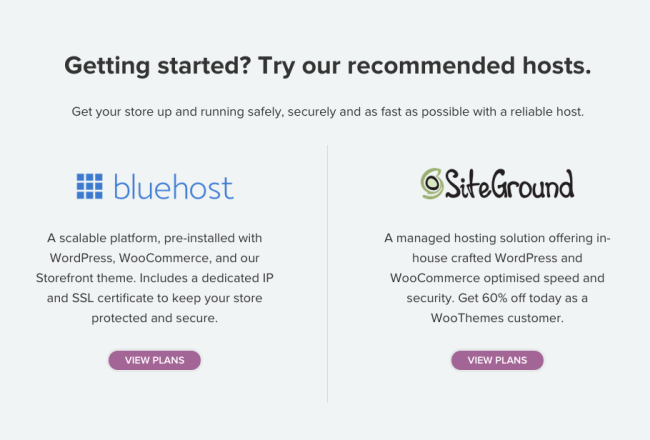 If you're curious about their reasoning for their recommendations, you can always contact them to ask what makes these hosts so great. Often they've polled their customers to find out which hosts have delivered the best experience, or have negotiated specific hosting environments for their users. But it doesn't hurt to ask.
Just as an example, here's our page on WooCommerce hosting, complete with discounts for signing up through the provided links.
Disclaimer: we earn commission for new host signups made through the page linked above. However, we wouldn't recommend any host if they didn't benefit our customers, and we're sure you'll find the same is true on any other eCommerce platform's hosting page.
Ask good questions, get a great host
When your client asks "where should I host my site?" it's easy to name a few partners you've worked with and liked before. But those partners aren't always going to be the best fit.
By asking questions like the ones we've covered here, you'll be able to pick the host that's best for your client's specific needs, their budget, and the project that you're helping them with. You'll also be able to find a long-term solution — not just the one that works now — and potentially make yourself look better for putting in the extra work.
Think about it this way: with an extra 20 or 30 minutes of research, you might save yourself a few hours of troubleshooting and headaches with their host. You might also make yourself look so knowledgeable that they want to hire you for more projects. So it's a win-win all around.
Do you have any other criteria that you use to find hosting solutions for your clients? Any other questions you ask them, yourself, or a host before making a recommendation? If you have a minute, leave your thoughts in the comments — we're always excited to hear from you.