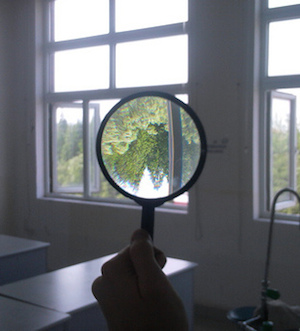 It pretty much doesn't matter what kind of website you have – the search function is going to be important.
Comprehensive search allows visitors to navigate your site on their own terms and I think this is especially important when it comes to e-commerce sites. Online stores often feature numerous product pages which can be a bit cumbersome to click through conventional navigation methods alone.
So, search is important. But how do you give your online store's search box the boost it needs to level up? Here are a few ideas…

Put Search in Your Visitor's Line of Sight
Your potential customers need to know where to locate the search box as soon as they land on your site. That should be one of your top priorities.
Why? Because if a customer is looking for something in particular, you must give them the tools they need to find it. It goes without saying that you need a well-designed website, too, with logically displayed categories. But the search option needs to be in a prominent position for those specific queries.
Now, WooThemes stores come equipped with search, but you need to make sure that it's displayed in a logical place and doesn't disappear on mobile devices. So, avoid search boxes that display as just a magnifying glass in the corner and opt for something that's large and in charge. You want it to go well with your theme, of course, but it does need to stand out. Typically, a search box belongs at the top of your site or in the right-hand sidebar. Make it easy to find and your visitors will use it.
Optimize for Speed
This is where the literal power boost comes in. Your site's search needs to be speedy if you want your customers to make the most of it. No one's going to sit around and wait for search results to load on a slow site. They'll just hit the "back" button in their browsers and shop elsewhere.
To speed up search, you first need to make sure your site is hosted on a large server with an adequate amount of memory. Cloud-hosted search is a good idea, too, which means the speed at which your search results are delivered have nothing to do with your server's speed. You might want to look into a CDN for optimum speed.
Use Autocomplete
Google uses autocomplete when users are typing in their search queries. This has been very effective for anticipating what people are searching for, saving them time, and providing a better overall experience. Logic says the same principle should apply to your online store's search experience.
In fact, autocomplete is probably even more important in this application because your search box needs to offer up product suggestions – not just search term suggestions. This means you need to configure your search's autocomplete to show product suggestions that when visitors click, they're taken directly to that product's page – not search results. It also needs to autocomplete for phrases and terms where search results pages would be appropriate.
This might sound way too complicated, but I promise it's fairly easy to implement. For instance, the WordPress plugin SearchAutocomplete allows you to hotlink page and post titles directly to the intended items, set a minimum character count before suggestions are offered, and has custom post type and taxonomy support. Another option is Swiftype Search, which adds a robust yet very quick search tool to WordPress sites that can be customized in a whole host of ways.

Or you could manually add autocomplete via jQuery by following a tutorial like this one at Tuts+.
But if you want a fully integrated search solution, your best bet is probably the Product Finder extension for WooThemes. It's designed specifically for e-commerce sites and offers an advanced search form that allows you to display product attributes, categories, a price slider, and more. The results pages display product links with images, so it's effective at giving visitors exactly what they want.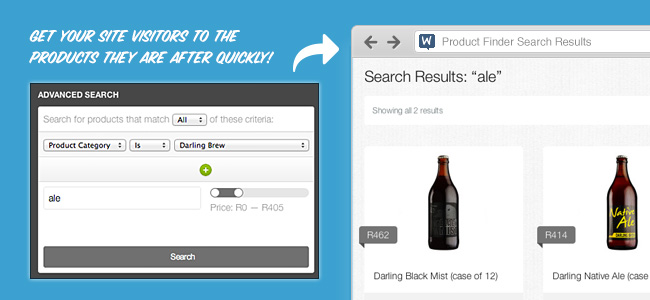 Customize Results Pages
Another thing you can do to make the most of your online store's search results is to customize the results pages. There's no law that says they need to only display a list of links a la Google. Rather, it's a much better idea for results pages on e-commerce sites to display specific products with accompanying images. The Product Finder extension for WooThemes does this, as mentioned above.
You might also want to offer spelling suggestions. This would appear on the actual search results page, not while your visitor is typing in the search query. This way, you won't lose a potential customer just because he misspells what he's looking for. Offering this suggestion will push him toward his intended query and get him one step closer toward converting. One tool that does this is called yolink. It works on larger sites without bogging down site speed.
Include Product Suggestions
A great way to increase conversions for your online store and increase overall site engagement is to offer up more than just what the customer is looking for. That is, you should provide exactly what she's looking for then anticipate what she'd look for next. Offering product suggestions is an excellent way to accomplish this.
While there are many WordPress plugins out there that make it simple to display recommended pages, your best bet is to use one that's designed specifically for the e-commerce side of things. The WooThemes extension Recommendation Engine makes it super simple to display product recommendations to your customers on search result pages and individual product pages.
You have several options for what shows up, too. For instance, the recommendations can be based on purchase history, what items are typically purchased together, or what items are typically viewed together. You have a lot of configuration options to play with here, so experiment to see what makes the most sense for your online store.
Conclusion
Online stores arguably need site search more than any other kind of site. The search function is how many customers will find what they're looking for and if you don't provide that for them in an easy-to-locate place, with all the features they anticipate, you stand to miss out.
So, to recap, site search for online stores needs to be in a prominent place on the page. It needs to anticipate what the visitor is looking for. It needs to provide guidance when a prospect gets off track. It needs to be fast and not feel cumbersome. And it needs to offer up suggestions for where else to look on your site.
Thankfully, you can accomplish most of these tasks through the use of WordPress plugins or WooThemes extensions, so your site can be streamlined and optimized for search in no time. Now it's time to hear from you. Do you have a site search feature on your site? If so, have you added more functionality than is typical? How has this affected your conversion rate, if at all? I'd love to hear how it's worked for you and if you've found anything else useful in improving site search for your online store. Sound off below!
Image source: Micah Sittig