As an eCommerce store owner, you're busy. And not "I have a lot on my plate" busy, it's usually more like "my day is stuffed to the brim and if I get one more task I'm pretty sure I'm going to scream" busy.
So anything that promises to save you time is a lifesaver for you. Name it and you'll try it at least once. But some of these promised timesavers just end up adding more time, since there's a learning curve, so you might be a tad skeptical.
Well, you're in luck. Automation is a way that you can save time while improving the flow of data to and from your store, and it has a minimal learning curve. With automation, you can do everything from export data to email lists to notify customers in specific situations… and you'll only ever have to set the processes up once.
Sound interesting? Want to know more? Read on to get the details on ten automations that are worth a shot for your WooCommerce-powered store.
A quick primer on automation: what, how, and why
When we talk about automation for your online store, what we're really talking about is an automatic flow of data to or from your store that is triggered by specific events.
You might already be using automation without realizing it. If you receive email notifications when a new order comes in, that's actually a form of automation.
Email notifications are a basic automation that don't necessarily save you time, however. The automation ideas we'll be presenting to you in this post are designed specifically to cut back on the amount of manual data-moving you have to do.
So if you're currently copy-pasting customer details into a Google Sheet or spending hours manually creating invoices, that's the kind of thing we want to stop. Why? Because your time is best spent elsewhere, doing things like marketing.
Let's take a look at some automation ideas to get you started.
Move interested customers into an email list
Email is one of the first marketing methods recommended to new store owners, and for good reason: the return on investment is typically high, as is the engagement with your messages.
Here's a bit of automation that can save you time if you're worried about having to manually manage all those interested subscribers.
1. Subscribe customers to a MailChimp list after checkout is completed
MailChimp is one of the easiest email marketing platforms to learn, and it's one we often recommend to new store owners looking for a quick way to compose, edit, and send messages to customers or targeted groups.
As you're setting up your WooCommerce store to work with your MailChimp campaigns, you'll likely be happy to learn that the Newsletter Subscription extension can automate things for you.
This extension will automatically pass the email addresses of shoppers who show interest in your emails into a specified MailChimp list. No exporting and importing subscribers needed.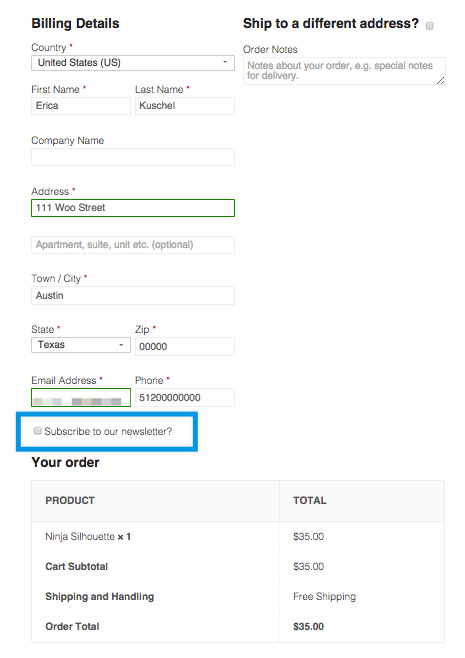 You can place a subscription call to action in any widgetized area, but the biggest success comes from adding a pre-ticked "subscribe to our emails" box at checkout. For more technical details on setting this up, have a look at the docs.
Purchase the Newsletter Subscription Extension
Keep orders moving and customers in the loop
Some of the biggest timesinks involved in running a store are order management tasks. Managing order statuses, tracking numbers, what customers know and receive via email… it's all time-consuming and sometimes complicated.
No more: you can automate all of this so customers stay in the loop but you gain back precious, precious time. Here are three things to try.
2. Print shipping labels and send out tracking numbers with one click
ShipStation's integration for WooCommerce is an automation champion. This extension doesn't automate just one piece of the shipping process — it automates multiple.
With ShipStation, a single click automatically gets you:
Orders synced into ShipStation
Shipping labels created and printed for your WooCommerce orders
All orders marked complete
Tracking numbers generated and sent back to your store
With this extension and a monthly plan, you'll be all set up to get orders shipped out fast and accurately, and all without spending hours manually inputting data or figuring out how to get the right labels.
Purchase the ShipStation Extension
3. Export order data to XML and upload it to your FTP
Some integrations, applications, and third party fulfillment services require your orders to be transmitted to them in XML file format. Others ask for this file, and also request it to be delivered via FTP. You might be tempted to do all this manually, but that's a pain.
The Customer/Order XML Export Suite is a helpful little extension designed to do just this, and also to do it in an efficient, hands-off sort of way. XML files of your orders are created as often as you wish, and can be uploaded to your FTP (or even sent via email or HTTP POST, if you prefer).
Purchase the Customer/Order XML Export Suite
4. Create and attach PDF invoices to order emails
Some stores will never encounter this, but for others it's common: the need for PDF invoices.
If your customers frequently ask for invoices for reimbursement, expense, or other business purposes, generating PDFs by hand can be, well, annoying. No more! PDF Invoices is a simple little extension that creates and automatically attaches invoices to order receipts.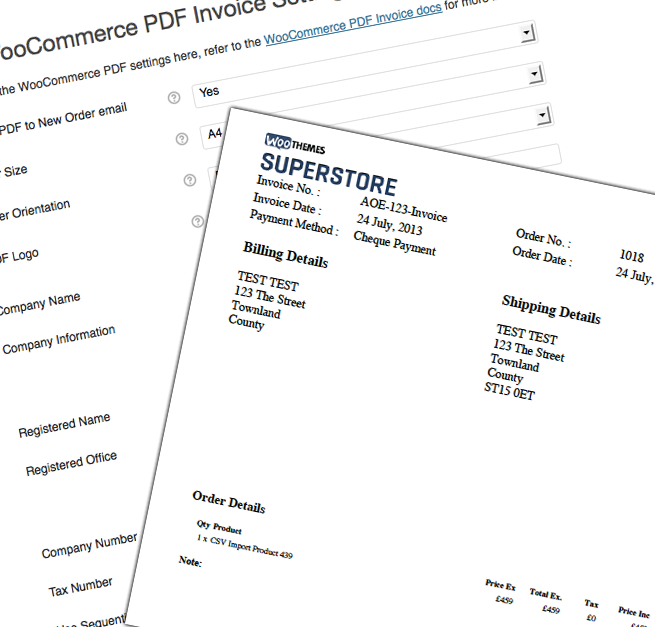 Using the extension is a breeze: install it, pick the form fields you want, and let it do its thing. Woo!
Purchase the PDF Invoices Extension
Use Zapier to move data from WooCommerce almost anywhere, instantly
Starting to get a grasp on the perks of automation? Fantastic. Let's leap ahead and look at some new possibilities, starting with the hundreds of integrations offered by Zapier.
Zapier is a service that allows you to connect multiple third-party applications together, creating "zaps" that automate the flow of data from one service to another, or even beyond that to another and another. This GIF should explain it all:

With the WooCommerce integration for Zapier, you can trigger zaps based on four specific events:
New orders received
Order status changes
Line item additions
New customer signup
Sounds like a lot of possibilities, right? Indeed: there are plenty of pre-made zaps for WooCommerce available to try out, or you can build your own based on your own needs.
You can dive in and explore if you like, but for now let's get you started with a few ideas.
Purchase the Zapier Extension for WooCommerce
5. Create a card in Trello when a new order arrives
Trello is one project management tool that we here at Woo find very handy — we use it quite often to keep track of upcoming releases, updates, and even what we're writing on this very blog.
One way that you might consider using it is for order management, especially if you regularly receive orders that require any kind of maintenance, personalization, or additional action by you or your team. Trello can help you keep track of these orders, what's been done, and what still needs to be done.
With this Zapier recipe, as you'll find linked below, you can automatically create a card in Trello when a new order is created in WooCommerce. This card can then be managed by you as you manage the order in real life.
6. When an order status changes, add a message to Slack and create the proper invoice in FreshBooks
Up until recently, Zapier has excelled at giving you the power to automatically move data from one location to another. But now you can create multi-step zaps, moving data to multiple locations, or even performing steps like lookups in an unlimited number of applications.
This creates nearly unlimited possibilities for WooCommerce store owners.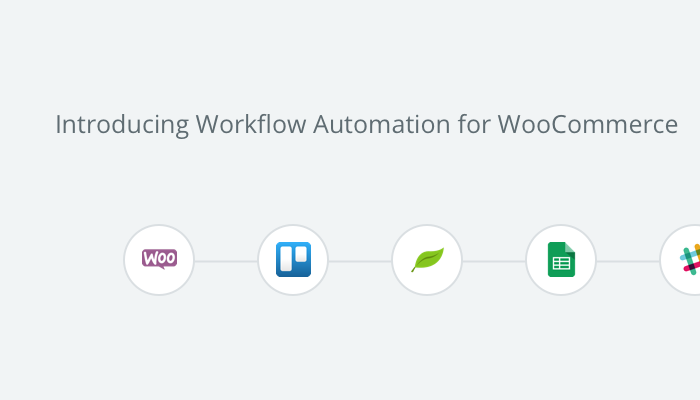 Here's a real world example you might want to use. Let's say you keep track of all of your billing for your bookings-based business in FreshBooks. So when you receive a new online booking, you want to create an invoice, so you have one for both your online and offline booked customers.
You might also want to add a Slack message depending on the status of that booking. Perhaps one member of your team responsible for taking action reservations has the text "new order" as a highlight trigger in Slack. Perhaps yet another has "order confirmed" as a trigger.
You can set up a single Zapier recipe to automate both the creation of the invoice and the messages in Slack. This sorts out both your billing records and your staff to-dos in one fell swoop.
7. When an order status changes to completed, send a "thank you" card request to Thankster
Here's a fun idea that you might not have thought possible until learning about automation.
With a zap, you can automatically send a request for a handwritten thank you card to be mailed to your customer. This will be set up to be done when an order's status changes to "complete."
This recipe relies on thank you cards from Thankster, a service that allows you to create personal, beautiful thank you cards that are mailed directly to customers.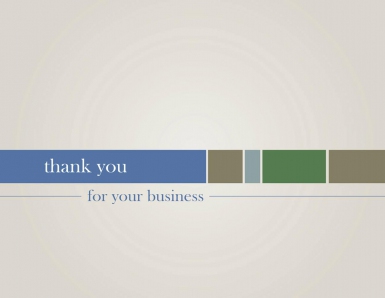 If you have a business that is just gaining momentum or requires a bit of additional "thanks," this can be a great way to show appreciation and secure repeat business.
8. When an order is placed, find or add the customer's info in Google Sheets and FreshBooks
Another new Zapier feature: lookups. Zapier can now look up data in specific locations and move it into others, all from the same zap recipe.
Here's one example you might want to try. Let's say you keep a record of your customers in FreshBooks for billing purposes, as well as a list of all repeat customers in Google Sheets. So when a new WooCommerce order is placed, you'd want to:
Grab that customer's info
See if it exists in FreshBooks, and if not, add them as a new client
See if they exist in your specific Google sheet, and if not, add a new row
This might sound super complicated, but it's not. You can use automations to look for existing data and take action based on what's found. Give this zap a try and you'll see it for yourself!
9. When an order is placed, add a Basecamp message and HelloSign contract
Here's one final zap to consider if you work on freelance or legal projects requiring contracts. This could potentially save you a ton of time on setup.
Let's say you sell packages for logo design online and want to secure payment and gather details from your clients up front, but need to get a signed contract before starting your work. You can set up a zap to create a message in Basecamp with all the order details, and also instantly create a HelloSign contract ready to be signed.
Now just have your client sign that contract, get to work, and keep the Basecamp thread updated as you go. There's no need to create anything manually. (Except the logo you're designing, of course.)
Follow up with your customers
Something to keep in mind when you sell online: when a customer places an order with you, it's not actually the end of the process. In fact, if you're smart about it, it's only the beginning of their journey with you as a brand.
This final automation allows you to create and send emails to customers post-purchase, whether you want to request reviews or simply ask how they liked their product.
10. Create custom, highly filtered, automatically triggered emails
Follow Ups is an incredibly powerful extension that allows WooCommerce store owners to build post-purchase emails that can be sent to every customer — or even just one — automatically.
With Follow Ups, you can create email messages that are automatically sent to your customers based on specific criteria. This might mean creating a post-purchase email that simply asks "is everything okay?" Or it might mean filtering down to only email customers who bought one or more specific items in a specific time frame to offer just them a discount.
The extension isn't just powerful, it's a timesaver. If you've ever given any thought to checking in with your customers, this is all you need. Write those messages once, set up the criteria, and you're done.
Purchase the Follow Ups Extension
11. Better manage personal customer relationships
HubSpot CRM helps improve your customer relationships in a number of ways. First, you can increase the average value of each contact by sending emails and targeting social media ads based on specific attributes like previously purchased or viewed products. Customers are more likely to respond if your offer is highly relevant to them. Get better results and minimize waste by mastering personalization.
But you can also see your entire relationship history in one spot. So if you have a long sales process, HubSpot can help you track the status of the relationships and keep important notes for your sales reps to reference about each customer.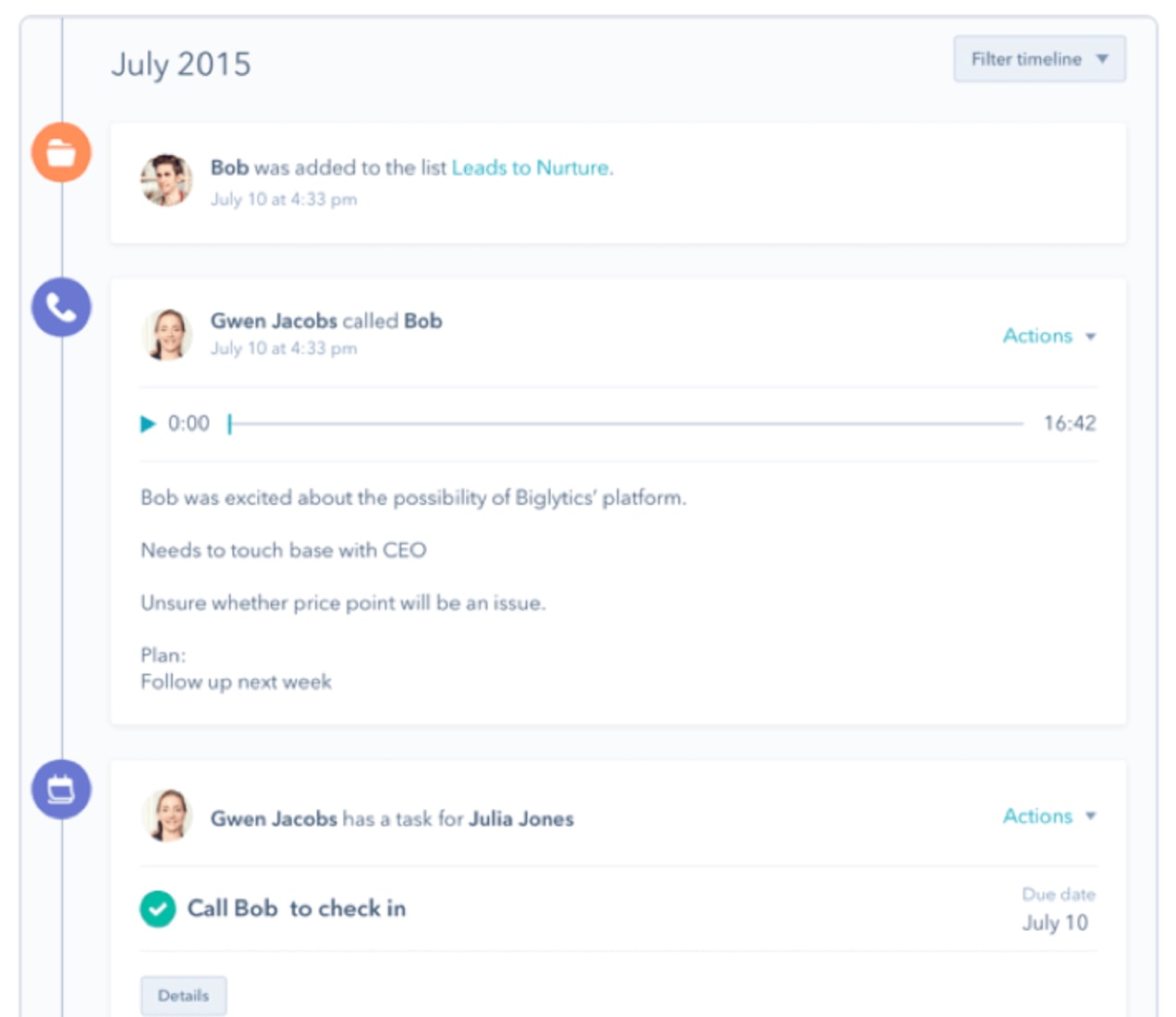 Adding automation to your WooCommerce store can save you lots of time
Time is a precious commodity for store owners. Sometimes you never seem to have enough of it.
By finding and implementing automation in your WooCommerce store, you can eliminate multiple small yet time-consuming tasks from your day, giving yourself the freedom to focus more on activities that help your bottom line. You'll also be able to build out systems that automatically move data or help team members, no matter what your needs are.
We hope you've enjoyed this introduction to the world of automation. Have any questions for us? Leave them in the comments below and we'll be delighted to answer.