We've written a number of posts  highlighting ways WooCommerce is being used to help small innovative businesses around the globe sell their ideas.Today I'd like to present a brief overview of ecommerce growth figures and  trends with a few tips for our  current WooCommerce users to stay competitive in this growing market.  Since 2011 we have seen WooCommerce grow in ways we never imagined but we recognize we are one platform amongst many.
WooCommerce is part of a growing wave of ecommerce growth but just how fast is this market growing? What kind of growth can we expect for the future? With all this growth within the ecommerce space is there enough opportunity to go around?  Is the growth rate of users enough to support the growing number of businesses emerging?
A Growing Market
In 2012, ecommerce had a healthy 14.8 percent growth rate over the 2011 stats, easily eclipsing the total retail sales growth rate of 5.3 percent. By 2017, the Internet will account for ten percent of all U.S. retail sales when online sales will reach $370 billion, up from $231 billion this year, according to Forrester Research. This year B2C ecommerce sales will grow 18.3% to $1.298 trillion worldwide, eMarketer estimates, as Asia-Pacific surpasses North America to become the world's No. 1 market for B2C ecommerce sales. Four  markets in particular are leading the way amongst Asian-Pacific markets – Japan, India, China and Indonesia. These four markets will see faster ecommerce growth than all other global markets. China is now the leader amongst these four markets with 14% of all global ecommerce sales up 65% from 2012.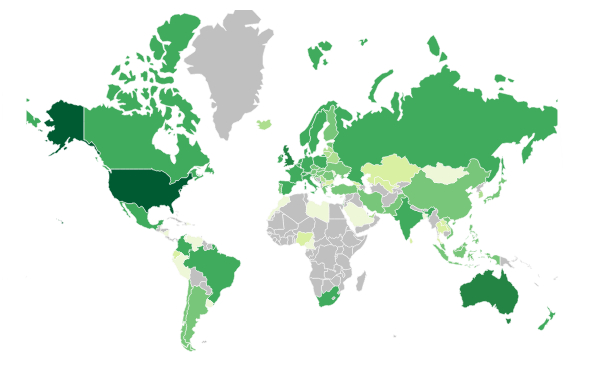 WooCommerce Global Density Analytics according to Builtwith.com
So where is this growth coming from? In the US in particular growth is coming mainly from existing customers, who are spending more money online, rather than from new shoppers. So what is powering all of this growth? A recent study from comScore found that nearly half of Americans have smart phones and 86 million are now using their smartphones to shop online, a 28.5% increase from 2011. Research firm eMarketer reported earlier this year that, 62.5% of all mobile commerce is coming from tablets, although they have a much lower penetration rate in comparison to smartphones. Their research shows they expect this number to grow to 71.5% in 2017. The numbers are impressive but also point to a market with great potential for growth.
WooCommerce North American Density Analytics according to Builtwith.com
What do these numbers mean for me as an ecommerce merchant?
For North American businesses it will become increasingly important to have a global pressence and global awareness of global competition. In North America the majority of growth in the ecommerce space is going to come from existing online shoppers. Forresters research predicts only 4 million new ecommerce users this year in the US. For online-only merchants investing into your existing user base will be essential. Publishing customer reviews (see recent post)  and presenting transparent and attractive product views will make the customer more confident in making purchases from your business. Creative messages and personal customer service will become increasingly important to differentiate your business from the competition. Another crucial element for ecommerce merchants will be making sure that your customers have a quality shopping experience. Consider using themes and designs that offer responsive features making the shopping experience functional and vibrant for popular mobile devices. Payment Gateways and merchant services that support a number of currencies and foreign credit cards will become increasingly important as you extend your product offering to a global audience
(A product such as 2Checkout offers checkout in over 20 currencies to your customers. We will explore this topic to be explored in a future blog post).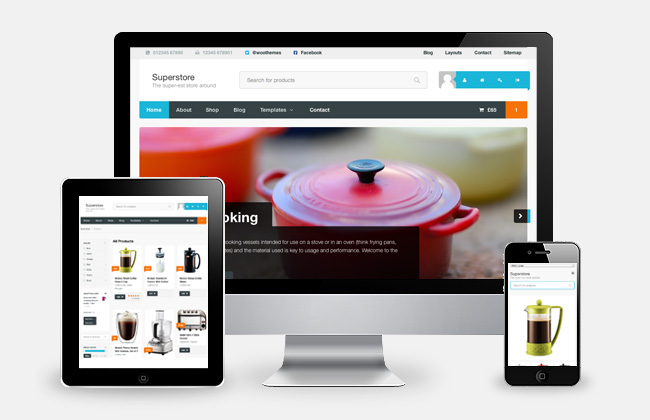 WooCommerce Growth
Just over a month ago (35 days to be exact) WooThemes announced that WooCommerce hit one million downloads. Since June 17th we have seen WooCommerce downloads continue to grow, today the download number is at 1,171,155. It is with that backdrop that I want to mention WooCommerce is now the fastest growing eCommerce platform in the world* and has been instrumental in encouraging everyday people to create innovative businesses. Never before has it been so easy to create your own niche business while having full control over your website. Combining a WordPress powered site with WooCommerce makes for a powerful duo. WordPress just celebrated it's 10 year anniversary and now accounts for 20% of all new websites. Using WordPress and WooCommerce gives users access to powerful plugins and extensions which allow users to take their sites further than ever imagined. On a daily basis we are working towards adding new products, integrations and services for our growing customer base. While many of our products are for sale in our extension marketplace we are also working hard at creating partnerships to offer free extensions.
*According to builtwith.com.
WooCommerce has added over 19,359 sites last quarter according to builtwith.com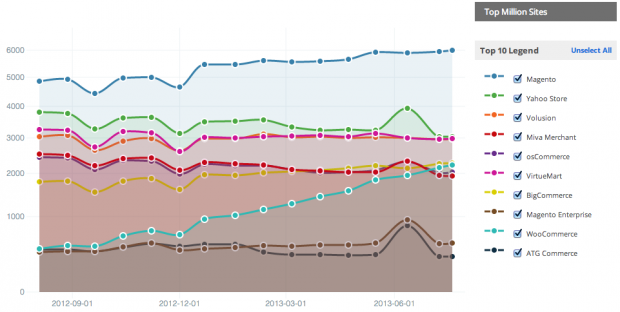 This graph shows the steady growth of WooCommerce top million sites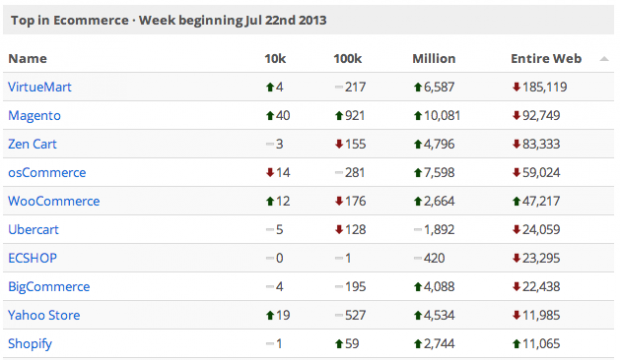 As previously mentioned WooCommerce added 19,359 sites last quarter, on this list every other leading ecommerce platform dropped significantly, only Shopify grew, adding 1,024 sites. WooCommerce is not the largest ecommerce platform but we are certainly the fastest growing by a long shot. See here.
We hope you've found the stats and insights into the growing ecommerce space useful. If you have any questions or comments please feel free to post them below.