Selling electronics online is fun, you have to admit. Adding the newest and best technology to your store and watching customers scoop it up, thinking about what they're going to accomplish with it, imagining their happy faces when they open the box — how can you not grin at that?
Still, it's a challenge to get your store to the point where you're selling online to enough of those happy customers. There are a lot of things you can do to market your electronics or spread the word about your shop, but sometimes it all comes down to adding more helpful content.
There are a few basic pages that you can add to your consumer electronics store to drive more interest, increase purchases, and boost customer happiness. You might already have some of these pages, in fact! But some of them might be brand new to you, and worth pulling into your lineup.
Let's take a look at the pages we recommend for electronics stores, and how a few real WooCommerce stores are using them in awesome and interesting ways.
Who you are — and what sets you apart
Whether you're selling electronics of your own design or distributing products manufactured by someone else, one thing is certain: there's a lot of competition out there. You need to find ways to stand out and convince customers that it's you they should buy from, not some other seller.
A basic, easy-to-create "about us" or "our mission" page can help you accomplish this task in a jiffy. You can utilize this simple page to talk about:
When your company was founded
Why it was created, or the mission behind it (what do you stand for? what's your ultimate goal?)
What sets you apart from others — maybe it's your products, or maybe it's your pricing, free shipping, or stellar customer service
What can't be found anywhere else, especially important to mention if your products are exclusive to your store or you have a patent!
Potential customers will often consult these kinds of pages to find out why they should buy from you and not a large retailer or direct competitor. If you can offer even one compelling argument for your store and its products, you're well on your way to making a sale.
Let's have a look at an example from a real store. Vers Audio has a brilliant "About" page that succinctly states what their mission is, why they design their speakers the way they do, and what drives them as a company:
Looking at this, you'll rightfully guess that Vers' audience is shoppers who are concerned with sustainability and the environment. Their portable speakers are at a higher price point than some others, but are very thoughtfully designed, made with recycled materials, and come in recyclable packaging. A customer in their target market is going to be even more swayed in the direction of making a purchase if they read this page.
Give some thought to how you can create a page that convinces your target customers that they are in the right place, and should spend their money with you vs. a competitor. You might be surprised by how much of an impact a single addition like this can make.
Customer assistance or FAQs
Speaking of making an impact, another hugely important potential addition to your electronics store is a page that helps customers with common questions or issues.
Electronics can be tricky to understand, use, and maintain, and customers know this. They're bound to have questions before they buy… and probably after, too. Creating a page with some FAQs, documents, links to how-to guides, or even video can soothe their fears and push them closer to the shopping cart.
We particularly like what Roadie Tuner did with their Support page. You'd normally expect a page by this name to only have a link to a contact form, but it's quite good, housing multiple videos that a customer can watch in place of reading some long how-to text: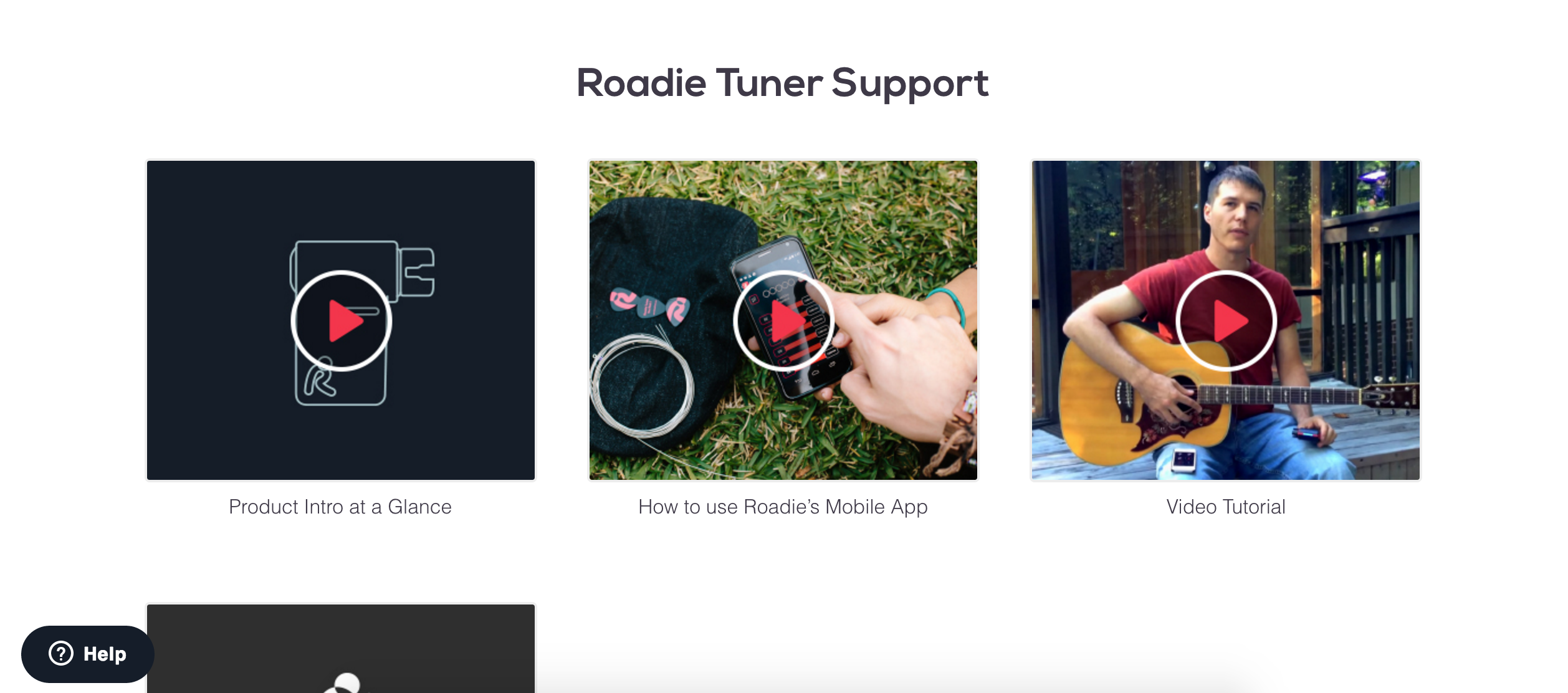 If the videos don't do the trick, that "Help" button in the bottom left leads to a Zendesk interface that searches support articles. And if the answer still isn't found there, the customer only has to click in that same window to open a ticket.
These videos and resources are more likely to be helpful to a customer who's already purchased the guitar tuner, but for potential customers, this can also be a highly comforting sight. It shows that the company in question won't simply vanish once they have your money — that they care about you after the sale just as much as they do before it.
Moment Lens has a FAQ page that caters more to questions a shopper is likely to ask before making a purchase. One thing we really like is how they've built in a way for potential customers to get help without going to a separate page, just as Roadie Tuner did — note the "contact us" form linked in the sidebar.
This makes it really fast and simple for both potential customers and those who have already bought a lens to get in touch if they can't find the information or help they need on the store's FAQ page. We really like this approach — we've seen contact forms on product pages before, but it's worth thinking about where else you might want to add them.
A page on warranties, replacements, and what to do if a product stops working
Speaking of getting help, electronics can be, well, finicky. Sometimes they stop working for seemingly no reason. Or break. Or get broken. (Oops.)
If you offer a warranty, have a replacement policy, or have instructions for repairing or resetting misbehaving electronic devices, you should aim to have a page dedicated to this useful information. Much like FAQs, this is information that a customer already in possession of one of your products is likely to need, but shoppers will also take note of it and consider your willingness to help and resolve issues when browsing through your store.
You don't even need to limit this information to a single page. Depending on what you sell, you might have multiple pages — say, one for your warranty, one for your replacement policy, and so on. But all the pages pertaining to misbehaving electronics and how to get help with them should be linked from one central page in your navigation so it's easy for a visitor to your store to find what they need without searching endlessly.
Ideas for naming this page: "Help," "Device Support," "Troubleshooting," or "Resolution Center." Feel free to get creative, so long as it's obvious what the page is for. 🙂
Shipping and delivery information
Consumer electronics are one of those things that we just cannot wait to get in the mail. Taking delivery of a new laptop or even a simple pair of headphones feels like Christmas. And why shouldn't it, since we use our devices so often?
Naturally, your customers are going to want to know how soon they'll get their order, plus how it's going to be shipped. Some shoppers will be curious enough about this to do research before making a purchase, and so — yes, you guessed it — it's crucial to have a page on:
How quickly you ship newly received orders (24 hours after receipt? 48 hours? same week?)
When you ship (which days of the week?)
Which carrier(s) and shipping methods are offered
Where you ship (states, countries…)
How tracking numbers are sent, if they are (via email? Can customers see them on an online account or order page, too?)
How quickly orders will arrive to different locations, based potentially on carriers used/chosen
If you wish, how much shipping will cost, based on carrier/method
You can list this information out however you please — in Q&A format, via a table, in paragraphs, or a combination of these. Aim to keep the text scannable so that shoppers can glean crucial bits from it before going back to shopping (or, if they've already ordered, going to check on the progress of their shipment).
Here's an interesting take on the shipping information page we thought would be nice to share. ChargeCase, the makers of a super-thin iPhone case with a built-in extra battery, have a page simply titled "Free Shipping":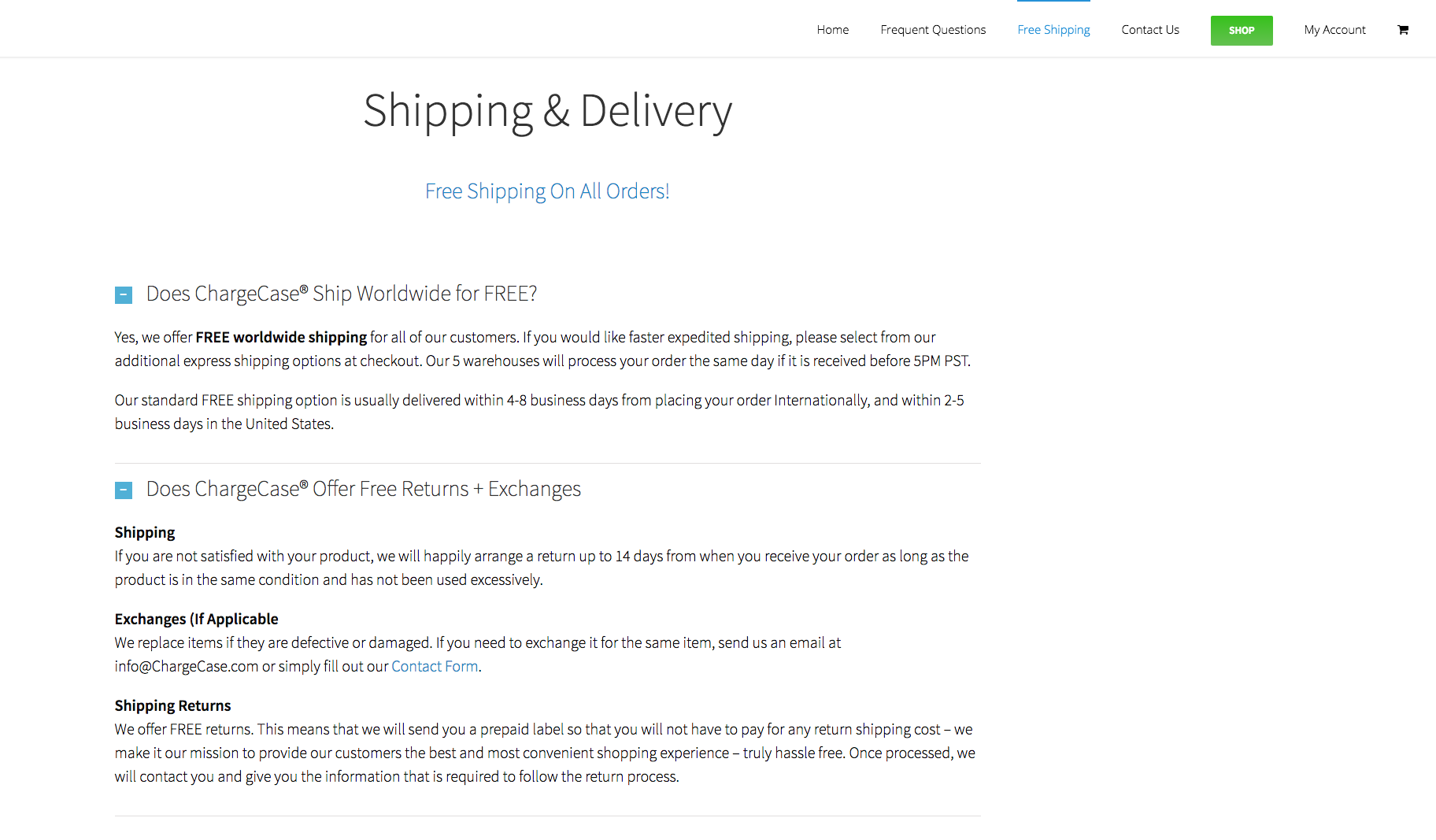 This one takes a Q&A format, which we like and find quite readable. What we wanted to point out is that the link to this page is named "Free Shipping" — a really nice touch, because it instantly makes clear one of the benefits of buying from this store: you don't pay anything for shipping!
When you actually click on the page itself, you get quite a lot more information, including ChargeCase's return and exchange policy, how quickly they ship their products, and when their received orders are processed.
While you might not offer free shipping, or might not want to advertise it in the name of your page (though we think that's a great idea, even if just for temporary promotions!), you should aim to provide shipping and delivery information just as clearly as this company has. Again: skimmable content helps customers get back to shopping or tracking ASAP.
Where (else) a customer can purchase your products
Some customers don't feel comfortable purchasing electronics online. They want to pick up your products and touch them, or use them in person, or talk to someone and get advice about them. So if you've made connections with retail stores and have placed your products in physical locations, make sure you're promoting that online.
A "where to buy" page can help you cater to shoppers who prefer to buy offline, don't want to pay for shipping, or simply live near a store carrying your products. Duracell Lighting, for example, has a page listing the major retailers carrying the company's lighting goods. Since Duracell doesn't currently sell online, this "Where to Buy" page is what helps the site be a conversion-driver instead of a simple catalog.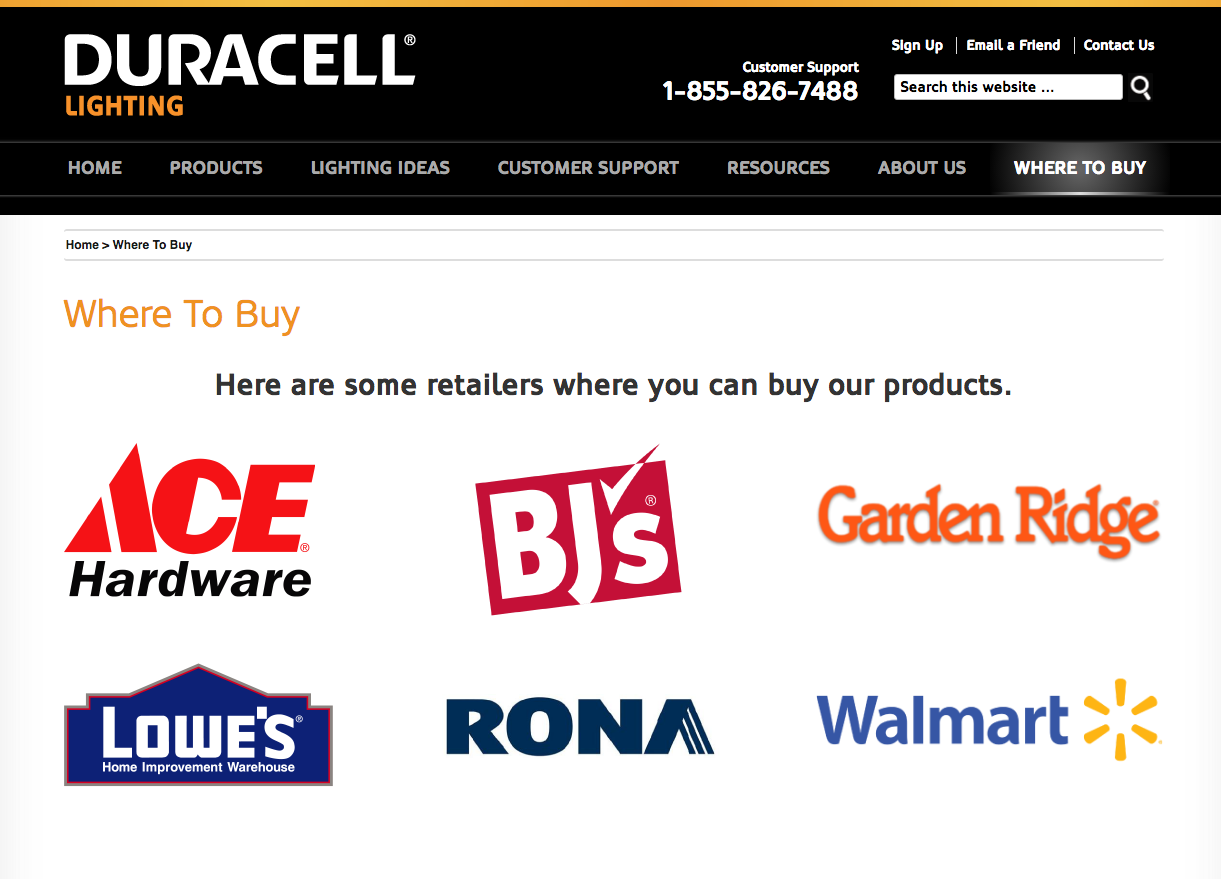 Happy Plugs does sell their products online, but understands that you might want to simply buy in person instead. So they take things a step further with a specific store locator and an interactive map: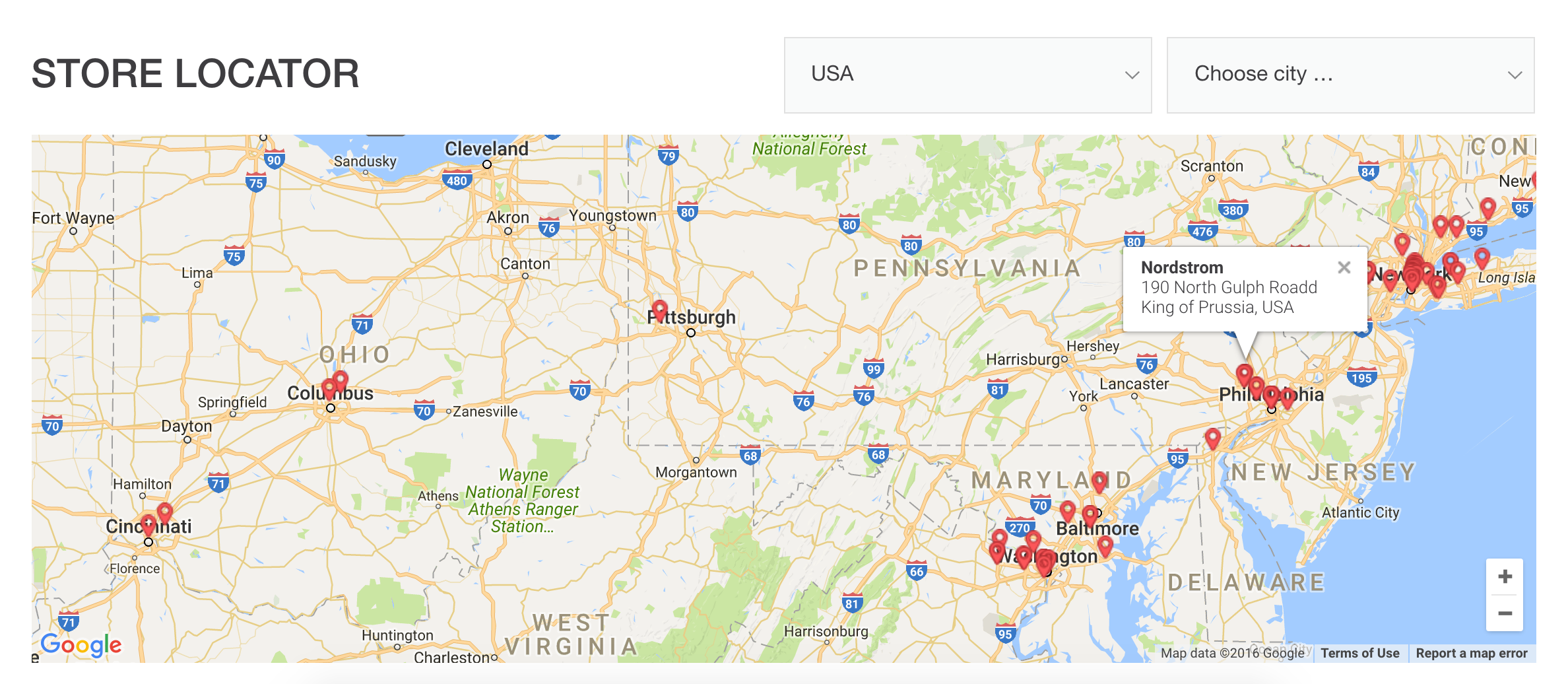 If you're selling your electronics in even one physical store, make sure online shoppers can track your products down in person. Those touchy-feely, must-try-before-I-buy customers can bring you many more sales if you cater to them, after all.
Utilize these basic pages to boost your sales, delight your customers, and more
There you have it — the pages we recommend for consumer electronics stores, and how some real WooCommerce-powered shops are already using them with great success.
By adding one or all of these pages into your lineup, you'll be able to educate potential customers on your brand, its products, and how you can support them before and after they buy. You'll look like a rock star — and be able to better meet your goal of putting more smiles on faces. Now that should get you grinning.
Have any questions about the pages we recommend here? Care to share your thoughts on these strategies for electronics stores? Give us your feedback in the comments if you have a moment, we'd love to hear from you.