Social media has given brands seemingly endless ways to connect with, inspire, and delight their fans. Whether they're highlighting specific customers or sharing special deals and discounts, brands have been using social media platforms to create goodwill, loyalty, and — ultimately — more sales for several years now.
But with these endless possibilities come just as many difficulties, especially for fashion and clothing companies. With an industry that has long been focused on the retail experience, where the brand's presentation and messaging can be carefully controlled, the uncontrollable nature of social media can present as much of a challenge as it can an opportunity.
If your fashion brand wants to use social media successfully, but aren't certain how to connect the dots while still staying true to your ethos, we have some tips for you. Today we're going to look at five different types of fashion companies. We'll examine what they're doing well on their networks, what makes them so successful, and what your company can learn from them.
Ready to learn? Let's get started!
ModCloth drives sales with a sharp Pinterest strategy
ModCloth is an online retailer offering women's clothing sourced from independent designers. They've gained a reputation for doing a lot of things right, from their clever copywriting to their stellar customer service, so it shouldn't be any surprise that their social media strategy is equally on-point.
The brand's Pinterest has more followers than any other network, topping 2.2 million at this point. Considering how many women use Pinterest to curate wishlists, plan outfits, or simply save items for later, it makes perfect sense for ModCloth to embrace Pinterest as a marketing tool.
For starters, the brand curates their most pinned items (as they call it, "Trending on Pinterest") on a separate page on their site: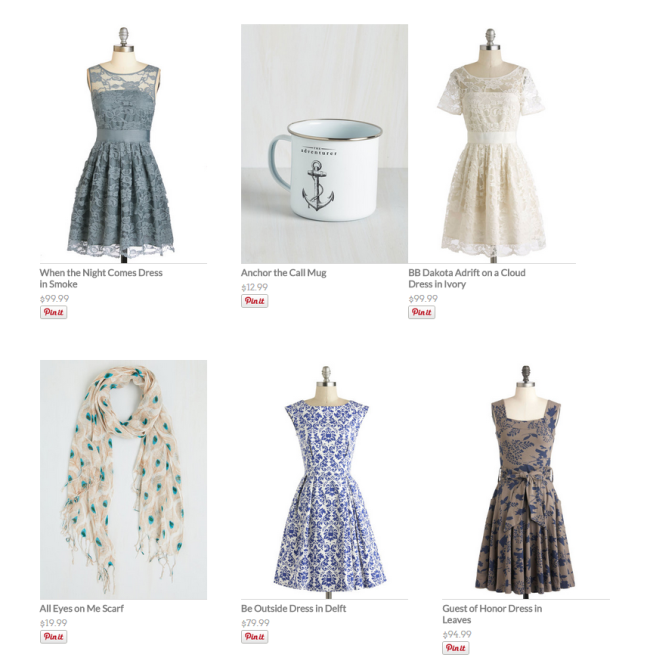 Since it's easy for credit links to be lost on Pinterest, visiting this page could help shoppers track down the source of a dress or accessory they loved. Each item displayed here links to the product page, but there's also "pin it" buttons beneath to keep the Pinterest chain going. Clever!
As far as ModCloth's on-Pinterest activity goes, it's equally clever. Rather than just pin their products and call it a day, they have a board where their stylists create and share full outfits. They also include photos of employees wearing curated outfits from time to time. With each of these pins, they provide the names of the items included.
Love the outfit or just one of the pieces? Here's where ModCloth really gets smart: when you click this pin, it it takes you to a landing page for the main piece — that is, tops or skirts — with the highlighted item as the first result.
So if you were to click the above pin, which showcases an outfit structured around the Back Road Ramble Tunic, you would be delivered to this page: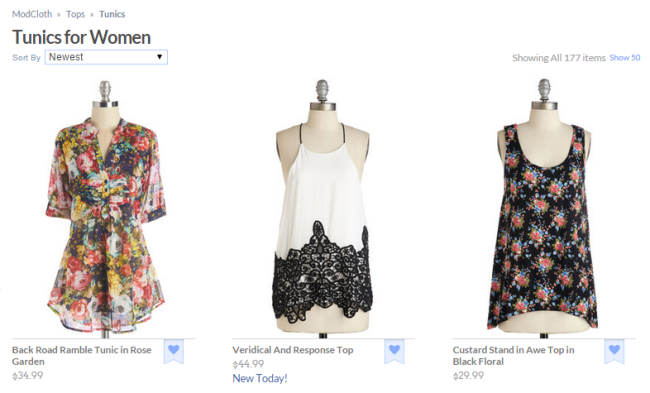 You would land on the Tunics category page, with the aforementioned Back Road Ramble Tunic as the very first result. ModCloth could deliver you right to the product page instead, but if you're interested in the tunic and pants shown in this pin, it makes more sense to start here and use the search option to find the pants named in the pin's text.
This is a smart way to directly connect social and sales. While not every network should have a strategy that is this forward, ModCloth no doubt knows that its customers are likely to save their pins for a reason. The outfit details and direct links remove barriers that would otherwise pop up during the purchasing process ("wait, what is that top called?"), making it much more likely for a customer to come back and convert.
While it's fine to have fun with Pinterest, and to spend your time on social media engaging with your customers, there should always be an end goal in mind. For ModCloth, their Pinterest end goal appears to be driving sales of highlighted products. Perhaps their idea of pins with created outfits or completed "looks" might work well for some of you?
Converse embraces its community (and their content)
If you've ever owned a pair of Converse's famous Chuck Taylor All-Star sneakers, affectionately called "chucks," you probably know just how long they last. This might pose a threat to the marketing of most fashion companies, whose goal is to get you to buy more, but Converse appears to have taken this longevity in stride.
The brand's most successful social media outlet is its Facebook page, where they currently have more than 37 million fans. Here, they've embraced the fact that many of their customers won't need new sneakers for a long time, and have found ways to foster engagement so that when they do, they come back to Converse. It all comes down to highlighting their community.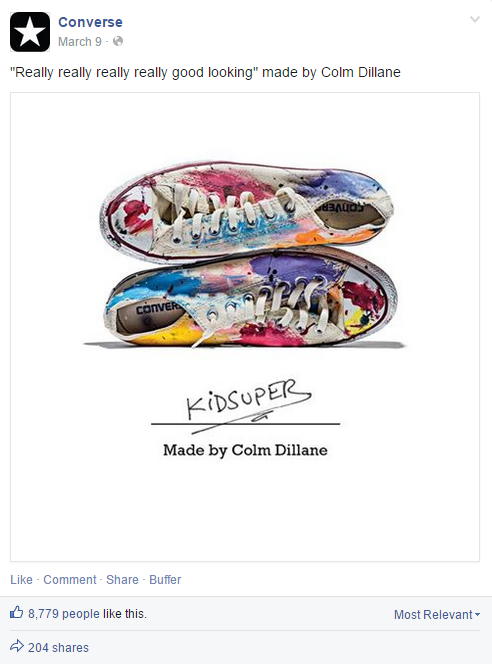 Converse regularly highlights customized, worn-in, or even painted and stained chucks on their Facebook page, either through posts on their Timeline or on their regularly-rotated Cover Photos. This always prompts fans to share their own photos in the comments:
Not all of the photos they show are professional, but the brand tends to embrace the user snapshots like those above in a different way. If you visit the Converse store and click through to a product page, you'll notice a line of photos at the bottom:
These photos are curated from Instagram, and a random selection is displayed on each product page. When you hover over any of the images (like the middle item above), you'll be able to view it in a larger size:
Not only does Converse embed the original photographer's caption and username, they also tell you exactly which shoe is shown in the photo. So if you happen to notice a pair of chucks that you like better, you can simply click the "shop now" link to get right to that product page. You can also use either set of the social media buttons to share any of these photos on your social network of choice.
Not only is this a clever use of user generated content, it shows just how much Converse has embraced their community. Those who wear chucks are eager to share their photos and experiences with others, and the brand has definitely tapped into that. No wonder Chuck Taylors are still being worn today!
If your fashion brand is high-end, you might not like the idea of sharing every user-submitted photo you receive, especially if your pieces aren't being worn as you expected. But Converse probably didn't expect their shoes to be splashed with paint, either! Give it a try and see how your followers respond before you rule it out completely.
Marysia Swim delivers a full experience on Instagram
Marysia Swim is a high fashion brand producing designer swim and resort wear. These gorgeous pieces, created by designer Maria Dobrzanska Reeves, are known especially for their trademark scallop detailing.
(Also, we'd be amiss if we didn't mention that the Marysia Swim store is powered by none other than WooCommerce!)
When your brand is built around something as singular and seasonal as bathing suits, it can be a challenge to formulate a social media strategy that doesn't come across as broadcasting — especially in the winter months, when a majority of your customers are likely to respond to the sight of a bikini with an angry sigh. However, Marysia Swim's social team has built out their Instagram to more than 50,000 followers with a strategy that similar brands can learn from.
When you think about it, a bathing suit is just one part of the experience someone has when they visit a beach or go on vacation. Marysia Swim's Instagram reflects this: their posts appeal to their audience's love of this much larger experience, including beach shots, healthy food, and inspirational quotes.
This sometimes includes "regrams" from other accounts, when they fit the bill: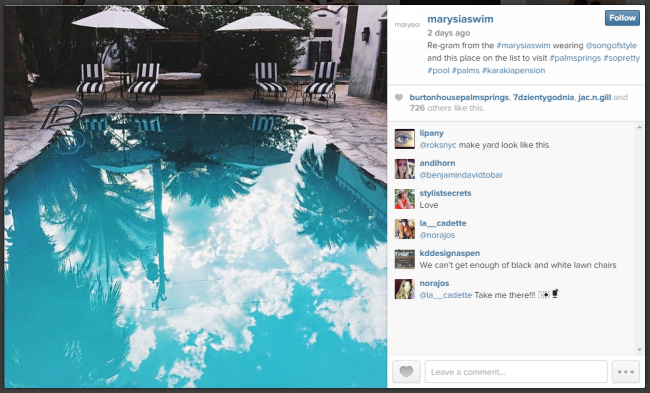 Engagement is through the roof on these simple photos: the green juice shot above garnered almost 450 likes, while this poolside snapshot earned over 700 likes. There are also plenty of comments and tags to other users.
Because the majority of the items on their Instagram feed aren't pushy or sales-related, when Marysia Swim posts their own products or promotions, the feedback is overwhelmingly positive:
The brand also delights in mentioning when they are featured in a magazine, or when their suits are spotted on a celebrity. This is evergreen content that can help take them through the winter months, when interest in bathing suits or beach photos may be lower.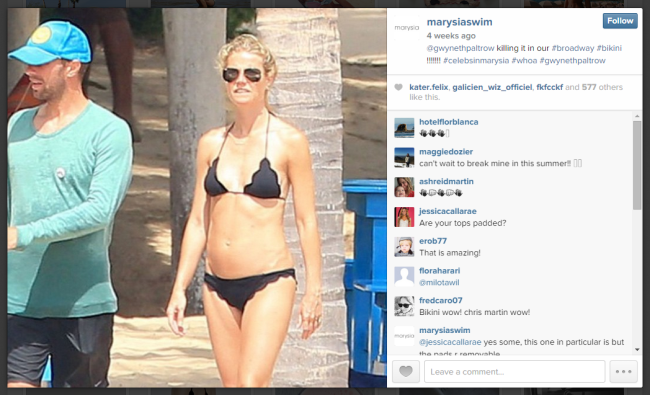 If you're struggling to promote your brand on Instagram specifically, think about how your products fit into a larger "experience." If you sell athletic shoes, it might make sense to focus on a larger athletic lifestyle, including health food and exercise; if you sell high heels, focus on coordinating clothing, jewelry, or other aspects of fashion.
Warby Parker shows fashion brands how to do Twitter right
Eyeglasses are becoming a hot commodity in fashion. As a designer eyewear brand, Warby Parker has embraced the idea of glasses being both fashionable and affordable. But they've also embraced another idea that many other fashion brands seem to shun: Twitter.
Many high-end fashion brands use Twitter simply as a broadcasting platform. Their interactions are limited or nonexistent: if they're mentioned, they ignore it; if they receive replies to their tweets, they don't often reply back. Yikes.
Warby Parker uses their Twitter account to shrug off the idea of a designer brand being impersonal, uncaring, or unresponsive. Not only do they reply to direct mentions quickly, they also appear to seek out unbranded mentions (tweets without the @ sign) so they can properly address concerns or just say "thanks."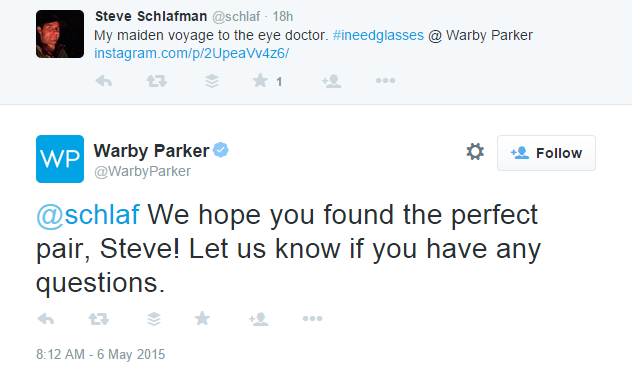 Where Warby Parker's social strategy really shines is when they get a common question or complaint, like "my glasses are too loose" or "how do I clean my lenses?" The company appears to have a video library they can choose from, and they can include these short, helpful clips within their responses: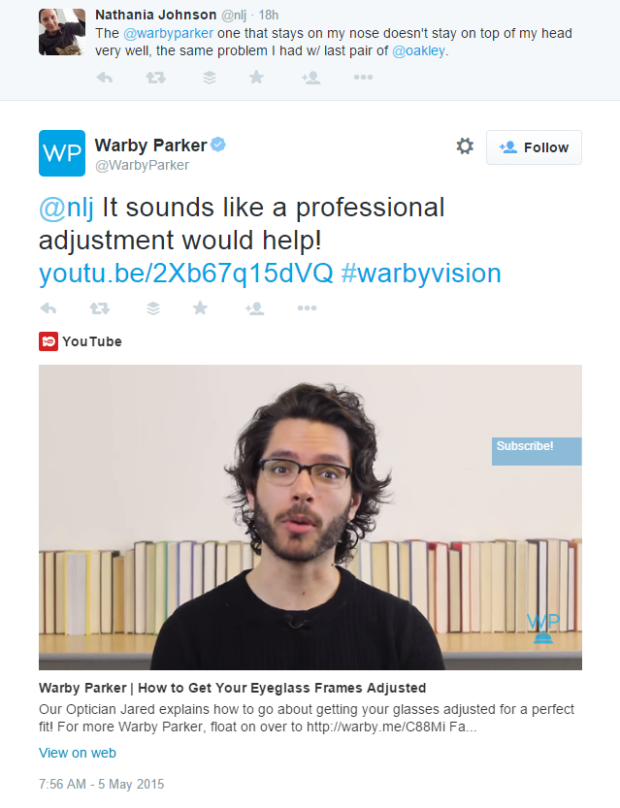 The brand sometimes takes it a step further, producing personalized video replies to tweets or mentions. For example, when a blogger included their frames in a post, one of the Warby Parker employees produced a very short personalized video to say "thanks!" and tweeted it back to her.
This doesn't mean your fashion brand should produce personalized video responses every time someone tweets something nice your way. Not everyone has Warby Parker's staff or budget, after all. But they are on to something. Perhaps you could consider something similar for your own Twitter strategy, like producing short videos or how-to graphics for commonly asked questions.
Above all else, Warby Parker knows that Twitter is where the majority of their customers hang out. You should know where your customers spend their time, and be prepared to quickly and properly address comments and concerns on this platform. Ignoring them won't make you look good, and it may even lead to lost sales. After all, if you can't be bothered to respond to a simple comment, a customer might not expect you to react any better if they have a serious problem.
francesca's returns the love to their fans
francesca's offers hand-picked clothes, accessories, and gifts for women in boutiques all across America, as well as online. The chain was built on the concept of carefully curated items that are limited to only a few per location, driving up demand and increasing the uniqueness of each piece.
This fashion brand has done an excellent job of making their customers, followers, and fans feel loved. The francesca's twitter account is filled to the brim with retweets of those who have mentioned them in some way. Full blog posts about their fashion earn just as much attention as tweets expressing a desire to shop in their store.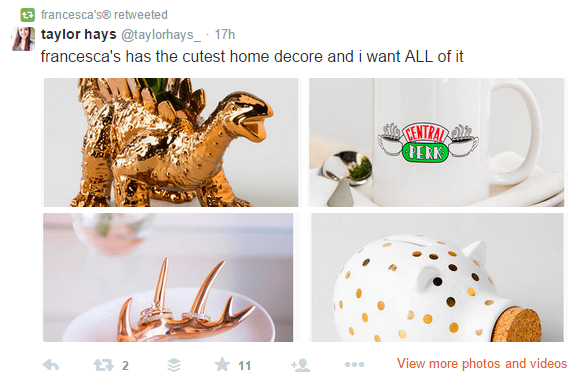 Much like Warby Parker, francesca's takes the time to acknowledge these shoutouts on Twitter. If they're not retweeting their customers, they're at least thanking them with a personal message, or complimenting them for their good taste.
All of these things come together to make their customers feel special. Knowing, then, that the company is listening, they might feel more comfortable asking questions, or even making suggestions for future additions to the store.
The brand's Facebook Page continues this theme of attentiveness: francesca's constantly and consistently responds to those who ask questions, or even just comment on their posts.

francesca's is definitely paying attention to what people say about their brand. They are very much in touch with their community, and know that making their group of young female customers feel flattered and special is the perfect way to bring them back to their local store or online shop.
There are plenty of ways to make your followers and fans feel loved. It may be as simple as acknowledging them with a retweet or response, or giving them a discount code to use with their next purchase. No matter what you do, they're sure to talk about it — and you — positively!
Social media takeaways for fashion brands
Although we've covered the social media strategies of five very different fashion brands, you can learn something from each of them. Let's recap the takeaways from all five:
Have a strategy to connect social to sales. It could be as simple as directly linking your pins to the right destination, or it may involve establishing a larger social strategy across multiple channels. Don't wing it and expect to see returns.
Embrace and highlight your community. If you want a shot at being as iconic as Converse, it's up to you to embrace your community. Highlight their photos and experiences for the world to see, even if it's not what you expected.
Remember how your brand fits into a full "experience." For Marysia Swim, bathing suits are just one part of a trip to the beach. Give your followers more to chew on than product photos — think about what they like, how you fit into that, and how you can deliver it.
Look for opportunities to help. Twitter isn't necessarily the right spot to handle issues, but that doesn't mean you should ignore it entirely. Seek out ways to improve the experiences of your customers, even if they've yet to make a purchase.
Make your fans feel loved — they deserve it. francesca's does this by retweeting those who mention them on Twitter, as well as consistently responding to those who reach out to them on Facebook.
There you have it — five lessons to be learned from five formidable fashion brands. If you follow this advice, you'll likely find it easier to participate in social media, even with the constraints of your brand's messaging and identity. If your customers feel loved and well taken care of, they'll respond well to your messaging; if they feel ignored or unappreciated, they'll rebel.
Just remember that online, you do need to relinquish some control over your brand. Social media gives anyone the power to say anything, and if your fans hate something — or love it — they'll be sure to tell you. This may sound frightening, but as the brands we've highlighted have shown (specifically Converse), it can product some fantastic results. Listen to feedback and be prepared to respond appropriately if it's clear you've struck a nerve.
It was certainly hard to only pick five companies to highlight in this post, so we'd love to hear from you if you know of another fashion or clothing brand who's killing it on Pinterest or has a legendary Twitter presence! Feel free to shout out to us in the comments and let us know what you think.