Tell me if you've heard these phrases before. Maybe you've even uttered them yourself: "Jetpack is so overrated." "Jetpack isn't all it's cracked up to be." "Jetpack is bloated beyond belief!"
A lot of people hold onto these beliefs about Jetpack but I'm here to tell you that these statements couldn't be farther from the truth. In fact, Jetpack packs a serious punch, offering up features aplenty that serve the needs of all WordPress users. Bloggers looking for simple tools and developers looking for robust options will both be pleased by this plugin.
For those who don't know, Jetpack is a plugin created by Automattic. It features numerous "modules" that can be activated in order to benefit from their features.
Today, I'm dead set on convincing you to use Jetpack for the first time (or to dust it off and give it a try once again). Will you accept the challenge?
1. Robust Site Stats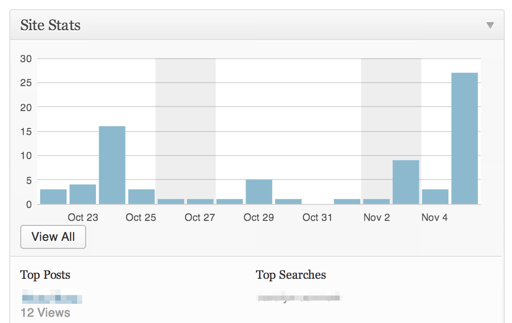 Though Google Analytics is the tried and true resource for stats on your WordPress posts, don't rule out the value of Jetpack Site Stats.
The primary benefit here is its location: right on your dashboard for easy viewing. Yes, Google Analytics has a plugin, too, but it's not as nice to look at. Site Stats also puts a handy little stats graph on the task bar at the top of your site when viewing live posts and pages. It's a nifty reminder of how many visitors your site has been getting.
What's particularly cool is the fact that Stats doesn't bog down your site at all. It was made by WordPress for WordPress, which makes it so it doesn't get much better in terms of integration. If you have multiple regular authors on your blog, you might wish to add the Jetpack Post Statistic Link plugin to add a link to the stats for individual posts as well. Authors can see how their posts are doing much more easily this way.
2. Simple, Automatic Sharing via Publicize 
Another aspect of Jetpack that gets a bad rap is Publicize. Is it the most robust tool for social sharing? No. But it gets the job done — and well at that.
Some themes come with social sharing built in, but that can be limiting. Doing the coding to make the right social buttons appear in the right places can be a lot of work. And yes, there are many plugins out there that fill this role quite nicely. But the beauty of the Jetpack Publicize module is that it integrates well in every theme. Drag and drop the icons for whichever social sites for which you want to enable sharing, input your social media account information and call it a day.
It's perfectly acceptable to use other sharing plugins in conjunction with Publicize. I'd encourage it, even. Publicize is a great way to give your readers a multitude of sharing options. The buttons will appear at the bottom of each post and you can select to have just the social site's icon, name, or both visible. Publicize also makes it possible to automatically share your blog posts when they're published to the social networks you select.
Should tweeting the name of your blog post and its link constitute the entirety of your social marketing strategy? Of course not. But it does ensure a link to your new post gets out as soon as it goes live. Then, you can concentrate on filling up your social queue with more thoughtful, informative posts for the hours that follow.
3. Spelling and Grammar (and More) Checker
Many people use WordPress as a word processor, which means having a fully-featured, robust spelling and grammar checker is essential. Who wants to discover typos or grammar mistakes after a post has been published? Not this guy. Which is why I often rely on the Spelling and Grammar checker built into Jetpack.
It's powered by After the Deadline, giving your WordPress post editor the ability to catch your errors on the spot. After activating the module, the best way to use Spelling and Grammar is to click on the standard ABC checkmark logo once you've completed a draft. It'll highlight any mistakes it finds. Under settings, you can modify what the spelling and grammar module checks for including passive voice, jargon, double negatives, redundancy, cliches, and more.
4. Shortcode Integration
Who doesn't love shortcodes? They're quick and convenient and when it comes to building websites, we could all use more tools like that. That's why Jetpack's Shortcodes module is a must-have.
This module extends the shortcode feature available to WordPress.com users to those with self-hosted WordPress sites. And since there are shortcodes available for just about everything, you need this power boost.
There are shortcodes for multimedia sites like Flickr, YouTube, SlideShare, and SoundCloud. There are even shortcodes for the automatic insertion of polls and content from Digg. So, take the two seconds it requires to active the Shortcodes module in Jetpack and you can embed media like an expert — even if you're a newbie.
5. The Only Comments System You Need
Trying to find a commenting system for your WordPress site can be difficult. I mean, you want something robust enough to provide the features your users need but you don't want to alienate anyone with an awkward interface, either. That's why I wholly recommend using Jetpack to handle comments.
It offers the familiar interface of the standard WordPress comments system and adds the ability to log in and leave comments from Twitter or Facebook. It also handles site subscriptions (if you activate the Subscriptions module).
Configuration is straightforward — Jetpack walks you through it — and your visitors can easily subscribe to comments and/or new posts while leaving a comment for you. What more could you ask for?
6. The Easiest Contact Form Ever
If you're serious about your site — and if you're here, I'm assuming you are — you need to have a contact form on your blog somewhere. Thanks to Jetpack, this is a piece of cake.
Just activate the Contact module and a new button will appear on your post and page editor screens. Click this button and you'll be prompted with a popup screen that walks you through creating a custom form for your site. After you've filled in all the sections, insert it into your site. You're done!
The form will be visible to anyone who visits, making you suddenly a whole lot more accessible. Just remember to enable Akismet as well to prevent contact form spam.
Conclusion
JetPack is feature-filled yet sleek. It's easy to use and since it was developed by WordPress.com, it doesn't cause any server lag or cause general site weirdness.
Yes, there are more robust plugins out there but you can't beat JetPack for its ease of use and overall awesomeness. So, did I convince you?