If you're a Sensei user, you have probably experienced that buzz of satisfaction when a new customer starts taking one of your lovingly crafted courses, followed by the thrill of seeing them work their way through the course.
You may then have experienced the sense of disappointment, when that student completes the course and disappears, never to be heard from again, despite all the other great courses you have to offer.
So, what can you do to keep your students coming back for more?
Introducing Follow Up Emails
Follow Up Emails is a WooCommerce extension, which is used to send scheduled emails to customers based on certain actions they take on your website.
It also works perfectly with Sensei however, which makes it invaluable for keeping in touch with your students after they have finished taking your courses.
Using the simple email builder, you can set up an email based on a variety of Sensei actions. For example, you can schedule an email to be sent shortly after a student completes a course: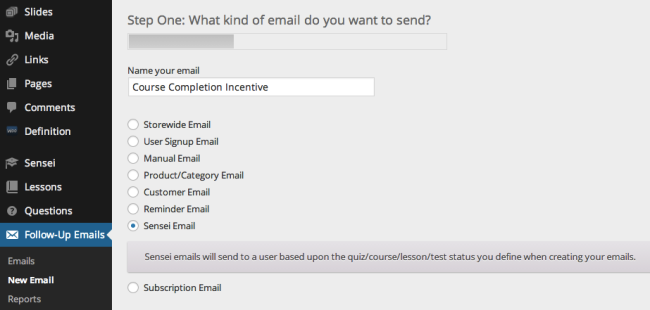 Your email can congratulate them on their effort, and thank them for their custom. Best of all, you can set it up so a coupon code is included in the email, so you could offer a 10% discount on any other course, for example.

After completing one of your courses, your student will receive the email, along with the discount code, making it much more likely that they'll take another look at your courses, to see how they could make use of their coupon.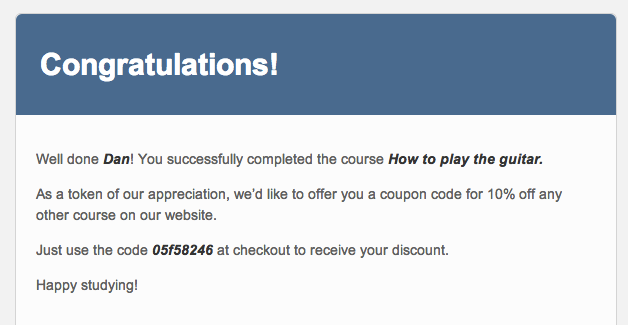 Other uses
There are countless ways you can make use of Follow Up Emails alongside your Sensei website.
You could use it to send out a link to a customer feedback survey after course completion, so your students can let you know what you could do to improve your course.
Some courses may require regular reassessment, say every year, so you could send out an email 11 months after course completion, reminding them that they are due to take the course again soon.
Or you can simply use it to keep in touch with past students, perhaps sending an email a few months after they finish a course, to ask them how they're putting their knowledge to good use, and perhaps mentioning any new courses you may have developed in the meantime.
We'd love to hear about any interesting ways you're using Follow Up Emails to keep in touch with your students. Let us know in the comments.
Purchase Follow Up Emails Today