It's National Small Business Week here in the United States, a seven day period where we celebrate small businesses and all they do. Over half of Americans own or work for a small business, and about two thirds of the country's new jobs come from them every year.
This week is a reminder for us that there's more work to be done to support small businesses. Having a free, open-source platform and hundreds of extensions and integrations is definitely a step in the right direction. But we're always looking for ways to do more for you and your business.
With that in goal mind, today we're happy to announce PayPal Business in a Box, a brand new program from PayPal that's designed to help small business owners quickly start or grow an online store.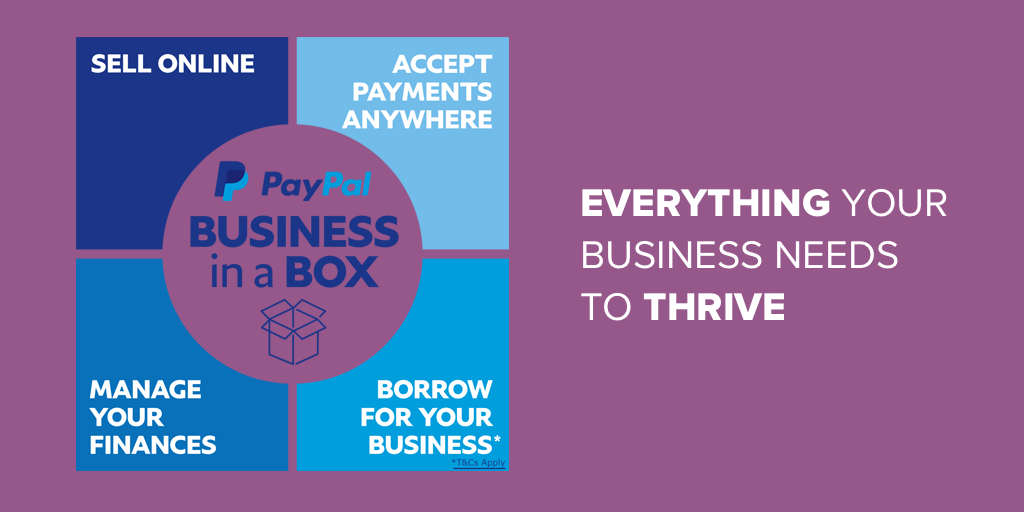 Read on to learn what Business in a Box is, what's included in the "box," and how it can help you get your own small business up and running.
Business in a Box is an all-in-one solution for small business owners
PayPal's Business in a Box is a program designed to help your small business thrive. When you sign up, you're given what you need to start selling your products, taking online payments, and managing your finances.
Under most circumstances, you'd spend a lot of time picking out and purchasing the individual components you need to set up an online store. This can be a huge barrier to small business owners who are ready to get started and bring in revenue.
Business in a Box eliminates those steps and saves you time by packaging everything you need into one place. In one fell swoop you're given the ability to take payments, manage your finances, host your store reliably, and (of course!) sell with WooCommerce.
Another huge perk: with the magic of Pressable's managed hosting, your new store is set up for you. Just provide your billing info and you're set: WooCommerce will be installed automatically. Pressable also gives you reliable performance with one-click staging environments, automatic backups, and managed updates — all so you can worry less about hosting and focus on selling.
What's in the box: WooCommerce, PayPal, and Xero, plus hosting with Pressable
Business in a Box includes what you need to start a store, take payments online or in person, manage your finances and, when your customer is eligible, have access to capital when it's needed.
When you sign up, you'll get:
Managed hosting for your store from Pressable

, including daily backups, managed plugin and extension updates, and free SSL encryption.

WooCommerce

, allowing you to sell anything, anywhere, beautifully.

PayPal Express Checkout

, so you can accept credit and debit cards and PayPal payments online.

A 30 day trial of Xero and the Xero extension, giving you the ability to handle all of your business accounting functions and keep things balanced[1].
Access to a PayPal Working Capital business loan once you meet certain eligibility criteria[2].
For a limited time, you'll also receive three free months of hosting, plus a free consultation with a Xero advisor and $100 in PayPal account credit. Terms and conditions apply, and these offers are only valid for new Pressable and/or Xero customers — see this page for the full details and how to redeem[3].
With Business in a Box, starting your store is a little easier
With the help of WooCommerce, Xero, and Pressable, PayPal has made it easier for your small business to start selling online. All you need to do is grab a box!
When you're ready to get started, head on over to this page to take the first step. Once you've signed up for a PayPal Business account, you can start setting up your Pressable account, installing WooCommerce, and getting PayPal and Xero working. You'll be ready to add your products and start selling in no time flat.
Have any questions for us about Business in a Box? Leave a comment below and we'll get back to you with the answer as soon as we can.
[1] Offer valid through December 31, 2017. Open to new Xero customers, who are legal residents of the fifty (50) United States and the District of Columbia, 18 years of age or older, who sign up for a new, paid Xero subscription and a U.S. PayPal account in good standing, who are recipients of an email invitation from Xero to participate in the Offer. The email invitation and Offer are non-transferable. Void where prohibited or restricted. After maintaining a Xero subscription at the then-prevailing rate for three (3) continuous billing cycles, PayPal will credit Customer's PayPal account with $100 USD (the "Bonus"). A reward notification email will be sent to the email address associated with Customer's PayPal account informing Customer that the Bonus has been applied to their account.
[2] PayPal Working Capital is subject to credit approval, as determined by the lender, WebBank, Member FDIC. To apply for PayPal Working Capital, your business must have a PayPal business or premier account for at least 90 days and process between $15,000 (or for premier accounts $20,000) and $10 million within 90 days or within any time period less than or equal to 12 months. PayPal sales include processing on PayPal Express Checkout, PayPal Payments Standard, PayPal Payments Pro, and PayPal Here.
[3] Offer valid through December 31, 2017. Open to new Pressable customers who are legal residents of the fifty (50) United States and the District of Columbia, 18 years of age or older, and who are recipients of an email invitation from Pressable to participate in the offer. The email invitation and offer are non-transferable. Void where prohibited or restricted. By clicking on the offer in the email invitation and signing up for a new annual subscription to Pressable from this page, subscriber will receive an additional three (3) free months of Pressable hosting included in their subscription, for a total of fifteen (15) months for the price of twelve (12), and the Xero extension (retail value $79.00) (together, the "Bonus") (approximate value is $100). Subscriber is responsible for any applicable taxes on the Bonus. Limit one (1) Bonus per person. Pressable reserves the right to cancel, suspend or modify this offer in part or in its entirety at any time without notice, for any reason, in its sole discretion.