When we talk about "packaging a product," your mind likely drifts to thoughts of corrugated cardboard boxes, bubble wrap, and tape — that is, physical packaging. But have you given any thought to how you package your products online?
For some store owners, they display and sell their products simply. Their goods are sold independently of one another, and it's up to the shopper to pick out the pieces they want to coordinate with, or even the parts that might be needed to make that core item work.
But this can create some problems. What if a shopper forgets the brackets they need to hang a shelf? Additionally, this simple setup doesn't leave any room for marketing — say, suggesting like items that should be sold together, or even creating goodwill by throwing in freebies or gifts.
It's worth giving some thought to this topic — whether you should only offer independently sold single goods, or items that are offered as part of a bundle, chain, or other package. Proper packaging, as you'll learn, can not only increase your sales, but also decrease customer frustration and make your store easier to use.
Let's have a look at five ways you can package your products online and take your pages from simple to systematic.
As part of a product bundle
Some of the products on your store may coordinate well — say, a line of clothing that uses the same patterns and core colors, or a set of drinking glasses that look beautiful together in the cabinet. And you may want to incentivize shoppers to purchase more than one of these coordinating items.
If you use the Product Bundles extension with WooCommerce, you can create pre-configured product bundles that reward customers for buying a full "set" of products. With the extension, you create bundles of existing items, and can optionally offer discounts or free items as incentive for purchasing all the items in that bundle.
In the example below, customers who purchase all three drinking glasses receive a set of shot glasses at no charge, essentially saving $5: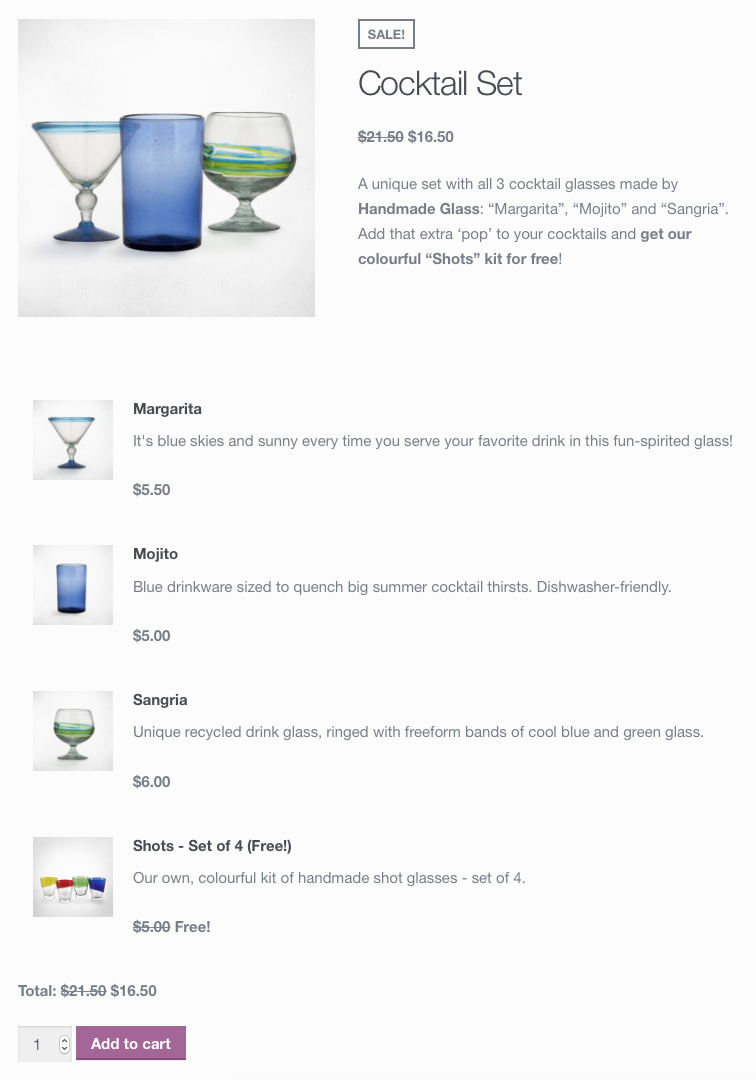 Another way to use bundles effectively is to extend discounts to shoppers who buy each item. Have a coordinating blouse, skirt, and belt? Encourage them to be purchased together — and make matching items easier to find, at that! — by setting up a bundle with a 15% discount.
Creating product bundles with existing products is a hassle-free experience, and WooCommerce will still allow shoppers to purchase items from bundles individually if you choose. There are also plenty of other settings that can be changed to make your bundles function just as you want them to.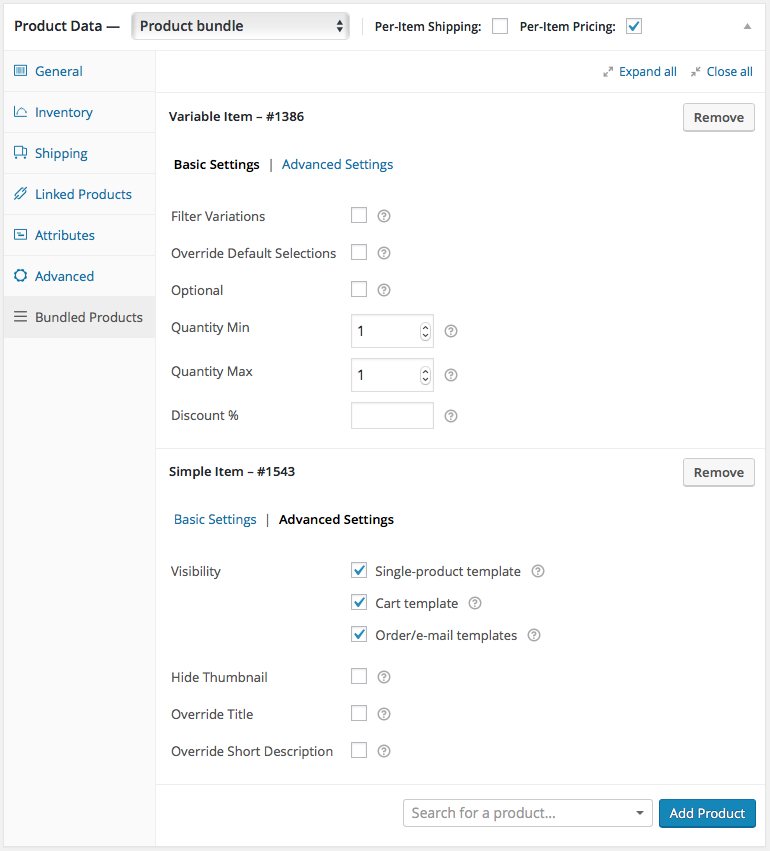 Packaging your products as part of a bundle makes them look more attractive to shoppers who mainly want to save money or get something for free when they buy more than one item. But it's not the only option you have, not by a long shot.
As part of a chain, where those other than the "main" item are free if purchased together
Bundles are a good choice for products on equal footing — say, three similar drinking glasses or the aforementioned choices from your new line of clothing. But the products in your store often vary in size, cost, and customer focus, and so providing an incentive may not be as simple as offering a discount.
Another option to consider is creating a chained product. Chained products are ideal for high-priced goods that you want to offer free bonuses with — that is, incentives that can't or won't stand on equal footing or take the form of a discount, but still look somewhat attractive.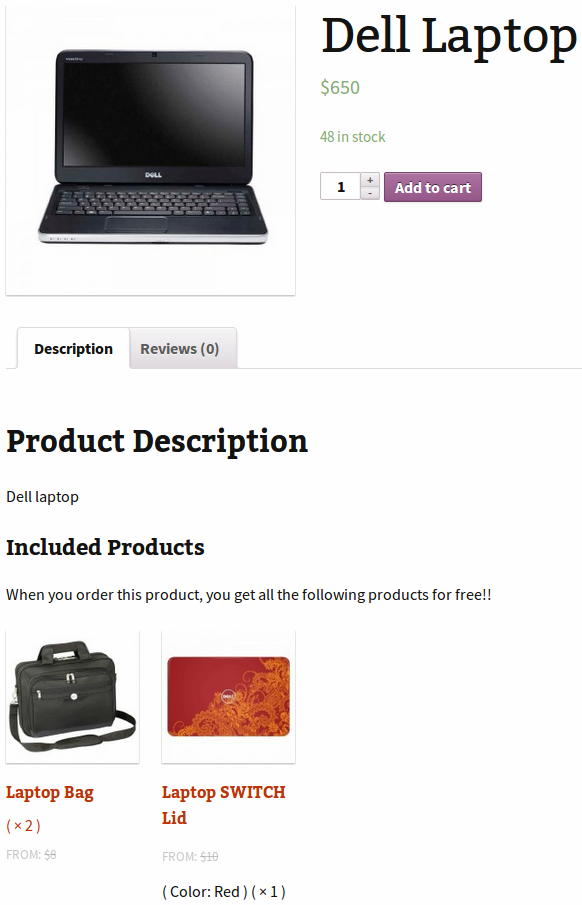 In the example above, the Chained Products extension is used to offer free gifts with this laptop. When the "main" product (the laptop) is added to a customer's shopping cart, the additional products highlighted below will automatically be added as well at no cost.
The chained products you add don't have to be physical ones, however. You can use the extension to add digital goods to a customer's cart, too — say, to force the download of a user guide PDF with the purchase of a monitor.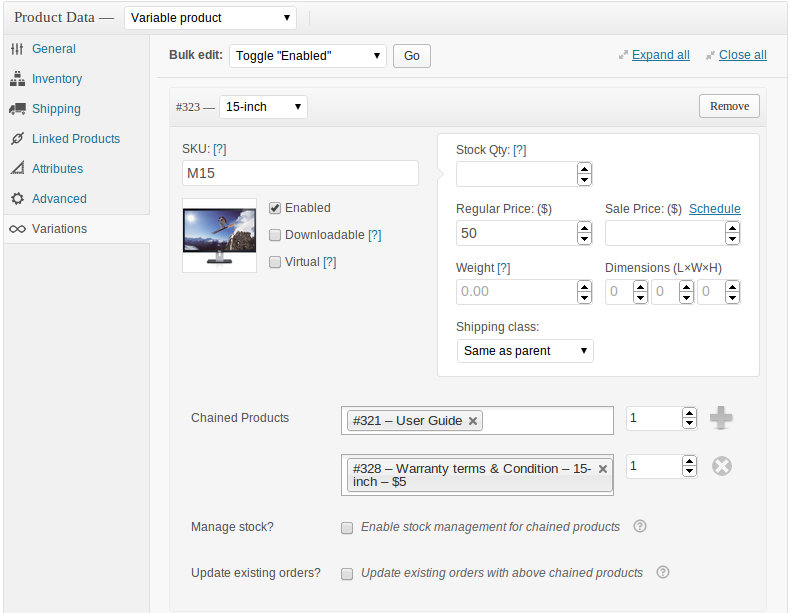 Finally, you can also chain products that have a cost associated with them, such as a warranty or protection plan. However, there's another way to do this that's a bit more straightforward, which we'll get to in a moment.
In a group, where a set of items are suggested together
So far we've talked about incentivizing the purchase of multiple products, and chaining multiple items together with the purchase of a "main" product. These push for shoppers to buy more than one product at the same time — an ideal scenario, but not always realistic.
A core option in WooCommerce allows you to suggest products that should ideally be purchased together, but don't have to be. Grouped Products can be created to show product sets that work together in the same group, but can still be bought as individual goods for individual prices.
Think of a grouped product as a container full of goodies. You can buy the container and all its contents for one price if you prefer, or you can open up the container and pluck out just the specific items you like.
You most often see grouped products used to sell digital downloads of music, where the grouped product is an album and the individual songs can be purchased separately. But you can create a group out of anything you like: outfits, furniture sets, decorations, even food.
The key to grouped products is that each individual item is optional. But with this next packaging idea, that's exactly the opposite.
In a force sell, where items are required to be sold together
On the other hand, there are situations where products absolutely must be sold together. In these situations, Force Sells is the ideal extension to use to avoid angry customers and unnecessary returns.
Force Sells literally forces one or more additional products into a customer's shopping cart: if they purchase one product, the associated items will automatically come with it. It's somewhat like chaining products, except chained goods are intended to be used as gifts or treats while force sells are better used to ensure proper purchases.
For example, if you use WooCommerce to offer repairs for shattered phone and tablet screens, you'd want to be absolutely certain that a shopper not only purchases the new glass for their broken screen, but also pays for the repair service: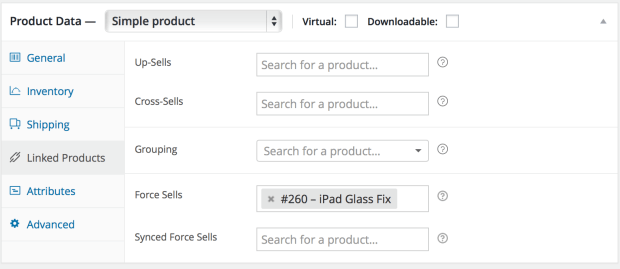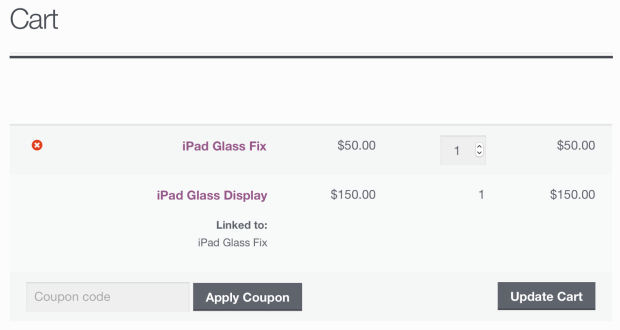 So you'd use the extension here to force both items into the cart. Note that in the screenshot above, the customer can see the new glass product linked to the $50 glass repair service, so they know why an additional item has been added and what, exactly, they are paying for.
You can configure the extension to ensure that removing one of the items also removes any others dependent on it — that is, so a shopper can't buy just new screen glass without paying for the repair service. Take a look at the other settings and see if this extension might be useful to you.
Within a composite product kit or build
Our final packaging suggestion is perhaps the grandfather of all online product packages: the composite product.
Composite Products are those that customers quite literally build themselves. They decide how they want the item to look, function, and fit, based only on the available criteria and parts you supply.
One of the best examples for these products is a custom skateboard. There are many decks, wheels, finishes, and configurations available for skateboards, and all stocked in one central location. It's up to the customer to decide what they want and how their item is going to look.
There are plenty of configurations and options for composite products. Setting them up requires the creation of components — the individual pieces of your products that can be configured by customers — as well as a choice about how to display the "build" process on the product page.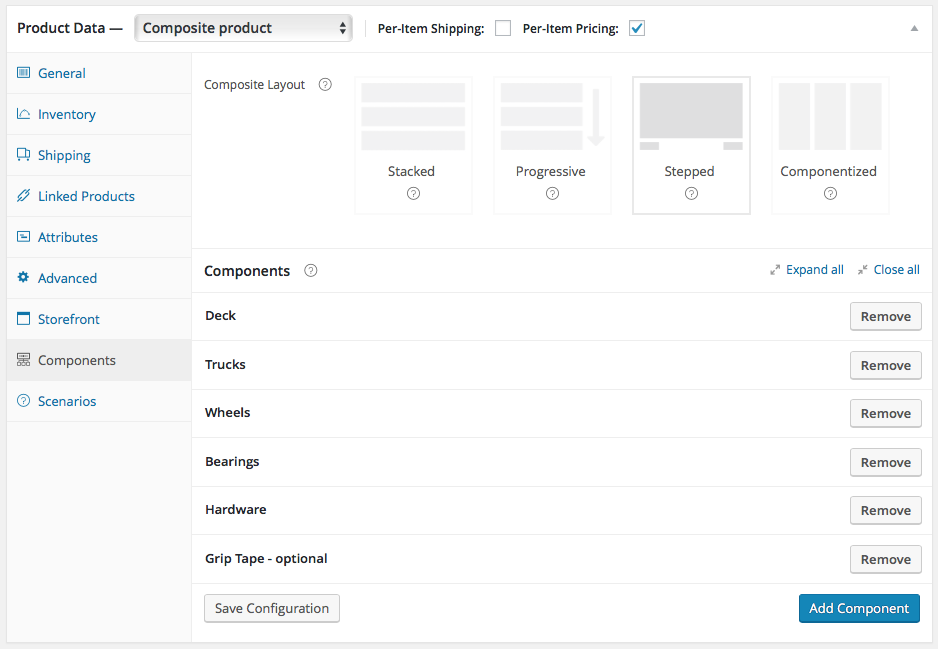 If your intent is to offer fully customized, built-from-scratch products, this is the extension you need to make your products look incredibly attractive. It also takes the manual labor, guesswork, and exhaustive communication out of custom design — why ask customers to email you for a quote or special build when they can create it themselves in just a few moments?
Online packaging is just as important as physical packaging
Selling independently packaged goods is the way many stores go. But it's worth giving thought to how successful you could be if you also offered bundles, groups, force sells, or other creative product configurations using WooCommerce.
In this way, how you package items online is just as important as how you package them offline: you can make them look more desirable and motivate more purchases. So give some new configurations a try and see how they go!
Do you have any questions about how your products should be set up or "packaged" on your store? Not sure which product configuration would be best for your specific scenario? The comments are open and we'd be happy to lend you a hand — ask away.