As an alternative to the contact form template that comes with most themes, all Woo Themes now have built in styling for the Gravity forms plugin (http://www.gravityforms.com/)
Gravity forms is a premium form management plugin that allows you to create multiple custom forms easily and comes with additional features such as reCaptcha and file uploading.
All Woo Themes have the additional styling so all you need to do is install and create your forms. A quick and easy tutorial is below on how to install and add the plugin and you can get additional documentation and support from the Gravity forms website. (http://www.gravityhelp.com/)
Installing the plugin
1) First of all you need to purchase the plugin from http://www.gravityforms.com/purchase-gravity-forms/
2) To install the plugin, just upload the plugin into the /wp-contents/plugins/ directory – more information can be found here: http://codex.wordpress.org/Managing_Plugins#Manual_Plugin_Installation
3) Once activated, click on 'settings' in the 'Forms' menu in the dashboard's sidebar.
4) Add in your license key and reCaptcha details (if you want to use this function) and make sure that 'Output CSS' is switched on – this will allow the forms to be styled by the theme's stylesheets. Check out the screenshot of the settings page below with the basic settings applied: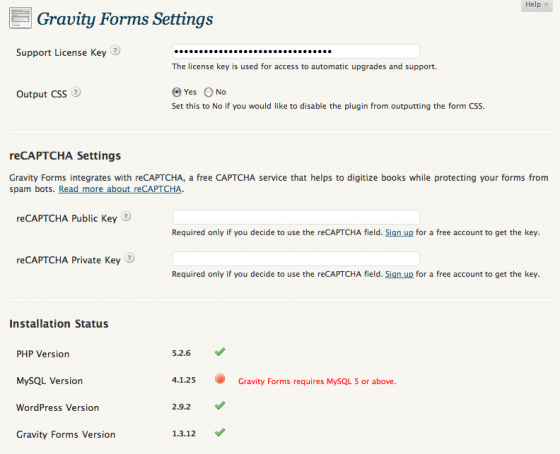 5) To create your form, simply go to 'New form' and drag and drop the elements you want in the form. Additional help and support can be found on the Gravity forms website