A question for you: what happens when a customer searches for something in your store that doesn't exist?
The default message returned by WooCommerce (and in fact, most other eCommerce platforms) is "no products found." And the page that follows is empty, a barren wasteland that offers little direction for what to do next.
It's as if your customers asked you, in person, for the location of something — only to be greeted with a blank stare and a shrug. It's a bit unhelpful.
As you've likely already guessed, it doesn't have to be this way. A shopper's journey shouldn't end when their search returns no results. With a little optimization, you can ensure that it's only just beginning.
Let's take a look at a few ways that you (perhaps with the help of a trusted developer) can make the most of your "nothing found" page, transforming this barren wasteland into a lush paradise full of potential.
For starters: locate the file you'll need to change
Before we give you any advice, you should have a good idea of what you'll need to do if you want to follow it.
If you're using WooCommerce, have a look in your theme's /woocommerce/templates/loop/ folder. Within, you should find a PHP file named no-products-found.php.
Depending on the theme you're using, the author might have already modified the original version of this file to add some features or styling. Or they might have left it up to you. Every theme is different.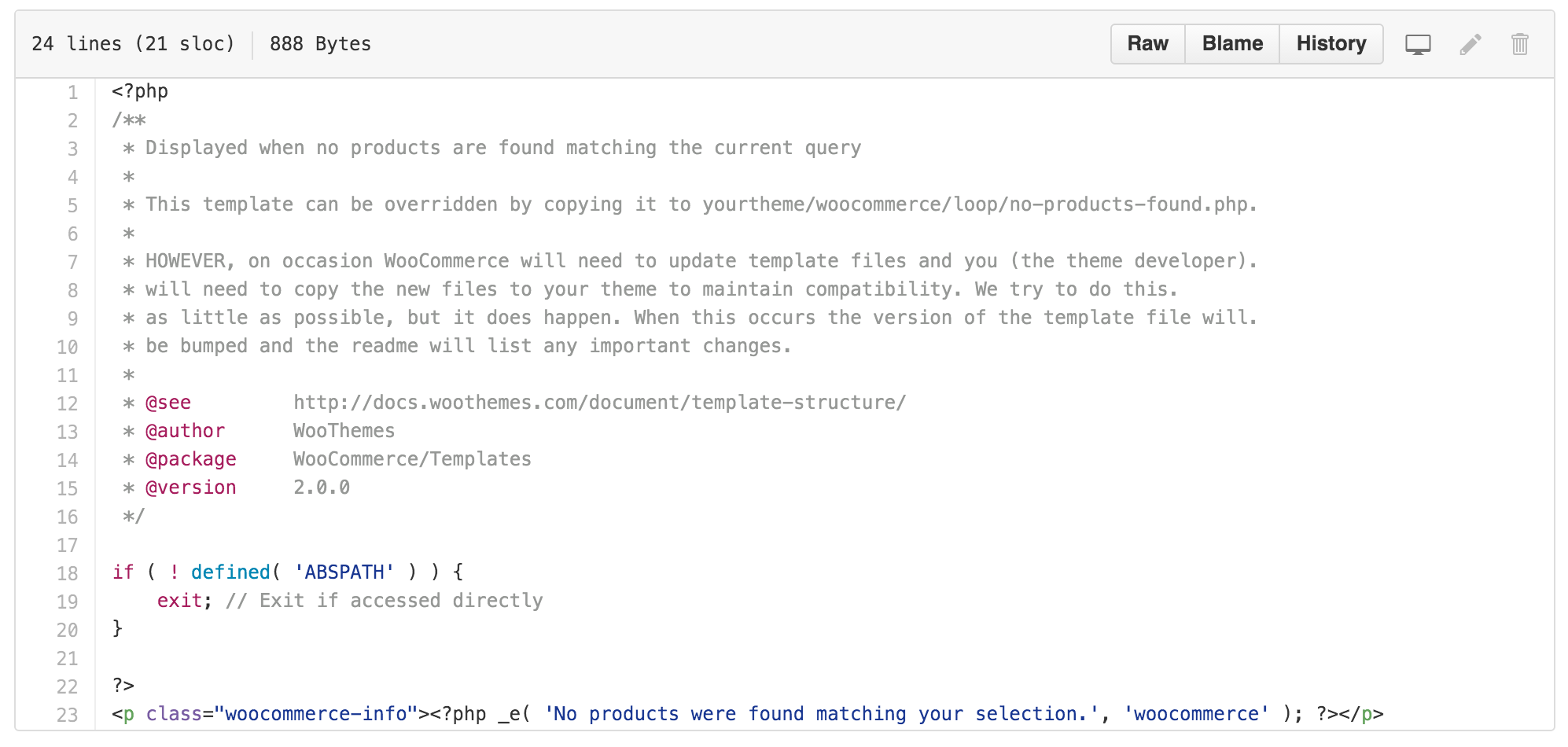 To avoid issues, either you or your developer should copy no-products-found.php to a local machine or (preferably) test site, and make all changes there before testign and pushing to your live store.
However, if your theme is updated, your version of this file could be overwritten. So your best plan of action would be to create a child theme that contains a new version of this file. A WordPress developer can definitely help you with this process.
If you don't want to create a child theme, you can still overwrite the theme's version of no-products-found.php — but make a backup (or two), because you'll probably need it!
If you're not using WooCommerce, the process you'll need to follow to optimize the "nothing found" page might not be theme-dependent, but it will almost certainly involve digging into code. Have a look through your platform's FAQs before getting started — you'll definitely want to know what you're up against.
With all that out of the way, let's have a look at some ways you can make these sad searches into happy ones.
Give shoppers the opportunity to try another search
What's the first thing you do when you're presented with a "no results found" page? You probably give it another go, right?
So on the off chance your shopper wants to try again — maybe they mistyped, maybe they'd like to try another keyword — it's wise to give them the opportunity to perform a second search.
However, we don't mean adding a quick string of text that says "apologies, try again" and prompting them to scroll all the way back to the top of your store. We mean putting a new search bar within reach. Make it easy for them!
If you're using the WooCommerce Product Search extension, which adds additional functionality to your store's default search, you can use a shortcode to quickly add a search box to any page. Using the do_shortcode() function will allow you to add this to your no-products-found.php file; you can learn a bit about doing that here.
Offer search suggestions, just in case they're on the right track
Sometimes people know what they want, but they typo their query. Or they know what it's called, but don't quite know how to spell the name brand they're looking for.
In this case, the most appropriate replacement for that "nothing found" page is a list or page of suggestions. Your shopper is on the right track, so you don't want to give them the impression that you can't sell them a GPS despite having a warehouse full of them.
One way that you can serve up these suggestions without building out a custom system (which is costly, not to mention time-consuming) is with the InstantSearch+ extension. This handy option serves "did you mean?" recommendations straight from the cloud.
So if a customer means to look for a Garmin GPS, but bungles the keys a bit…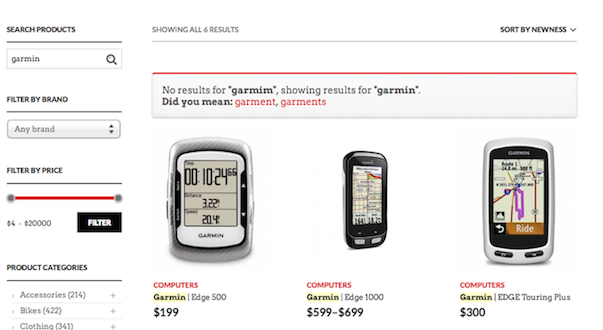 In the results above, the typo "garmim" leads to the "Garmin" results, but the extension also helpfully provides links to results for "garment" or "garments," just in case.
It's a bit like a helpful pat on the shoulder, a friendly "you're on the right track, let's not make you search twice." We all make typos every once in a while, so a system like this can be a real time-saver. It might even be a relief if for those can't remember how to spell a specific brand or product name, but have been asked to find one for a gift.
Link to popular categories or "starting points," since you might not have what they want
It's plausible that you won't have exactly what your shopper is looking for. But you might have something similar (or better!), and the only way they'll know is if they have a look around.
Whether your store is big, small, or somewhere in between, saying "they can just click around themselves" is really not good enough. It's not uncommon for new shoppers to be overwhelmed, or confused, or unsure where to start. So add some suggestions or starting points to this page for those who might need them.
For example, if you sell coffee cups, you could display your best-selling goods — maybe one from each category. No matter what someone was looking for, in that case (maybe you just don't stock a yellow mug), you'll show them a sampling of what you do have.
Or if you sell clothes, and recommending your best items would take too long and might not fit your shopper (you don't know their gender, taste, age…) you could simply display an attractive visual navigation of your main categories.
Should you have what they want? Let them tell you
After all this, there's still the possibility that you aren't going to be able to give your visitor what they're looking for.
But that's going to happen from time to time. It could be that you only sell shoes, and your shopper will have better luck finding socks elsewhere. Or perhaps you have no interest in carrying the knee-high socks with a cheetah print that they want — you'd prefer to stick to ankle socks.
Sometimes, though, a shopper will search for something that you should have. Or you do have it, but some combination of missing keywords or low stock have made it impossible to find. The solution here? Create goodwill by allowing them to tell you directly what they'd like.
You can add a contact form directly to your no-products-found.php file, suggesting that someone who's stumbled across this page multiple times can get in touch with you to explain what they're looking for. If it's a great idea, it might be something you look into adding to your store. If it's not, you can always suggest alternatives.
Don't want to go through the hassle of adding a form? Just add a link to an existing "contact us" or feedback page. It's an extra step, so conversions might drop a bit, but it'll still work.
Consumers love the feeling of being listened to, of knowing their thoughts matter to someone. And on the flip side of that, to store owners, that feedback can be hard to get sometimes! So it's a win-win — listen, and they'll speak.
Don't be afraid to have fun with the process
You've undoubtedly seen at least one of those collections of clever 404 pages while surfing the web. They offer everything from cheeky illustrations to hidden mini-games, making what might otherwise be an annoyance into a delightful way to get you back on track again.

There's no reason you can't apply the same ideas from these cheeky 404s to your product search result page. Getting no results is just as frustrating as getting a broken link — perhaps more, if you've got your heart set on something.
So have fun with it. Add illustrations pointing to your search box, urging shoppers to try again. Toss in a YouTube video. Write some copy explaining how you're always improving your product selection, but hide a little link to a coupon code.
Just keep in mind that everything you do here should fit into your brand. Be mindful of your tone, and think about the experience of your shoppers at every step. While it might be tempting to make your "nothing found" page into a mini-game, it could be distracting or even out of place for, say, a company selling paintings worth thousands of dollars.
Turn "nothing found" into "let's try this instead"
As you've seen, the "nothing found" page doesn't have to be the end of a shopper's journey. With a little optimization, this page can just be the beginning.
Think of this page as your opportunity to say "let's try this instead." It's an opportunity to create goodwill, to show that you care — and to save sales you might have otherwise lost.
Have any questions about the ideas we've presented here? Or any suggestions of your own to add? Feel free to talk to us in the comments below, we're always eager to hear from you.