You likely already know that social media is important for marketing your consumer electronics brand. But what you may not have realized is just how much your presence on networks like Facebook, Twitter, and Pinterest matters to your customers.
According to data provided by the Consumer Electronics Association, approximately 24% of consumers looking to make an electronics purchase "always or almost always" refer to social media before they buy. For consumers in the "high engagement" category, who spend 13.5 hours or more per week on social, their reliance on these networks for purchasing decisions jumps to 65%!
With this in mind, it's crucial for your brand to have a strategy that makes you look good, sets you apart from your competition, and makes your customers happy. This may sound easier said than done, but we've tracked down four companies with amazing social media strategies that will teach you to do all that (and more).
Keep reading to find four ways you can boost your social media marketing and motivate more customers to choose you over your competition.
Incredible customer-created content hosted by GoPro
What can your customers accomplish by using your products? If you manufacture an activity tracking wristband, perhaps it's better physical health. Or if you sell computer components, maybe it's a higher level of productivity at work. Some consumer electronic companies have established their social media strategies by sharing their customers' accomplishments with other fans and followers.
GoPro is one brand that has done this exceptionally well. This portable camera company has an audience of adventurers, daredevils, and high achievers, many of which are eager to share the videos they take with their own GoPro equipment. The brand has grown their YouTube channel to over 3 million subscribers and more than 850 million views by tapping into this almost unlimited resource.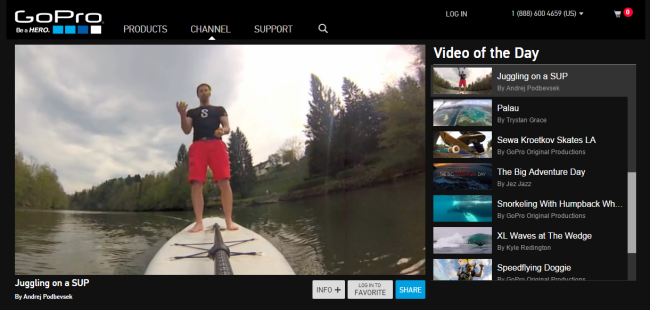 GoPro regularly highlights videos created by their customers. These videos used to be re-uploaded to the GoPro YouTube channel, but now are housed in a dedicated "Channel" landing page on their website, where viewers can click on the video to visit the uploader's own YouTube or Vimeo channel.
Here's an example of one of the highlighted user-submitted videos, filmed by Burgers Zoo in the Netherlands:
GoPro also highlights their customers on Instagram, where they've amassed 4.9 million followers. They post both photos of the day — typically still shots from videos — as well as short highlights from longer video clips.
While not all of the content GoPro shares is generated by their customers, they make a point to regularly share these stories with their followers. By showing what others have accomplished with their cameras, they are making viewers think "I could do that!" and "I want to try that, too," which leads to sales.
Finally, GoPro has made it easy for their fans to submit their videos — they have a dedicated page set up just for submissions. Encourage your customers to share their results in this same way, and you'll likely be treated to stories that are just too good to keep to yourself.
iRobot provides long-lasting engagement
Many consumer electronic devices last a long time, and don't require replacing unless there's a newer model. Even then, there's a risk of your customers changing brands if they are dissatisfied. According to a survey by American Express, 59% of Americans are willing to switch brands if it means they'll get better service — and this number could be higher with more money on the line.
How can a consumer electronics company keep customers engaged and happy, knowing that it might take several years before they'll be ready to make another purchase? Perhaps the wisest choice is to take a page out of iRobot's book.
iRobot manufactures the Roomba vacuum, a tiny robotic device that automatically sweeps up your floors. Customers who buy one aren't likely to purchase another for several years, especially considering the high price. But there is an advantage here, and it's that customers are generally thrilled with it. This has helped build their Facebook Page up to over 220,000 fans.
On Facebook, iRobot provides entertainment for its fans that both ties into its brand and current events. Lately, they've posted Roomba-related graphics for the season 5 premier of Game of Thrones, Star Wars Day (May 4th), and a long campaign for Mother's Day that involved a few giveaways and their own special hashtag.
The company has even embraced the often joked-about topic of pets riding the Roomba — they both post their own photos of this common phenomenon, and ask their followers to do the same.
Providing entertainment is great, but what happens when someone has a question or needs help with their Roomba? iRobot quickly responds to both posts on their page and comments, ensuring that their customers receive the support they need in the event of an issue.
They also answer questions for potential customers — and if you peek at their page, you'll find other customers doing the same thing, chiming in with their own answers and experiences. It pays to keep your audience happy!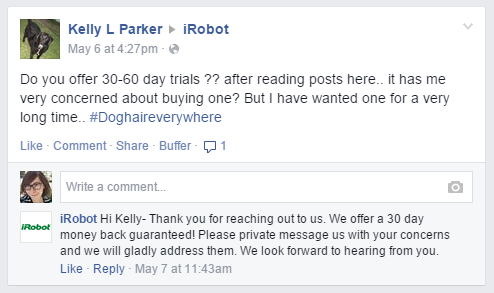 iRobot builds their products to last a long time, as do many consumer electronic companies, and that can make long-term engagement on social media tricky. But by providing constant and consistent content and advice, they're building a dedicated community that is much more likely to come back to them when they're ready to buy another vacuum.
A lesson in solid social support from Samsung
Let's talk about social media support a little more. According to a survey by Edison Research, 42% of consumers who complain about a brand on social media expect to receive a response within an hour. Specifically, 11% of consumers expect a response within 15 minutes.
If you don't plan on fielding support requests on social and living up to this hefty expectation, the best move for you might be to put a "for customer service, go here" link in your bio. But if your company does plan on offering social support, take a look at what Samsung is doing first.
This electronics giant has both dedicated Facebook and Twitter accounts for serving their customers. They've also devoted a full team solely to the purpose of answering comments, tweets, and private messages.
As some of these conversations can go on for quite some time, and involve more than one team member, messages are signed by the sender so customers know who they're talking to: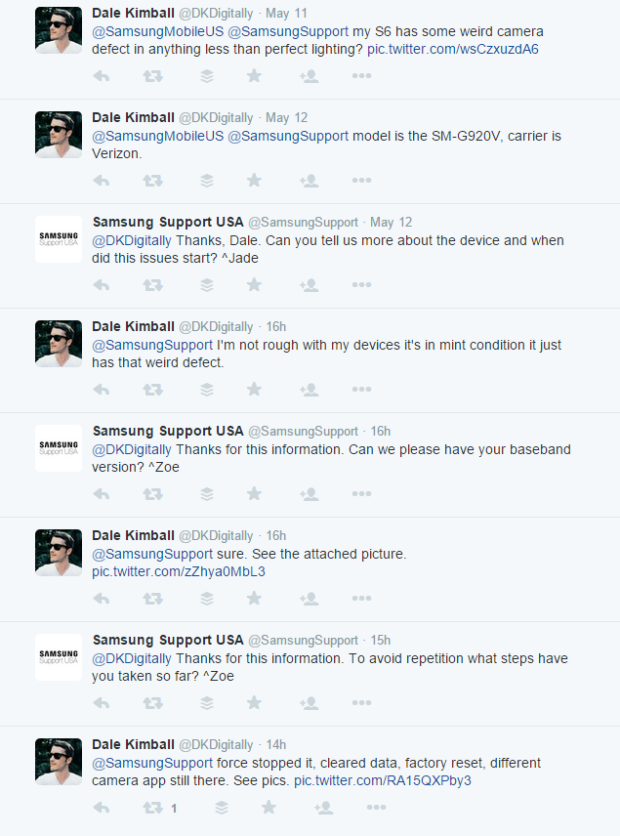 Samsung has a lightning-fast response time to everything, whether it's a problem or a general comment. In fact, the brand regularly responds to compliments on their non-support Facebook page to ask follow-up questions, and ensures that any problems discussed there are redirected to the proper support channel.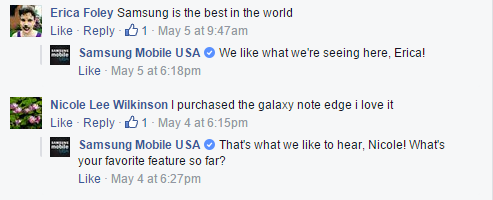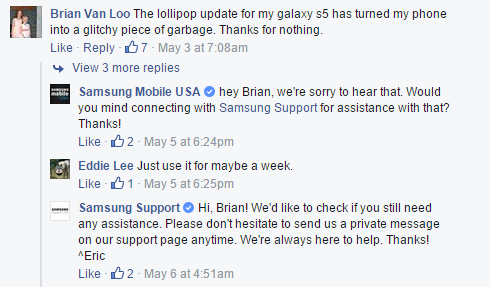 Another thing that Samsung does incredibly well with their social support is following up. It's easy for customers to miss tweets or forget to reply… and also possible for support reps to leave issues unresolved, too.
Every few hours, the support Twitter account follows up on outstanding issues to see if the customers still needs help. (You can see this in action on the Facebook thread above, too!)
If you plan to use social media as a support method, you should be prepared to go all-in, just as Samsung has. From your customer's point of view, it's not acceptable to answer questions some of the time, or ignore comments you don't like. Customers will expect you to be there if you say you'll be there.
It's tough to respond to harsh comments or criticism, but keep in mind that your customers are frustrated and possibly just venting. If you respond swiftly and calmly, like Samsung does, you stand a good chance at calming them down, resolving the issue, and making them happy again.
Beats by Dre delivers the right content to the right audiences
Just as one company's social media strategy might be unfit for another, what works on one of your networks might not provide any kind of return on another. Beats by Dre, the Apple-owned and Dr. Dre-inspired headphones company, is one that seems to recognize this.
Beats by Dre has a presence on many social networks, but their Pinterest is one of the most interesting. It's uncommon for consumer electronic companies to make a long-term play on Pinterest; those who do use it sparingly, or even seem to forget about it. Is it because the audience isn't there? Not necessarily. It could just be because these companies aren't delivering the right kind of content to their audiences.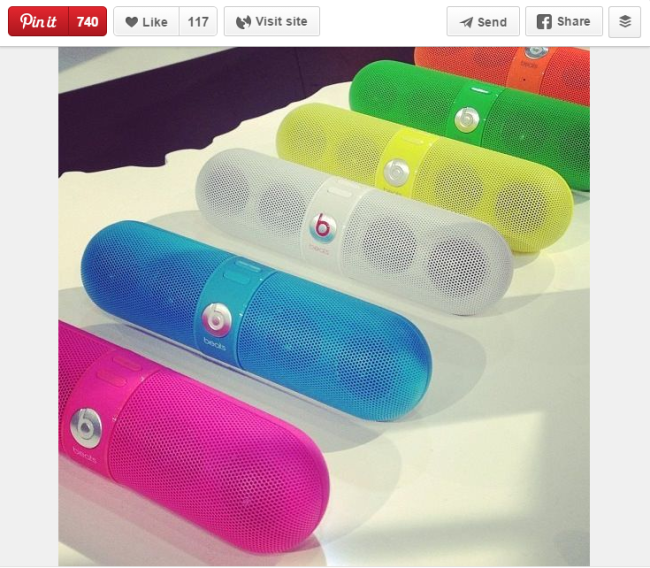 On Pinterest, Beats by Dre has lots of high quality photos that lend themselves well to repins. Good photography, interesting imagery, and products that are likely to be pinned to wishlists can help deliver a higher chance of interaction.
The brand also used Pinterest to create a "mood board" for the release of Nicki Minaj's Pink urBeats. This involved the curation of themed pink pins from multiple sources, many of which went on to receive repins and likes. When the new headphones were finally released, the comments were positive.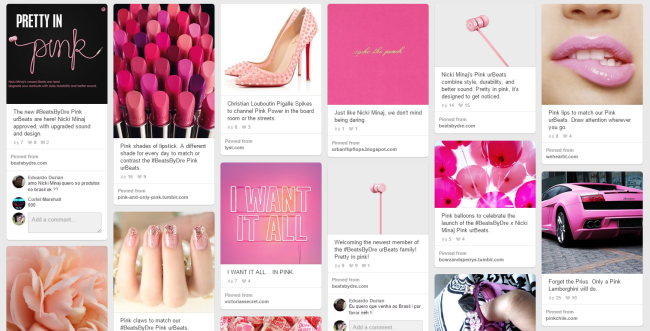 Beats by Dre knows their Pinterest audience wants attractive photos, mood boards, and musical inspiration. But what about Facebook? Their strategy there is completely different — and it works just as well.
The primary Beats by Dre fan on Facebook is a music and sports enthusiast. They come to Facebook for stories and experiences, not to save products to a wishlist. So the brand delivers exactly that.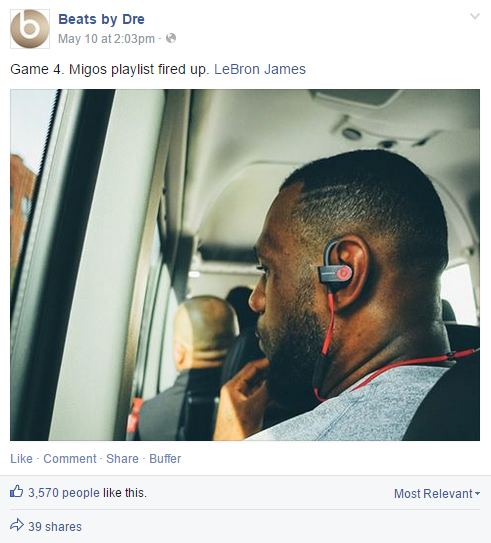 As for Twitter? The brand's core account is similar to Facebook, but they've also created a dedicated Beats by Dre Support account that is linked from their profile. Here, they regularly tweet at customers in need of service, and they're certain to amplify the message of those who have a good experience with their headphones.

If your customers are spread across multiple social networks, consider how your content needs to change to match each audience and platform. Beats by Dre knows that consumers are likely to complain on Twitter, so they offer support there. They know their core group of fans is on Facebook, so that's where most of the action happens. And they've found ways to make Pinterest work by creating content that is ideal for that audience.
Four social media tips for consumer electronics brands
These four consumer electronics companies have created some truly admirable social media strategies. To recap, here are the takeaways from each of the brands we've covered:
Show what your customers have accomplished with your products. User generated content isn't just fun to look at — it's inspiring, and may sway potential customers who are on the fence about buying from you.
Engage with your community consistently. Even if your products have a long lifecycle, engaging with them through content, Q&A sessions, or support can keep them loyal to your brand all the way through to their next purchase.
If you're offering social support, go all-in. Clearly state where you provide support (and where you don't). Answer questions quickly, and follow up on outstanding cases.
Tailor each platform's content to match its audience. Your Facebook and Pinterest fans like your product, but that's where their similarities end. Think about how you can best meet their expectations — or just ask what they want to see!
There you have it! If you're running an electronics company, or simply looking for tips to better promote your products on places like Pinterest and Twitter, we hope the examples offered here will help guide you in the right direction.
With a little practice and the application of the tips that suit you best, you'll be able to juggle the tasks of self-promotion, customer support, and company growth much easier than before.
Is there another consumer electronics company with a social media strategy you feel is worth highlighting? Or do you have any additional tips or insights of your own to share? We'd love to hear your thoughts in the comments.