Who doesn't like spring? The sun is shining, birds are singing, and the flowers and trees are at their brightest. (Although if you have allergies, that last bit might not make the season seem so nice.)
It's spring for those of us in the northern hemisphere, and we're celebrating all it brings by collecting marketing extensions that will put a little bit of the season into your store.
From tools that help you grow your sales to extensions that will spruce up your product pages, here are twelve ways you can bring new life to any WooCommerce store.
Use smart marketing strategies to plant the seeds of interest
Marketing is a must for every store. How you promote your products or services depends on what you sell, but the fact of the matter is this: you need to do it to be successful.
Here are some extensions that will help you plant the initial seeds of interest among your shoppers and keep them browsing through your store.
Offer coupons, discounts at checkout, and more with Smart Coupons
Smart Coupons is the ultimate in coupon extensions for WooCommerce: it extends your store's discounting functionality in amazing ways, plus adds on the ability to send gift certificates and store credit.
How it drives interest in your store: Smart Coupons can show applicable coupons during the checkout process. This keeps shoppers from leaving your store to hunt for a discount, and can increase the number of completed sales — because who doesn't like a discount?
Purchase the Smart Coupons Extension
Use Dynamic Pricing to automatically discount products while a customer shops
If you want to offer discounts to your customers, but only based on their behavior or the products they're planning to purchase, Dynamic Pricing is what you need. This extension uses rules you set to dynamically adjust the prices of goods while customers shop.
So, for example, say you want to offer a 20% discount on shoes when a customer purchases three or more pairs at once — you can do that. Or you can take $5 off every pair in the cart instead.
How it drives interest in your store: This extension lets you reward customers for purchasing more by adjusting the price they pay. If shoppers know they can save by buying in bulk from you vs. your competitor, they're going to stick with you.
Purchase the Dynamic Pricing Extension
Get your products noticed in searches with Google Product Feed
Google Product Feed allows you to quickly submit the products from your WooCommerce store to the Google Merchant Center, which is a prerequisite for getting your goods shown in search (or running product ads).
With this extension, your products will show up when a potential customer uses Google's "Shopping" search option to look for what you're selling. The results will display a product image, details, price, and more — all pulled automatically from your store.
How it drives interest in your store: Photos, prices, and item descriptions may make a potential shopper click through faster than they would from a simple text search.
Purchase the Google Product Feed Extension
Let shoppers tell the world what they want with WooCommerce Wishlists
Want shoppers to tell the world about your products? WooCommerce Wishlists is a nifty way to get your store shared outside of the usual social media buttons and "tell your friends" campaigns.
With this extension, shoppers can create and share wishlists based on your store's products. Wishlists can then be shared publicly or privately via email or social media.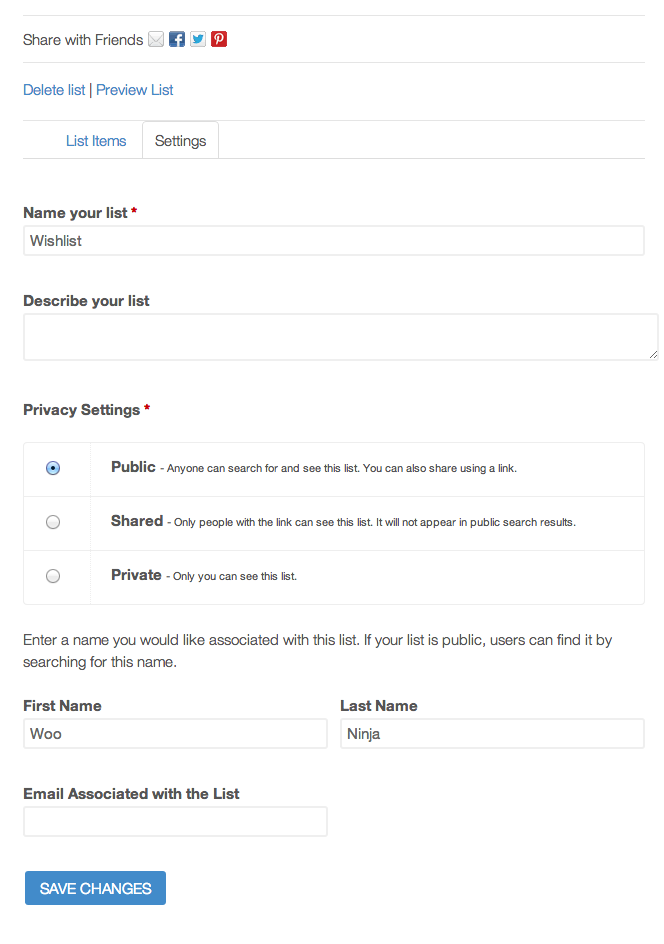 How it drives interest in your store: Wishlists can be shared near and far, and they're packaged up by the extension to look lovely. It's not farfetched to think that someone viewing a wishlist might start clicking through your products with their own interests in mind!
Purchase the WooCommerce Wishlists Extension
Spruce up your products for more clicks and shares
Of course, your marketing can only be as successful as your products. There's no point in directing loads of traffic to a page if no one's going to like what they see.
With that in mind, here are a few extensions we suggest for making your product pages — and the goods they feature — shine as bright as the sun.
Create Product Bundles to bump up the amount your customers spend
Do you sell a lot of individual products that work great together? Consider making those products look more attractive — and worth buying together — by creating a product bundle.
Product Bundles gives you the ability to create bundles of individual products, both digital and physical, and sell the bundle at a discount or with another bonus.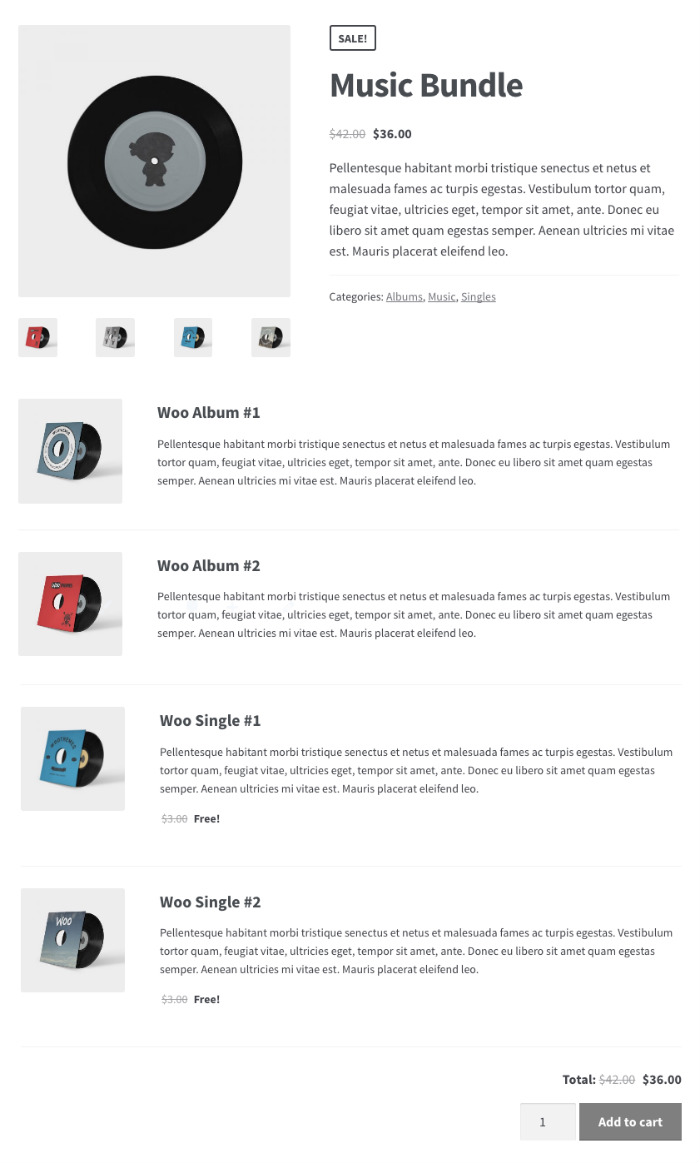 For example, let's say your music store sells digital EPs. If you wanted a customer to buy them all at once instead of picking just one or two, you could create a bundle of the EPs and discount the total price, so it's more affordable to buy the bundle than the individual items. Or you could throw in a bonus single for free.
How it spruces up your products: Bundles are appealing because they emphasize what customers will save by buying more at once. This is also an amazing way to drive up the average order value for your store!
Purchase WooCommerce Product Bundles
Offer personalization, custom colors, and more with Product Add-Ons
Want to offer engraving, custom colors, or personalization for your products? Product-Add Ons is the extension you need to make this possible.
With Product Add-Ons, customers can choose the special features they want right from the product page they're currently viewing. They can see the additional charges (if any) before making a choice, plus specify exactly how they'd like their products to be customized.
How it spruces up your products: Shoppers love the idea of making a product truly "theirs." If you're able to show them how you can accomplish that for them right from the product page, they're much more likely to add it to their cart.
Purchase the Product Add-Ons Extension
Offer recurring physical or digital orders with WooCommerce Subscriptions
Do you sell products that customers need to reorder frequently? Or do you have a wide variety of goods that you could delight shoppers with in a monthly shipment? Either of these scenarios lend themselves well to a subscription.
WooCommerce Subscriptions is the very best way to create a subscription program on your store. It's super flexible, so you can create subscriptions that ship every two weeks (say, coffee beans) or only twice a year. You can offer free trials, create sign-up fees, and bill customers as you wish (or not at all).
You can also create subscriptions for digital products as well as physical. So if you want to offer monthly subscriptions to new bundles of stock photos or Photoshop textures, go for it!

How it spruces up your products: Subscriptions can save shoppers a ton of time and hassle, especially if they need to reorder the same item frequently (like coffee or cleaning supplies) or want to give a gift that lasts a long time (like a book of the month club).
A bonus for you: subscriptions create recurring revenue, which is money you can count on no matter what your sales are like.
Purchase WooCommerce Subscriptions
Use WooCommerce Memberships to offer member savings, exclusive content, and more
"I'm a member." Say that phrase at brick and mortar stores, at hotels, or at your local gym and you unlock benefits unavailable to the general public.
You can apply the same idea of memberships and exclusive perks to your own site with WooCommerce Memberships and the other extensions in the WooMembers Bundle. With this collection of 19 products, you can build a 100% complete memberships business around your products.
You can:
Mark specific products as members-only
Only allow members to access and read other content on your store
Create a membership discount for your products (either individually or across categories)
Create multiple membership tiers with different costs and perks
How it spruces up your products: No one wants to be left out of anything. Limiting product availability to members or having a members-only discount can drive more signups right from the product page — and again, much like subscriptions, create revenue that lasts.
Purchase the WooMembers Bundle
Improve your checkout and watch your sales grow, grow, grow!
This final grouping of extensions is designed to keep shoppers from abandoning their purchases at the very last moment. Convoluted checkouts and way-too-long payment forms can cause issues even with the most eager customers, so you should aim to streamline things as much as possible.
Here are four extensions to help you do just that (and make your checkout look amazing).
Speed up purchases with One Page Checkout
WooCommerce is an ideal platform for selling lots of things, but what if you only sell one or two things? Does it make sense to make shoppers add an item to their cart and go through all those checkout steps if you only have a few choices?
We don't think so, and that's why we offer the One Page Checkout extension. With this, you can add your checkout to the same page as a product, so customers simply pick the item they want and complete the purchasing process… without all that unnecessary clicking around your site.
How it makes your checkout shine: If it's right for your store, One Page Checkout makes the purchasing process incredibly fast, cutting down on hassle and reducing the potential for abandoned carts.
Purchase the One Page Checkout Extension
Offer gift wrap or other order upgrades with Checkout Add-Ons
Checkout Add-Ons is an extension that gives you the power to offer your customers little upsells just before they make a purchase — and make you look super thoughtful in the process.
This is the extension you'd want to use if you wanted to offer gift wrap, messages, or cards for presents or during the holiday season. Of course, you could also use it for other order-wide upgrades, like rush processing or extra packing peanuts for those fragile shipments.
You can customize your add-ons in plenty of ways, from drop-down choices to checkboxes to text fields, and offer as many at once as you like — a great thing to consider for the holiday season!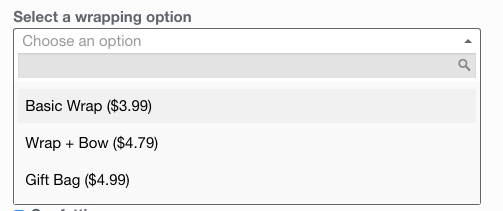 How it makes your checkout shine: No matter what you offer with this extension, customers will love your attention to detail and thoughtfulness. They may also be more willing to purchase from you if you can offer gift wrap or other perks.
Purchase the Checkout Add-Ons Extension
Eliminate login frustrations with WooCommerce Social Login
Being asked to create an account at checkout can be frustrating for customers, but you may see it as a necessary event. Want to take some of the hassle out of the process? Try WooCommerce Social Login.

This extension will allow shoppers to log in and complete their purchase with the social account of their choice, from Facebook to Instagram. You can even allow logins via payment platforms like Amazon and PayPal.
Returning customers can log in again with the same connection, so that's one less password to remember (and an even faster way to get back into their account).
How it makes your checkout shine: The fewer hoops a potential customer has to jump through to complete a purchase or create an account, the better.
This extension also makes you look super smart. No one has to know you didn't code it yourself. 😉
Purchase WooCommerce Social Login
Use Cart Notices to remind customers about deals, time sensitive offers, and much more
Cart Notices is the ultimate way to communicate with customers who have just added a product to their cart. You can create and customize messages based on a ton of criteria, including:
How much more the customer needs to spend to get a deal
How far away from free or reduced price shipping the customer is
How long the customer has to receive a benefit (ex. a limited time sale, shipping the same day)
The product itself — for example, if adding a bed frame, you might want the customer to also look at your mattresses, pillows, and sheets
All of these notices can be fully customized to your liking, from text to the call to action button.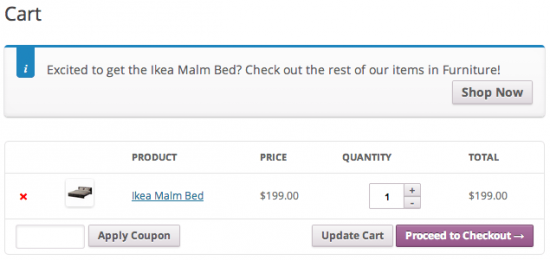 How it makes your checkout shine: These notices show that you have your customers' best interests at heart, whether that means reminding them about great deals or suggesting relevant products. A well-liked store is a profitable store!
Purchase the Cart Notices Extension
With WooCommerce, there's no limit to how much you can grow
It's all too easy to get stuck on the idea of one change to your store making a big impact — or, if you have a limited budget, feeling pressured to only spend your money on one tool or strategy.
But all of WooCommerce's affordable options for marketing and store optimization keep you from being restricted. There's no need to count on a single strategy. You can try several to see what works best for you and your customers.
We hope these extensions have given you some great ideas for sprouting some new customers! Have any questions for us about the suggestions we've made here? Leave a comment and let us know, we'd love to hear from you. 🙂