I know I don't have to tell you how important social media is to your success online.
It doesn't matter what kind of business you run; law firms, consultancies, and retailers alike have all found social media to be an invaluable tool for building brand awareness and creating a loyal follower base.
As an online store owner, it's imperative to have a social presence. But I'm not here to convince you of such. In fact, I'm confident that you know this already. Rather, what I question is whether your social campaign is as effective as it could be. Are you really knocking it out of the park, or could it use some work?
There's nothing like learning from the best to get your campaign up and running, right? Here are four brands who are absolutely killing it on social media right now. Check out what they've done and I dare you to tell me you didn't walk away inspired!

IKEA
Ah, IKEA. The Swedish furniture company is known for its modular, do-it-yourself pieces (and its Swedish meatballs) But on the social front, the company has a firm grasp on how to innovate and engage its audience (i.e. customers).
IKEA Norway has a healthy social following but it wanted to do something a little extra to get people talking about its catalogue. To do this, the company posted a message across its social profiles prompting people to take photos of their favorite products from its latest physical catalogue and post them on Instagram using specific hashtags – the company name and the item name.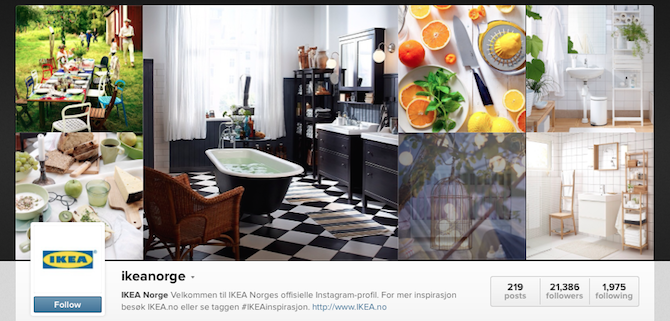 A few lucky participants won their favorite items for free. But the real win here was for IKEA Norway, who saw its entire catalogue end up on Instagram. Every single page had been documented by a different follower and it was dubbed "The Social Catalogue." All of this was done at virtually no cost to the company and it helped to expand awareness for individual products that might not have been featured in regular ads or campaigns.
In general, IKEA knows how to dominate social media as a whole. The company has separate profiles and pages for each country where it has stores. And the team works to engage followers by asking questions, posting photos and videos and soliciting discussion. It also makes excellent use of Pinterest, which is an absolute must in the retail market. If you have physical products, you need to be on Pinterest!
Sephora
This beauty retailer has a good track record of using social media to its advantage.
Sephora uses Instagram regularly to post product photos and photos of people wearing various makeup combinations. It posts to Vine with clever videos. Some are just product advertisements while others are a bit more inspired and show off quick beauty tips. That's pretty impressive for just six seconds of footage! Sephora has totally dominated Pinterest and is on Twitter and Facebook, too, of course.
But I think what's really setting this retailer apart is their gumption to create their very own social network. Yes, you read that correctly. Back in March, the company announced its exclusive social site, The Beauty Board. This social site features all the content from Sephora's other online communities including Beauty Talk, The Glossy, Sephora TV, and Sephora To Go.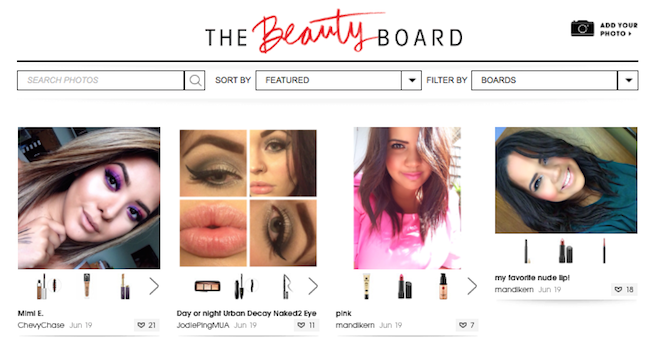 The Beauty Board is the ultimate in social shopping and allows users to upload their own photos of makeup looks they've created using Sephora products. Other users can then view these photos and are provided with a handy shopping list. With everything integrated into one place, shoppers can easily find new makeup looks (that they would've otherwise found on Pinterest or Instagram) and buy the products that make those looks possible with just a few clicks.
This is the perfect example of how social media can make people's lives easier. And if you're in retail, this should serve as some excellent inspiration. Before you start your next social campaign, think about what you can do to make your customers' lives a little more convenient. Sephora certainly has.
Lowe's
Lowe's is another example of a company doing social media right. The company always goes one step further to help its customers out, either through useful tips or sheer convenience.
First, I want to mention how Lowe's is really succeeding with its Pinterest strategy. What makes it really stand out is the fact that the boards don't constantly shill Lowe's products. Rather, the company offers inspiration boards that gives do-it-yourselfers ideas and jumping off points for new projects.
There's also a shared board that allows customers to pin projects they've completed using Lowe's products. There are numerous other boards on Lowe's Pinterest account that target the kind of customer who typically shops at the store. A recent example is a Father's Day board that features gift ideas.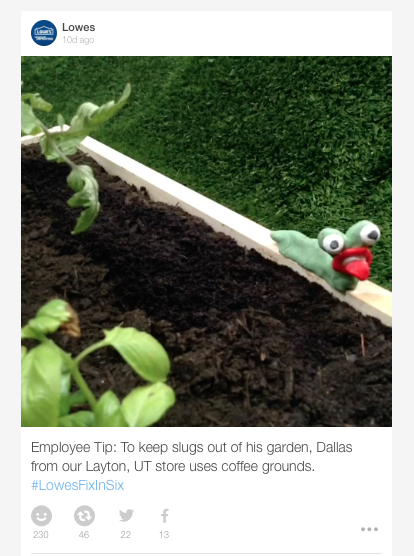 The company also makes great use of Vine with its #FixinSix campaign. They really use those six seconds to their fullest potential by creating inspired videos offering home improvement tips and tricks. They're often stop-motion animated, too, which gives them a nice, creative touch. And Lowe's Facebook strategy is really compelling as well. The company responds to just about every single comment people make. Talk about engagement!
Nespresso
Nespresso has stylish traditional advertising, which naturally translates to social media platforms.
You can find the company on all the major networks but a generic campaign is definitely not its style. For instance, you won't find the same content on Facebook as you would on Pinterest.
The company really shines on Instagram, where it routinely asks customers to share their photos and videos as they relate to the coffee brand under hashtags like #nespresso and #intensecoffee.
The company is also on Twitter where it tweets regular promos for products as well as engaging photos and questions. And on Facebook, Nespresso posts beautiful, branded photos that tell a story about the company. Plus, they respond to commenters promptly and try to engage people in discussion. And honestly, with over three million likes, that's not that hard to do.
Finally, the company is on Google+ and while engagement isn't through the roof, the coffee brand is definitely solid there with continued growth. What's particularly interesting is the community it has there called the Nespresso Gourmet Academy, where people can exchange ideas about how to create coffee-inspired treats. What I like about this is Nespresso's social media team isn't afraid to try new things and while many other big brands might be staying away from these communities (or Google+ altogether), they jumped right in with both feet.
Conclusion
The great thing about many of the social strategies these big brands use is that they don't necessarily require a large monetary investment. For instance, you can create quick and powerful videos to share on Instagram Video or Vine using your smartphone. And you can easily take nice photos of your products to pin on Pinterest yourself. The biggest investment you'll make is time, but given how well a stellar social media campaign can pay off, it's worth it.
Are you impressed by how these brands handle social media? What are some others you think really "get it"? I'd love to hear what you think in the comments.