Experience hassle-free dropshipping your way!
Dropship easily with AliExpress Dropshipping for WooCommerce plugin and benefit the instant import of products from AliExpress along with automated syncing of price and stock.
With more retailers switching to the dropshipping business model, you are not alone. Allowing you to sell items without having to stock them, dropshipping lets you sell products and pass on the sales order to a third party supplier, who ships the order to the end prospect.
Why dropship from AliExpress?
Dropshipping is a great way to run your business without having to worry about inventory and shipment. AliExpress company currently supports over 35,000 entrepreneurs from 120+ different countries. When talking about dropshipping, AliExpress is no less than a boon for SMEs who are running a lucrative online business and enjoying their ever-growing income. Dropshipping with AliExpress is also comparatively easy. AliExpress provides easy access to sell products, and for this, you don't even need to have a brick and mortar store for maintaining vast amounts of stocks. All that is required is to add the products from AliExpress to your store, set a price with markup, receive the order, pay the wholesale cost for that product, and AliExpress seller ships the order directly to your customer. The majority of drop shippers are using AliExpress to refill their stores and ship the products to their customers.
Benefits of Dropshipping with AliExpress:
Spend less Earn More: Dropshipping with AliExpress is 100 percent free. There's no upfront cost or fee, and it allows to test out products without a significant financial commitment. You can start dropshipping and add AliExpress products to your store in only a few clicks and start selling at a competitive price, making plenty of profit.
AliExpress Premium Shipping: One of the essential factors of eCommerce business is a shipment of products. With the AliExpress premium shipping ePacket delivery option, it takes only 7-14 days to reach the customers residing in the US, Canada, Australia, the United Kingdom, and multiple other countries.
Sell the most trending products on your store and stay ahead of Competitors: Trending products appear overnight on AliExpress. Using this extremely beneficial factor makes sure you are showcasing the products already in demand and hence uplifting the selling business.
Import products from AliExpress to your WooCommerce store using the Alixpress Dropshipping for WooCommerce plugin and leverage its automated features.
---
Key Features
Compatibility with chrome extension (Aliexpress Dropshipping Assistant For WooCommerce)
Save time by automating the process of importing products and other dropshipping services rather than spending hours in managing stores. Get the chrome extension here.
Features of chrome extension are:
Search Products on Aliexpress with keywords(like shoes, dress).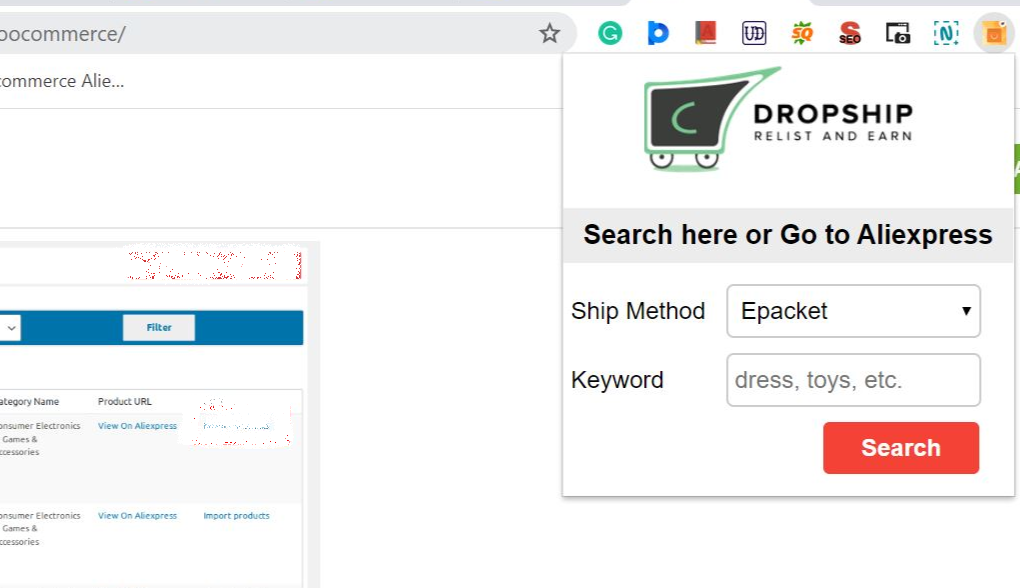 Import the products with a single click you would like to sell in your store.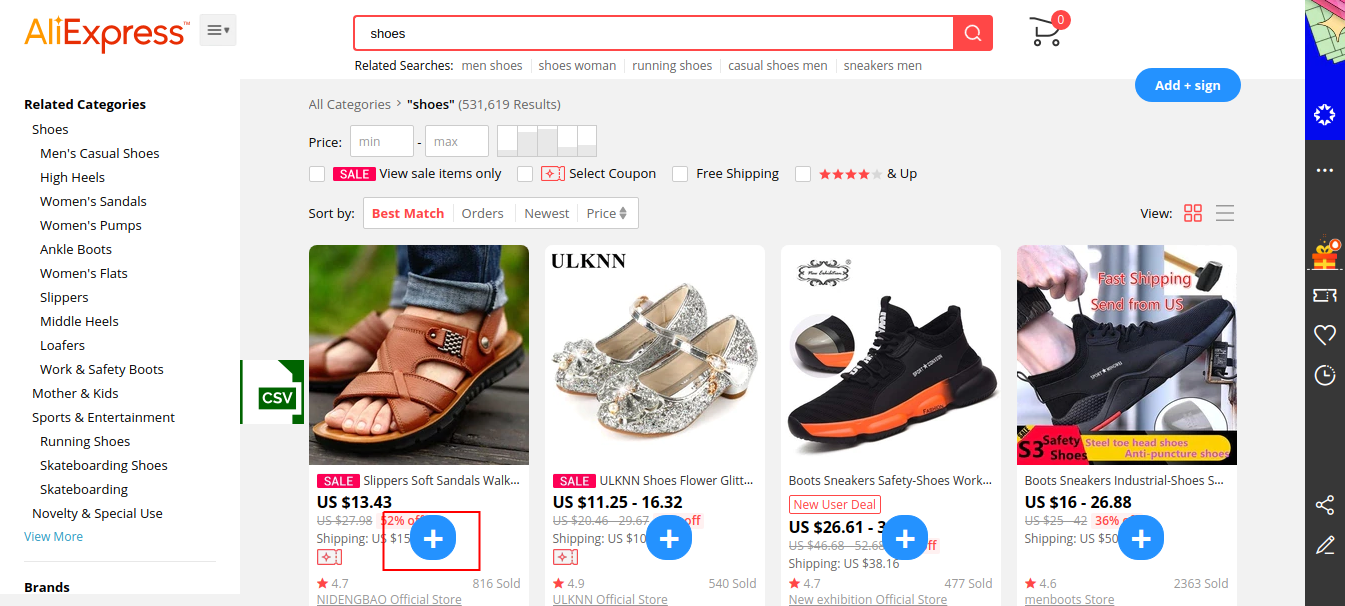 Export the product URLs in a CSV format.
Instant import of products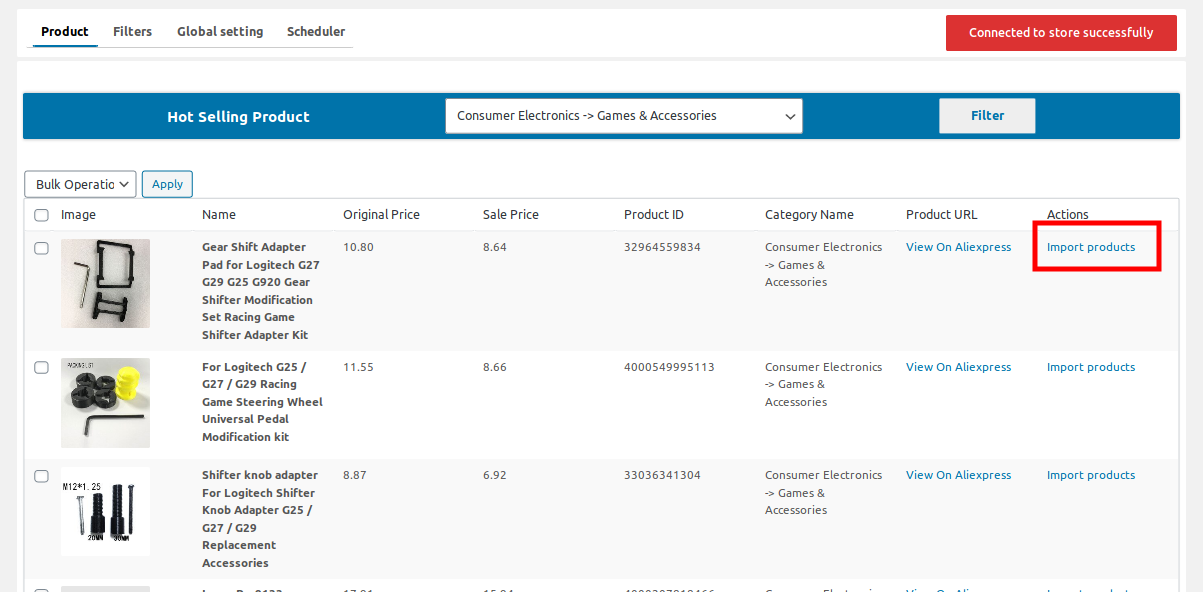 Quickly import products from AliExpress to your WooCommerce store in one click without having to visit AliExpress.com.
Import hot-selling products
Filter and import the hot-selling products right away from AliExpress to your WooCommerce store.
Bulk Import products
Import products from AliExpress in bulk based on different categories, keywords, or prices.
Automated Syncing

Automatically synchronize the prices and stocks of AliExpress in real-time.
products with your store in real-time.
Price Markup
Form markup rules and increase your profit margin by raising fixed prices or percentage markup.
Complete control of products visibility
Get full control of creating the imported products from Aliexpress by choosing any of the following states:
Publish – Products selected under this are reflected on your website.
Draft – Products under draft are visible only in the back-end of your store.
---
Benefits
Sell more and work less through AliExpress Dropshipping for WooCommerce, leverage the added benefit of:
24*7 FREE support
Reach our team of experts through – call, Skype, SMS, eMail, or any of your preferred mediums at any time of the day.
Dedicated Account Manager
After the successful purchase of the plugin, you get a dedicated account manager to guide you through each step right from installation, onboarding to complete the account setup.
Dropship easily with AliExpress Dropshipping for WooCommerce and pull products from Aliexpress in a go. Get started by simply installing the plugin and get rid of sending manual shipping details through your WooCommerce store by simply pushing customer details in one click.
WooCommerce
The most customizable eCommerce platform for building your online business.