Expand your business globally with Currency Switcher for WooCommerce – A multi-currency converter that displays prices in your customer's local currency.  
In the global context of eCommerce, you must ensure that you make your products available globally. Since many online stores are already catering to an international audience, why not give your customers the power to shop in their local currency?
What you need is a multi-currency converter extension that can instantly switch currencies on your WooCommerce website as per your customer's preference.
Currency Switcher for WooCommerce – a powerful extension that automatically updates currency exchange rates and shows your customer's their preferred currency anywhere on the website.
Currency Switcher for WooCommerce automatically detects the Geo-Location IP of your customer and the country from which they are browsing your store. When any page from your store loads, the extension displays all the prices in the home currency of the customer. 

The easy-to-use extension can be widgetized anywhere on the store from the shop and cart to the checkout page of your WooCommerce website. The extension uses live rates for currency conversion which gets updated at a predefined time or interval.
Expand your business to other countries & regions;
Removes the hassle of currency conversion;
Reduce Cart Abandonment, Refunds, Chargebacks;
Ensure pricing display consistency across your store;
Change currency automatically using customer's GEOIP;
Help customers avoid extra fee charges on their credit card statements.
Target international customers all over the world and increase your global sales with the most powerful currency switcher for WooCommerce.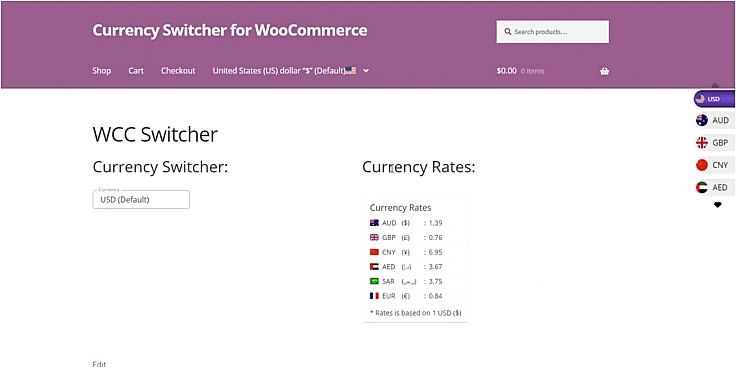 Currency Switcher for WooCommerce Features
Auto-Currency Converter Options
Add and display unlimited currencies;
Auto-detect the customer's country and switch currencies;
Convert product shipping, discounts, taxes, and other prices;
Allow or hide payment gateway(s) for a specific currency;
Allow currency to change after initiating checkout;
Allow or deny checkout in the user's selected currency;

Allow currency conversion on billing;

Set maximum and minimum amount spent restrictions for coupons;

Enable/disable fixed amount option for coupons.
Currency Display Options
Display the default currency flag on the front-end;

Display Currency by languages;

Display country flags as currency symbols;
Display currencies as country names or flags;
Switch between displaying the currency's symbol and ISO code;
Add a prefix before the currency symbol;
Add and display country flags in the currency selection box;
Currency Conversion Rates
Allow exchange rates to update automatically via Open Exchange Rates API;
Exchange rates are updated on predefined intervals;
Manually set fixed exchange rates relative to the default currency;
Receive emails every time a currency rate is changed;
Zone Pricing Options
Create and manage multiple pricing zones; 

Currency conversion based on zone pricing by location;

Zone pricing on simple and variable products;
Currency Switcher Widget Customization Options
Add widget on the shop, cart, and checkout pages;
Display widget on the website's sidebar;
Display on any post, page, or custom post with shortcode;
Four attractive currency switcher styling options;
Compatibility & Integrations
Compatible with All Product Subscription Plugin;
Compatible with Wholesale for WooCommerce;
Compatible with Donation for WooCommerce;
Compatible with Google Product Feed;
Compatible with WooCommerce Bookings;
Compatible with All Product Subscription plugin;
Compatible with WooCommerce Subscription;
Compatible with WPML Pro version and WooCommerce Multilingual plugins.
---

Why Use Currency Switcher for WooCommerce
Auto-Currency Converter Options
Currency Display Options
Currency Conversion Rates
Exchange rate control



Set currency exchange rates manually or allow the Open Exchange Rates API to automatically update  rates at selected time intervals.

Fixed exchange rate



Manually set fixed exchange rates relative to your WooCommerce store's default currency.
Currency Switcher Widget Customization Options
---
Compatibility & Integrations

Donation For WooCommerce is a powerful WooCommerce extension that gives you the ability to create fundraising campaigns without charging any transaction fees.

With WooCommerce Subscriptions, you can create and manage products with recurring payments — payments that will give you residual revenue you can track and count on.

WooCommerce Bookings lets your customers book reservations, appointments, or rentals on their own – no phone calls required. Save yourself time and fill up your calendar by letting your site do the work for you.

The Google Product Feed extension allows you to create a real-time feed to supply product information to Google Merchant Center, a prerequisite for setting up Product Ads.

Wholesale for WooCommerce is the army swiss knife of wholesale extensions that helps WooCommerce stores create and manage wholesale pricing plans across multiple levels – Simple, Easy & Effective.
All Products for WooCommerce Subscriptions is an add-on extension for WooCommerce Subscriptions that lets you add subscription plans to your existing products.
---
How to Get Started
Buy Currency Switcher for WooCommerce.
Download and install the extension. You can find the installation guide here.
Activate, set up, and configure the extension.
Read the technical documentation to help you walk through the process of setting up multiple currencies, currency checkout options, and more.
WooCommerce
The most customizable eCommerce platform for building your online business.