RECOMMEND FREQUENTLY PURCHASED PRODUCTS TO DRIVE SALES
The Frequently Bought Together for WooCommerce extension allows WooCommerce stores to show frequently bought together recommendations of related or recommended products. WooCommerce store owners can make use of this strategy for amplified purchases to boost eCommerce sales.
Why Should You Use This Plugin?
Frequently Bought Together for WooCommerce helps improve sales and increase profits using cross-selling strategies. If you want to increase your eCommerce sales by recommending the best-related products and save your clients time, Frequently Bought Together for WooCommerce is your best pick. Add the Frequently Bought Together for WooCommerce extension and improve the upsell features of your online store. Prompt customers to buy together the WooCommerce recommended products/related products. Frequently purchased products options often urge the users to add them into their cart.
Want to know how Frequently Bought Together for WooCommerce functions? Visit the live demo to learn how this plugin works.
Benefits of Using Frequently Bought Together for WooCommerce 
1. Boost Sales: Boost eCommerce sales by recommending frequently bought together products. Compile simple and variable-related product bundles and implement cross-selling strategies.
2. Save Time: Your customers save time lost in selecting various frequently bought products.  Frequently Bought Together for WooCommerce allows users to add WooCommerce automatic related products in one click. 
3. Engage Shoppers and Reduce Their Workload: When you enable the option of buying recommended products together, customers engage with other related products and may buy more than they planned. Customers often appreciate discounts when they buy additional products. You can offer them percentage or flat-rate discounts when they buy products together.
4. Promote Your Products: While preparing product bundles, you can increase sales of slow-moving inventory by offering bought-together percentage discounts. You can also create personalized product recommendations for users.
Features
1. Unlimited bought-together product selections
The admin can add and show unlimited related products in the frequently bought together option for users—display unlimited product listing for the user. Hence, create as many product recommendations as you like.
2. Customize frequently bought labels and Add-To-Cart button titles
Admin can replace the 'Frequently Bought Together' title and add a customized text instead. For instance, bundle offers, etc. Similarly, the admin can also change the 'Add-to-Cart' button text and color that is visible for the product recommendations.  

3. Alter frequently bought section layouts and positions
Admins can alter and show the frequently bought section with a related product list and details in a row or column on the frontend. Checkboxes in table form can make it easier for users to add products to their carts directly.
4. Add additional text for buy-together products
With Frequently Bought Together for WooCommerce, admins can include additional text above the related products list. The text can include a brief description of the product or any information you want to display about the products bought together.
5. Set discounts on recommended products bought together
The Frequently Bought Together For WooCommerce plugin enables the admin to set a percentage discount or a flat discount for every product added or selected by the user from the frequently bought together section. That is to say, levy fixed or percentage discounts if the user buys together with your product recommendations.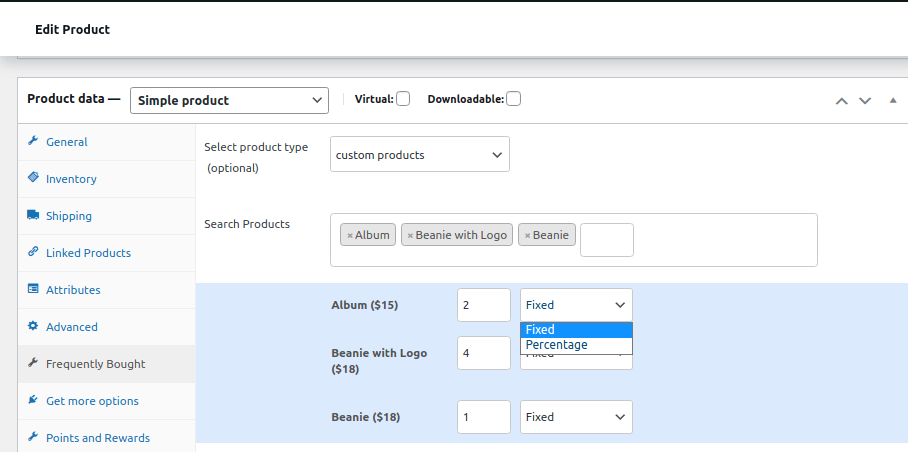 6. Customize frequently bought product appearance
Frequently Bought Together for WooCommerce provides settings to change the product visibility, image size, and price. Admins can display or hide any of the product attributes he wants through checkboxes for users to buy together.
7. Enable frequently bought together product recommendations
With the 'you may also like' plugin, the admin can enable the frequently bought together feature on his WooCommerce store. Add both simple products and variable products in the frequently bought together product bundle. So, any product type can appear as a product recommendation.
8. Final selection checkbox of buy together section
Admins have settings for providing options for the final selection of products via checkboxes to the user. After adding all the related products, this setting will allow users to make a final choice of products and either adds them to the cart or remove them from the bundle.
9. Check or uncheck frequently bought together products by default
Admins can decide whether the default action on frequently bought product checkboxes is checked or unchecked. Users can later add products to the cart by checking or unchecking the boxes according to the default settings.
10. Change the position of the Frequently Bought Together option section
In the Frequently Bought Together for WooCommerce plugin, settings provide for admins to decide where they want to display the frequently bought products section.
11. Randomly Products Display On Shop Page
The admin can allow random product display of the selected product bundle on every refresh of frequently bought products on a single page. This will show different products often purchased for that shop page every time the user refreshes the page. Users can buy together these product recommendations.

12. Separate Table of Custom Linked Products
This frequently bought plugin shows a product table in the setting with a list of all custom-linked products that are available as frequently bought together on your WooCommerce store. The admin can delete any particular product from the linked products section or the frequently bought product bundles entirely.
13. Upsell & Cross-Sell Through Product Recommendations
The admin can successfully upsell and cross-sell their WooCommerce store through this product recommendation plugin. Use our frequently purchased together plugin as a sale booster. The admin can add their preference to upsell or cross-sell through the often-bought-together product section.
For More Information:
Visit the Frequently Bought Together for WooCommerce Documentation to learn more about the features and working of the plugin. If you need support or have questions, kindly submit your query.