Product Tables for WooCommerce
Developed by Codup.io

If you want to display your products in a simple and intuitive table layout, Product Tables for WooCommerce is the plugin you need. 

The WooCommerce Product Table plugin allows you to list your products in a searchable, sortable, and filterable table layout – without any coding required. Plus, you get full control over what's displayed in the table by picking and choosing options in the settings panel. 

WooCommerce product tables give a birds-eye-view of what your store has to offer and make it easy for customers to find what they need.
They are hugely popular on B2B wholesale stores, audio stores, restaurants, book stores, and any store where it makes sense to list multiple products on a single page instead of listing the products on individual product pages. They are also popular for displaying price lists and for large product catalogues. 
WooCommerce Product Table plugin allows you to insert a product table on any page and any location of your choice using a simple shortcode. Configure options in the settings panel and customize the kind of table you want – that's it. You are ready to go and display your products in a way that removes a lot of hoops from the buyer's journey through your website. 
Key Features of Product Tables for WooCommerce Plugin
Filter by Categories
Filtering by categories and price makes it even easier and faster for store owners to match their customers with the kind of product they need. 
Fast Searching and Filtering
Ajax search allows quick and convenient searching, filtering and sorting. Your customers get an experience they'll be thankful for.

Display the Data You Want
WooCommerce Product Table plugin gives you full control over the product data you want to display. Want to remove images from your products? Or increase the size of images? You can customize your table in tons of different ways. 
Streamline the Order Process
No need to visit separate product pages – display all necessary data on the table and streamline the buying process with checkboxes and Add to Cart buttons.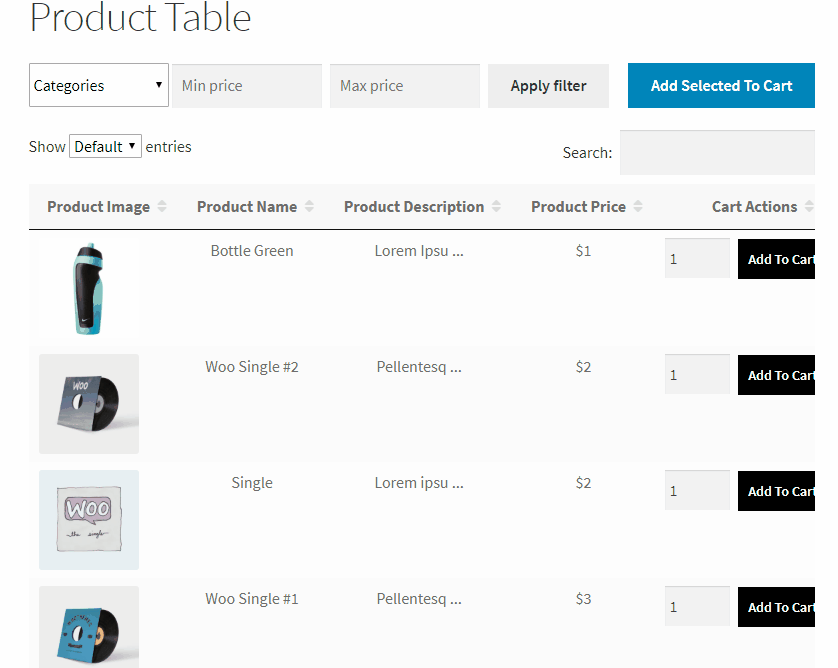 Display Product Variations
Variations of products can be displayed by having drop down menus, allowing customers to choose different variations right from the table. 
Easy Shortcode Generator
With a simple shortcode, you can deploy the product table anywhere on the website on any location of your choice. No coding required. 
Sort and Organize Products Effectively
Sorting options on the backend allows store owners to organize and display their products in the manner they want.