WooCommerce Gateway Rabo Omnikassa
Developed by Paytium
Rabo OmniKassa: easily add iDEAL and international payment methods to your WooCommerce store
Rabo OmniKassa is a payment service by the Rabobank that allows you to accept the most important Dutch and international payment methods in your WooCommerce store. If you own or build a Dutch webshop you will enjoy a reliable and affortable payment service that includes a wide range of payment methods, all via one single contract with one of the most respected banks in the Netherlands.
This plugin only supports Rabo OmniKassa 1.0, and not 2.0!

This plugin for Rabo OmniKassa is developed according to the WooCommerce plugin guidelines and creates a tight integration between your WooCommerce store and Rabo OmniKassa.
iDEAL and international payment methods
The WooCommerce Rabo OmniKassa plugin adds the most important payment methods for Dutch webshops to WooCommerce: iDEAL, Mastercard, VISA, Maestro, V PAY, MiniTix and others.

Benefits of WooCommerce & Rabo OmniKassa
Accept all the payment methods your store needs with one contract
Safe and reliable, security maintained and provided by the Rabobank
Low costs: iDEAL is 35 cents per transaction, MisterCash just 1.5% per transaction
Fast access to your money, in your bank account within two days
Easily process refunds via the Rabo OmniKassa dashboard
With just one click easily export all transaction data for your bookkeeping
Automatic order status updates in WooCommerce, even when the customer closes the page too soon
No signup costs to get started with Rabo OmniKassa
One Rabo OmniKassa account can be used for multiple WooCommerce webshops
A solid WooCommerce integration
This Rabo OmniKassa integration for WooCommerce is easy to install via the WordPress plugin manager. No knowlegde of FTP, PHP or MySQL is needed to get Rabo OmniKassa running in WooCommerce.
The Rabo OmniKassa account details can be added to an easy to understand settings page. The settings page is one of the examples of the close integration with WooCommerce. All options are also explained in the manual of WooCommerce Rabo OmniKassa.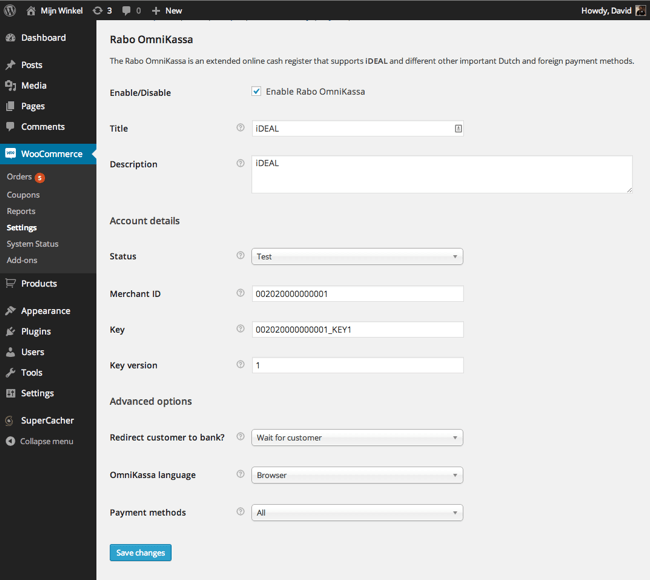 The plugin is pro-actively developed and tested with the latest updates of WordPress, WooCommerce and the Rabo OmniKassa system. The WooCommerce Rabo OmniKassa plugin allows you to always have working payments in WooCommerce.
How payments via Rabo OmniKassa work
During checkout your customers select the payment method created by this Rabo OmniKassa plugin. This payment method is configurable, meaning that you can change the name and description in the WooCommerce checkout.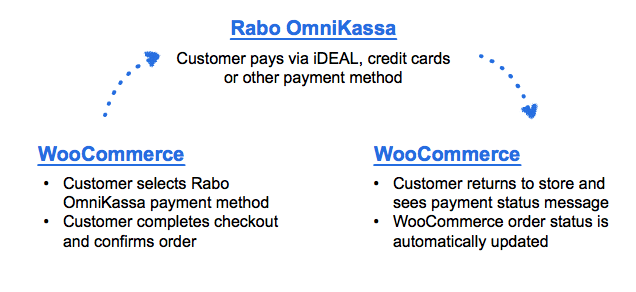 After confirming the order in WooCommerce, the customer is redirect to the Rabo OmniKassa website. There, the customer can pay the order via one of the supported payment methods (iDEAL, credit cards etc.). After payment, the customer is redirected from Rabo OmniKassa back to your WooCommerce store and will see a "payment successful" message and their order details. The status of the payment is communicated back to your WooCommerce store, even if the customer closes the browser too early!
How to get started with Rabo OmniKassa today
You need a business bank account (Dutch: zakelijke rekening) with the Rabobank to be able to apply for a Rabo OmniKassa account. After you applied for Rabo OmniKassa at the Rabobank and received your Rabo OmniKassa account details, you can get the integration running in minutes.
This process is explained in more detail in our manual. Below is a quick overview of the steps.
Buy the WooCommerce Rabo OmniKassa plugin
Download and install the plugin in your store
Get the Rabo OmniKassa account details (mailed to you by the Rabobank)
Do a few test payments to make sure everything is running
Change your Rabo OmniKassa status to "production"
Start accepting real payments from your customers!