Quite a few factors go into a shopper's decision to buy one of your products. They'll want to know if it meets their needs, they'll check to see if it's reasonably priced, they'll take a look at reviews… you get the idea.
For some products, potential customers consider much more than needs, price, and social proof. They also look for things like ease of assembly, long-term usability, and creative potential.
How can you convey these factors to shoppers? Sure, you could add more details to your copywriting or bullet points. But sometimes the best way to show what your products are capable of is by adding helpful, explanatory resources that can be viewed or downloaded.
Today, we're going to show you how to create product resources that will make your visitors more motivated to buy from you. Interested? Let's get started.
Why and when you might need resources for your products
Not every product page is going to need resources. If you sell self-explanatory items like coffee mugs or T-shirts, offering downloadable PDFs or linking to guides might be more distracting than helpful.
But if you sell items that are a bit more complex, like furniture that requires assembly, or wall decor that has multiple possible configurations, or even makeup that takes a while to apply… then you're on the right path.
Resources can help customers get past the learning curve and feel more confident about how they're using your products. And for potential buyers, resources can set their decision to buy in stone, and give them more trust in your product and how it can help them.
You might need resources like PDFs, instruction manuals, guides, or videos if any or all of your products:
Have a multi-step assembly process
Have complex instructions for proper use
Have a large amount of FAQs anticipated or built up over time
Can successfully be used in many different ways, but perhaps only with guidance (like basic furniture, wall decor, or even some makeup)
Don't photograph well, but are easily understood in video or guides
If these criteria apply to any of the items sold in your store, let's move on and have a look at how you can produce resources that your visitors will find useful.
First step: consider what you already include — or want to include — with your products
One of the easiest ways to figure out what resources you can (or should) create for your product pages is to look at what you're already including in your product shipments or downloads.
Do your hand tools ship with a manual? There's a resource. Have you created a how-to guide to installing your computer components? That's a resource. Any other documents added to your boxes or already on your store can be resources, too.
Another thing to think about: the guides or documents you've had on your "I should make those" wishlist for a while. If there's anything you think you should be including in your shipments or with instant downloads, create downloadable versions to add to your product pages, too.
Depending on your situation, you might not need to create anything new at all — just get it on your store where everyone can see it, not just paying customers.
Think about any extra information that could help boost sales
If you don't already have resources created, or any on your wishlist, it's okay to start from scratch. To begin with, sit down and think about any information you could offer shoppers that might increase their interest in your products.
Usually, you're going to be looking for resources that can help potential customers overcome fears, objections, or concerns. So think about:
How you can make complicated processes (like assembly) seem simple, perhaps with a detailed guide
Explaining how something is used, applied, operated, stored, etc.
Showing proof that a product works, is better than another solution, or is a smarter choice than a similar product
You can even think back to questions your store's visitors may have asked — these can give you some great clues into the kinds of resources that could help them feel more confident about making a purchase.
Consider changing the way a shopper views a product
Some of your products might have the potential to be used in multiple ways. Wallpaper, for example, is most likely to be placed on walls… but it can also be used to line cabinets or bookshelves, within frames as wall art, or even as wrapping or scrapbooking paper.
Your shoppers won't always think of these potential uses on their own, though. So the resources you add might help them open their eyes to other possibilities, and make a purchase even more likely.
Wallpaper is just one example of this. You might even find another with building blocks or some similar childrens' toys. A kit might contain instructions for building one thing… but show shoppers how they can build multiple things, and suddenly their perception goes from "one time use" to "hours of fun."
With this in mind, if any of your products have multi-use (like block kits) or project potential (along the lines of wallpaper), you might find it beneficial to create downloadable, printable, or even video resources showing how to get more out of a single item.
If a shopper can see a product's expanded potential right away, it might make their buying decision that much easier. And it might even encourage additional projects or fun uses, which you can then use as case studies or highlight for future customers to be inspired by!
Design documents that are simple, clean, and easily accessible
Now that you have an idea of the kinds of resources you can benefit from adding to your store, here are some tips you can use when you're creating those resources:
Make sure the documents you add are easy to access, whether you intend them to be downloaded, viewed on the page, or even viewed offsite (ex. YouTube videos). Shoppers shouldn't have to register or jump through hoops to get them.
Ideally, you'll have branded resources that match your store's colors, have your logo, etc. That way, if a customer saves one and wants to know where they got it later — perhaps to make another purchase — they can find you again easily.
If possible, work with a designer to ensure your creations are simple, clean, and visually attractive. Even your product manuals should look nice.
Don't have a designer? You can always create PDFs via PowerPoint or Keynote, using the built-in themes each application contains.
You can use online design resources like Canva to create images, charts, or other single-page items on your own in just a few minutes.
Have existing blog posts, links, or other relevant resources? Link to them, too
Finally, don't forget about any non-downloadable resources you might have already created. By this we mean blog posts about your products, links to informative posts on other sites about something you sell, or maybe even tutorial videos you've produced that happen to include multiple items.
You can mark these items as a resource if you like, or if it makes more sense to you, simply add them as a link from your item's description. For example, something like "see how one customer used this product!" with a link to a blog post would do just fine (though we'd suggest giving that copy just a bit more finesse).
On the flip side, if you blog about a project with one of your products, create a video that includes multiple items, or create a resource that lives elsewhere on your site, make sure it links back to the products included within. You never know if a visitor might land on that page first, after all.
There's a great example of how this might happen in this eCommerce study from Smashing Magazine, which we've cited in the past. IKEA was showing coordinating products in their online catalog without links, causing massive frustration and eventual abandonment:
"Nooo… Arrgghhh, it only added the sofa. I would like to get the sofa table," he said, hovering over and right-clicking the table in the image. He laughed in despair as he continued, "I want this. What do I do? I want this one [pointing at the table]." […] After searching for the table, the subject ended up abandoning the website.
Lesson learned here: it's wonderful to suggest how shoppers could style their rooms or houses with your products, and kind of you to give them a catalog to browse online, but don't make them search for everything!
How to add resources to your product pages
Now that you have some ideas for helpful product resources, it's time to get them in place. There are two approaches you can take to adding them to your product pages: an extension or a manual link.
If you're using WooCommerce, the Product Documents extension is everything you need to seamlessly add downloadable documents to any product page. The extension adds a new "Product Documents" tab that can be populated in just a few moments, and multiple items can be added to any given page.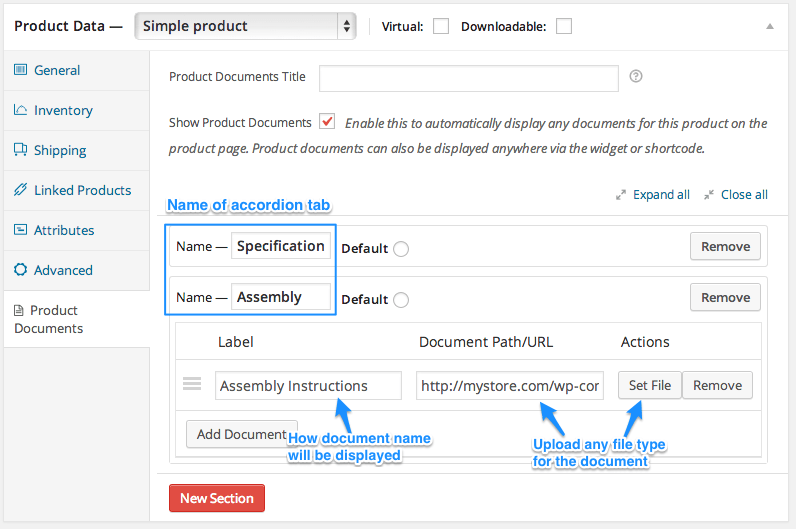 Not using WooCommerce, or wanting to avoid installing another extension? Adding resources is as simple as uploading the files to a folder on your FTP and linking to them with a little HTML added to your product descriptions.
Give your shoppers the resources they need to buy from you with confidence
Adding resources to your product pages can give your shoppers instant trust and confidence in your store and the items you sell. Whether you choose to add manuals, guides, or creative resources like decorating or style ideas, your customers are sure to appreciate you going the extra mile.
Have any questions about creating or adding downloadable resources to your online store? Or any ideas of your own to share? We're always listening — you're more than welcome to add your comments below.