What does your store's homepage say about you?
From the very first moment a visitor sets eyes on that page, they're developing an impression of you, your products, and your company. They're deciding, often in just a few seconds, if you can meet their needs… or if they would be better off spending their time looking elsewhere.
There's no perfect way for a store's homepage to say "we have what you are looking for." Rather, stores should aim to customize their experience based on what works for the customers shopping in their industry. This can lead to a much better experience for everyone — shoppers and store owner alike.
Let's explore why it's worth taking your industry into consideration when you're adding or customizing elements on your store's homepage, and look at a few popular types of stores to see what they've done to speak specifically to their customers.
Why your industry (and its customers) should influence your store's homepage design
As we mentioned, there's no one way for every single store to convince potential customers to make a purchase. If there was, a lot of marketing companies would be out of business. 😉
The needs of a customer shopping at a clothing store are vastly different than those of one shopping at a food store. These shoppers likely have different levels of urgency, budgets, and tastes. Even the same person's preferences can drastically vary based on what they're shopping for.
This drastic difference in preferences and needs should flow all the way through to the design of the very first thing potential customers see: your homepage. A shopper who needs food urgently won't respond well to a homepage designed for products that ship slowly. And someone looking for luxury goods will surely shy away from a store that looks cheap.
In short: your store's homepage should reflect the industry that you're operating in, and it can do that in a few different ways. Let's explore what we mean with a few examples that you might be able to apply to your own store.
Fashion-focused stores: do small things to build long-term relationships
Fashion stores are among the most popular industries powered by WooCommerce. From makeup to clothes to clever accessories, we've seen it all — and have learned quite a bit from them.
As far as fashion as an industry is concerned, these stores are largely concerned with building long-term relationships with their customers. They don't want a shopper to buy a single pair of pants and never come back again. Their intent is to produce products that have the effect of bringing that customer back for all of their pants, transforming them from a casual customer into a brand loyalist.
Building these long-term relationships starts with a few small steps, and the average fashion store's homepage should absolutely play a part in them. Use your homepage to build or improve brand loyalty by:
Adding photos of your products in use, so that shoppers have appropriate and accurate expectations
Highlighting social proof like Instagram photos or tweets, which helps establish your brand's legitimacy while showing what your products look like on "real people"
Clearly linking to your return and exchange policies, which helps new customers feel better about buying items without trying them on (especially if your policies are great!)
Showing plenty of new items so that the customers who are repeat buyers know what's fresh for them (and won't get tired of seeing the same thing over and over!)
Popular makeup brand ColourPop focuses on the customer happiness and how-it-really-looks side of things with their homepage, thanks to a prominent and constantly updating slider of Instagram photos:
This same "as it really looks" idea can also be seen on the Qüero Handmade Shoes homepage, where one of the large, full-background sliders clearly displays a pair of Spanish artisanal heels on the feet of a real person.
In summary: a fashion store's homepage should help shoppers see how your products will look on them, not just hanging in their closet or sitting on a bathroom shelf. This is a crucial step in building that long-lasting relationship you need to gain lifelong customers.
If electronics are on your radar, highlight what's new or most desirable
Consumer electronics stores appeal mostly to shoppers who are looking for the latest gadget or the hottest piece of tech. In short: their audience is people who want what's new, and they want it now.
While other industries might take a more leisurely approach to their homepage design, building up the story of their brand or differentiating themselves from their competitors, this is time mostly wasted for electronics stores. Get right to the point with your consumer electronics design, highlighting the most popular products right from the homepage.
You can see this on the Duracell Lighting store from the very first second of your visit. The cost savings of LED lights are a popular topic right now, and so their line of LED outdoor lights is highlighted in a big way: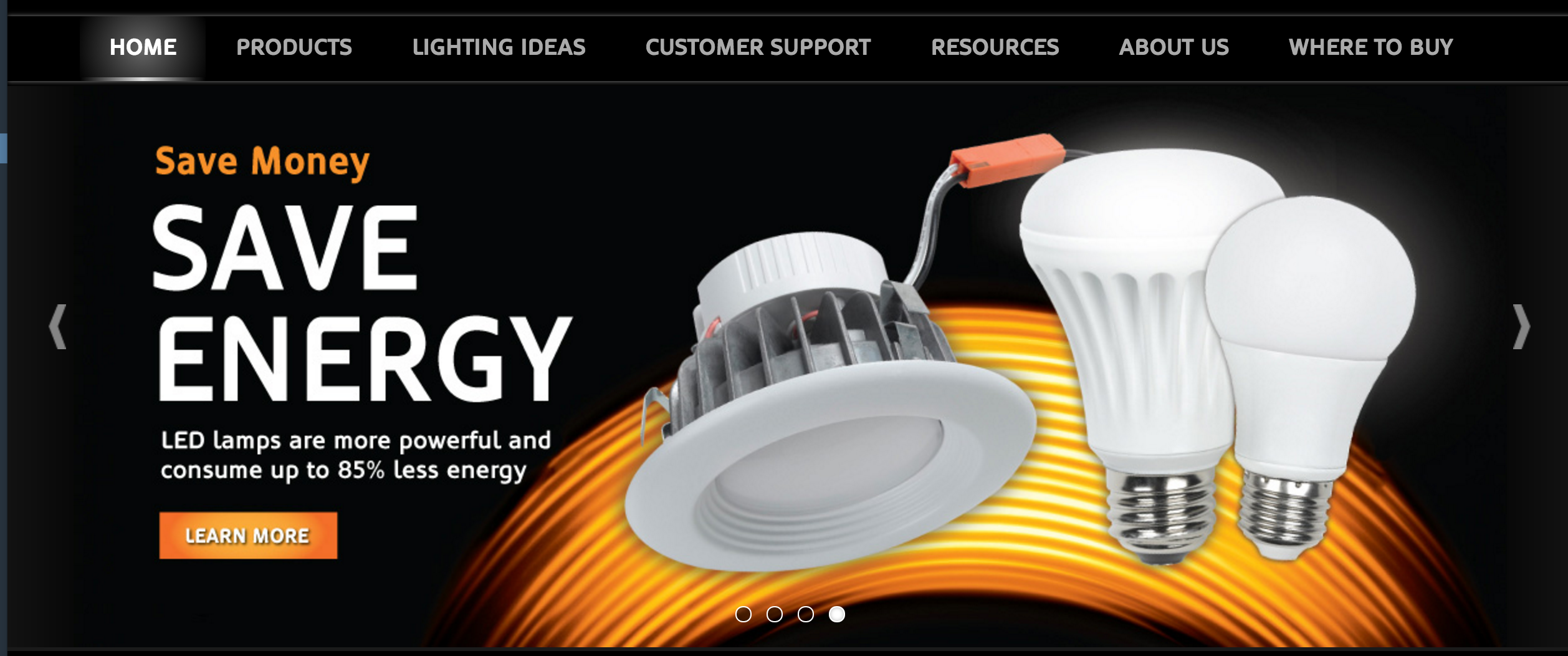 Meanwhile, Australian electronics seller iwaveit uses quite a few homepage sliders to show off what's new and on sale in tech, plus a dedicated space below for individual product listings with detailed pricing and information.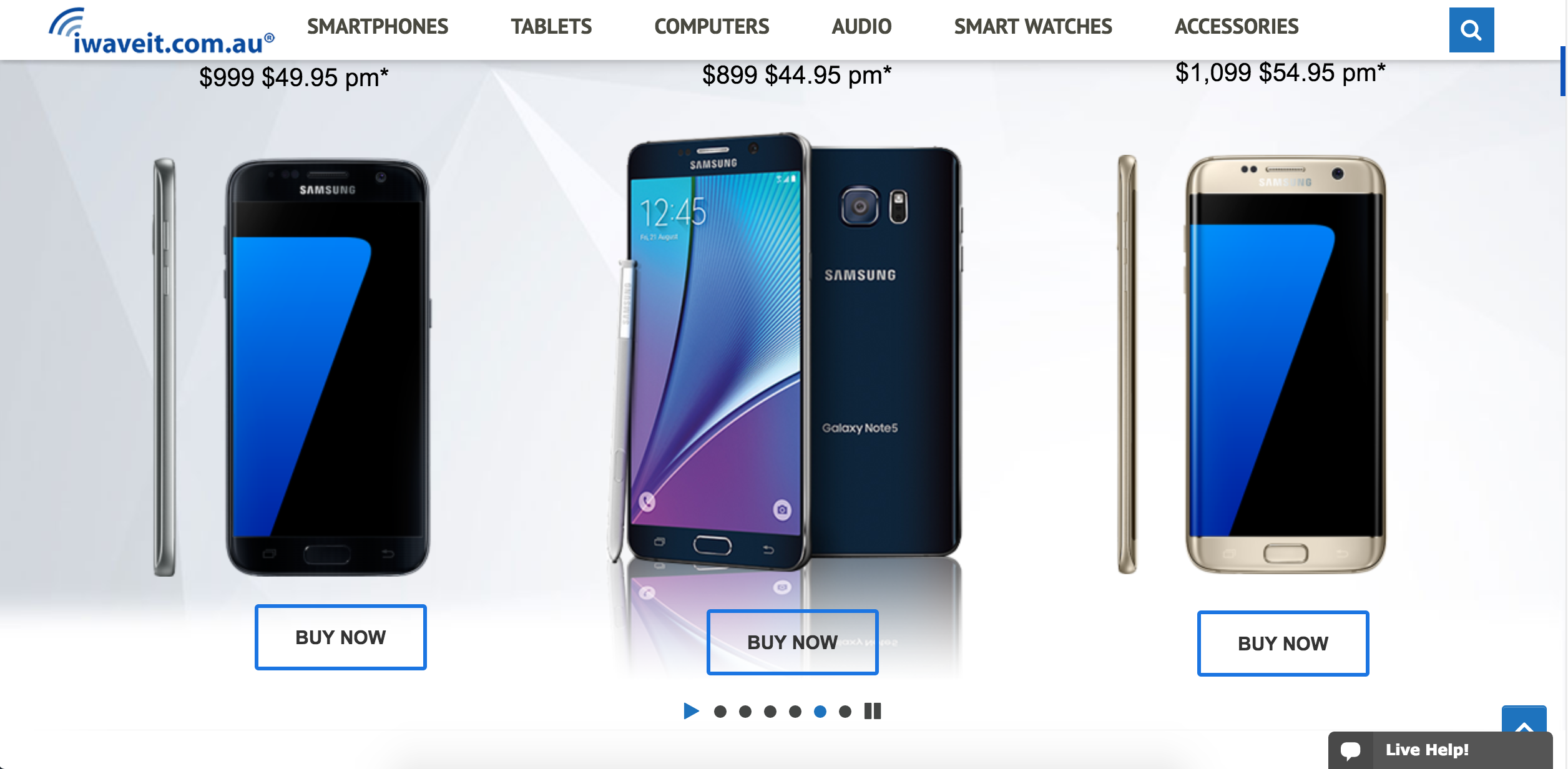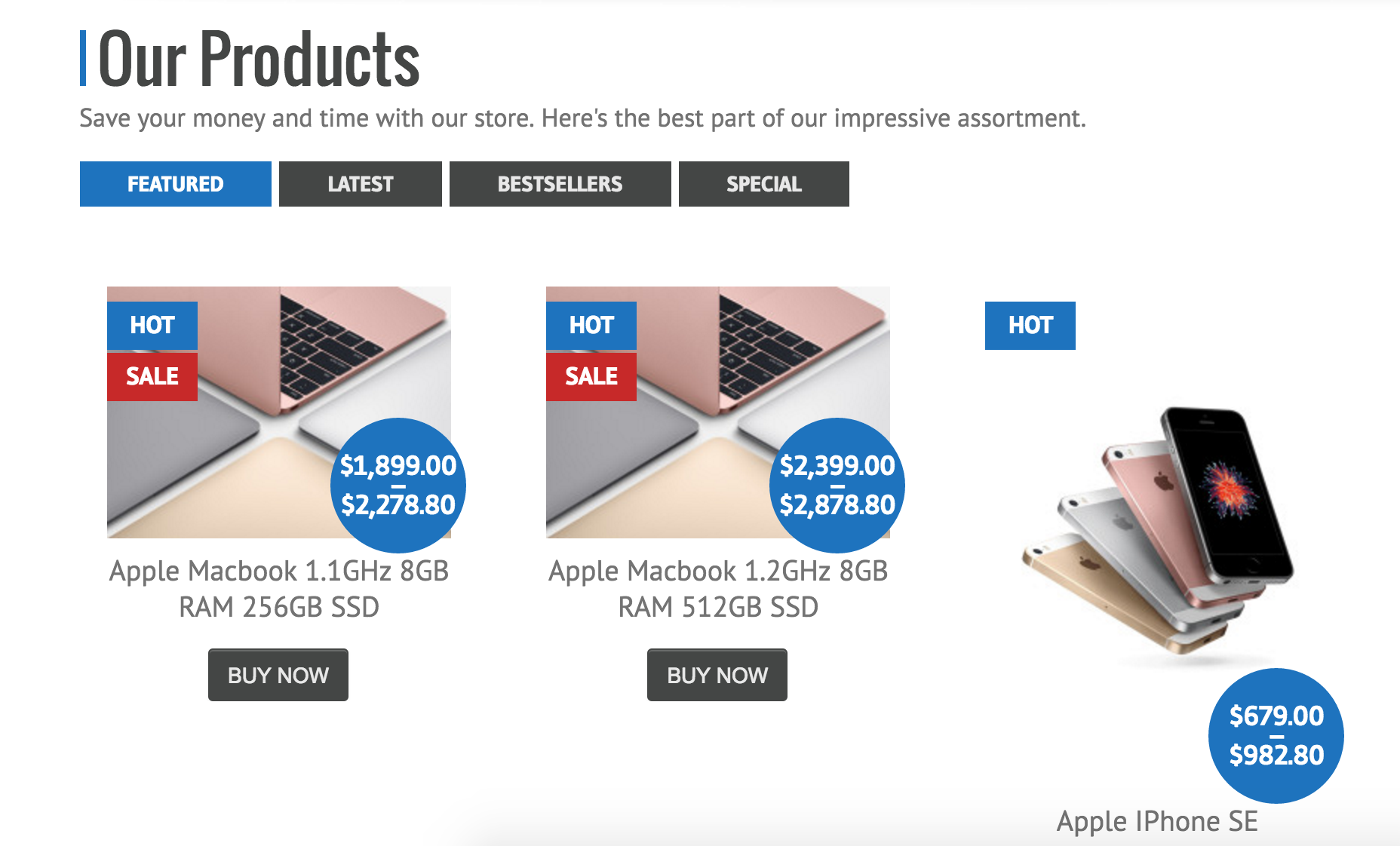 Some consumer electronics brands might only sell one or two items, and so there will never be a "what's new," just a "what we have." This isn't a problem, but it means you'll need your messaging to focus more on long-term benefits, whereas other stores can get away with simply saying "we have what's popular now!"
A great example of this change in messaging can be seen on the Rotimatic bread maker store: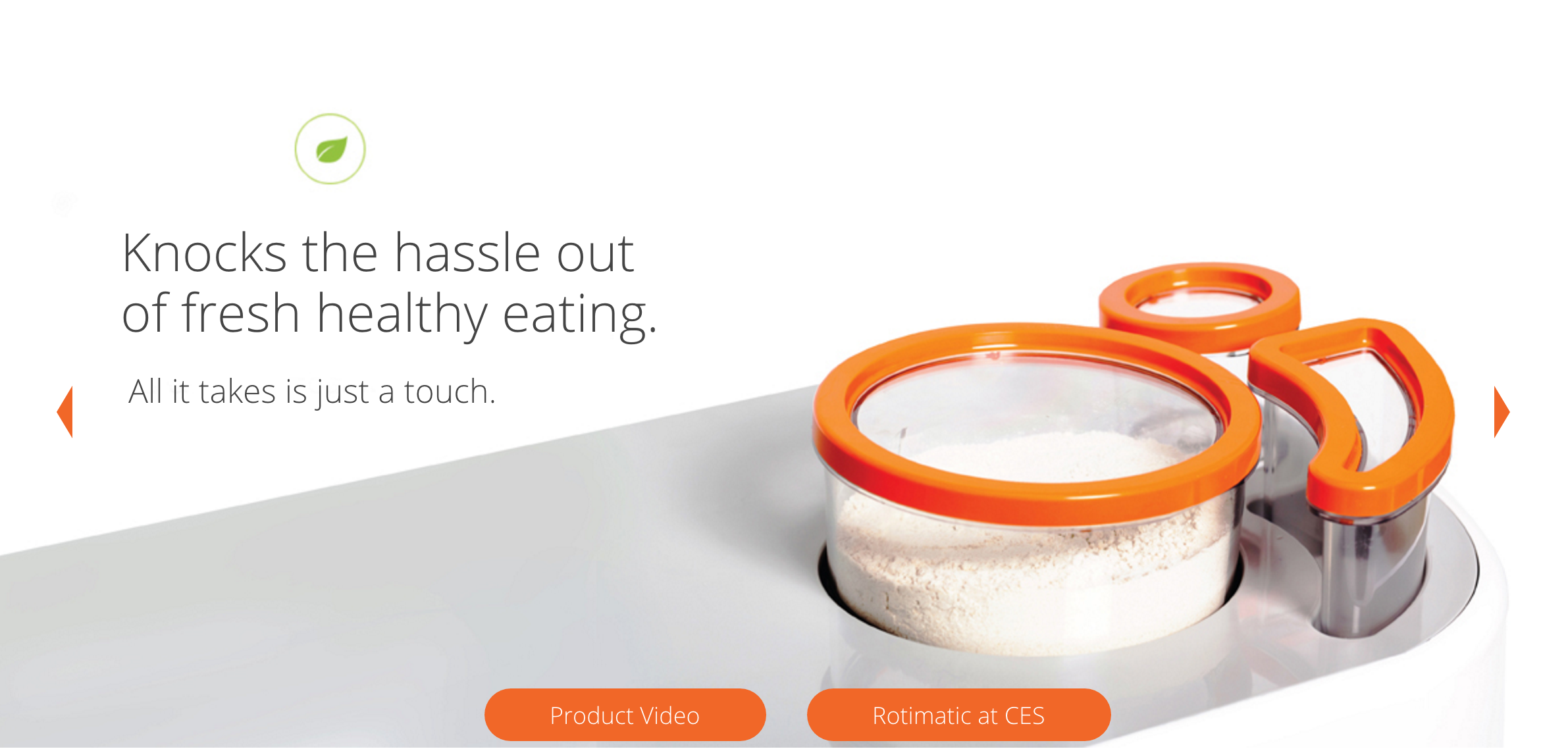 The gist of it is this: consumers looking for electronics are most likely to consider the products and how they fit their lifestyle, whether that's now or long-term. Make priority on your homepage for this messaging and you're more likely to see higher sales.
Offering home goods or decor? Put your messaging front and center
A little while ago, we talked about the importance of finding a niche for your online store. Most stores selling home-related goods of some kind have already found this niche — perhaps they specialize in a specific kind of decor, or carry their own brand of luxury furniture.
With this niche in place, you should have messaging on a home goods or decor homepage that makes your specialty crystal clear. This might mean:
Adding a single, ever-present "mission statement" near the top of your homepage's design; since you might not yet have brand name recognition, this explains both the niche you operate in and what you aim to do (save shoppers money, etc.)
Using photos and/or products that support this statement — for example, if you specialize in affordable wall decor, you should have photos of items or links to actual (affordable!) product pages directly beneath
When you visit the All Square store, you know immediately what their niche is, because they tell you:
Another niche store, Calico Wallpaper, uses photos of their wallpaper in various stages of action to link to destinations from their homepage. It's a bit of a two birds, one stone type setup: get the right information in front of your customers, and also show off what you sell and how it's different.
To sum it all up: decor and home goods stores should make their niche or mission clear immediately, which can help shoppers know exactly what they'll find or if they're even in the right place to begin with. This helps set realistic expectations and distance you from other stores that might otherwise seem similar.
Food or drink stores: tell a story from the very first page
Almost anyone can create an online store now (which isn't a bad thing, truly!), and with that comes constant, widespread claims that now fall mostly on deaf ears. "The best ever!" "Like no other!" "You can't find this anywhere else!"
Food stores, coffee brewers, and even restaurant websites have good reason to make these claims: they're staffed by talented culinary experts who likely do create something that can't be found elsewhere. But simply saying "ours is the best ever" isn't likely to be compelling — and can you really blame shoppers for feeling a bit jaded?
The best way to combat this disbelief is to take a different approach entirely. Sell your customers on your story instead of your claims.
By this we mean using your homepage to set up a story about your food or drink company — where your products come from, what inspired you to create them, what motivates you to cook incredible food. Your story should be so compelling that potential customers are drawn in and want to learn more.
You can see quite a few amazing examples of this storytelling in the stores linked from our post on websites for food shops, like the Milton's Local tale that starts with "changing farming for good":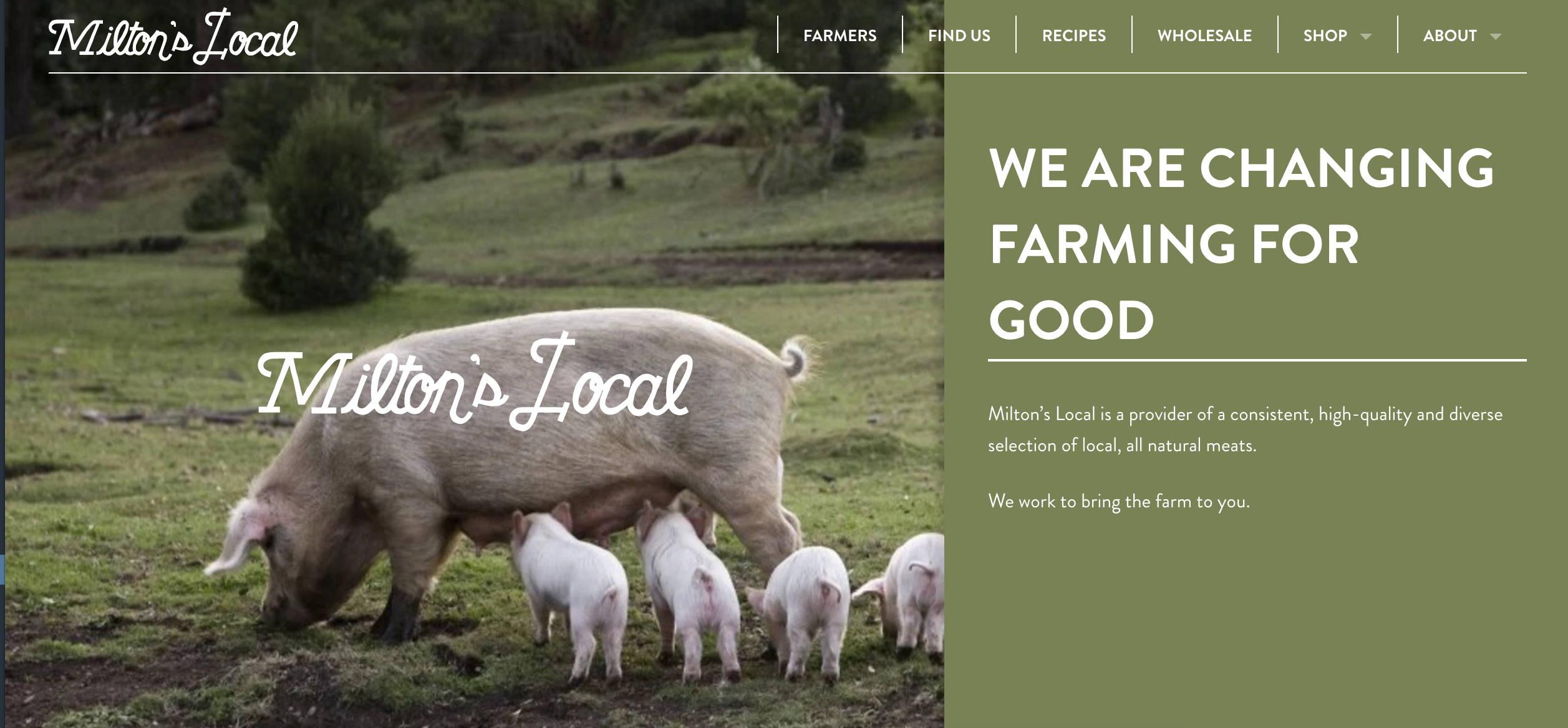 To tell a story on your food or drink website's homepage, try:
Using at least one authentic photo from your workplace or preparation area, which will give visitors an immediate sense of who you are (small coffee roaster, growing company shipping fresh food…)
Moving text that you would normally keep on an "about us" page to a homepage section, perhaps overlaid on the photo or just below the links to your products
Using plenty of professional photos, whether in the background or otherwise — this will help give new visitors a better sense of what you are all about
Working with a professional writer if you don't feel confident in your ability to tell your story in a compelling way — a freelance writer can usually lend you a hand with this, turning your thoughts into marketing gold!
How to stand out when the products you "ship" are digital, or what you sell is your time
The industries we've highlighted so far have one big thing in common: they ship physical goods. And along with that, they have photos of those physical goods, and photos of their workspaces, or staff, or manufacturing process to share.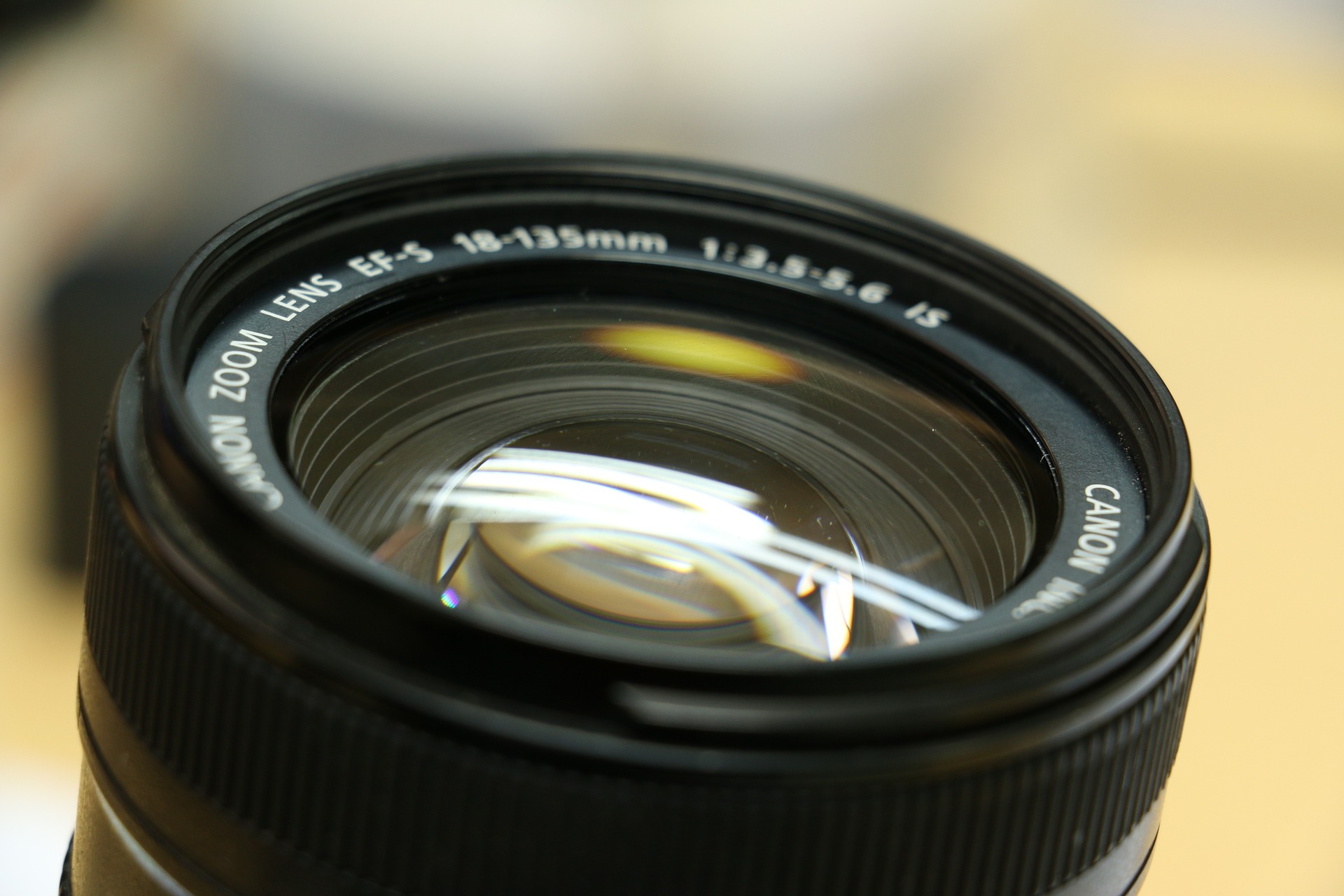 This can present a big challenge for store owners who aren't offering physical goods at all — say, those who sell digital goods, or offer online consulting or bookings. They probably don't have any photos, because there aren't any physical items to share. So a digital store's homepage has to rely on highly different elements to find success.
Focus on:
Putting your messaging front and center. Your homepage will likely be text-heavy, but it's necessary so shoppers know what you have, do, or can offer them
Writing strong calls to action, because without products or photos to click on, you'll need to use your words to sell potential customers on working with you
Finding images or stock photos that don't distract from your messaging — they should also be extremely high-quality, and not something you've seen used before. This might mean paying a bit for a few images or to work with a freelance graphic designer, but it's worth it to have an "upscale" look
If you don't feel confident in your own writing or design skills, you should absolutely work with a writer or designer to make your digital store look beautiful. Without product photos to rely on, these creative elements will be more crucial than ever, and your income likely relies on getting them right!
You can find some more tips for running an effective digital store right here.
When your store reflects what visitors want from the very first page, they're more likely to become customers
Your store's homepage isn't just there to look good, or funnel visitors to the exact page they're seeking. A well-designed homepage should reflect the needs of your shoppers, and if it does this, it will make them more likely to buy from you.
Looking for a way to get your own store set up to match your industry? Have a look at our Storefront child themes — they allow you to instantly transform the appearance of any store to match what your shoppers are expecting. At low costs and with the solid backbone of Storefront, they're a perfect match or starting point for any WooCommerce site.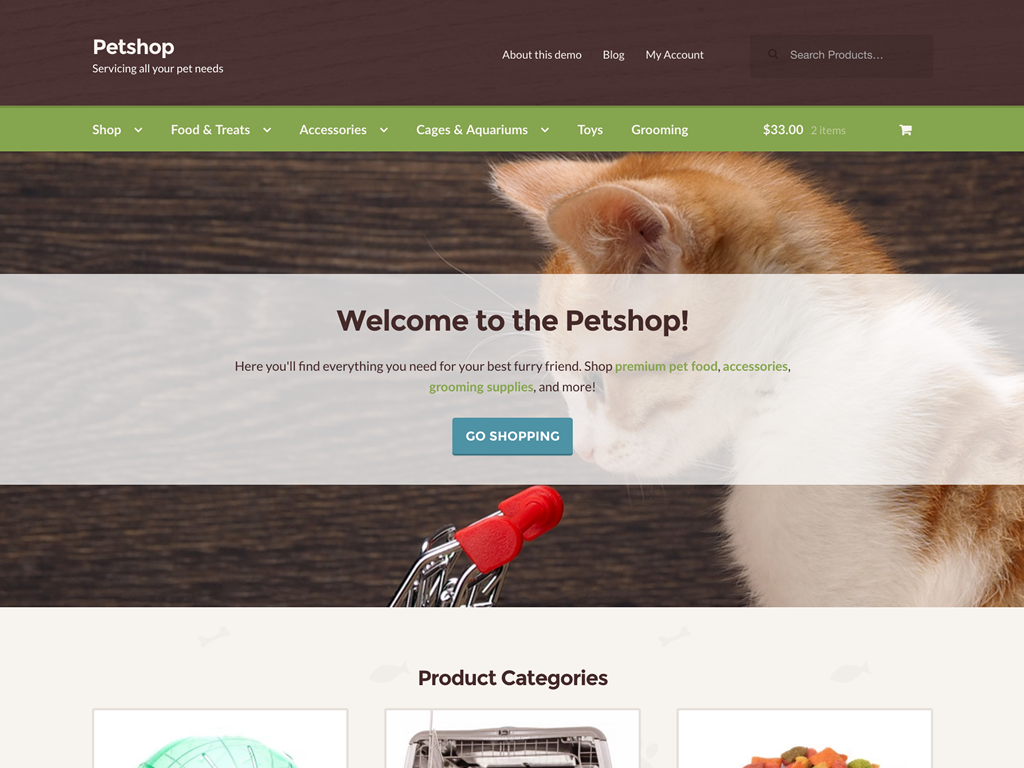 Do you have any questions for us about customizing your store's homepage for your specific industry? Or any advice of your own you'd like to share with your fellow store owners? The comments are open and we'd love to hear from you.