Location-based marketing is becoming more popular thanks to geotargeting. In case you're not familiar, this kind of marketing works by displaying ads and targeting messages when a customer is in a specific physical location.
Location-based marketing is typically associated with brick and mortar businesses. When a potential customer gets near your business, she'd be presented with a targeted ad that encourages her to come into your store.
But what if your business is online only? Believe it or not, e-commerce stores can benefit from geo-location marketing, too. Here's how.
How Geotargeting Works
Geotargeting or geolocation marketing works by pushing ads, emails, or other messages to users' mobile devices once they enter into a physical location. So, if you run a clothing shop on Green St., someone who has visited your online store before might be presented with an ad for your store once she is a few blocks away.
The idea is to entice customers to come into the retail location. However, unlike broad-scale ads, geotargeted ads aren't wasted on people who have no hope of stopping by your store in the next hour, let alone the same day.
Google Combines Tangible With Digital
Allow me to digress for just a moment on the subject of Google. The search company is always on the cutting edge so it should come as no surprise that it is one of the first to merge geolocation marketing with both physical and online locations. Allow me to explain.
As you likely already know, Google monitors what you search for. But it pays extra special attention when your searches are for products. You've likely noticed this when you search for something like a new laptop and you're presented with ads all over the web for computers in various styles. Thanks to Google's tracking, you'll see ads for what you were shopping for on YouTube, Facebook, and just about any other site with paid ads.
But the Google Shopping Tracker is taking that one step further. Items you search for are tied to your Google account. Then, when you're out and about, you'll get an alert via Google Now card on your smartphone that you're in close proximity to that product.
This is obviously very helpful for stores that have an online presence and a physical location. Carrying customers from the Internet to the store and back again promises to be a seamless way to promote increased conversions and to keep the conversation between vendor and customer open – no matter where it occurs.
But what if you don't have a physical store? What then?
What Is There to Target With No Physical Location?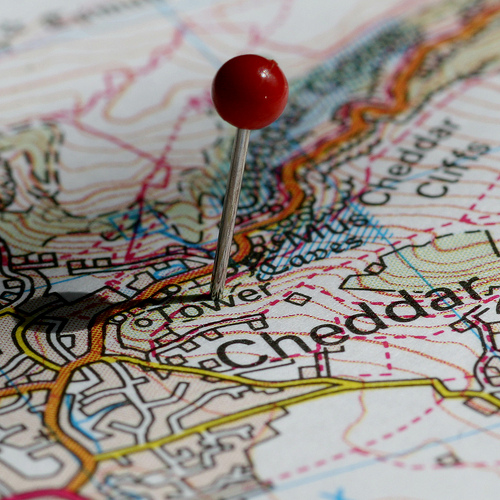 At first glance, using geo-targeting for an online business might seem like a futile effort.
After all, there's no physical location for your potential customers to get close to before they're prompted with an ad or message. They could shop for your products from anywhere in the world, so why would where they're located matter?
Actually, there a lot of ways being in a certain location can influence a potential customer's tendencies to buy.
Related Locations
Instead of displaying ads when a prospect is near your store, you can opt to have ads display when he's near some other location that's related to the products you sell. So, let's say you sell sunglasses. And someone who has browsed your site in the past just arrived at the beach. That's the perfect place for that prospect to receive a reminder to buy a pair of sunglasses!
Maybe you sell children's toys and one of your prospects is at a preschool. This is the perfect place to remind them of your brand and what you offer. Encouraging people to think of your products in the context with which they will be used is always helpful for convincing potential customers to convert. And this is an excellent use of location-based marketing. Even though you're not trying to get a customer into your store, you're trying to get them to complete a purchase where your products are relevant to them.
That guy on the beach might not have any sunglasses on him. So when your message pops up, he's more likely to buy because he's experiencing a need for your product that very second. You see what I mean?
Times of Day
Sometimes, the time of day can be a good prompt for advertising, too. Let's say you're taking a walk at around 2 p.m. Wouldn't it be nice to get a reminder to purchase some of that whole bean coffee you were searching for the other day? And what if you're at home and it's early in the morning? A coupon to buy some gear for your vacation to Hawaii would be timely and refreshing. After all, as you start the work day, a little reminder of what the future holds an be incredibly motivating.
Though not a location, time of day is another factor to consider when build a location-based campaign.
Post Site Visit
Another way location-based marketing can be used in the e-commerce space is to use advertising and messages after a prospect has visited your site directly. This is very similar to those email reminders you send out when someone has left an item in her shopping cart. The goal is to bring a prospect back to your site and to complete the sale.
You can do the same thing with location-based advertising, only there are two factors that trigger the messages: a recent site visit and the prospect is in a specific location. It's basically combining a traditional followup technique with a new followup technique.
Personalization is Key
According to research cited by The Next Web, 42% of consumers feel like the marketing communications businesses send them on mobile devices are way off base. That's not good. Getting messages – especially repeated messages – that are off target or poorly timed aren't going to do you any favors. In fact, you're likely to just alienate your potential customers. And that's bad news for your conversion rate.
Instead, you need to think about how you can better personalize your messaging. You can use tech like geofencing to send a specific message to a prospect when he or she has entered into a geographic area, like a city or a city block. Companies like Plot Projects give this capability to businesses with apps.
Here are a few takeaway tips:
The more specific you can make your messages, the better.
Don't try to copy what other people are doing. Be original and you'll stand out.
Don't overdo it. Too many messages is just plain off-putting and you'll see customers uninstall your app in a heartbeat.
Think about the big picture. How will location-based marketing fit into your overarching strategy? What does it complement?
Conclusion
Though location-based marketing is typically used for physical retail locations, it can be used by companies that have both online and physical stores as well as those that just have an online store. It will take a little bit of creativity but the idea of taking your online presence out into the real world is a compelling one that is certain to capture the attention of your potential customers.
Are you using location-based marketing for your business? I'd love to hear from people who are using it for their online stores. What's your response been like? Have you noticed an effect on conversions? Please feel free to share in the comments below!
Image source: Mukumbura, Alison Christine