How To
Customizing the typography
Skeptical is hugely customizable in it's styling thanks to the background color picker and the advanced controls over the typography used for post headers, post meta information, widgetized sidebar headers, navigation and paragraph text. To customize the fonts used just navigate to the theme options and the "Typography" tab.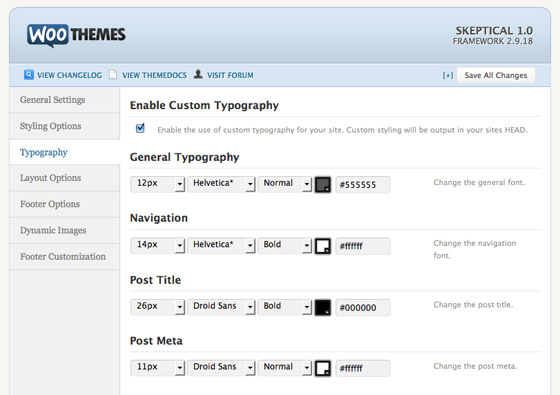 You can choose between web-safe fonts and a handful of Google fonts, which adds more unique characteristics to your website. Best to have a play around with what looks best.
Adding a widgetized sidebar
With Skeptical you have the option to display "more posts from this category" next to each blog post on the home page (like we do on the demo), or have a widgetized sidebar that you can place widgets in from the Appearance > Widgets page.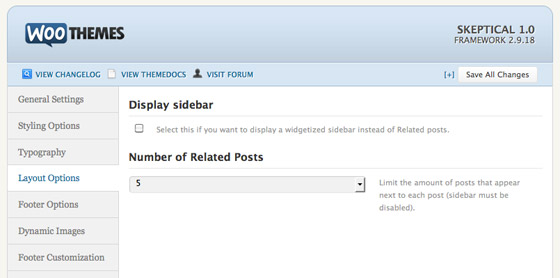 Enable "Display the sidebar" in the theme options, or set the number of related posts to display.
Setting up the footer
Skeptical comes with a neat customizable footer space dedicated to some specific posts and/or your latest Flickr images.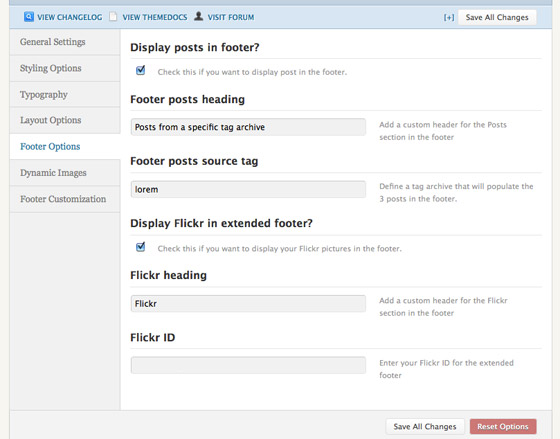 As can be seen above you must enable these regions in the theme options, under the "Footer Options" tab.
To display certain posts in the dedicated 3 post module in the footer you must give the post module a title and add the tag name of the posts you want to display.
For example, you must write, or edit an existing, post and make sure you add a tag like "featured" to the post. Then "Publish" or "Update" the post. Then go the theme options and dedicate the "featured" tag to the footer region. Now it will pull through the latest 3 posts tagged "featured".
For the Flickr module, you can find your Flickr ID from a site like idgettr.com/, once your ID has been found place it in the Flickr ID field.
Widgets
Custom Widgets
The theme includes 4 custom widgets that you can add to your widgetized area:
Woo – Ads 125 x 125 widget (setup ads in options panel)
Woo – Flickr widget
Woo – Twitter widget
Woo – Search widget
Page Templates