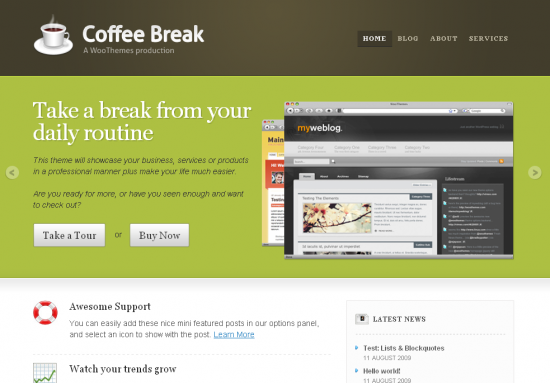 It's been quite a while since I've contributed anything to the WooThemes repository, so when I finally managed to sneak in some Photoshop time, I wanted to draw inspiration from our own WooThemes website design, as we have been getting quite a few e-mails asking if our theme is available for sale. Obviously we want to keep our own design unique, but IÂ  designed Coffee Break with a similar layout, so we could offer the public something similar in style.
The homepage layout consists of a jQuery slider at the top, which is great for showing of your most important content. We then added a nice mini-featured area below the slider, similar to the one we have on our homepage. You can add the sections with an icon to the left by just adding WP pages, and adding them to your options panel. We also added two sidebars, one for the homepage and one for the blog, and also a nice 2-column footer where you can have some basic information about the website.
Do you like the theme demo and the 17 alternative styles? Any other features that you think we missed? Let us know in the comments.