30 Day Money Back Guarantee & Refund Policy
At WooCommerce, we want to ensure that you are 100% happy with your purchase. If you have any technical or sales queries, do not hesitate to contact us. However, if you feel the product(s) you purchased are not the best fit for your requirements and you attempted to resolve issues with our support staff, we want to make things right.
Although w e'd love to know where things went wrong, or how we can improve, follow the steps below for a full, no-questions-asked, refund within 30 days of your date of purchase. Please include your order number so we can issue a refund as quickly as possible.
Also note that we make every attempt to process the refund as quickly as possible. But Stripe (our payment processor) or your financial institution can take up to 20 days for the refund to reflect in your bank account/card.
Requesting a Refund
Follow the steps below to get your refund request sent to us:
Go to: WooCommerce.com > My Account > Tickets > New Ticket.
Choose My Account as the category.
Select the Order you wish to get a refund for*
If you want a refund for a part of the order, please name the products you want a refund for.
In the Brief Description clearly state you want a refund, in the Tell Us More section please give us extra information.
Once you submit the ticket you will receive an auto response from us. That just lets you know we've got your request.
Once we've had a chance to review your request we will be in touch confirming the refund has been processed.
It will look something like this: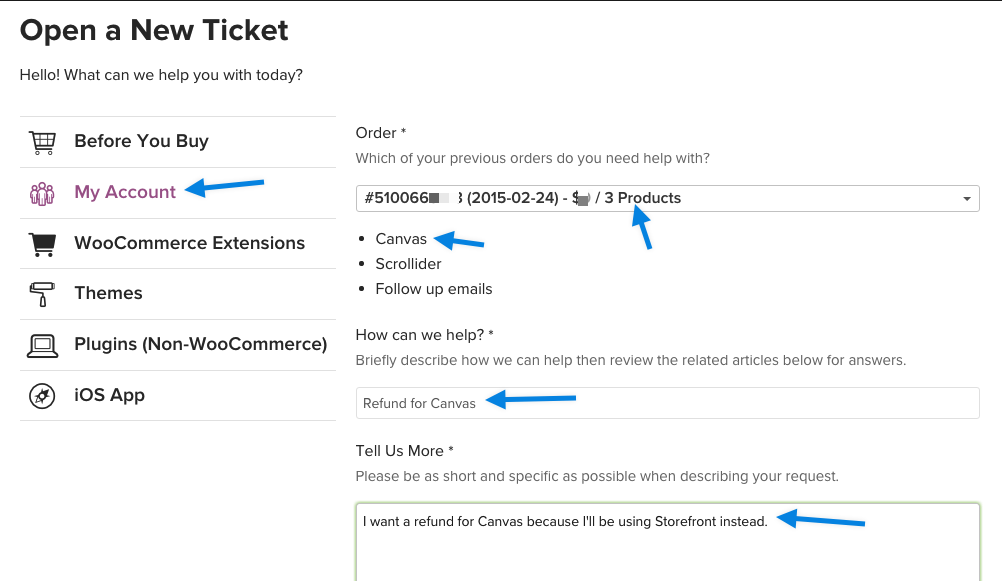 *Alternatively, if members of our support staff are online and available to communicate with you via our live chat system, you will see something like this:
Enter in your name, and your WooCommerce.com account email address, then click Start Chat. We look forward to chatting with you!