Seamless payment collection and inventory sync
with WooCommerce In-Person Payments
Collect payments anywhere your customers are and grow your business on the go. Connect the M2 or the WisePad 3 card reader to the WooCommerce Mobile App to unlock your store's functionality at your fingertips – quickly create orders on the fly, or take payment in person for orders placed online. With automatic inventory sync and the ability to track and manage your transactions, you'll be able to set up shop wherever your business takes you.
Full inventory sync
Keep your inventory up to date, effortlessly. When you create a new order in the mobile app it'll automatically sync with your online store, ensuring your stock levels are always accurate.
Simple Payments
Have a long line of customers waiting? Use the Simple Payments option to quickly take payments without spending time inputting extra order details.
Flexible payment options
Take advantage of EMV chip debit and credit card, contactless, tap, and swipe payment options – whenever you need to take a payment and wherever you are.
Secure transactions
Our approved card readers use end-to-end encryption and is EMV certified, so you can rest assured that your customers' financial information is safe and secure.
Keep more of your revenue
Accept Apple Pay
Provide
a faster and secure payment experience
for your shoppers by offering
Apple Pay
online
and
in person. All
Apple Pay
transactions require authentication with face ID, touch ID, or passcode.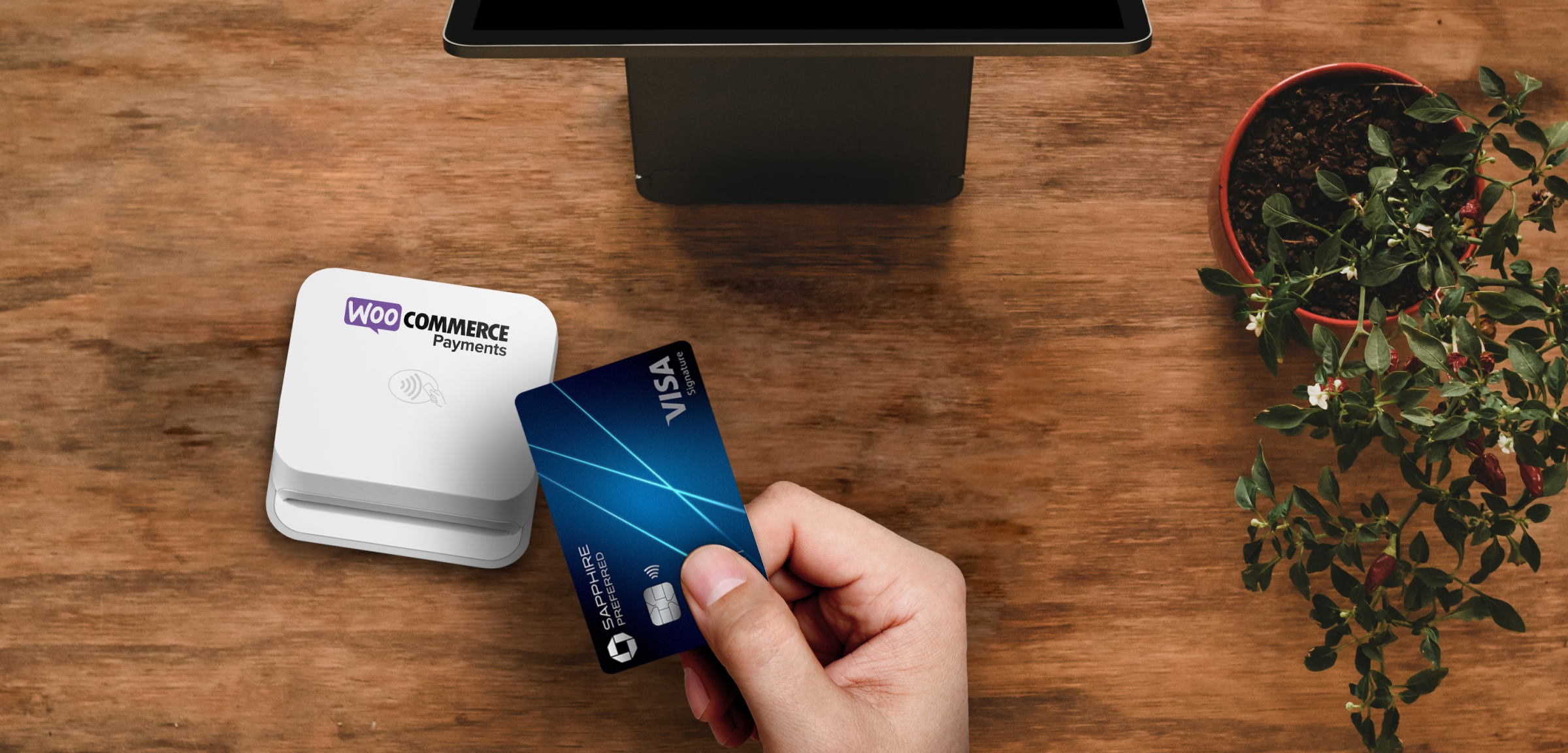 Your business is not only online,
and neither is WooCommerce.
With WooCommerce In-Person Payments you can now collect payments
in person and grow your business.


Already bought your reader?
Have other questions or need to do some troubleshooting?
Have an idea for other WooCommerce In-Person Payments features?
FAQs
How can I use the card reader?
The M2 and WisePad 3 card readers can be used to take payments wherever your customers are in the U.S. or Canada. Create orders on-the-go using the WooCommerce Mobile App and have your inventory sync with your online store. Or if you have a queue of customers and need to quickly take payment, use the Simple Payments feature to process a speedy transaction without inputting any extra details. You can also use the card readers to collect payment for items ordered online – perfect for providing a local pickup service to your customers.
Can I create orders by accepting payment in person?
Yes, you can use the WooCommerce Mobile App to create an order on the go, and take payment for it using either the M2 or WisePad 3 card readers. Your inventory will be automatically updated – including any product variations you may have – and the order will be synced with your online sales. At this time, you can't create an order including any custom product fields using the mobile app.
Do the card readers work outside of the U.S. or Canada?
Currently, the M2 is only available for use within the U.S. only, while the WisePad 3 is only available in Canada.
Looking to collect in person payments elsewhere? Please let us know below where you'd like to see this next.
What are the fees to use the card reader?
The processing fees are 2.6% + $0.10 on each successful transaction using the M2 card reader in the U.S.
For merchants in Canada using the WisePad 3 card reader, the processing fees are 2.7% + $0.05 CAD per transaction.
What payment methods does the card reader accept?
How much does the card reader cost?
The cost of the card reader can be found on each product page for the M2 card reader or for the WisePad 3 card reader. After that, there is a $1 per month fee for active M2 card readers (Canada is $1.30 per month). Additionally, the processing fees are 2.6% + $0.10 per transaction in the U.S. and 2.7% + $0.05 CAD per transaction in Canada. Read more about fees.
Can I return my card reader if I decide I no longer need it or if it is faulty?
Register interest
Interested in WooCommerce In-Person Payments but your business isn't in the U.S. or Canada? Tell us below!
"*" indicates required fields
WooCommerce
The most customizable eCommerce platform for building your online business.