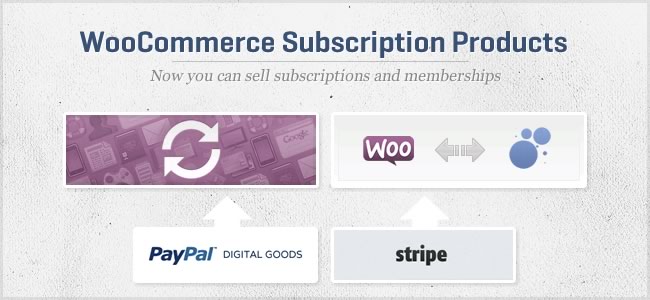 We know you've been waiting for this for a long while. Today we can happily report we have an extension allowing recurring billing using WooCommerce!
Start selling subscriptions
WC Subscriptions makes it easy to create and manage products with recurring payments. Create a subscription product just like any other WooCommerce product, and you're ready to start selling subscriptions.
With Subscriptions, you can charge recurring payments per day, week, month or year. You can add an optional sign-up fee and duration. Shipping fees, discounts & taxes are all applied to recurring payments.
Subscription management is also synced with the payment gateway. When a subscription is cancelled at PayPal, it will be cancelled with your site. And you can offer your customer's multiple gateway options – PayPal Standard is supported out-of-the-box, and you can add PayPal Digital Goods or Stripe (with more to come).
What can you sell with Subscriptions?
Physical products that require shipping, like magazines;
Downloadable products, like e-zines;
Virtual products, like memberships;
Services, like business coaching;
Any other physical, virtual or downloadable, product or service you can imagine!
View the WC Subscriptions Extension
Groups for WooCommerce
Groups is an existing free plugin providing group-based user membership management, group-based capabilities and content access control. With the Groups for WooCommerce extension one can grant memberships based on products. It automatically assigns a customer to one or more groups based on the products they ordered.
Memberships can be sold through normal products where membership is granted for an unlimited time through one-time payments, or through subscriptions where the memberships lasts as long as the subscription is active, based on recurring payments and an optional setup fee.
If you want to charge a monthly subscription fee, the WooCommerce Subscriptions plugin is required, which adds a new subscription product type. Groups WooCommerce controls the memberships for the duration of the subscriptions.
View the Groups for WooCommerce Extension
Groups for WooCommerce requires WordPress 3.3+, the Groups plugin, as well as the WC Subscriptions extension to be installed.
Updates to Stripe and PayPal Digital Goods
Both Stripe and PayPal Digital Goods have been updated today to support the new subscriptions extension – customers will be able to purchase subscriptions with these extension and be billed automatically.
Stripe has also been integrated with stripe.js which adds additional security by tokenising credit card details.
These updates require WooCommerce 1.5.8 which was released earlier today.